Clarksville is home to a rich history rooted in the stories of African American culture. These individuals and their testaments continue to influence the city's landscape. To honor and educate the city's visitors about the narrative around the region's correlation with Black History, the African American Legacy Trail is evolving to incorporate many unique, historical accounts that you may not have read about anywhere else. These 25 current landmarks can be found online or through the Visit Clarksville mobile app. Below, read more about Clarksville and its significance in African American history that can be documented back to the 1860s through the 21st century.  
United States Colored Troops (U.S.C.T.)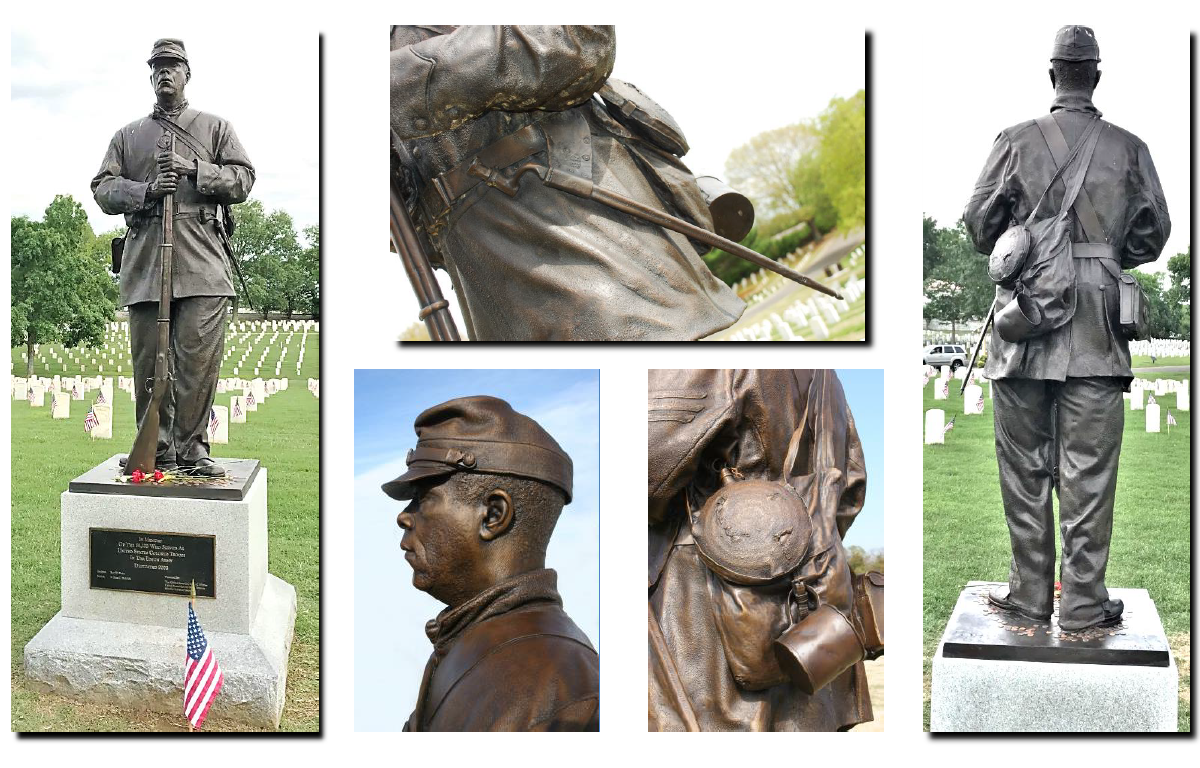 It began at Fort Defiance Interpretive Center. The history of these familiar grounds has a prominent place in the foundation of our nation during the Civil War. By 1862 the Confederate-run fort fell to the Union Army. This area soon became a safe space and recruiting center for African American's looking to fight for continued freedoms. These soldiers quickly became a part of an elite regiment, known as the United States Colored Troops. During this time in the nation's history, these brave men and women joined the ranks of an additional 20,000 plus black Tennesseans. Due to its historical nature and success as a recruitment center, the 101st regiment of the U.S.C.T. rooted its headquarters on nearby land. This location is now home to Austin Peay State University's Dunn Center. Over the past several years, Fort Defiance has compiled a collection of records from these troops, including letters as well as enlistment papers, and currently has them on display in their main lobby. In June of 2022, the U.S.C.T of Clarksville will be permanently memorialized with a statue on the grounds where it all started over 150 years ago.
Affricanna Town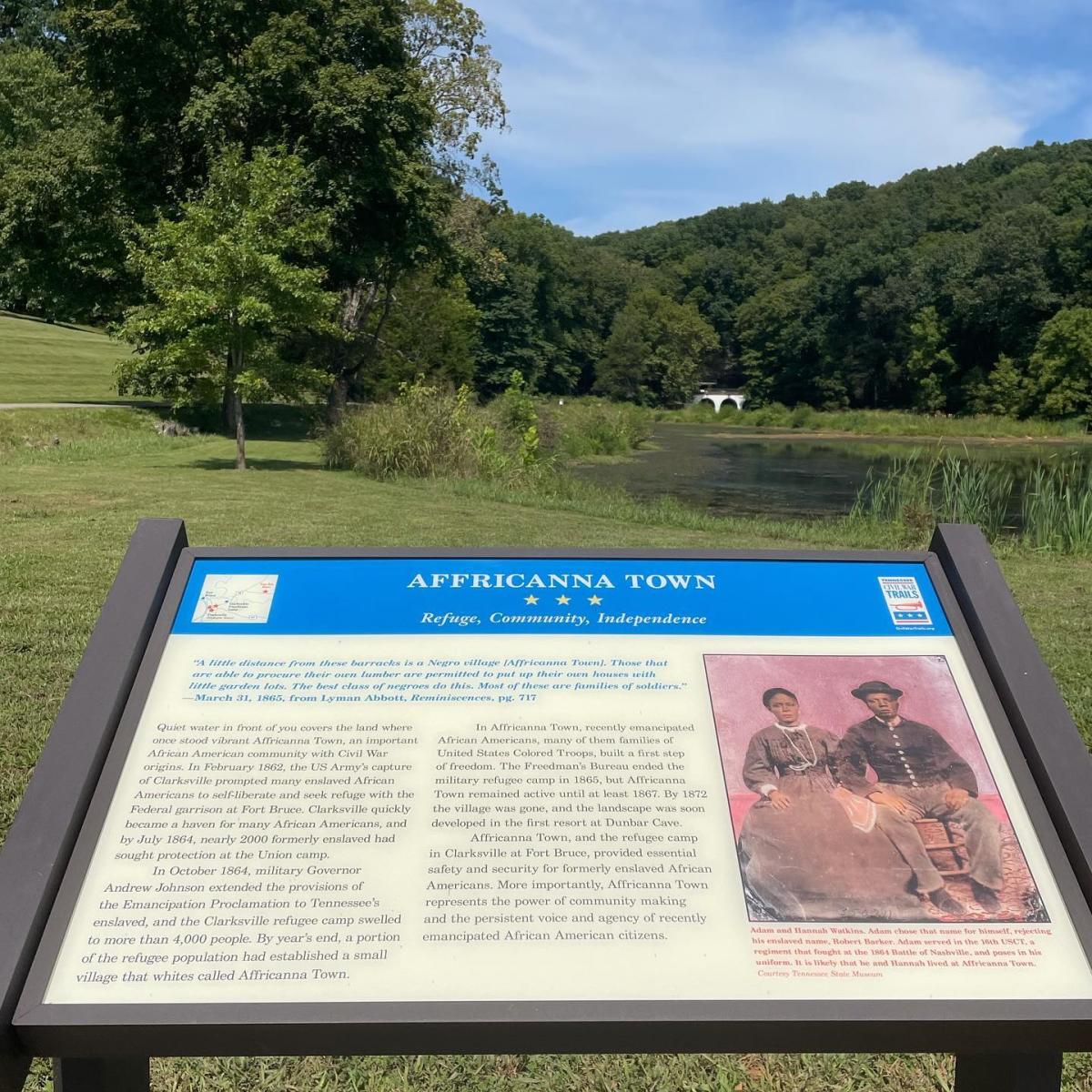 Abraham Lincoln's iconic Emancipation Proclamation outlined new freedoms for slaves in the Union. At the time, Clarksville was a Union-controlled city. By 1864, those freed and seeking freedom founded a village in the suburbs away from downtown. This new establishment was referred to as "Affricanna Town" and was located near Dunbar Cave State Park. Though this village consisted of freed slaves from all over, it was not considered a refugee camp but rather a space to exercise new rights as citizens of the Union. The history of this town lives on years later with information plaques at Dunbar Cave State Park. To read more about the history of this settlement, make sure to visit the park on your next trip to Clarksville.
Photo by Friends of Dunbar Cave
Montgomery County Negro Agriculture Fair 
Austin Peay State University is one of Tennessee's oldest public colleges. Due to its age, its grounds come with a long, historical lineage.  Above, we mentioned a part of the campus that was once home to a Civil War regiment headquarters. Fast forward 75 years and that same history was still alive and well. From 1948 to 1962, the Montgomery County Negro Agricultural Fair was an annual event that took place at the corner of Drane Street, blocks from the heart of downtown. This event is important to the city's history because it endured the divisive pressure of racial segregation. Throughout the fair's fourteen-year existence, Pope G. Garret Sr. served on the board and lead this event until it dissolved in 1962. Later, Garret Sr. would solidify his name as an early African American politician-serving as alderman as well as the County Magistrate Commissioner. The fair's significance and the names associated are unprecedented in this area's rich African American history.
 "We are honored to contribute to Clarksville's landscape of Black History. As the city continues to grow, it is important for newcomers to have an inclusive and comprehensive understanding of the community's history," states Frederick Murphy, of the Tennessee African American Historical Group. The Tennessee African American Historical Group works to preserve and highlight key points of Black History through the state of Tennessee. These stories listed above are important to their organization and they hope that this importance transfers to those in the community and afar.
Sometimes it is surreal to imagine that the places we see every day have a more complex history than we ever could have thought. Whether we live nearby or travel from far and wide, these places are just as significant now as they were back then. Diving into Clarksville's past will show us new ways to appreciate the area, the people, and the stories behind them. This Black History Month, take time to get to know and to connect with key areas, landmarks, and historical events that laid the foundation for the city we call home today.
Header Photo by Lucas Ryan Chambers