Mason Rudolph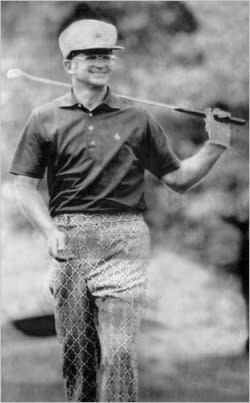 Professional Golfer
1934-2011
by: Arian Finley
Edgar Mason Rudolph was born in Clarksville, Tennessee in 1934. Today, according to UT Sports, he is considered to be one of Clarksville's most iconic sports figures. He was taught to play golf by his father, while working as a caddy at the local course that took his name in 1966. Later encouraged to attempt to qualify for the 1950 U.S. Open at the mere age of 16, he became the youngest player to compete at the time. He was also the first 16 year old to win the USGA National Junior Amateur Championship. At Clarksville High School, he won TSSAA championships in both 1951 and 1952. These accomplishments would later give reason for his selection as Top 10 Best Junior Boys of the 20th Century by Golf World Magazine in 1999.
Rudolph briefly attended University of Tennessee, later transferring to Memphis State, on a golf scholarship. Serving in the military for two years, rather than graduating, he became a professional golfer in 1958, soon joining the Professional Golfers Association and being named Rookie of the Year a year later. Since then, Rudolph's reputation has continued to be littered with achievements, winning five PGA Tours between 1959 and 1970 and five more Tennessee Opens since his victory at age 16.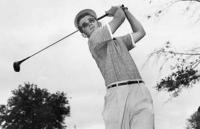 In 1971, he played alongside Arnold Palmer, Jack Nicklaus, Lee Trevino, and J.C. Snead on the Ryder Cup Team.
In 1992, Rudolph worked as the head coach of the men's golf program for five seasons at Vanderbilt University and was later named the Director of Golf, before retiring in 2002. He was inducted into the Tennessee Golf Hall of Fame and Tennessee Sports Hall of Fame.
After two heart attacks and an emergency bypass surgery, Mason Rudolph was hospitalized. He soon passed away in April, 2011.
###
Read Rudolph's New York Times obituary.
Photo Credits: Associated Press Wire Photo, clarksvillenow.com