Ida Gray Nelson Rollins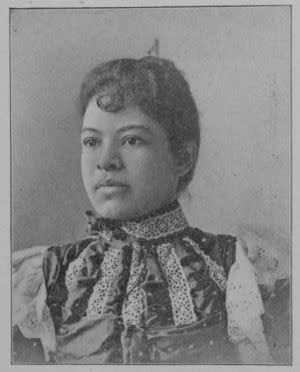 First Female African American Dentist
1867-1953
Ida Gray Nelson Rollins, was born in Clarksville on March 4, 1867. Her mother, Jennie Gray, was a black woman, and her father was a white man to whom Jennie was not married. Ida's father was not present in her life, and her mother passed away shortly after Ida's birth, while she was still a teenager.
After her mother's passing, arrangements were made for Ida to live with her relative, Caroline Gray. Caroline, who was born in Clarksville around 1833, was illiterate, unable to read or write. When Ida went to live with Caroline, Caroline was 35 years old and already had three children of her own. Caroline and her family, including Ida, moved to Cincinnati, Ohio in 1868. While in Ohio, Caroline worked as a seamstress, and her children worked as well in order to financially support the family. Caroline had one son, Howard, and two daughters, Susan and Mary, with Mary being closest in age to Ida. All four of the children attended a segregated high school in Cincinnati.
While in high school, Ida worked as an assistant in a dental office under the supervision of Jonathon and William Taft. Jonathon Taft was a particularly prominent figure in the world of dentistry, co-founding the American Dental Association and serving as its president, working as an editor for the Dental Register magazine and serving as the dean of the Ohio College of Dentistry. In 1875, Taft became the first dean of the Dental College of the University of Michigan at Ann Arbor. After maintaining this position for three years, Taft began accepting females into the program.
Ida graduated from Gaines Public High School in 1887, at the age of 20. Upon the declaration of her interest in a career in the dentistry field, Jonathon Taft encouraged Ida to apply to the University of Michigan. Her experience in the dental office and her relationship to the Taft brothers were essential factors in Ida's acceptance to the Dental College of the University of Michigan. In the fall of 1887, shortly after her high school graduation, Ida began attending classes at the college. Receiving her doctor of dental surgery degree in June of 1890, she was the 23rd female student to graduate from dental school at the university. More importantly, she was the first African American female with a doctoral degree in dental surgery.
 After obtaining her degree, Ida moved back to Cincinnati, opening her own private practice in 1890. She maintained the practice until 1895, when she relocated to Chicago upon her marriage to her first husband, James Sanford Nelson. Nelson was born in Canada in 1860, and he immigrated to the United States nearly a decade later. In the 1880s, Nelson gained citizenship in the US, and after working as an accountant in Chicago, earned his law degree from the Chicago College of Law in 1897. While in Chicago, Ida set up her second private practice, making her the first African American female to practice dentistry in Chicago. Her clientele was very diverse, as Ida catered to men, women, and children of all races. It has been noted, though, that she particularly enjoyed working with children. Also while in Chicago, Ida served as the president of the Professional Women's Club of Chicago.
James Sanford Nelson passed away on March 11, 1926, and three years later, Ida was remarried to William A. Rollins, a waiter. Ida retired from dentistry in the 1930's, and she remained in Chicago while seasonally visiting her summer home in Michigan. In June of 1944, Ida's second husband was involved in a fatal vehicle accident. After this, Ida never remarried, and she never had children. On May 3, 1953, Ida passed away in Chicago.
Ida Gray Nelson Rollins' achievements are a testimony to perseverance, determination and diligence. Though she was raised by a woman who was unable to read or write, Ida overcame her environment, becoming the first female African American dentist in the United States.