Caroline Gordon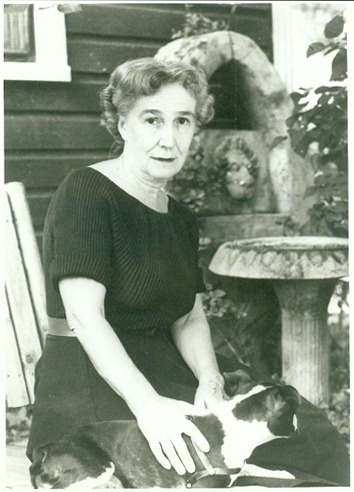 Author
1895-1981
On October 6, 1895, Caroline Gordon was born near the city of Clarksville at a farm called Merry Mont. Her grandmother, Caroline Champlin Ferguson Merriwether owned the farmland, and she was very influential in young Caroline's upbringing; her grandfather, Douglas Merriwether was a member of the Confederate Army in the Civil War. Caroline was born to father, James Morris, and mother, Nancy Minor Merriwether. Her mother had been a former student of her father's and the couple married in 1890, and Caroline was the second of their three children.
In 1905, Caroline's father opened Clarksville Classical School for Boys on Madison Street, which also served as the home for the Gordon Family. Caroline was the only female student, and she eventually completed her high school education at the school. While enrolled at her father's school, Caroline displayed an interest in the same subjects as her father: Latin and classic literature. Her education continued when she attended Bethany College in Bethany, West Virginia, from which she graduated in 1916 with a Bachelors degree in Greek.
From 1918 to 1920, Caroline was employed as a teacher at Clarksville High School, which is now the Robert Penn Warren Apartments.  After this, she worked as a writer for the Chattanooga News in the 1920s while she began working on her first novel. While working as a reporter, she reported on and became involved with the Fugitive writers of Vanderbilt University. In 1924, Robert Penn Warren introduced Caroline to Allen Tate. Tate and Gordon married in that same year, having their first and only child, Nancy, together in 1925.
Throughout the remainder of the 1920s, the couple took up residence in New York, England, and France, becoming prominent figures in the American modernist movement. This movement included writers such as T.S. Eliot, F. Scott Fitzgerald, and Ernest Hemingway. Caroline and her husband returned to Clarksville in 1931, and they purchased a historic home near the Cumberland River which they called Ben Folly.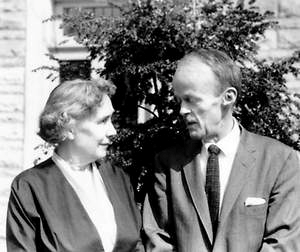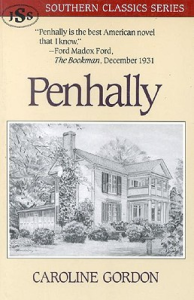 While being mentored by Ford Maddox Ford, a fellow writer, Caroline completed her first novel, Penhally in 1931. Caroline continued writing novels until she retired in 1979, to include Aleck Maury, Sportsman, The Garden of Adonis, The Strange Children, and How to Read a Novel. Much of her early work was reflective of the agrarian lifestyle she grew up with in Tennessee and Kentucky.
Caroline's marriage to Allen Tate began to crumble due in part to his infidelity. The couple initially divorced in 1945 but remarried the following year. In 1947, while experiencing trying times in her marriage, Caroline converted to Catholicism, becoming a mentor to fellow Catholic writers, Walker Percy, and Flannery O'Connor. The relationship between Caroline and Allen Tate diminished, leading to their second and final divorce in 1959. The two maintained communication and civility though. During the time that Caroline Gordon lived at Ben Folly, it served as a refuge for many of her fellow modernist writers, providing a place free of distraction and criticism. Her contributions to the literary community are significant, both in the writing that she provided and the space for other writers that she provided.
When Caroline was 84, she retired and moved to Mexico with her daughter, Nancy. After suffering from a stroke, she underwent surgery, but it was not successful and she passed away on April 11, 1981.