Allen Tate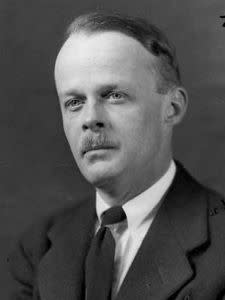 Poet
1899-1979
Renowned poet Allen Tate was born in Winchester, Kentucky in 1899. Tate's ambitions began with the violin, however, while a capable player, he held no extraordinary talent. He attended Vanderbilt University in 1918, where he was quite active as a student. It was here that he met and befriended roommate Robert Penn Warren, as well as a number of other fellow members of The Fugitives, a literary group that met weekly to discuss poetry and the defense of Southern literature. Tate would be the first undergraduate to be invited to join. In Tate's official graduation year, 1922, the group launched The Fugitive, a poetry journal, to which he was a founding editor.
The same year, Tate was encouraged by Hart Crane, a fellow contributor to The Double-Dealer literary magazine, to buy a copy of T.S. Eliot's Poems, who inspired him so greatly, he went as far to claim that he was "influenced by him before [reading] a line of his verse." Tate would pair up with another inspired roommate, Ridley Wills, to write The Golden Mean and Other Poems, parody of Eliot's The Waste Land.
Tate began his teaching career in 1924 with a high school in West Virginia. He also met Caroline Gordon while visiting Warren in Kentucky and married her in 1925. While the marriage was quick, Gordon and Tate were undoubtedly in love, and despite later divorcing and remarrying in 1946, only to divorce once more in 1959, the couple would continue to have a great relationship with one another.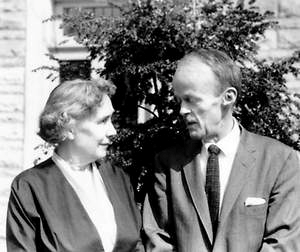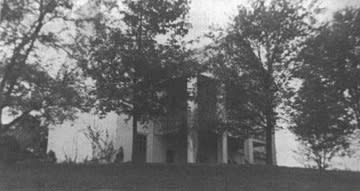 After his marriage, Tate moved to New York City. While in New York, Tate largely focused on doing freelance work, writing articles and reviews. In 1928, he and Caroline Gordon both were awarded Guggenheim Fellowships to London and Paris, which broadened his literary circle to include Gertrude Stein, Ernest Hemingway, and even his idol, T.S. Eliot. That year, he published his first book of poems, Mr. Pope and Other Poems, which included his most famous work, Ode to the Confederate Dead.
In 1930, Allen Tate moved into an antebellum mansion in Clarksville, Tennessee, purchased by his brother, Ben. It came to be known as "Benfolly." While in Clarksville, the couple hosted many guests, to include Robert Penn Warren, Andrew Lytle, Donald Davidson, Malcolm Cowley, Katherine Anne Porter, among many others. Not many years later, however, in 1938, the same year he published his only novel, The Fathers, the couple would be forced to move on account of their lack of money.
Tate's first college teaching job was in 1934 at Southwestern in Memphis, with the help of Warren, who would be transferring to Vanderbilt. His teaching career, which lasted until 1977, would consist of mentoring multiple famous authors, to include Randall Jarrell at Vanderbilt University, Robert Lowell, at Kenyon University, and John Berryman and Richard Blackmur, at the University of Minnesota.
Tate became the head of the Creative Writing program at Princeton University in 1939. He was the poet-in-residence for the school until 1942. After, he and Andrew Lytle helped turn The Sewanee Review into one of the most famous literary magazines across the country. Allen Tate was then appointed United States poet laureate consultant in poetry in 1943.
After his divorce from Caroline Gordon, he married Isabella Stewart Gardner in 1959. This marriage did not last long, however, and in 1966, he married Helen Heinz, a former graduate student of his, and moved to Sewanee the next year.
Just two years before his death, in 1977, Allen Tate was awarded the Lenore Marshall Prize by Saturday Review for Collected Poems: 1919-1976.
Allen Tate died February 9, 1979 in Nashville, Tennessee. He had four children: Nancy, with Caroline Gordon, and three with Heinz, one of which was a twin who had died in an accident as an infant.
Photo Credits: Ben Folly - Montgomery County Historical Society