Brenda Vineyard Runyon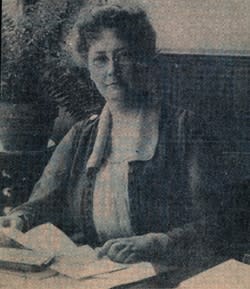 Founder and Director of First Woman's Bank
1868-1929
Brenda Vineyard Runyon was born on September 17, 1868, to father B.W. Vineyard and mother Nancy Preston. Though she was born in Missouri, she and her family moved to Trenton, Kentucky while she was relatively young. In Trenton, she met Dr. Frank Jasper Runyon, whom she would marry in 1885. The couple bore two children: Charles Vineyard Runyon in 1887, and Bryce Freeman Runyon in 1888.
Brenda was active in the Clarksville community throughout the early twentieth century. In addition to being a Sunday school teacher at First Baptist Church, Brenda was also the first woman to serve on the Clarksville Montgomery County Board of Education. Her efforts during World War I helped to establish Clarksville's first local Red Cross chapter.
Brenda's most significant achievement, though, is her role in the creation and operation of the First Woman's Bank of Tennessee. Opening its doors on October 6, 1919, First Woman's Bank was the first bank in the United States to be directed, managed and staffed entirely by women. The bank was created during the women's suffrage movement, at a time when many women desired a way to bank separately from either their husbands or their fathers. In response to these desires, Brenda and her team opened First Woman's Bank which was situated in downtown Clarksville. The bank was inside of the Hotel Montgomery (formerly named Arlington) on Second Street, across from the Courthouse. An Arlington historic marker is on the site now. The Hotel was owned by Lulu Bringhurst Epperson who was the first depositor. Welcoming deposits from men and women, the sensational new bank collected a deposit of nearly $20,000 dollars the first day that they were open for business.
In 1926, after experiencing a fall resulting in the decline of her health, Brenda Vineyard Runyon resigned from her position as director of First Woman's Bank. Unable to find anyone willing to take over her now vacant position, the bank merged with First Trust & Savings Bank, which later merged with Sovran Bank, then Nations Bank, and is now Bank of America. Brenda struggled with her health for nearly three years after the fall, and she eventually passed away on February 3, 1929. Brenda Vineyard Runyon is an impressive example of what dedication and perseverance can do, not only on a personal level but for the community as a whole. She is buried in Clarksville at Greenwood Cemetery.
Photo Credits: Customs House Museum & Cultural Center Collection; courtesy of The Leaf-Chronicle.