Charles Richard "Bubba" Wells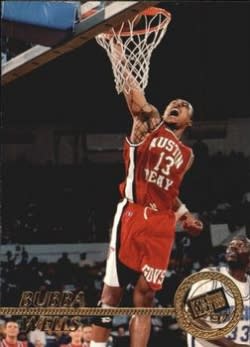 NBA player, Harlem Globetrotter
b. 1974
by KaSandra Stone
Charles Richard "Bubba" Wells was born on July 26, 1974 in Russellville, Kentucky. He played college basketball with the jersey number 13 at Austin Peay State University, where he became the university's all-time leading men's scorer. As a sophomore, Wells averaged 19.3 ppg and followed that up with a 26.3 ppg from 1995-1996, earning the OVC Tourney MVP in leading the Govs to a crown and NCAA tourney appearance.
During his senior year, Wells truly drew nationwide attention. He missed the first 12 games of the season due to a stress fracture in his left tibia, which required a surgery to place a tibia nail in his lower leg. Although he'd had something similar in the 1994-1995 season that took five months to completely heal, this time he rehabilitated in five weeks. In his first game back, Wells scored 39 points in 28 minutes. The performance and the surgery were featured in "USA Today," and Wells went on to become the nation's unofficial scoring leader, averaging 31.7 ppg. Unfortunately, because he had not played enough games that season, he did not qualify for the official title.
After playing at APSU during his college career, Wells was selected in the second round of the 1997 NBA Draft by the Dallas Mavericks, where he played one season for the NBA. Following his time with the NBA, he played several years with professional leagues in the Philippines and Greece and then two years with the Harlem Globetrotters. Unfortunately, a torn Achilles tendon and other assorted leg injuries curtailed his pro career. Although Wells' career was interrupted by leg issues, he finished with 2,267 points- the first APSU player to reach 2,000 points- ranking him third all-time in the OVC.
In 2005, following an eight-year professional career, Wells returned to his alma mater as an assistant coach and worked with post players. During this time, he married TSU's former head women's basketball coach, Tracee Jones. He coached at the university for ten years on Coach Dave Loos' staff, but resigned on May 6, 2015 in order to pursue other coaching opportunities. Soon after leaving his position at APSU, he began coaching the SIUE basketball team with Head Coach Jon Harris in 2015. He continues his coaching career now, and his family has grown to include a daughter and son.
Bubba Wells was inducted into the APSU Athletics Hall of Fame in 2003. He holds the records for field goals made and attempted in a game as well as in a tournament. He was named "Freshman of the Year" in 1993-1994, OVC "Male Athlete of the Year" in 1996 and 1997, and the OVC "Player of the Year" in 1997. He was also two-time Tennessee Sportswriter's College Basketball "Player of the Year."