Wilma Rudolph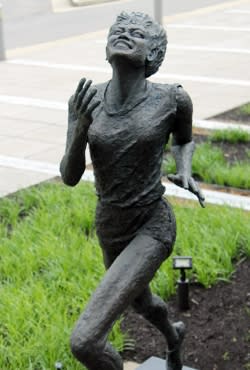 Olympic Gold Medalist
1940-1994
Wilma Glodean Rudolph was born on June 23, 1940, in a region of Tennessee known, at the time, as St. Bethlehem, which later became a part of Clarksville. Rudolph was born into a large family, being the 20th of her father's 22 children. Her father, Ed, worked as a railroad porter while her mother, Blanche, worked as a maid.
Born prematurely, Wilma weighed only four and a half pounds at the time of her birth. The remainder of her childhood would follow a similar pattern of misfortune. At the age of 4, she fell victim to pneumonia as well as the polio virus, leaving her temporarily paralyzed. Her mother began taking her to a physician in Nashville who incorporated physical therapy into her treatment. Blanche was told that massaging her daughter's legs four times per day would hasten the healing process, but due to Blanche's busy schedule, she had to instruct her other children how to perform the massage, resulting in teamwork throughout the family in healing Wilma's paralyzed left leg. With the combined efforts of her family, she overcame the paralysis and was walking with a leg brace at the age of 8; she had to wear specially made orthopedic shoes for a few years after the brace was removed. In regards to her infantile paralysis, Wilma said, "My doctors told me I would never walk again. My mother told me I would. I believed my mother."
Once Wilma regained her strength, she began participating in some of the athletics in which her siblings had been participating. Initially, she took a liking to basketball, eventually joining the girls' team at her all-African-American school, Burt High School. The team's coach C.C. Gray nicknamed Wilma "Skeeter," telling her, "You're little, you're fast and you always get in my way." She became well-known throughout the community while racking up points for her high school's basketball team, frequently having her statistics featured in the local newspapers.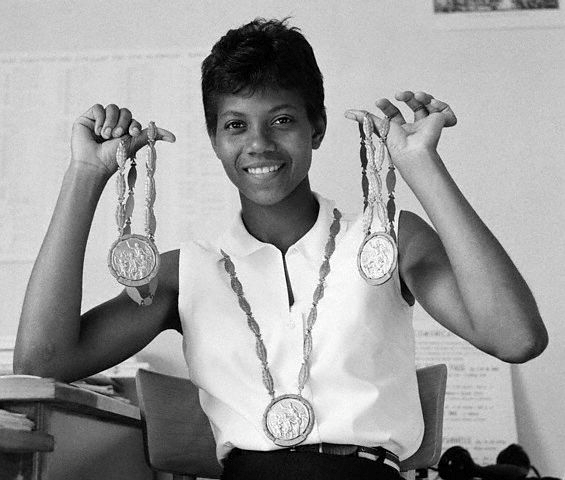 During one of the high school basketball games, Wilma was noticed by Ed Temple; Temple was a sociology professor at Tennessee State University as well as the university's unpaid track and field coach. Impressed with Wilma's speed, he recruited her to his collegiate track team. Just a year later, she was competing in her first Olympics; at the age of 16, Wilma was the youngest member of the 1956 US track and field team, competing in Melbourne, Australia. During the games, she was awarded her first medal, a bronze medal in the women's 400-meter relay.
However, it was four years later during the 1960 Olympics in Rome, Italy that Wilma truly made a name for herself. She competed in the 100-meter race, the 200-meter race, and the 400-meter team relay; she received gold medals in all three events, setting the record as the first woman from the United States to receive three gold medals in a single Olympic Game. Wilma was informed that upon her arrival in Clarksville, there would be a parade and ceremony held for her, but she informed the coordinators that she was only willing to be there if it was to be a biracial, unsegregated event. The coordinators agreed, and in turn, Clarksville hosted its first large gathering that involved people of all races.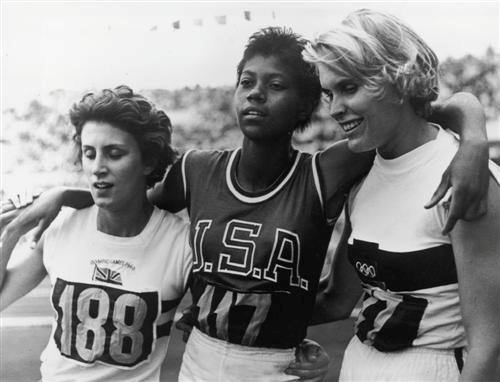 Following the Olympic Games of 1960, Wilma retired as a runner, insisting that she didn't feel as if she could ever top what she had achieved in the 1960 Games. She pursued a degree in education from Tennessee State University, from which she received a full scholarship. Furthermore, she was chosen to be the recipient of the 1961 Sullivan Award as America's Outstanding Amateur Athlete, an award that was not restricted only to females. She also won the Associated Press Female Athlete of the Year Award in both 1960 and 1961. At the time, track was not a professional sport, and amateurs had no way of accumulating sufficient living funds from the sport alone, so Wilma began teaching elementary school at Cobb Elementary and coaching high school track at Burt High School, making barely enough money to get by. Additionally, in 1961, she married her first husband, William Ward who was a fellow athlete but divorced him the following year. In 1963, she married Robert Elridge whom she had known from her childhood. The couple had already had one daughter who had been born in 1958, but throughout the remainder of their marriage, they bore three more children. She and Elridge divorced in 1976, at which point Wilma and her children moved to Indiana where she hosted a local television show and ran a community center. In 1977, she wrote an autobiography entitled Wilma.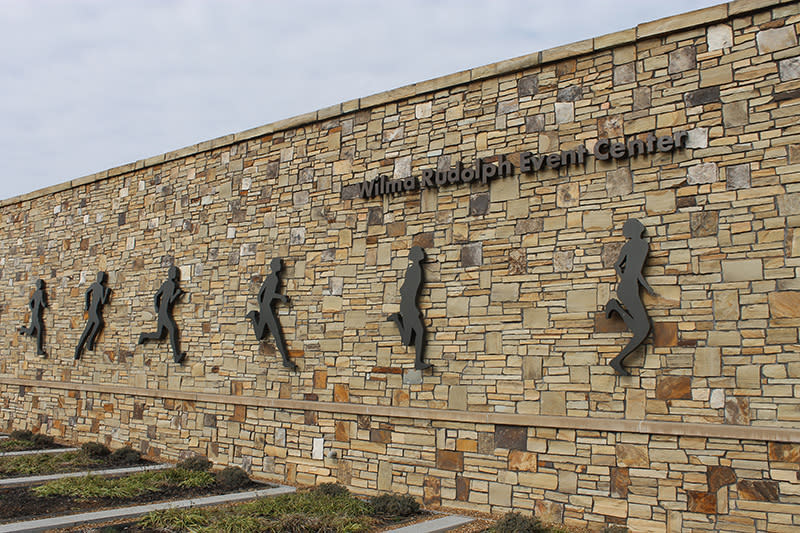 Unfortunately, Wilma passed away at the fairly young age of 54. In mid-1994, she was diagnosed with a brain tumor which eventually took her life on November 12, 1994; she passed away in Brentwood, Tennessee and is buried at the Edgefield Missionary Baptist Church, a small church located in Clarksville near the Mason Rudolph golf course. Her legacy has lived on for decades though. Wilma Rudolph Boulevard, in Clarksville, was given its name in dedication of her in 1994. In August of 1995, Tennessee State University honored her by naming their newly built dormitory after her, the "Wilma G. Rudolph Residence Center." Additionally, a life-sized bronze statue of Wilma Rudolph has been placed at the Wilma Rudolph Event Center located at 1190 TN Hwy 48 in Clarksville. Despite her untimely death, Rudolph's legacy is still very much alive within the city of Clarksville.