Horace "Hod" Lisenbee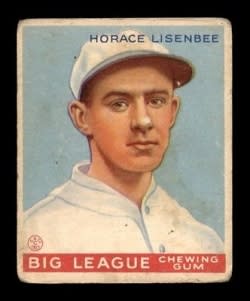 MLB player
1898-1987
by KaSandra Stone
Horace "Hod" Lisenbee, the 4th of 8 children, was born on September 23, 1898 in Clarksville, Tennessee to John and Sarah Lisenbee- both native Clarksvillians. He dropped out of elementary school at the age of 12 to help his large family survive financially, and for the next 9 years he worked 12-hour days as a tobacco farm laborer. He later credited his endurance through his lengthy baseball career to his days running to and from work. Lisenbee chucked rocks into the Cumberland River for entertainment in his spare time, and when he was 21 years old, he entered Clarksville High School, where the coach of the baseball team took notice of his exceptional throwing arm. For a moment, a 21-year-old high schooler who had never touched a baseball before was on the school team, but the coach soon cut him due to his poor fielding skills. 
Despite his first baseball failure, Lisenbee hoped to advance his new baseball career and started searching for a spot on a team. Not to be put off by the initial denials he met, Lisenbee spoke to a variety of teams and in 1924 a contact of his with the Memphis Chicks told him to try out for the Brookhaven Truckers baseball team. Within two days, Lisenbee pitched a 4-hit game against the Vicksburg team, including 9 strikeouts, and notched a 4-1 win. After this, Lisenbee joined the Tupelo Wolves minor league team, where he earned a 10-5 record; was invited to join the Memphis Chicks, where his season was cut short by a broken collarbone; and while his collarbone was still broken, he signed with the Washington Senators, where he impressed manager Bucky Harris so much that he moved to the big leagues. He got his pitching start in 1927 and led the Washington Senators to a 6-0 victory over the Boston Red Sox. Among Lisenbee's most notable accomplishments is his 5-1 victory over the reigning American League champion Yankees. 
In 1928, Lisenbee married Carrie Bell West, a student nurse as a Clarksville hospital, and was traded to the Boston Red Sox. He started baseball that year with an injury and had some trouble pitching. Through the spring of 1929, Lisenbee complained of soreness in his arm, but the doctors found nothing wrong with him and advised him to pitch through it. After such a promising and exciting start to his career, these were some particularly low seasons for him and set a low standard for the next few years. By 1931, he was used mostly as a reliever. In fear of the Red Sox dropping him from the team, he came back strong at the season's third game; however, even with the occasional success, he continued to have trouble playing. In 1936, a particularly low point in Lisenbee's career, his manager asked him to pitch an entire game, but Lisenbee was not prepared for it and allowed a record-tying 26 hits, which caused them to lose to the Chicago White Sox 17-2.
 From 1942 to 1944, Lisenbee took retired from baseball to help at the family farm and grow crops for the Army efforts during World War II, but he soon returned to play with the Syracuse Chiefs. After 20 years of baseball, he pitched a no-hitter at the age of 45. The following year, he signed with the Cincinnati Reds and played his last major league game. Lisenbee returned to his hometown of Clarksville, Tennessee and continued to pitch for the Clarksville Colts until he retired from baseball at the age of 51. He was the last player born in the 1800s to appear in a major-league game. He spent his finals years farming his 800-acres in Montgomery County, and in 1971, years after he retired, he was elected to the Tennessee Sports Hall of Fame. He died at the age of 89 on November 14, 1987 and was buried at the Liberty Presbyterian Church Cemetery in Clarksville. His wife and their two daughters, Carolyn and Shirley, survived him.