Jeff Purvis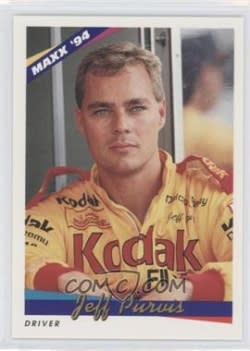 NASCAR driver
b. 1959
by KaSandra Stone
Jeff Purvis was born in Clarksville, Tennessee on February 19, 1959.
Purvis' NASCAR career began in 1990 with his first race at the Martinsville Speedway. His career continued to move forward in the Winston Cup Series where he competed in six races in 1991 and another six in 1992. The busiest season in Purvis' career was in 1993, when he started in eight races, and during this time he enjoyed the best runs of his career. From 1994 to 1997, Purvis circled the track in 19 NASCAR races before taking a three-year break. He returned in 2001 for 4 races in his final NASCAR season, and he has not driven in a NASCAR sanctioned race since 2004.
The Busch Series also saw Purvis compete in a number of races. In 1996, Purvis got his first Busch Series win at Richmond and his second in Michigan. His third Busch Series Victory came in 2001 at Pikes Peak International Speedway. Purvis' fourth career win came in 2002 in Texas, but that year proved to be a bad one for him after he blew an engine and spun out in his own oil at Nazareth Speedway. After he came to a grinding halt, his car was struck by driver Greg Biffle, and Purvis suffered severe head trauma.
Purvis sustained a second serious neck injury four years later when a tire blew on his toterhome while he and his family and friends were transporting his race car to an event in Talladega. The rig jumped the median and then crashed into the guardrail and trees on the other side of the road, and while trying to protect his son, he broke his back and neck. The popular opinion following this injury was that Purvis should not race again. 
With his 4 victories and 57 top-ten finishes in his NASCAR Nationwide Series career, Purvis was inducted into the first class of the National Dirt Late Model Hall of Fame in 2001. The Customs House Museum & Cultural Center in Clarksville, Tennessee features a permanent exhibit dedicated to Purvis, featuring one of his race cars. After leaving the racing circuit, Purvis started a scrap metal business in Clarksville.