Howard White "Smiley" Johnson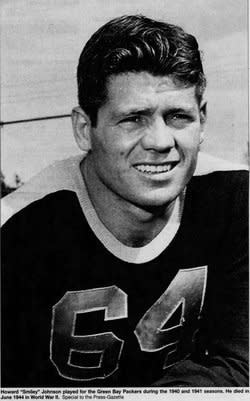 NFL player, USMC 1st Lt.
1916-1945
by KaSandra Stone
Howard White "Smiley" Johnson was born in Nashville, Tennessee in 1916, but grew up in an orphanage in Clarksville, Tennessee. He was known for his outstanding play in basketball, baseball, boxing, and football during his youth. He began his collegiate career at the University of Georgia, where he played college football while attending the university.
After college, Johnson achieved a dream of his and moved up to the NFL. He played for the Green Bay Packers from 1940 to 1941, where he earned his nickname, Smiley, for his winning grin that his teammates thought could light up a room. Johnson broke the mold of football players during his time. He didn't smoke or chew tobacco, drink alcohol, or swear, and he was known among his fellow players as a fine and polite gentleman who read his Bible every night before bed. After his first season with the NFL, Johnson married his college sweetheart, Marie Jackson, in December of 1940.  
When he and his teammates were scouting the Bears in a game against the Chicago Cardinals a year later, in December of 1941, they first heard of the Japanese attack on Pearl Harbor. He and his teammates reportedly all had the same question: Where is Pearl Harbor? Although they had never heard of Pearl Harbor before that day, Johnson ended his NFL career a week later and signed up with the American effort to end World War II. He joined the United States Marine Corp and served with I Company, 3rd Battalion, 23rd Marines of the 4th Marine Division, where he served his country with the same dedication and strength with which he played football.
In 1944, Johnson surprised his wife and newborn daughter with a quick reunion before leaving on the U.S.S. Calvert, which was headed for battle as part of the first division that went directly into combat from the United States. Soon after, at the battle of Kwajalein, Saipan, he earned his first Silver Star for conspicuous gallantry, but that quick visit with his family in January would be the last time he saw his wife and daughter. At the battle of Iwo Jima, on February 19, 1945, fragments from a Japanese artillery shell injured Johnson. Although he was badly hurt, Johnson declined medical attention until the four enlisted Marines with him were treated. According to Bulldogs historian Dan Magill, Johnson's last words were, "Take care of my men first." He died of his injuries at the young age of 28, one of three former NFL players to fall at Iwo Jima. After his death at Iwo Jima, Johnson was posthumously awarded his second Silver Star for his bravery that day. 
Johnson was one of thirty-two Green Bay Packers to serve in the United States Military during World War II, but he was the only one who never came home. He left behind his wife, Marie, and their one-year-old daughter, Jennie. His remains are buried at the National Memorial cemetery of the Pacific in Honolulu, Hawaii. To this day, the Clarksville community and the Green Bay Packers remember Howard Johnson for his athletic achievements and his dedication to his country till the very end.