Clarksville's trails serve up spectacular views, especially during the fall. Colorful foliage follows creeks, streams, and rivers along many of the city's trails, refreshing our minds, bodies, and spirits. Even if you miss those few days of peak color, you're still likely to see vivid pops of yellows, plums, oranges, and reds for weeks before the landscape transitions to winter scenes. Explore these hikes, walks, and bike trails for idyllic Tennessee fall views.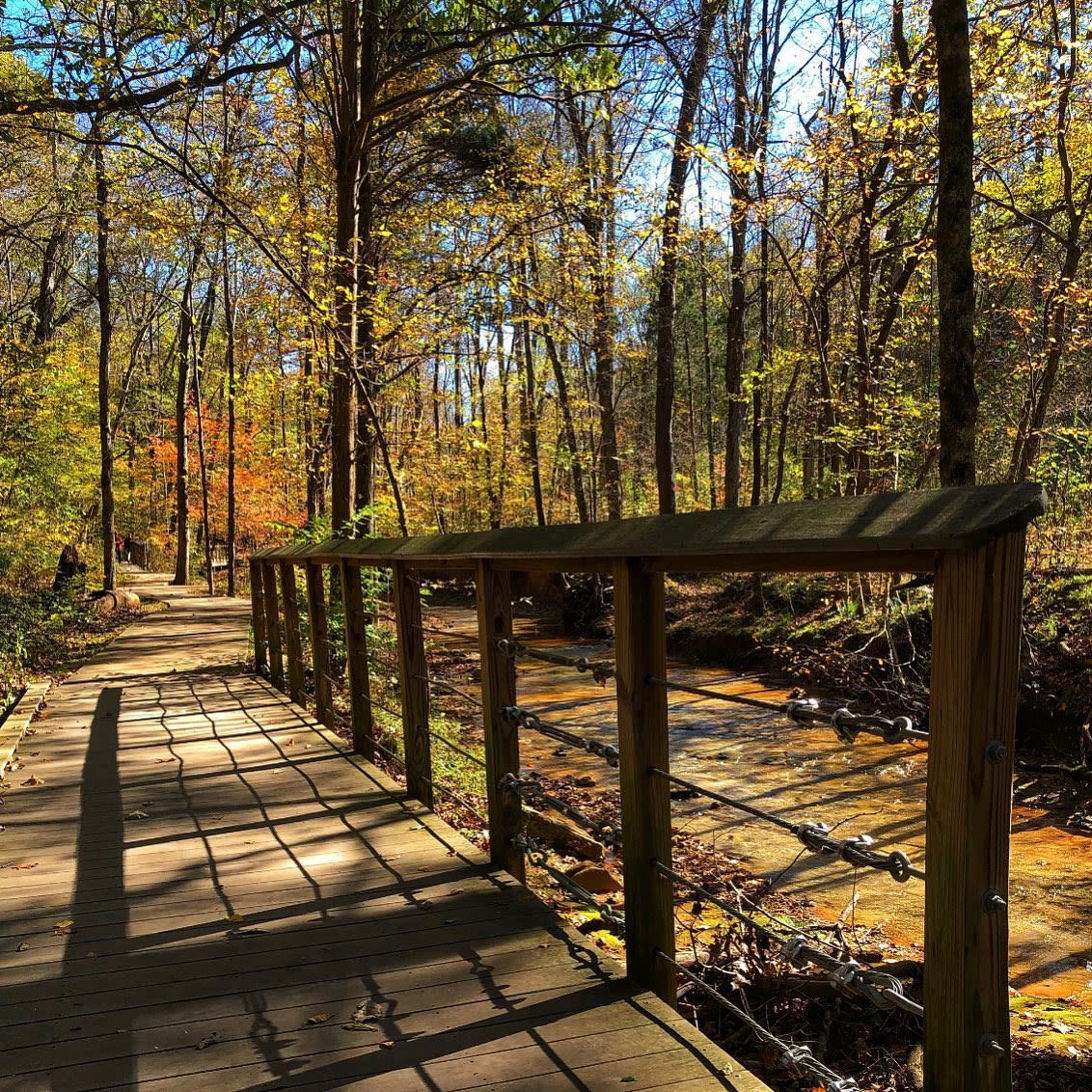 Rotary Park
Rotary Park is my home court, so we enjoy the trails and scenes regularly. The park offers about six miles of moderate hiking, which I classify as hilly but not too steep, on 12 designated trails. Some of the trails are pedestrian-only, some bikes-only, but most are dual-purpose. The most popular trailhead for hiking is the area by the creekside pavilion where a concrete ADA-compliant path follows and then crosses a creek to connect with some intersecting trails. My favorite hike is adjacent to the new Wade Bourne Nature Center near the back of the park. Take the sidewalk to the wooded playground then hop on the Boy Scout Camp Trail, a downhill jaunt with switchbacks that connects to Barn Path East. This flattens out and follows a creek, borders a couple of disc golf holes, and then climbs back around for several more options of intersecting trails. Here's a great trail map. Photo: @jessicap821
Tip: Since you're walking east at the outset, we love heading out early to catch the filtered morning light, and then enjoying brunch or lunch afterward. A few new places nearby to try are 931 Cafe, Kadi's Tacos, and Dock 17.
Upland Trail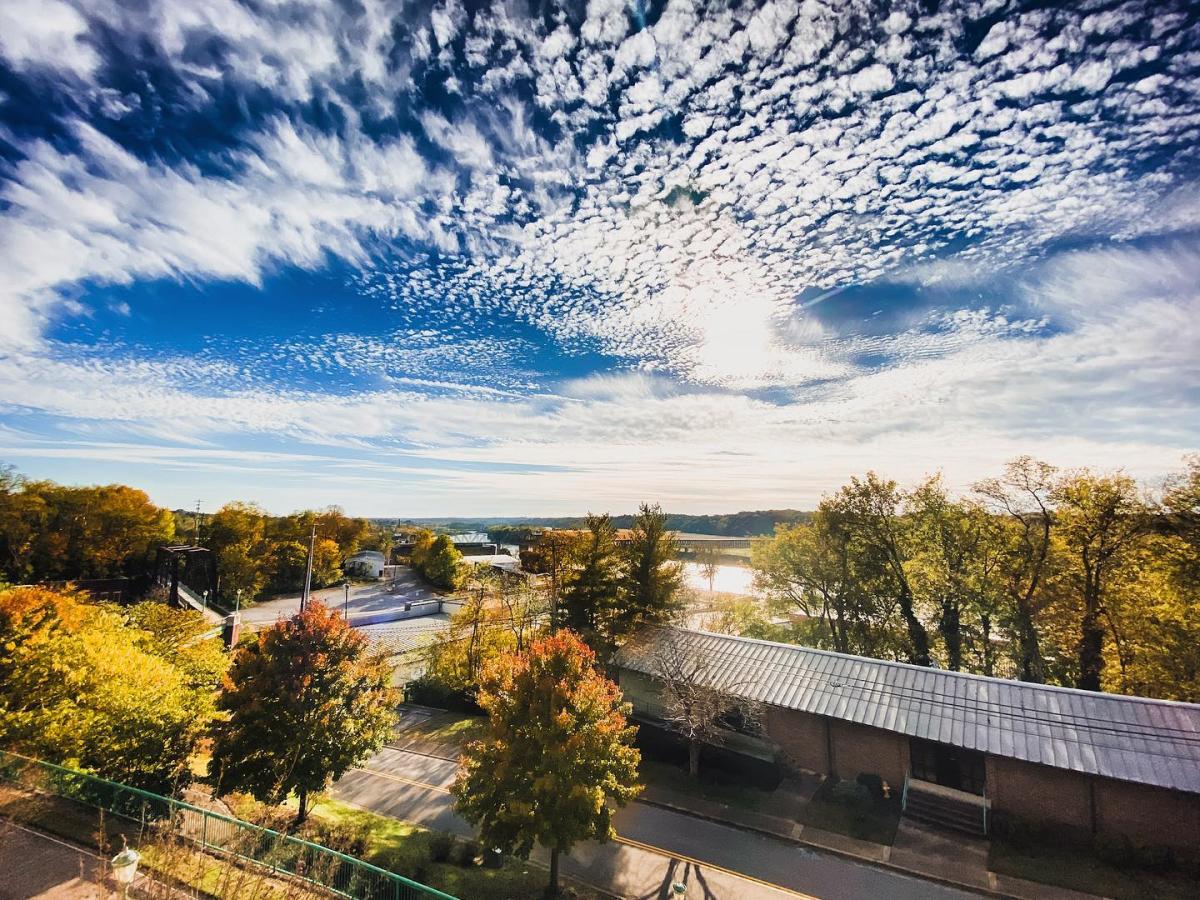 My family enjoys urban trails almost as much as nature trails. Clarksville's downtown Upland Trail connects from the south end of the Cumberland Riverwalk and winds up into and around downtown. Along the way, you'll spot public art and a gazebo, cross an abandoned railroad trestle (or two, depending on your route options), and still enjoy fantastic river views. The real bonus of the urban trail for us is the historic architecture. Fall is the perfect time for a walking tour of the city's gorgeous architectural gems. Photo: @erkabeff
Tip: Begin at the Spur Line Park trailhead for a meandering park entrance gated by remnants of the historic bridge. Then enjoy some of Tennessee's best BBQ at Legends Smokehouse & Grill.
Cumberland RiverWalk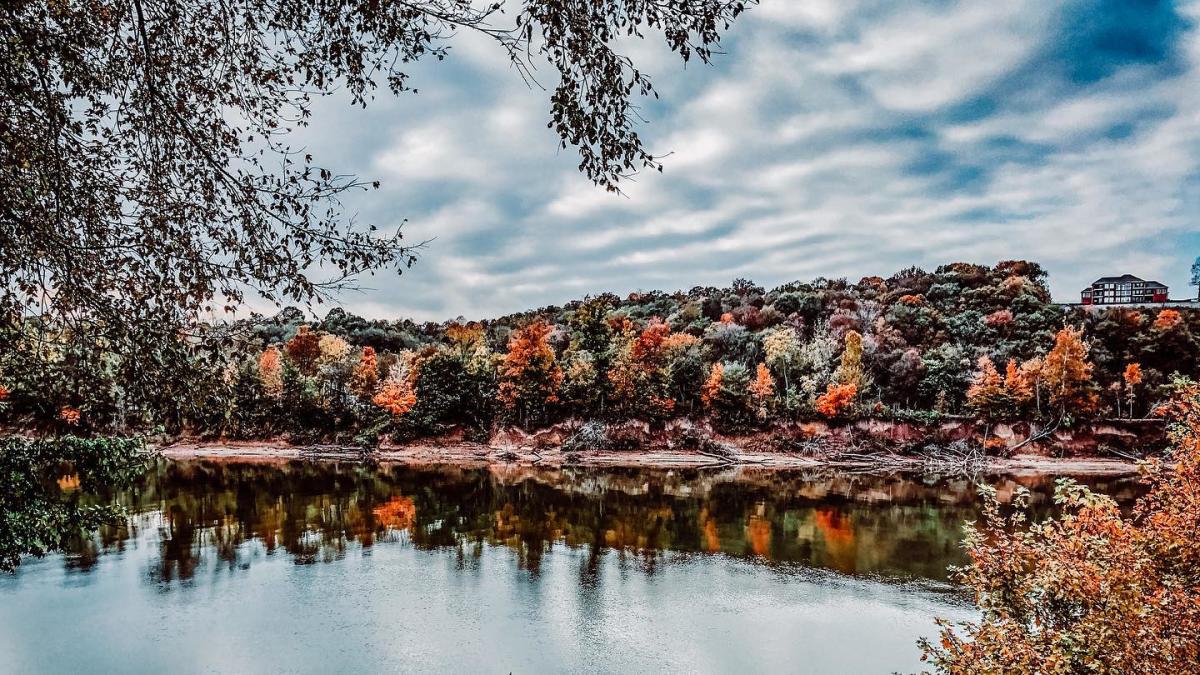 Easily turn time on the Upland Trail into a longer outing by connecting with the ever-expanding Cumberland Riverwalk. We like to start at McGregor Park and head north on this wide, paved walkway. If you enjoy history, stop in McGregor Park's As the River Flows Museum to see the visual representations of Clarksville's development from that point at the river. It's fascinating to see how both droughts and floods affected the city before water levels were controlled by dams. Once you encounter the convergence of the Cumberland and Red Rivers where Clarksville was first settled in 1784, you'll connect with newer sections of the trail that parallel the Red. These peaceful sections showcase scenic bluffs and are near water level, which may appear bright green or rusty red, again depending on recent rainfall. Photo: @elaintennessee
Tip: If you want to enjoy the full extent of the combined trails, which is about 7 miles round trip, you can opt to rent a B-Cycle for a leisurely ride. If you stay on foot, the trail offers benches along the way if you want to relax and take in the glorious river views.
Clarksville Greenway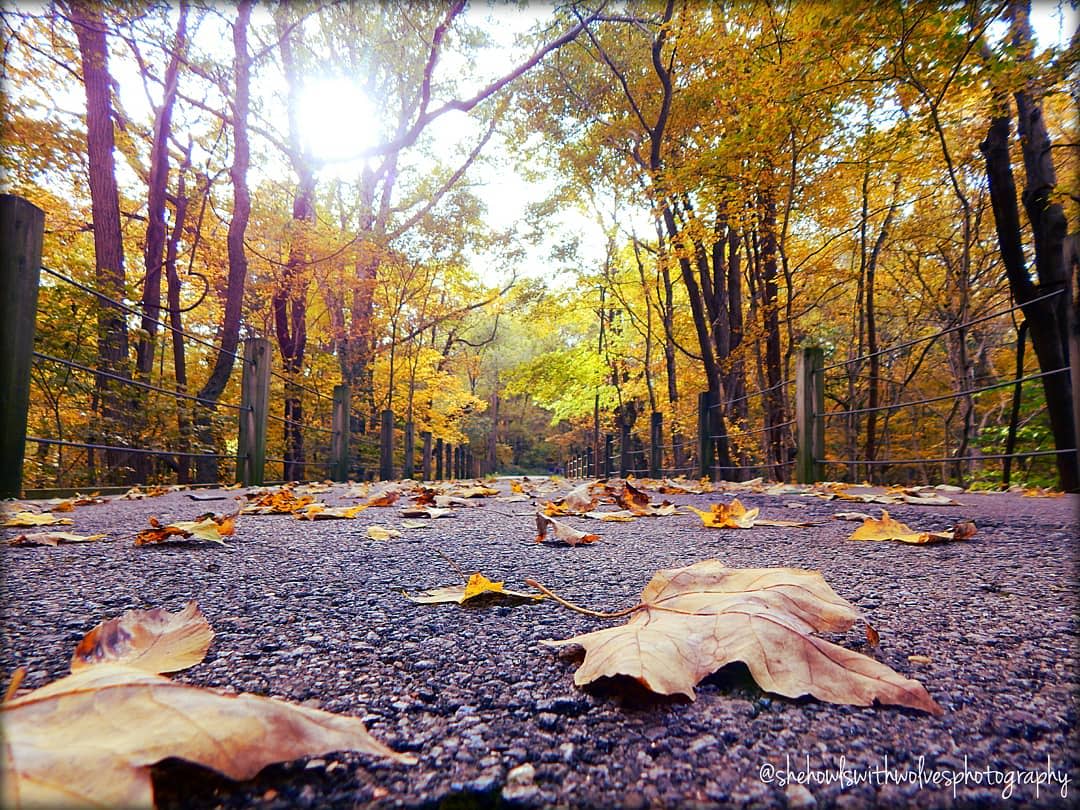 The Clarksville Greenway is a 9-mile paved walking and biking trail that allows you to escape the hurries of the city. What we love most is the variety of views along the expansive trail. The main trailhead is at Pollard's Road, which is about the center of the trail. A recently expanded parking makes this popular spot much easier to navigate. Both directions offer bluff-lined and tree-covered experiences, wildlife, and open vistas. Heading south includes more hills. Heading north is flat and will bring you to one of the most Insta-worthy spots in Clarksville, the Hand Pass, a 600-foot pedestrian bridge. You can also access the greenway at trailheads further north or south, and BCycle rentals are also available at the Pollard's Road entrance. Here's a trail map. Photo: @shehowlswithwolvesphotography
Tip: The Greenway is a super place for younger bikers, even with training wheels. The even payment and mostly flat areas are perfect for perfecting those skills!
North Ford St. Mountain Bike Trail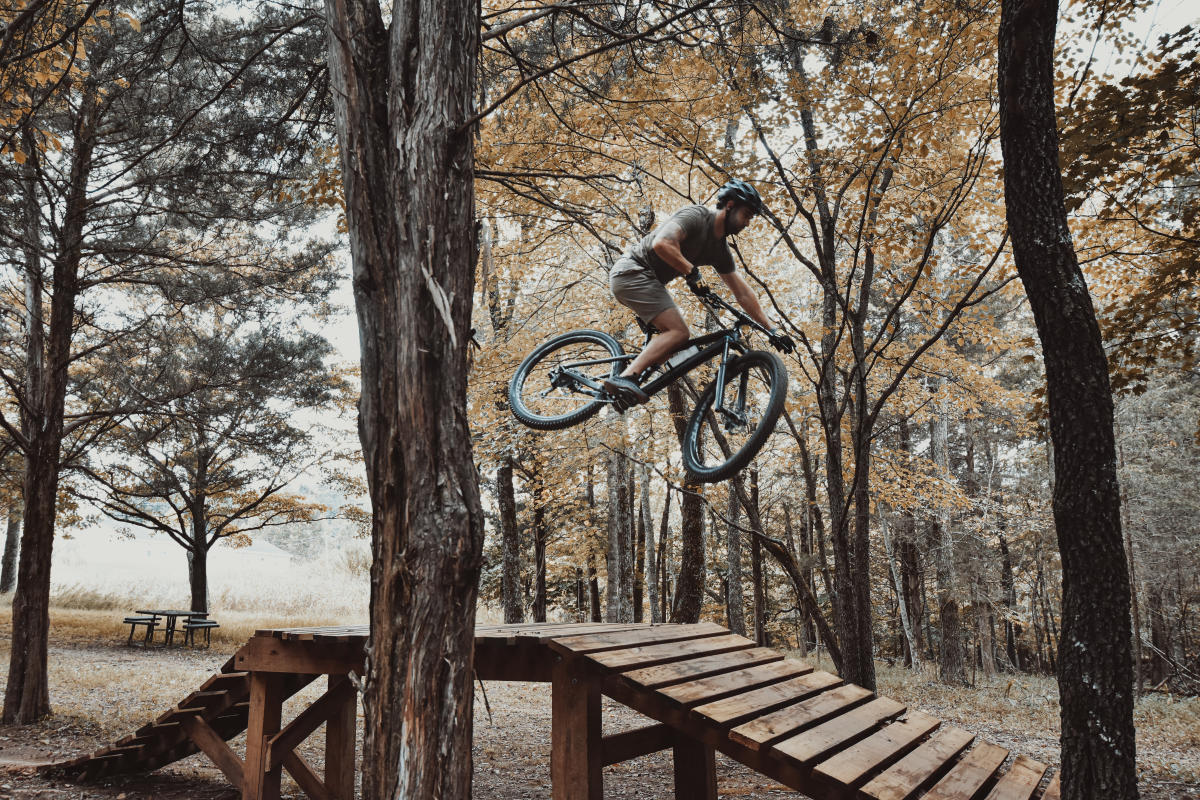 This mountain bike-only trail is one of the more serene spots in Clarksville. And, like the Greenway, it's tucked away behind a residential area where you might not expect to find such beauty. Located a little way south of the Clarksville Greenway, the 3.5-mile trek will soon be connected to the full Greenway trail system. The volunteers who maintain the park (Clarksville Area Mountain Bike Alliance) are top-notch and continue to work hard to create new trails and areas that are both challenging for advanced riders while offering simpler options for beginners. They recently installed a children's-only area, so it's a terrific place to take the whole family for some fun, aka exercise. Riders under age 15 must be accompanied by an adult on the main trail.
Tip: Follow the CAMBA TN website directions and don't rely on your vehicle's GPS.
Port Royal State Historic Park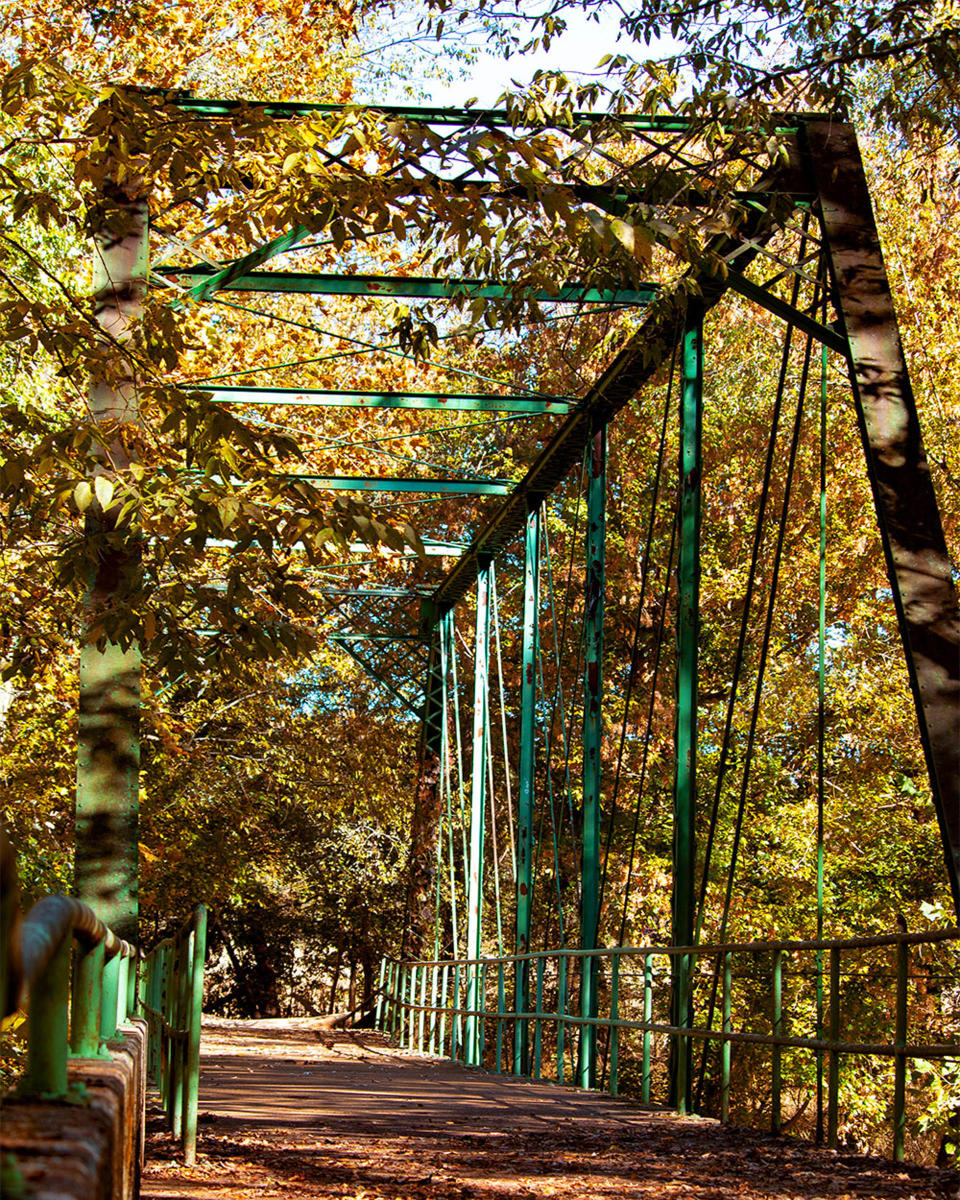 The trails are short at Port Royal, but the history and surrounding rural scenes are a worthy venture. We love the drive along the winding, tree-covered Hwy 76. We're not motorcycle people, but if we were, this would be our first trip! You immediately breathe a little slower and longer, relishing the rolling countryside views and firing tobacco aromas. Sulpher Fork Creek intersects with the Red River at the park, which became a thriving town during the tobacco trade. It's also part of the National Trail of Tears Historic Trail. So, there is much to learn in this small park.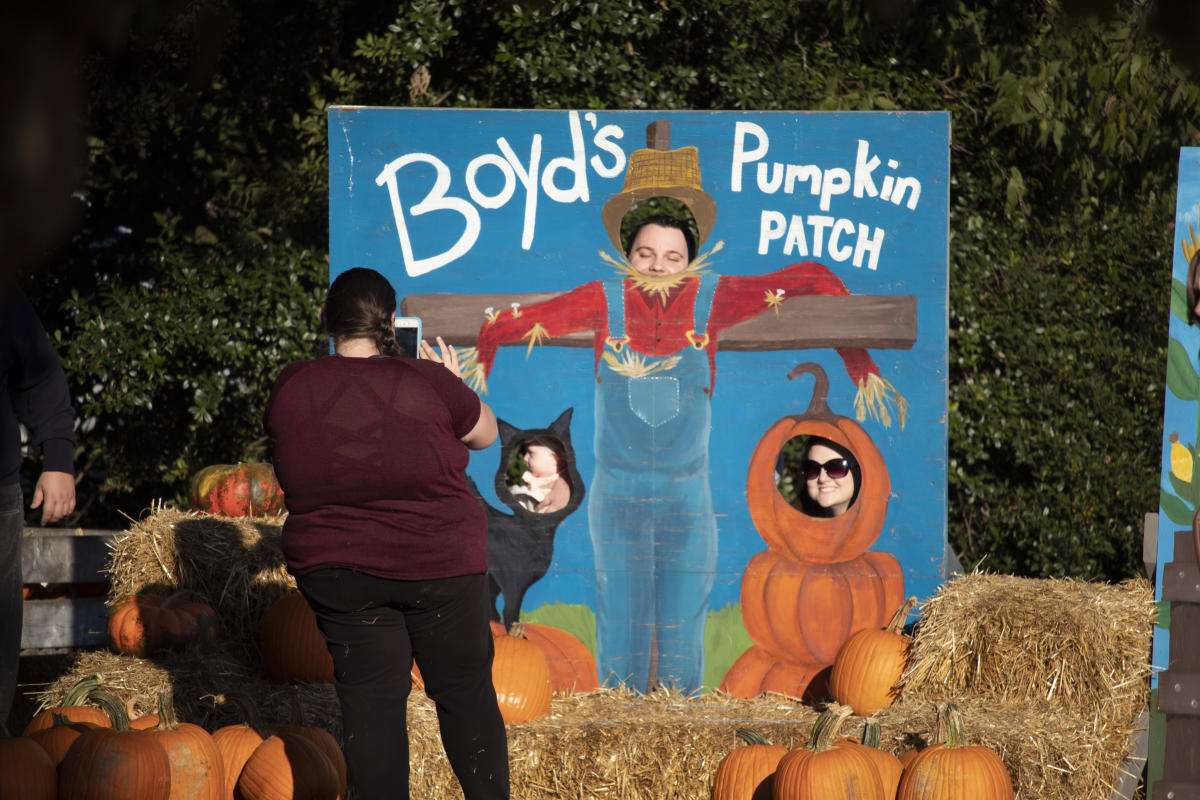 Tip: In October, make a stop at Boyd's Pumpkin Patch for a corn maze, games, photo ops, and of course, plenty of pumpkins. Be adventurous enough to explore some of the smaller side roads near and around the park for beautiful agricultural and barn scenes.
Dunbar Cave State Park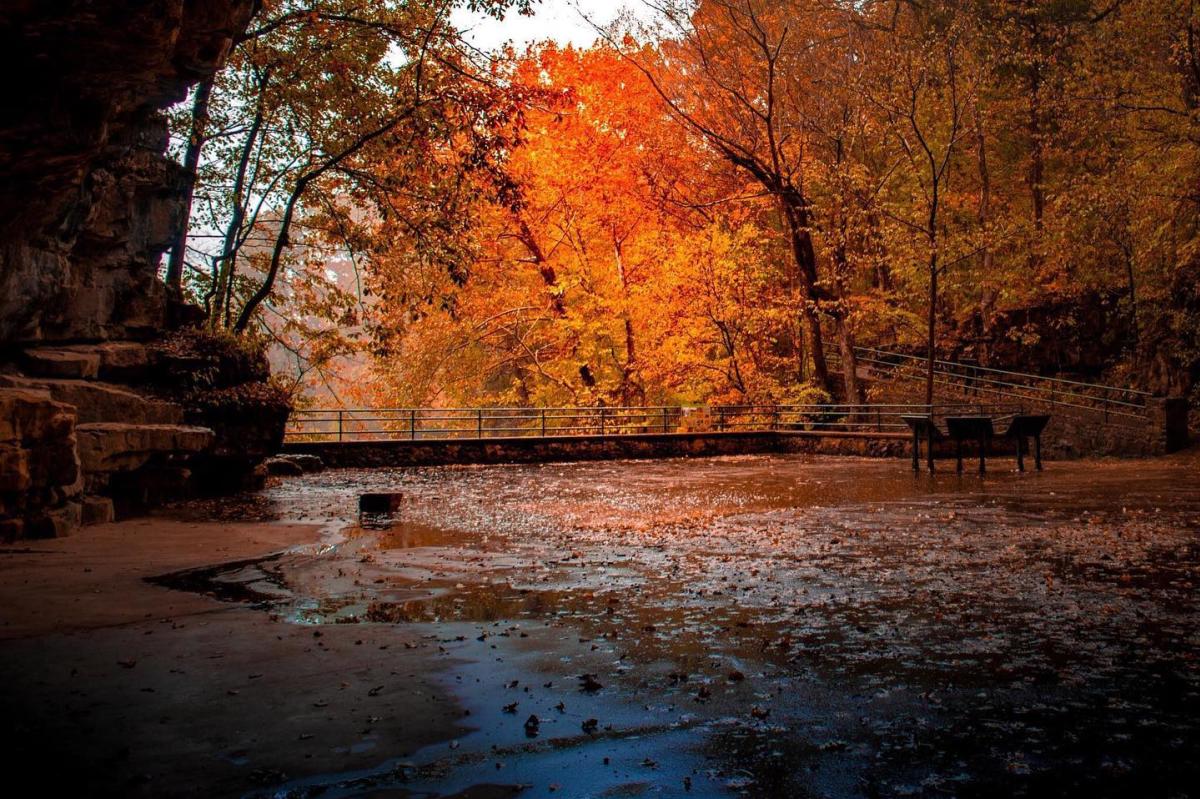 Last, but far from least, is Dunbar Cave State Park. This area provides magnificent fall scenery, as evidenced by the number of photographers you'll have to dodge. The 144-acre park is popular year-round for both visitors and residents, hikers and trail runners. Between May 1 and September, the cave is open for guided tours, which we highly recommend. But, for fall, winter, and early spring, enjoy scenes along the wooded trails that wind around the cave and over the small lake. You're guaranteed to see a variety of wildlife, sunning turtles, or maybe a flock of baby ducks which are naturally fan favorites. A lesser-known section of the trail is a .75-native grassland trail once you cross Tom Dillard Lane. Photo: @colortheorycreations
We love our parks and want everyone who visits to have a positive experience. Pets on leashes are welcome in all local and state parks. Please also take out what you bring in and leave no trash behind.
Let us see your fantastic fall views! Please share your photos by tagging us with #visitclarksvilletn on Instagram or Twitter. Check out these Trip Ideas for more fun experiences any time of the year!