My first experience visiting the Historic Collinsville Pioneer Settlement was nothing less than a breath of fresh air. The drive through the rural rolling hills of Montgomery County back roads took me to my childhood days growing up in the country of East Tennessee.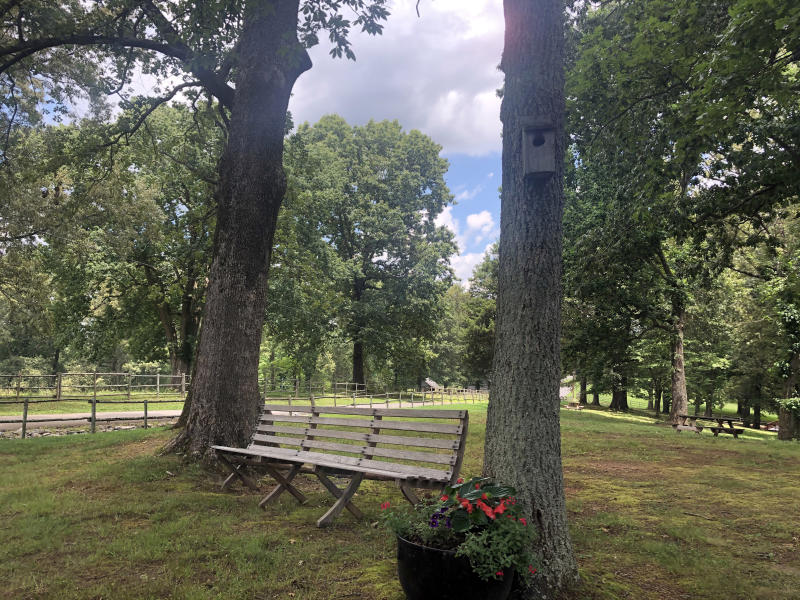 Benches and flowers around the grounds give visitors plenty of places to sit and enjoy the rural silence.
When stepping out of the car I was greeted with a cool breeze, birds singing, and Property Manager Linda Ebel. She was eager to give me a tour of the tucked-away village that sits across 40 acres of quiet timeless land. The property hosts an area with picnic tables where you can sit and enjoy the stillness while taking in the aesthetic of the colorful flower garden.
Scattered around the property are 16 different log buildings dating between 1830 and 1900. The authentic furnishings, tools and equipment help give a realistic glimpse of what life was like before and after the Civil War.
One thing that immediately grabbed my attention was the way Linda lit up when talking about the evolution of Collinsville. She has put in countless hours making recent improvements to the grounds and restoring additional buildings that help create this very special experience to showcase this era of Tennessee history. As we visited each structure the assertiveness in Linda's voice helped you step back in time as each building tells its own unique story.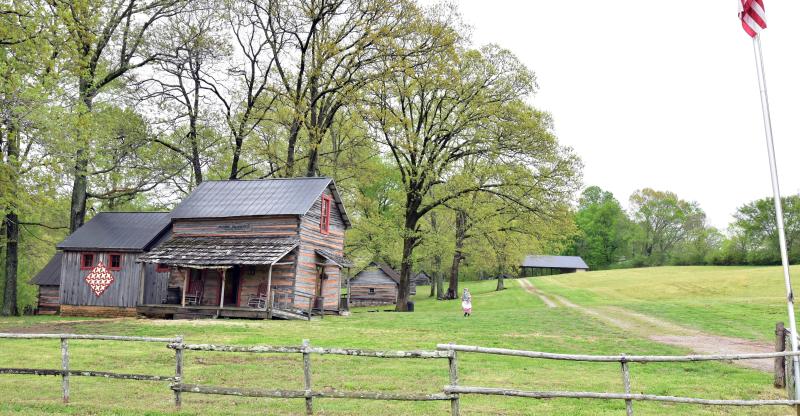 At the Visitor Center, guests can pick up an illustrated map with QR codes to hear stories about each building or room. 
The present-day Collinsville story began in 1974 when Glenn and JoAnn Weakley committed to their dream of rebuilding the settlement of Collinsville as a place where schoolchildren could experience first-hand what life was like in the pioneer era. Another fascinating story is from a family home with a window that was well known as a lookout for Union Soldiers in the area. Visualizing this placed me in that exact moment in history.
One of my favorite buildings was the schoolhouse/church, which holds a piano that was purchased for a little girl on her seventh birthday. The piano traveled by the Ohio River to the Cumberland River where it was met by a mule and a wagon and brought to Collinsville.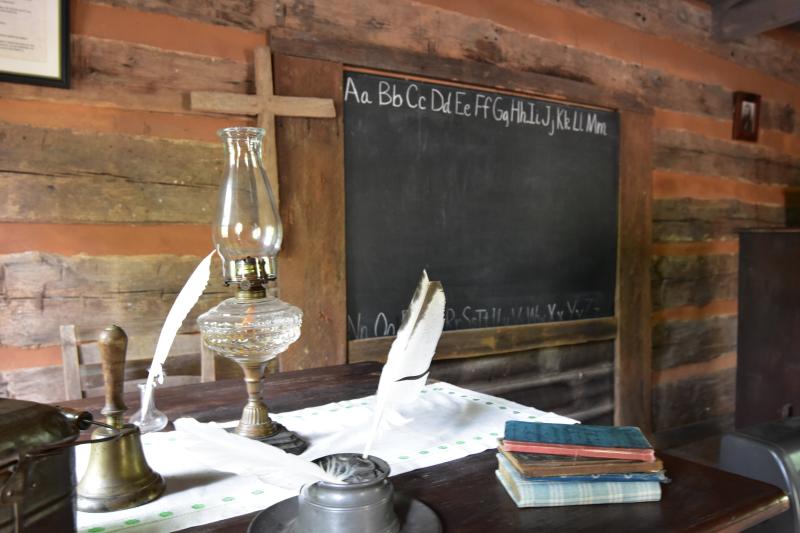 The community church often served the dual role of schoolhouse in the early-mid 19th Century. 
Across from the schoolhouse, you will find the teacher's house which is one of the newer restorations. "We want to be as authentic as possible to the respective timeframe with every structure and accessory on the property," said Linda. "A teacher would have likely lived near the school, so we took this opportunity to broaden our covered time period into the later 19th Century." This home is presented as the early 1900s. During this era, female teachers would have made about $30 a year which is worth roughly $900 today, while males made up to $60 a year.  On the doorway entering the house, you will notice a set of rules posted that the teachers were expected to abide by. (They might sound quite strict by today's standards.)
With special event day actives such as butter making, blacksmithing, and weaving, you are able to immerse yourself in the era. I realized that life was a lot harder then – if you didn't grow it or kill it or trade for it, you didn't eat it. And, I developed a new appreciation for modern, everyday things like going to the grocery store and having a machine to wash my laundry.
Visit the Historic Collinsville website to plan your outing.  
What to Know Before You Go:
Tours are self-guided. You'll receive a map at the Visitor Center.
The 2021 season is June 5 – October 30; Saturday, 11a.m. – 4p.m. and Sunday, 1– 4p.m.
Collinsville is closed on holidays.
Please wear appropriate outdoor shoes.
Regular daily admission is $8 for ages seven & up.
Private guided tours are available with reservations for groups of six or more.
You can also rent Historic Collinsville for private parties, events and weddings.