Whether you're looking for an action-packed day trip or an unforgettable weekend getaway, Clarksville, Tennessee is a fantastic place for you and your girlfriends to eat, drink, shop, explore, and make memories that'll last a lifetime. 
From hikers to history buffs, foodies to fashionistas, Clarksville has plenty of options to satisfy a wide variety of interests. Visit once and you'll be making plans to come back, over and over again! Here are our top recommendations to help make your Clarksville girl trip the best one yet!
Eat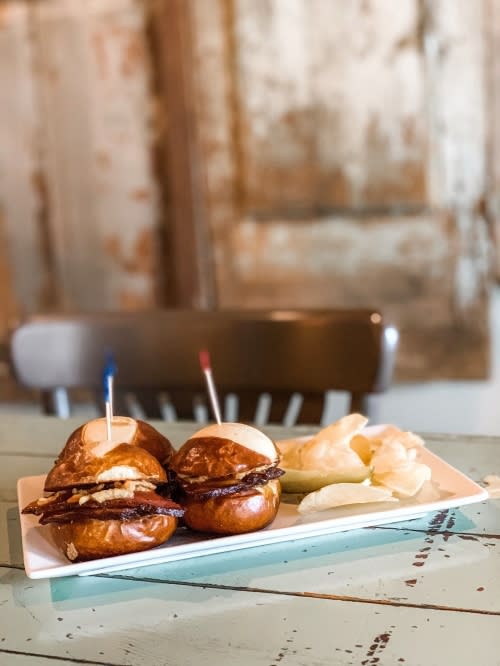 Deliciously decadent house-blended teas and an inspired seasonal menu (Pickled strawberry grilled cheese sandwich? YES PLEASE.) make this rustic teahouse a must on any girls' trip to Clarksville. Located inside a historic cabin beside Madison Street's Tanglewood House, you'll love The Mad Herbalist's cozy ambiance as much as the food -- and the tea, served hot, iced, or sparkling, is transcendent.
In my opinion, a shopping expedition to Miss Lucille's (more on this below) is mandatory when visiting Clarksville -- and it wouldn't be complete without lunch at Miss Lucille's Cafe. The food here is better than it has any right to be and features ladies-who-lunch favorites like salads, paninis, bowls, and wraps and while everything we've tried here is delicious, Willie's brisket sliders put me into an absolute state of nirvana. Just so you know.
Madeleine's
I'm thrilled this authentic French bakery has opened a new location in Clarksville's historic downtown. At Madeleine's, you'll find sweet and savory crepes, macarons, tartes, croque monsieurs, and other classic French fare -- but what really makes this bakery stand out is its heavenly bread. Madeleine's croissants are hands down the best I've had in Tennessee and the bread, baked fresh every morning, is truly marvelous. Simply order the bread in the case that's freshest (we opted for cheese and garlic) and I can guarantee you won't be disappointed!
A meal at Silke's is another quintessential Clarksville experience. This German-inspired bakery housed in a College Street warehouse turns out bread so delicious that it's used by some of Nashville's most popular restaurants, and its extensive cafe menu of German meat and cheese plates, handmade pizzas, and German favorites like bratwurst is a huge favorite with locals and visitors alike. While you're there, be sure and pick up a few of Silke's famous cinnamon rolls and pastries from the bakery. Silke's is best as a breakfast or lunch experience Monday through Saturday since its bakery, deli, and cafe (all in the same building) are all open during that time -- You'll want to check out all three!  
Shop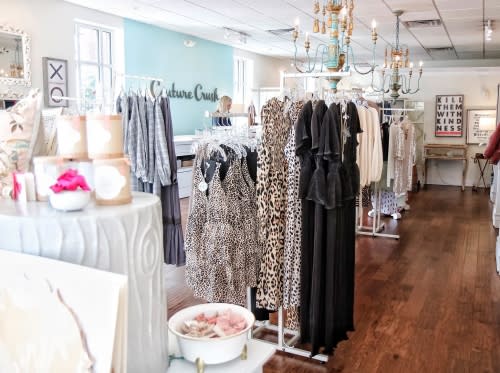 Downtown Shopping
If you haven't had a chance to go shopping in downtown Clarksville, you're in for a treat! You could easily spend all afternoon wandering in and out of the many clothing, antique, and specialty shops, all within easy walking distance of each other. Do note that many of the businesses are closed on Sunday. City parking is free on weekends and after 5pm.
Looking for something fabulous to wear? Mildred & Mable's and Couture Crush have curated collections of women's clothing, jewelry, and accessories, as well as home goods, gifts, and other must-haves that'll have you reaching for your wallet.
 Antique Cache & Collectibles is a classic antique shop that shouldn't be missed. Next door, the Downtown Artists Co-Op is filled with all kinds of local art and crafts that will suit any budget -- Be sure and check out the upstairs lofts on either side of the gallery, where you'll find offerings from dozens of artists and craftsmen.
And if you love to read like I do, make tracks to HUDUBAM Book Traders, a cozy new and used bookstore with inviting nooks and crannies that'll make you want to sit down and enjoy what you've found. 
Honestly, Miss Lucille's is worth a girl's trip to Clarksville all by itself. The warehouse-sized space holds more than 200 vendors selling antiques, home goods, gifts, clothing, jewelry, handmade treasures, vintage knick knacks, and much, much more. It's extremely well-curated and feels a lot like walking through an in-real-life version of Etsy. Set aside plenty of time for Miss Lucille's on your next Clarksville visit -- You could spend all day here!
Drink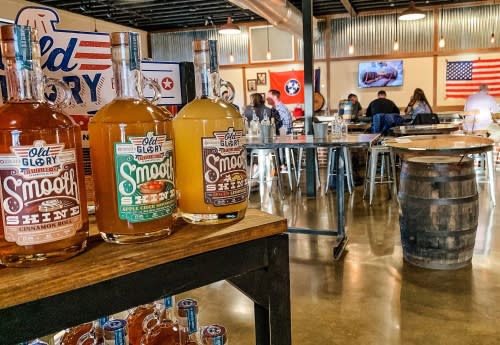 This small batch artisan distillery is making a big name for itself in Clarksville, and its tours and tastings are hugely popular with locals and tourists alike. Book your tour online ahead of time, then go and learn how Old Glory makes its bourbon whiskey, vodka, gin, and moonshine. Afterward, you do a tasting of everything at the distillery's bar.
Beachaven Vineyards and Winery
Conveniently located right down the street from Old Glory, you'll find  Beachaven Vineyards and Winery, one of the first licensed wineries in Tennessee and certainly one of the most beloved. Free tours and $5 tastings are offered here as well.
You'll love the casually hip vibe at Strawberry Alley Ale Works. Their in-house brews are delicious and the food here is great as well. If you're out on a Thursday, Friday, or Saturday night, you'll want to head to the second floor, where you'll find Upstairs at Strawberry Alley, a late-night taproom with a large balcony, games like wall Scrabble, corn hole, and shuffleboard, and a menu heavy on bar favorites like burgers and pizza.
Blackhorse Pub has been in Clarksville since the early 90s and it's definitely downtown Clarksville's most popular bar. Here, you'll find highly-regarded local brews and surprisingly good food -- Blackhorse is famous for its beer cheese dip, which makes for a great snack on a big night out. We like the upstairs bar at Blackhorse best, where exposed brick walls and twinkling lights give the space a more intimate feel. 
In need of a latte? Clarksville has two fantastic options for coffee drinks.  Plumb Line Coffee is a fantastic spot on University Avenue, with an artsy-yet-welcoming vibe and fantastic artisan coffee drinks. 
Ravenwood Coffee and Creations
For something totally different, Ravenwood Coffee and Creations on Wilma Rudolph Boulevard pays enchanting tribute to Harry Potter with a Hogwarts-inspired decor and drink menu. The specialty drinks here are fantastic and include whimsical flavors like Cocoa Puff and Cherries on a Cloud. Butterbeer, of course, is also on the menu! 
Watch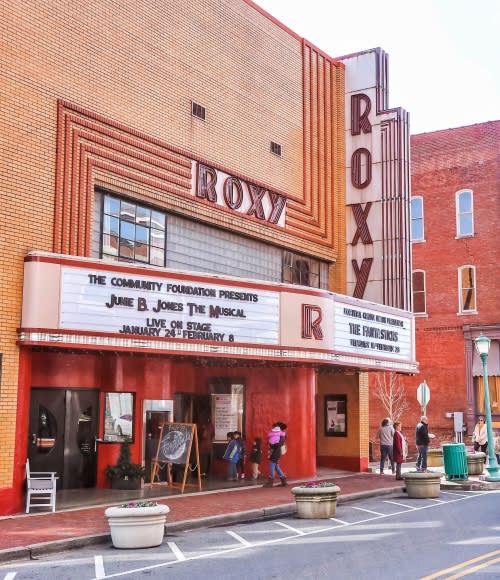 Be sure and check the Roxy Theatre schedule before your visit to Clarksville -- You might want to add a stage show or movie to your itinerary. Originally opened in 1913 as Clarksville's first movie theater, The Roxy has survived several fires and an extended vacancy to become the home today of a professional regional theater company and classic film series. 
Live Music
Since it's just an hour north of Music City, you can bet Clarksville has lots of live music options. Beachaven Vineyards hosts musicians on its lawn throughout the spring and summer -- Check the Beachaven schedule for options. Evill Nash Brewing Company offers live music and open mic nights. Ravenwood Coffee hosts live music and open mic nights. And downtown, Downtown at Sundown happens every first and third Friday, May through October.
Learn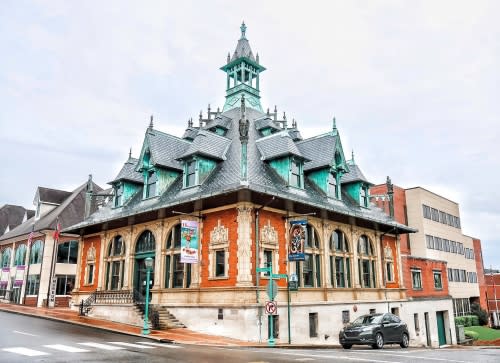 I love history, but Civil War battle stories aren't my cup of tea. That's why I love Clarksville's Fort Defiance -- It's a Civil War park that focuses on how the war affected everyday citizens. Fort Defiance has an interpretive center with artifacts, an excellent short film, and grounds that include a well-preserved earthworks, powder magazine, and gun platforms, but what really makes this place special is its historical interpreter, William Parker. Parker is the absolute authority on Fort Defiance and he will give you a free tour personalized to your interests if you schedule it ahead of your visit. Reserve your time by calling 931-472-3351. You won't regret it!
Dunbar Cave is another unique experience that you really shouldn't miss if you're visiting Clarksville. This massive cave has more than 8 miles of passages (rangers believe there are more waiting to be mapped!) and is filled with interesting natural features and a whole lot of history, including ancient Native American petroglyphs and pictographs. Tours begin in May; Reservations are strongly encouraged and can be booked on the website.
You never know what you'll find at the beautiful Customs House museum in downtown Clarksville. Built in 1898, it's actually the second-largest general interest museum in Tennessee and contains a fascinating maze of rooms filled with fine art, sculpture, local artifacts, and interactive exhibits. I suggest you skip the map and wander the building on your own -- Part of the fun here lies in not knowing what to expect! Admission is $7 for adults and it's FREE on the second Saturday of each month!
If you're a fool for historic home tours like I am, you're in luck -- Clarksville is home to the historic Smith Trahern-Mansion, located on the outskirts of downtown Clarksville. Built in 1850, the home includes a grand staircase, a widow's walk on the roof, and (rumor has it) a ghostly presence who haunts that widow's walk at night, eternally waiting for her husband to return from New Orleans on the steamboat. Hours are Monday-Friday, 9:20am-2:30pm; Admission is just $2 per person. 
Work it Out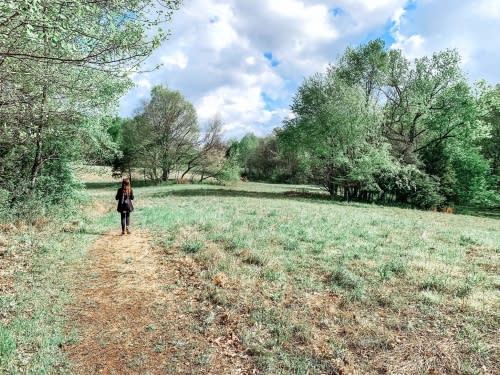 There's no better place for a hike in Clarksville than Rotary Park, which has six miles of scenic hiking and mountain biking trails that include a lovely creek and a picturesque abandoned barn. We make time for a hike here on nearly every visit -- It's a true Tennessee treasure and less than 15 minutes from downtown.
Clarksville's scenic paved greenway system is nine miles long now and still growing! The mostly flat trail is popular with walkers and joggers, but I love it best on a bike. Bring your own bikes to Clarksville or rent them at the Pollard Road Trailhead Bcycle station -- They're just $3 for 24 hours and you can check them in and out as often as you want during that time period. Although the greenway has several entrance points, I definitely recommend parking at the Pollard Road Trailhead, which has a large parking lot and restrooms. A map of the Clarksville Greenway is available here.
Whether or not you visit Dunbar Cave, consider making time for a walk on the park's lovely Recovery Trail, which takes you around Swan Lake, through a forest, and into a very picturesque field. Grab a map of the trail in the Visitors' Center or download it on your phone. This hike is a perfect way to walk off a big breakfast or lunch! 
No matter what you choose to do, you can't go wrong with this list. Your only trouble will be fitting everything in that you want to do! Have fun!