It may be morbid, or it may be Halloween, but there is something about visiting a graveyard that arouses intrigue and imagination. There are two historic cemeteries in Clarksville that date back to the very beginning when Clarksville was nothing but a small settlement.
Riverview Cemetery
Riverview Cemetery has existed since February 23, 1800, when Valentine Sevier, Revolutionary War hero, and brother to Tennessee's First Governor John Sevier, donated the land. He is also the first recorded internment. Riverview is considered the oldest known public burial ground in the area and is still an active cemetery. The cemetery was first referred to as the city cemetery but in 1929, it gained the name of Riverview from being situated high on a hill that overlooks the Cumberland River. The reason the cemetery is up on the hill was to prevent attacks from native Americans which would most likely have occurred on a lower and flatter area of land.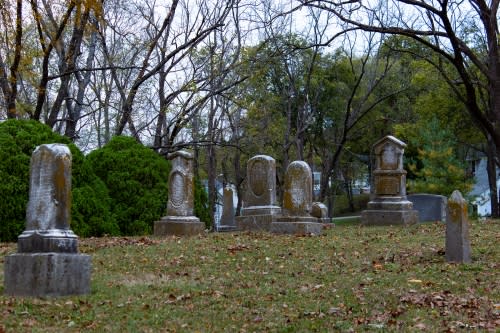 The old age of the cemetery has allowed many individuals from interesting walks of life to be buried here. Early pioneers, settlers, civic leaders, and statesmen reflect the historical and cultural heritage of Clarksville and early Tennessee country. Men from all American wars are buried here, including Revolutionary War Soldier Robert Nelson. US Congressman and Irish immigrant, James B. Reynolds, is also buried here.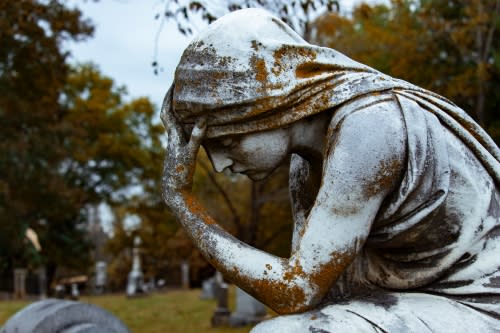 There are several elaborate headstones throughout the cemetery. One notable headstone is that of Evie Brown. Crouching on top of the large headstone is a woman shrouded in cloth and grief. She also holds a wreath which symbolizes memory and victory over death.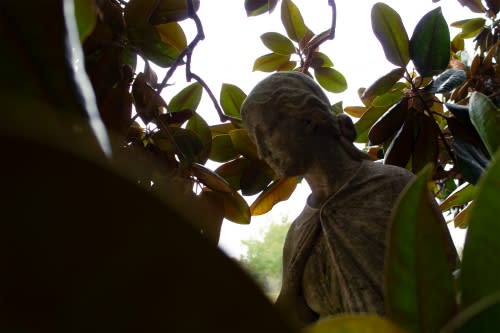 Another rather ornate gravesite is that of Susan B. A large magnolia tree hangs overhead protecting her from the harsh weather coming down the river. Because of this, her plot is one of the gravesites that have faired better than others.
For more information on the Riverview Cemetery.
Greenwood Cemetery
The layout of Greenwood Cemetery is quite different from your typical cemetery. Greenwood's landscape artist, Benjamin Grove of Louisville, designed a circular curved arrangement of plots rather than the usual rectangular arrangement used in the Riverview Cemetery. In 1873, several years after the City of Clarksville had really begun to grow, Greenwood Cemetery opened. Soon many of the local families began to move their loved ones to Greenwood because most of the older cemeteries in the area did not have perpetual care. Slowly, this allowed Greenwood to grow and it's become the largest cemetery in Clarksville with some of the largest and most elaborate gravesites around.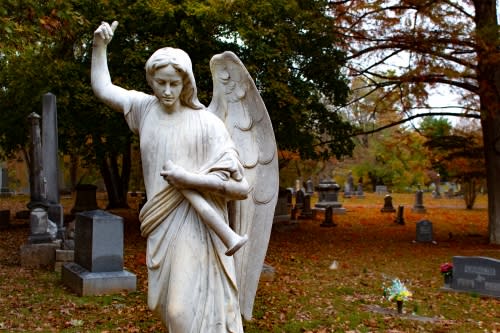 Greenwood Cemetery has become THE place for local public figures to be buried from politicians to wealthy business owners and soldiers. There are two Tennessee Governors buried here Willie Blount and, probably more recognizable, Austin Peay, which Austin Peay State University was named after. There were also a few US Congressmen: James Edmund Bailey, Gustavus Adolphus Henry, and John Ford House. Gustavus Henry is buried under one of the largest headstones in the cemetery resembling the Washington Monument obelisk in Washington D.C. The world-famous tobacco farmer, Hugh Dunlop, is also buried in Greenwood.
At the entrance of Greenwood Cemetery is the tallest structure in the cemetery, a confederate monument. While there is much controversy surrounding the remnants of confederate memorials, this piece of art is quite elaborate and features the confederate soldier and US Congressman, James Bailey.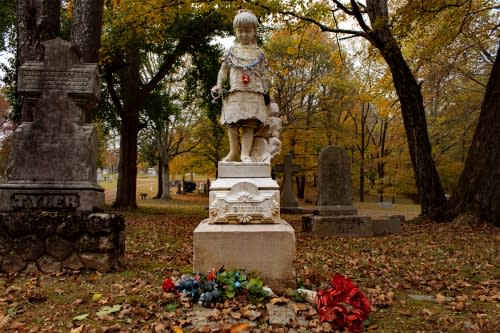 Another unique gravesite is that of Nannie Tyler, who was only 4 and a half years old when she passed away. Many people visit just to pay tribute to this young girl, adorning her grave with beads, money, and flowers. 
For more information on Greenwood Cemetery.