Clarksville is well-known for its intense spirit of community and belonging, and that extends far beyond its fascinating local history and restaurant scene. The many parks of Clarksville offer spaces to relax, bike, walk, play, picnic, fish, and more. Whether you're a nature buff and love to explore the outdoors or you're new in town and want to adventure into more of Clarksville, these parks and their trails are sure to provide you with a great balance of activity and relaxation.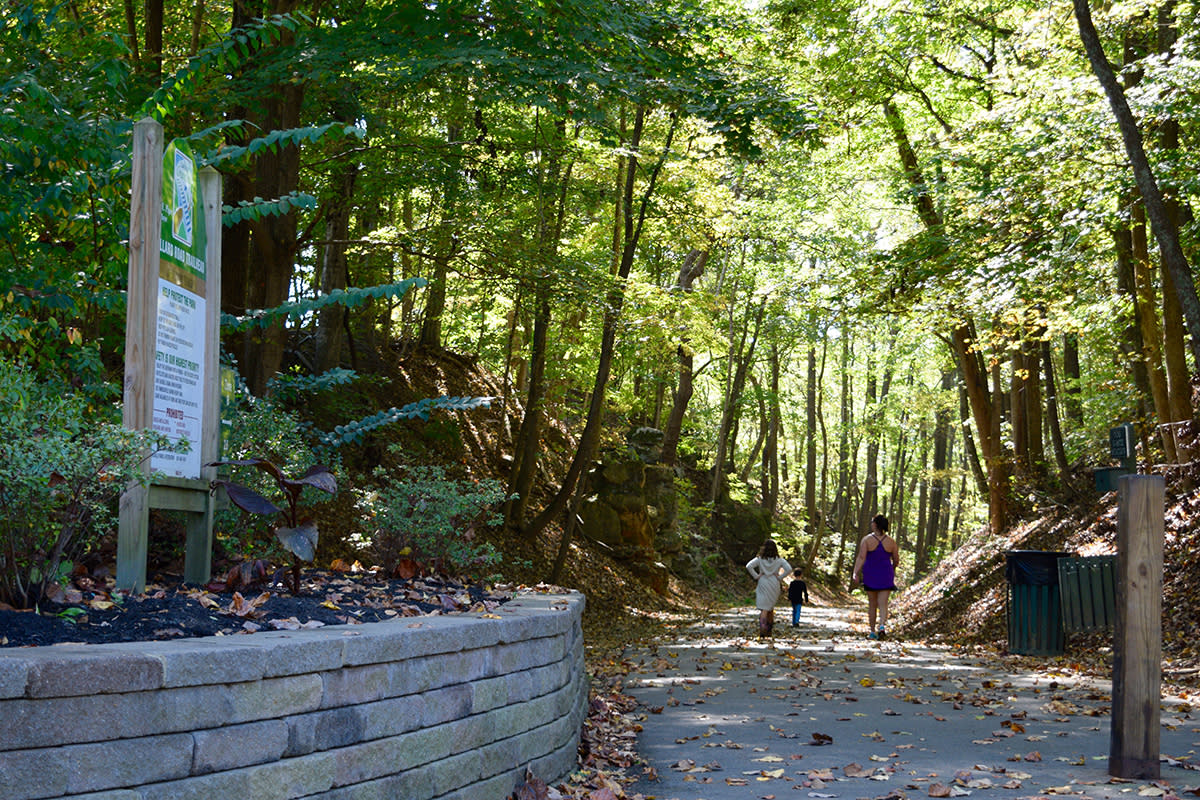 Clarksville Greenway - Photo Credit: Lucas Ryan Chambers
Pedestrians and cyclists alike will love the Clarksville Greenway. The nine-mile paved trail winds throughout Clarksville and has multiple trailheads for easy access. Walking the entire trail will take you through some of Clarksville's other parks: Heritage Park, North Ford Street Mountain Bike Park, and — very soon — McGregor Park. The Greenway is part of Clarksville's Rails to Trails initiative that turns abandoned railroads and waterways into walking and biking trails. At any entry point, you're immediately away from the city and into nature. Sometimes you're alone, and sometimes you have strollers, skateboards, runners, and skaters moving past you. I was intrigued by the interesting rock formations along the path that I had never seen before and conveniently got to read about them on the infographic signs. One of the most scenic parts of the Greenway is the Raymond C. Hand Pass, a 600-foot pedestrian bridge overlooking rolling hills and covered in locks reminiscent of the Pont des Arts Bridge in Paris. I definitely want to return to put my own lock on the bridge!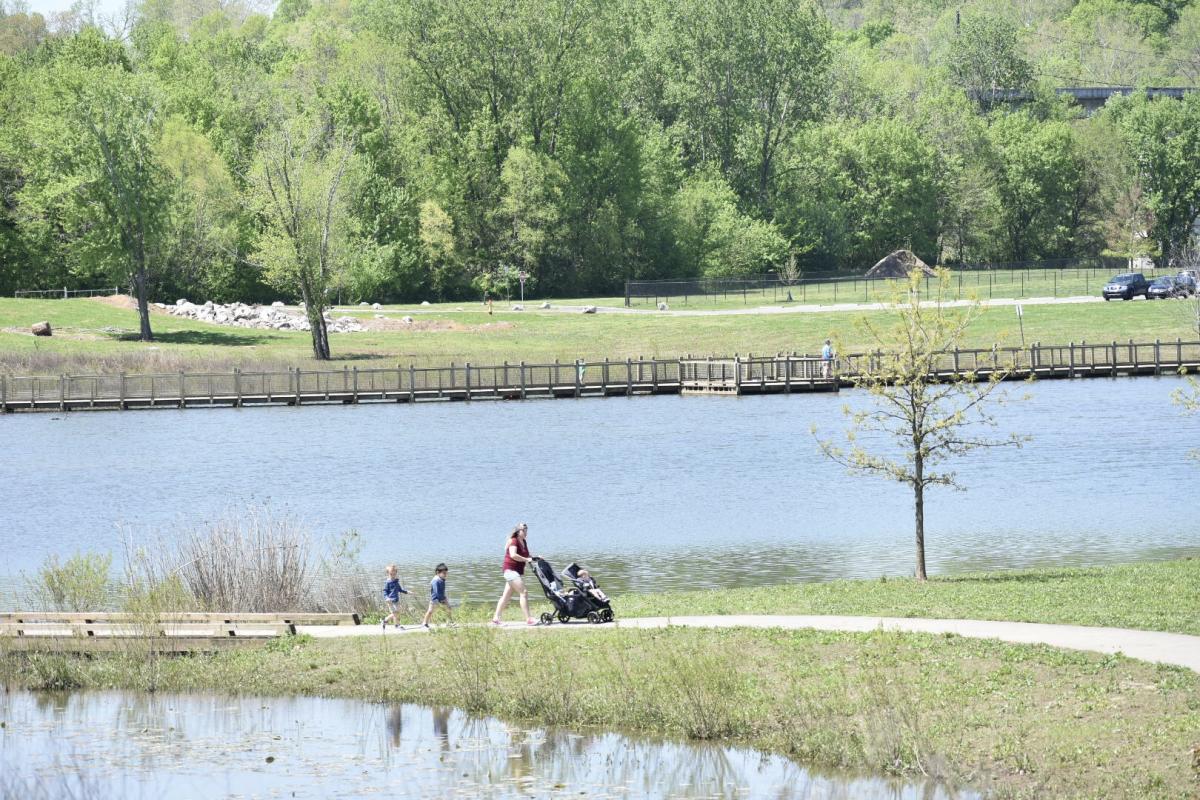 Liberty Park
Liberty Park, with 146 acres alongside the Cumberland River, is the biggest park in Clarksville. It features a 10-acre fishing pond, access to the Cumberland River and Clarksville Marina, a community-built playground, outdoor exercise equipment, pavilions for outdoor events, and even a dog park. The sprawling sports fields across the park can be used for football, soccer, picnics, field games, and more. Utilize the park's 1.8 miles of walking trails to people-watch and simultaneously get a great view of the river. Need to host an event while you're in town? Head over to the Liberty Park Grill or reserve the Wilma Rudolph Event Center or Freedom Point located inside the park. Take a picture with Wilma's statue or with Pat Head Summitt's statue while you're there!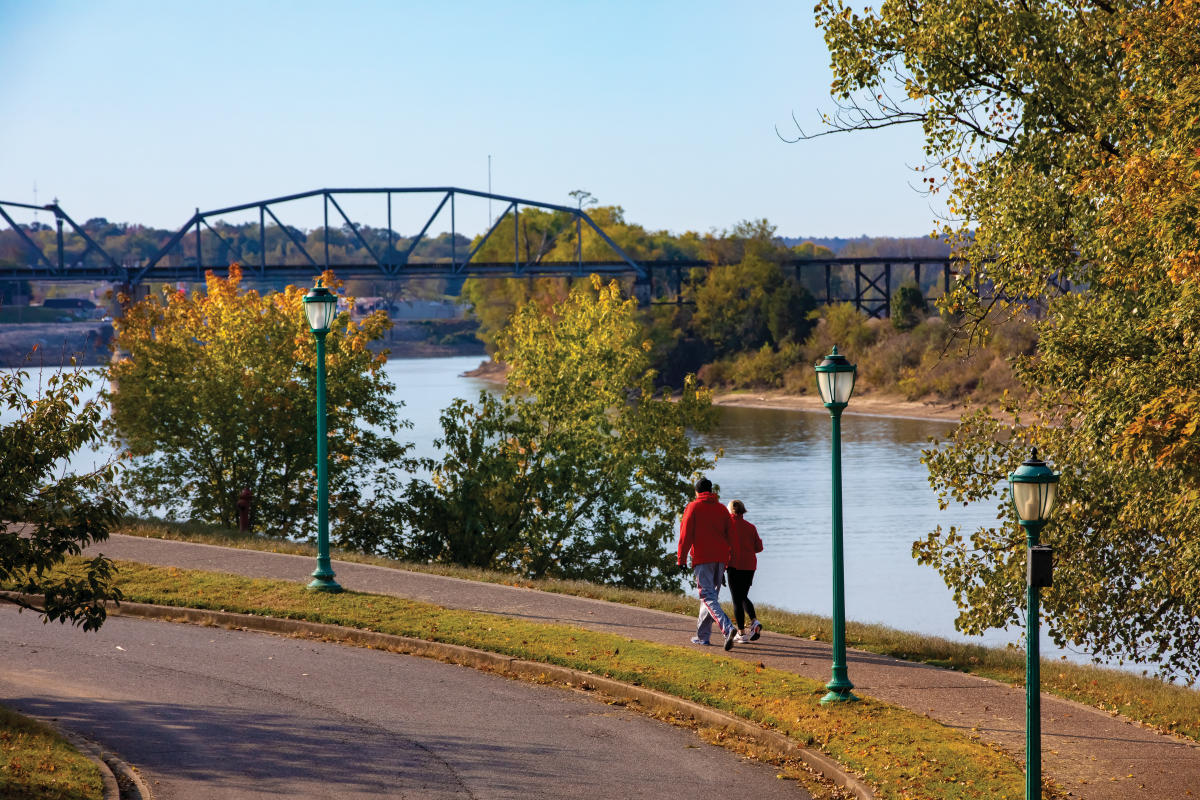 Cumberland Riverwalk - Photo Credit: Nathan Lambrecht
For those like me who love to be anywhere near water, McGregor Park is the place for you. The park's wide, paved pathway runs along the Cumberland River for one mile and features picnic areas, an ADA-accessible playground, and a boat ramp for easy boating and kayaking access. Learn more about Clarksville's river history at the As the River Flows Museum, located at the park's entrance. During the holiday season, you'll definitely want to return to see the beautiful Christmas lights for Christmas on the Cumberland. At the southern border of McGregor Park, you can access the Cumberland Riverwalk, one of Clarksville's most scenic trails along the Cumberland and Red Rivers. It connects to both the Upland Trail through the city and the Red River Trail, which will eventually connect it to the Clarksville Greenway later this year.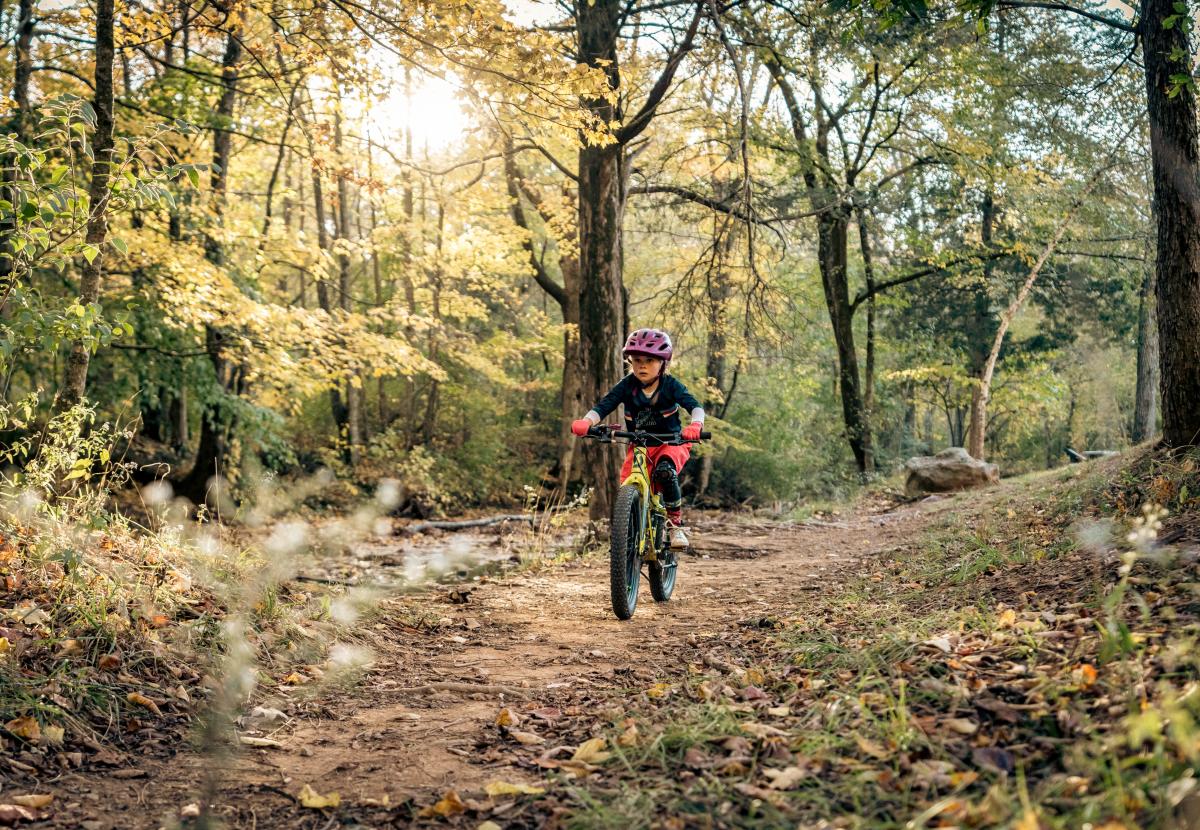 Rotary Park - Photo Credit: Jon Duncan
I found Rotary Park to be one of Clarksville's most beautiful parks. Located on the south side of Clarksville in Sango, the 111.3-acre park features six miles of hiking, biking, and walking trails as well as an ADA-accessible trail. It's a great option for a family day with its picnic areas, rentable pavilions, two playgrounds, and horseshoe pit area. The park even has outdoor exercise equipment and an 18-hole disc golf course! Inside Rotary Park is the Wade Bourne Nature Center, a museum and event space whose aim is to promote and teach nature and conservation education to visitors of all ages. Stop by from Tuesday to Saturday to play in the children's nature discovery area and to learn about Clarksville native Wade Bourne and the great outdoors. The Nature Center hosts many ranger-led events and activities to give you further exposure to the many wonders of nature.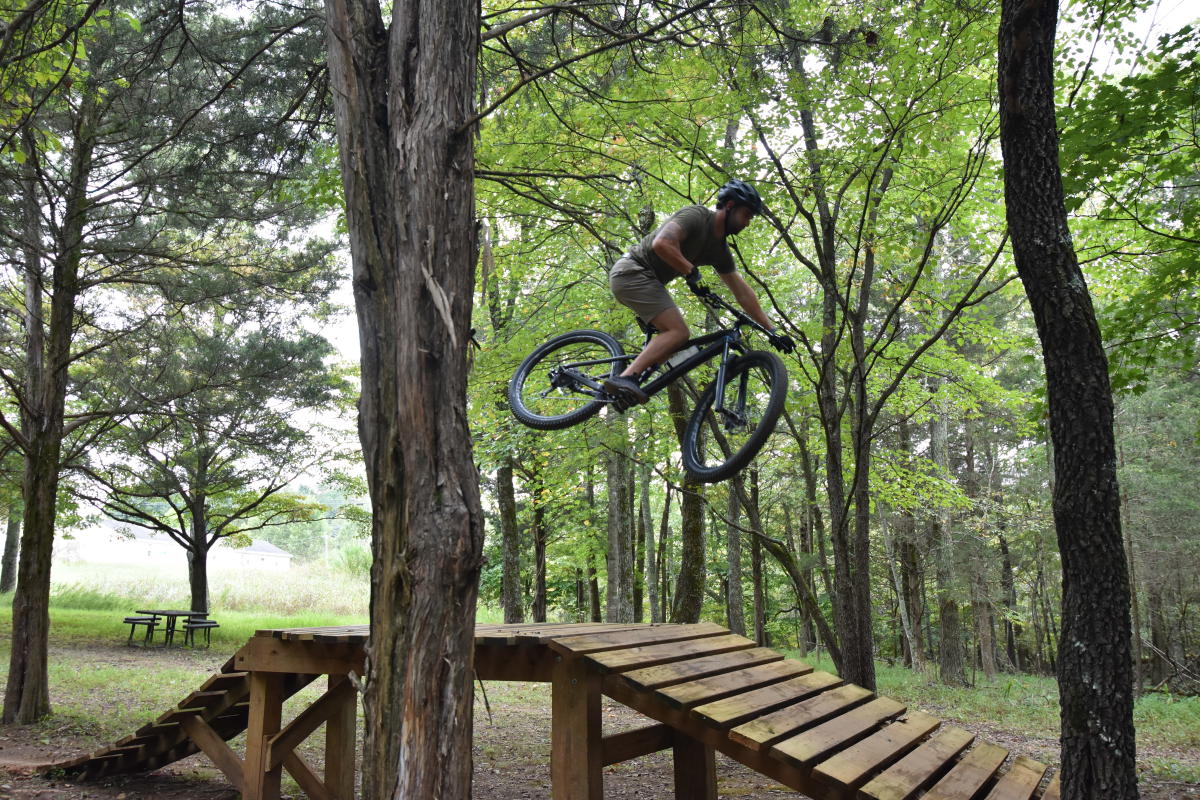 North Ford Street Mountain Bike Trail Park
While you can walk or bike at every park, the North Ford Street Mountain Bike Trail Park is an essential stop for mountain bikers in the Clarksville area. It can be a little hard to find, so make sure to check out the directions on the City of Clarksville website. The park includes 3.5 miles of mountain biking trails complete with wooden jumps and a drop zone. The trails are labeled as difficult and are most appropriate for intermediate to advanced cyclists. If you're not a mountain biker and are just hoping to see the river or for an easy ride through the parks, check out the BCycle bike-sharing system!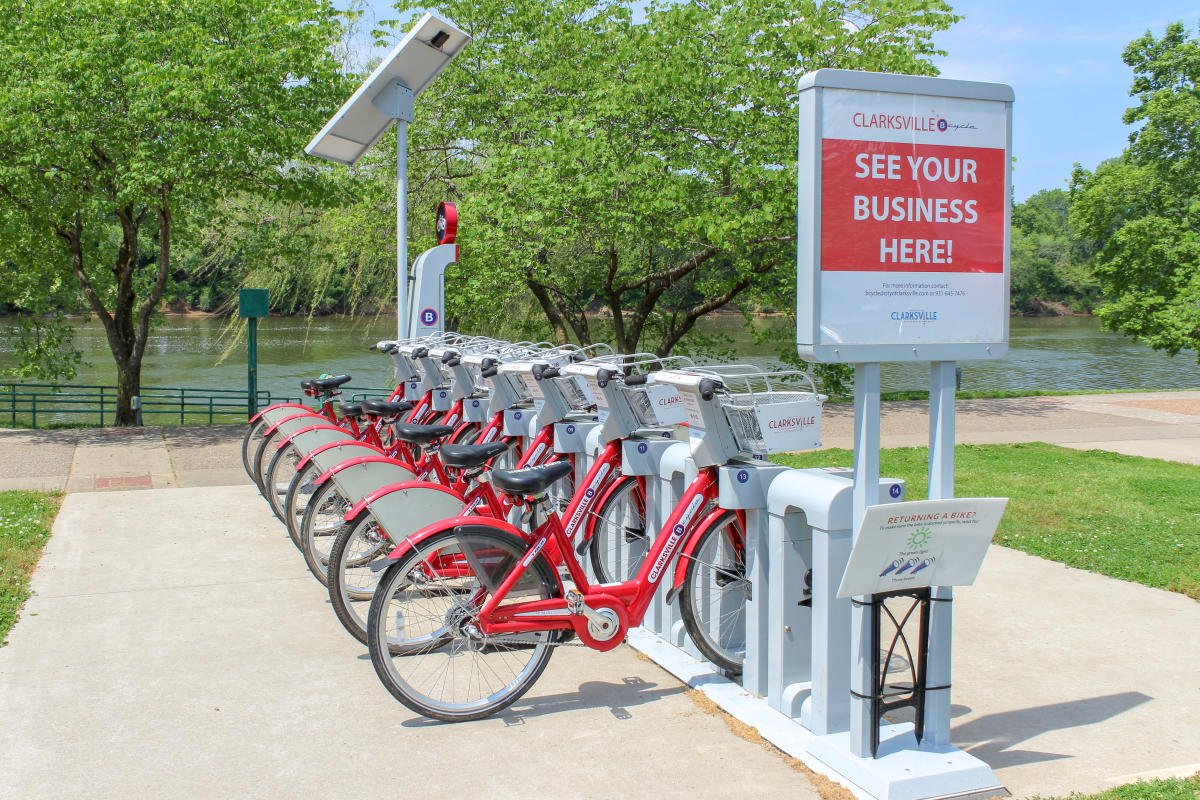 McGregor Park BCycles
Many of the parks around Clarksville use the BCycle bike sharing system that allows you to rent and hop on a bike at one park, ride around town or down the Greenway to another park, and park the bike back at a BCycle station. The BCycles are a great way to see a lot of Clarksville and its parks in a short amount of time. There's a park for every mood, whether you want to sit and watch the sunset over the Cumberland River, hike or bike down trails from park to park, or stroll casually through the peaceful Clarksville forests and fields. The whole city is connected by parks and BCycles, and I believe you'll easily find that the Clarksville community feels just like home. And maybe even like riding a bike!