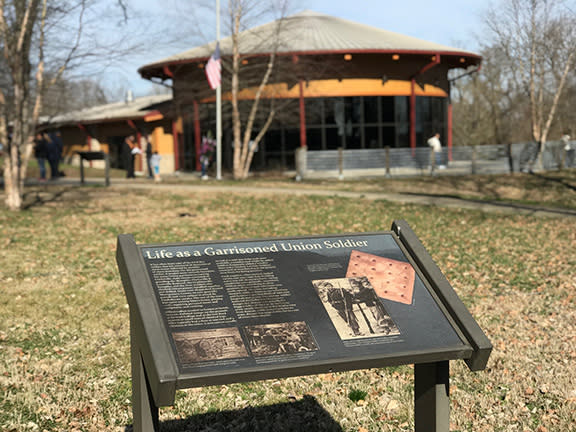 "You can see my school from here, and I never came up here as a boy," says William Parker- Fort Defiance Civil War Park and Interpretive Center Historical Interpreter and Clarksville Academy Alumni. He's speaking of a place steeped in history which most native Clarksvillian's typically never learned of in history class, yet probably drove by a thousand times and didn't even notice its existence. That's because for ages this hallowed ground befell neglect and abandonment. Thanks to the efforts of a devoted group of volunteers, donors, and the City of Clarksville those days are a thing of the past. But, not all past should be forgotten. Ever since Fort Defiance Civil War Park and Interpretive Center opened its doors in 2011 to the public, a mission to educate visitors of its rightful place in Clarksville's story continues.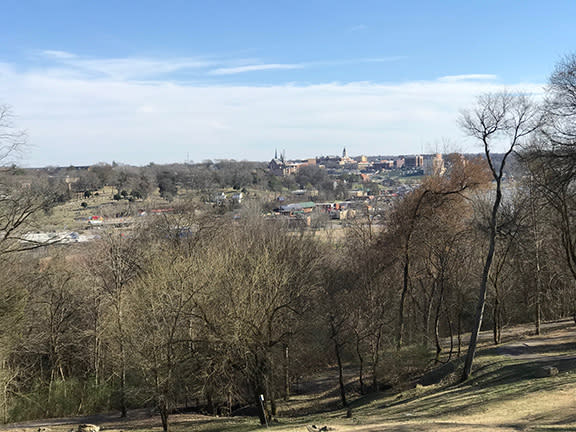 Perched atop Boothill in the Clarksville neighborhood of New Providence, this Civil War site is on a bluff where Red River and Cumberland River converge. With sweeping views of these rivers and of Downtown Clarksville, you can soak up an afternoon enjoying the scenery, or perhaps dig a little deeper.
Parker says this site predates the war by thousands of years proven by the paleo artifacts discovered onsite. But, when the Civil War permeated the countryside, this fort was built along with Forts Donelson, Henry, Clark and Terry by the Confederacy. Unlike some of the other forts, nary a battle was fought here, as the Union Navy occupied Fort Defiance on February 19,1862.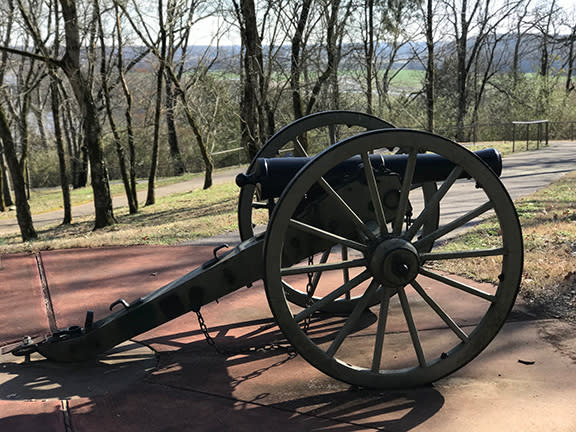 You may not see much in way of bullet holes, watch towers and the like here. What you will find is the humanity of it all according to Parker, "We explore the human interests side of the Civil War––the civilian plight. Our 17-minute film gives you a different slant that you don't see on the battlefields. Our earthworks is one of the most perfectly preserved civil war forts site in the U.S. and have remained untouched for 157 years." Make sure to allow time for a proper introduction to Fort Defiance by watching this film and by exploring the center's exhibit prior to hitting the verdant trails and earthworks (forts made from the earth.)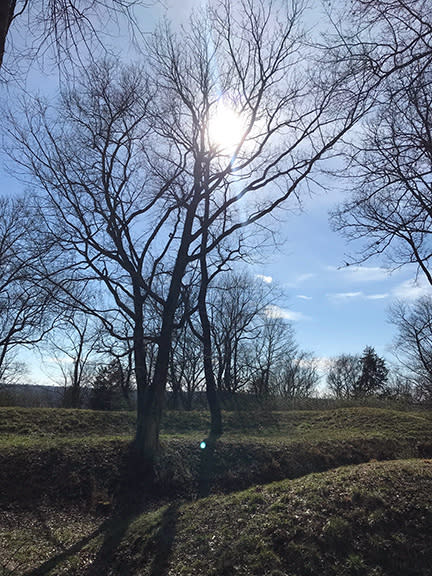 One of the last remaining earthen forts, Fort Defiance was originally built by 200 enslaved men and its story is steeped in African-American heritage. Assistant Historical Interpreter, Tracy Jepson explains," If you want a most accurate perspective, you have to get multiple viewpoints." An immersive experience, the site's winding walking trails are a must. You can stop along the way to read stories of the war and its people––all of its people.
One stop in particular is at the end of the trail commemorating the original site for Green Hill Church and School. Miss Maggie Horton taught a school of over 80 people here in a room smaller than the present day visitor center's lobby. "People were hungry for this. They were freed, but had no assets or education. So what were they freed to was poverty. This site is symbolic of the hope and struggle." These days you can attend services at Greenhill Church's new home just around the corner on Walker Street.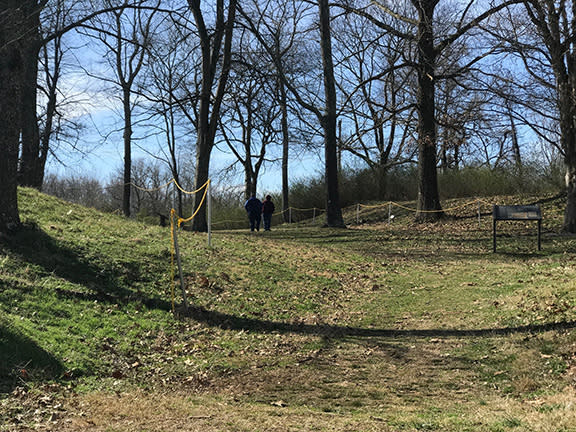 But, this isn't a one and done kind of experience. This Clarksville Parks and Recreation destination hosts events monthly. From commemorating the actual Union surrender in February to a special Civil War day camp for the kiddos come summer, there are plenty of activities to enjoy for folks of all ages throughout the year. Check out their event calendar for details. All who visit Fort Defiance Civil Park and Interpretive Center can learn of where we've been and where we are as a culture, in hopes to head in the right direction for the future. One thing is for sure, each time you visit this inspiring place, you're sure to learn a little more about Clarksville's story, even if it's one step at a time.