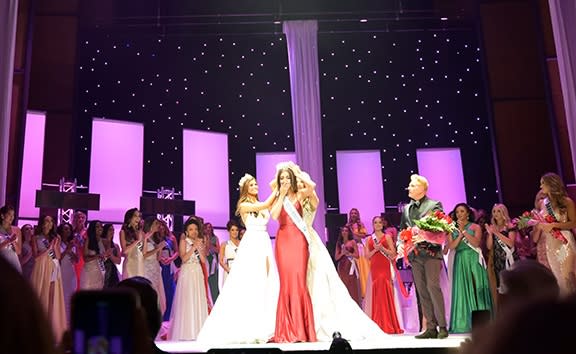 Justice Enlow, Miss Belle Meade, was crowned Miss Tennessee USA 2020 Saturday at Austin Peay State University in Clarksville, Tennessee. Ansley Ecker, Miss Memphis, was crowned Miss Tennessee Teen USA 2020.
The new title-holders and the runners-up received numerous prizes and scholarships.
Both Miss Tennessee USA and Miss Tennessee Teen USA will have the opportunity to represent Tennessee at the Miss USA and Miss Teen USA Pageants in 2020.
Rounding out the top five finalists in the Miss Tennessee pageant were first runner up Miss Davidson County Rayni Lasley, second runner up Miss Music City Emily Suttle, third runner up Miss West Nashville Karli Space, and fourth runner up Miss Heart of Tennessee Ashley Hoff.
The outgoing Miss Tennessee USA Savana Hodge from Knoxville began her career working in civil engineering for a global engineering design firm and now interfaces with engineering departments at U.S. Universities. She is an avid beekeeper and grew up fly-fishing, working on her family's farm, and putting her grandfather's antique fire engine back together. She'd like to think that she's as fearsome with a wrench or a pot of honey as she is in stilettos. Savana is remarkably grateful for her time as Miss Tennessee USA and believes that true beauty is always willing to kneel in your most expensive gown to see the unseen and look into people's eyes, to bring beauty to the darkest places, and to fight for those who cannot fight for themselves.
Other finalists in the Miss Tennessee Teen competition included first runner up Miss Nashville Whitney Powell, second runner up Miss Music Row Kinsey Burchett, third runner up Miss Franklin Alyssa Bates, and fourth runner up Miss Heart of Tennessee Savannah Maddison.
Outgoing Miss Tennessee Teen USA Baily Guy is passionate about the importance of education. At the age of 12, Bailey became a literacy advocate and created her own organization, "Be a Reader, Be a Leader." This program was developed with the intent of instilling a love for reading in children across Tennessee. She loves volunteering and reading at local elementary schools, preschools, and daycares. Bailey has a deep desire to make those around her feel special and loved, and it is her sincerest hope to use her platform to be an inspiration and source of encouragement to everyone she meets.  Bailey approached her year with a grateful heart, enthusiasm and compassion, and made those sharing this journey with her proud. She is incredibly honored to have been selected as Miss Tennessee Teen USA.
Judges for the 2020 event included Loren Rich, group senior vice president of development and production for HGTV; Jaclyn Stapp, CEO and Founder of CHARM Foundation; Jim Montgomery, dancer, choreographer, and fine arts school principal; Chelsea Reardon Leemon, Miss Mississippi USA 2014 and consultant for the American Heart Association; and Rudy Otwell, professional model and private pilot.
The Miss Tennessee USA pageants, under the direction of Greenwood Productions, Inc., are affiliated with the Miss Universe organization and have been hosted in Clarksville since 1999. Information about all delegates can be found at www.misstennesseeusa.com.
###
Photo Caption: Justice Enlow is crowned Miss Tennessee USA 2020 at Austin Peay State University in Clarksville Saturday, October 12, 2019.