Updated: 7/5/19
Three Gospel groups and a spoken word artist will be featured at the free Mic Check Monday concert series on July 8 at Downtown Commons. Concerts will take place each Monday in July.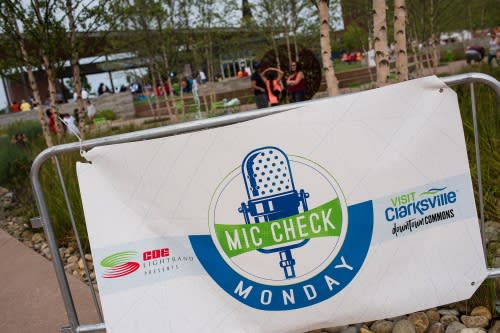 Opening the event at 6:00 p.m. is the Send Judah. Lead Singer Danita Batista has been singing for over 30 years. "Music is one of my greatest passions and it is something I that brings great joy to my life and others," she says. Danita also serves as a praise and worship leader at her local church.
At 7:00 p.m. is a spoken word from Author, Poet and Lyricist Komplex Simplicity. Positivity, introspection, individuality, perspective and fluidity are just a few nouns she uses to describe herself. Born and raised in Los Angeles, Komplex learned early on that there is more than one side to every story. Shortly after earning a degree in Criminal Justice, Komplex left California and moved to Clarksville, where she rediscovered her love of writing. In August 2016, Komplex released her first poetry book titled It Could All Be So Simple: The Collection, a collection of poems, letters, and spoken word pieces. The title of the book is its thesis, stressing how simple things become when you let go and let God.
Taking the stage at 7:30 p.m. is mother-daughter duo 1AM, comprised of Anna and LaNaye Pearson. Unique in their individual musical styles, they consider their genre to be a "compilation of generations." They play originals and cover songs in country, Christian, Americana, blues, and folk. On stage, you might see Anna playing the guitar, ukulele, and banjo while you will find Mom playing rhythm guitar and percussion. Regardless of where they play, 1AM's overall mission is to give their listeners hope through the songs they write and the music they play.
Closing out the evening at 8:15 p.m. is Daniel Doss, professional songwriter and worship leader who lives here in Clarksville with his wife and two boys. In the past month, his music has taken him from Clarksville to Oklahoma, Chicago, and Daytona Beach and places in between. He leads worship at New Vision Baptist Church of Murfreesboro on most Sundays while producing and writing with artists and worship leaders during the week. He co-wrote the first two tracks on Adam Crabb's latest album as well as a recent single release from "Stars Go Dim."
In this rare appearance performing without a band he is featuring songs from his latest album "Praise The King".
# # #