Clarksville, Tennessee is home to many unique shops, antique stores, and one-of-a-kind experiences, but during my short visit to its booths, I found that Miss Lucille's Marketplace cements itself as a staple of the community like no other. Formerly the abandoned Acme Boot Distribution Center, the 54,000-square-foot warehouse was purchased by the Knott Family in 2011. Miss Lucille's Marketplace opened a year later in 2012 to kick off Project 2231, the Knotts' initiative to turn the entire warehouse into a thriving collection of businesses. Project 2231 encompasses fitness, games, restaurants, and shopping, all housed at 2231 Madison Street. With so much under one roof, where do you start? At Miss Lucille's, of course.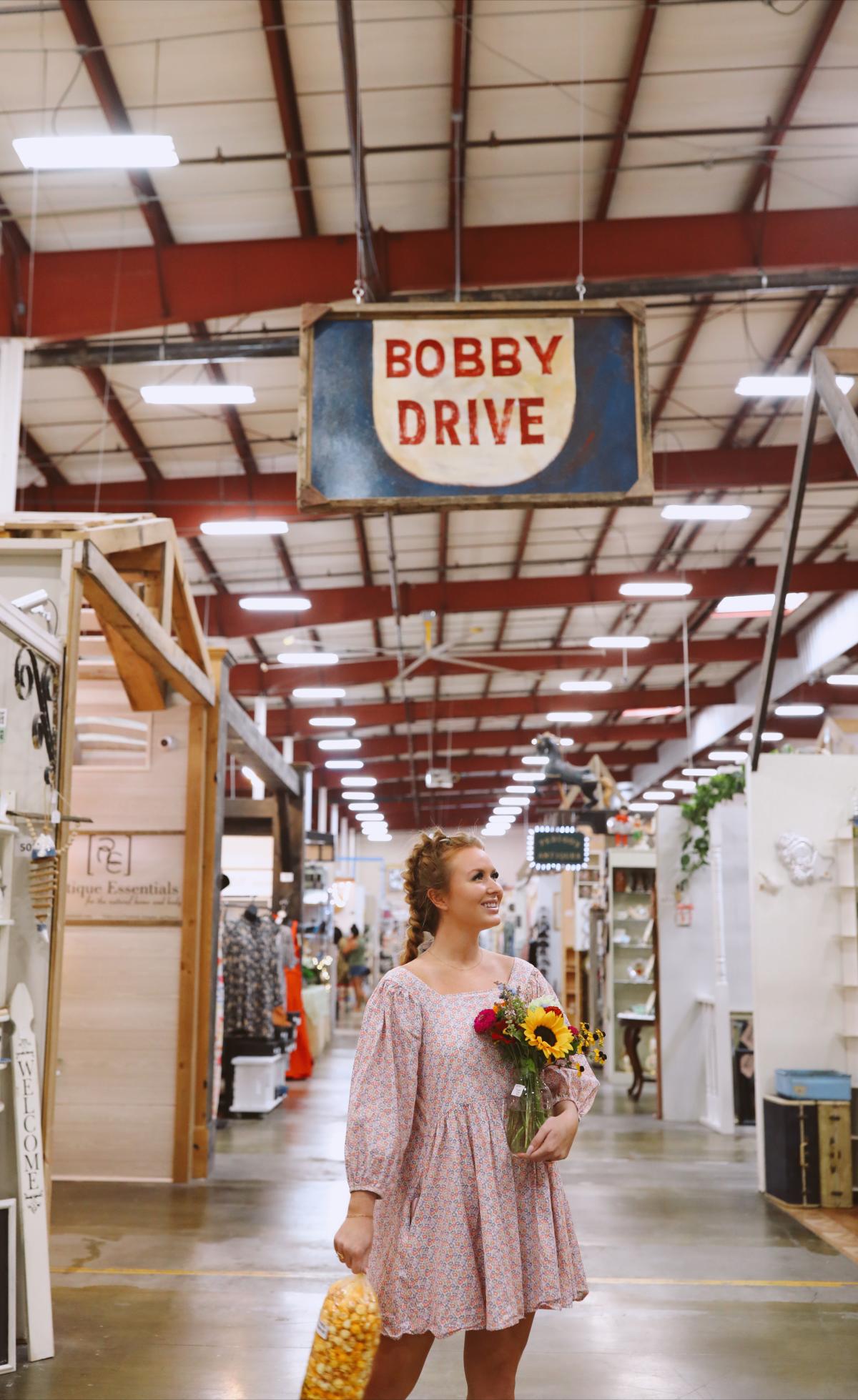 Photo Courtesy of Olivia Dixon
Miss Lucille's Marketplace practically bursts at the seams with history, hand-crafted goods, vintage clothing, and knick-knacks you didn't know you needed. The marketplace — home to local Clarksville artists, artisans, collectors, antique dealers, and entrepreneurs — has over 200 vendor booths full of antiques, clothing, home decor, furniture, books, records, and more. One of the first booths you see is stocked with Miss Lucille's branded merchandise, including t-shirts, stickers, tote bags, and a wall of Miss Lucille's famous kettle corn. After seeing three or four booths, I knew I could spend an entire day walking around them without trying! There is truly something for everyone scattered around the halls, and when you score a new find, you feel like you've found buried treasure.
In the months leading up to my trip to Clarksville, I had been on the hunt for a black leather jacket. Almost immediately after walking into the marketplace, I found a vintage 100% leather jacket in the exact style I'd been looking for. I also found plenty of antique teacups and typewriters that I fell in love with at first sight and sadly couldn't fit in my suitcase. Around every corner is something new: fragrant candles and soaps, a metal frog sculpture playing guitar, vintage Coke signs, upscale boutique clothes, a taxidermied stag head, stunning artwork, 1960s luggage sets, old vases, silver dish sets, fine china — I could go on and on. 
Some of the featured booths in the marketplace are also storefront shops around Clarksville, so if you don't find what you're looking for, you can keep shopping around town! Try on cute boutique clothing and accessories at The Copper Petal and Re:defined Boutique, adopt a new plant baby (or three) at Pups Plants + Goods, and add vintage or new records to your collection at AndVinyl. The marketplace staff is readily available at the front of the booths to answer any questions about vendors and pricing you may have. They can also point you in the direction of your next stop in Clarksville.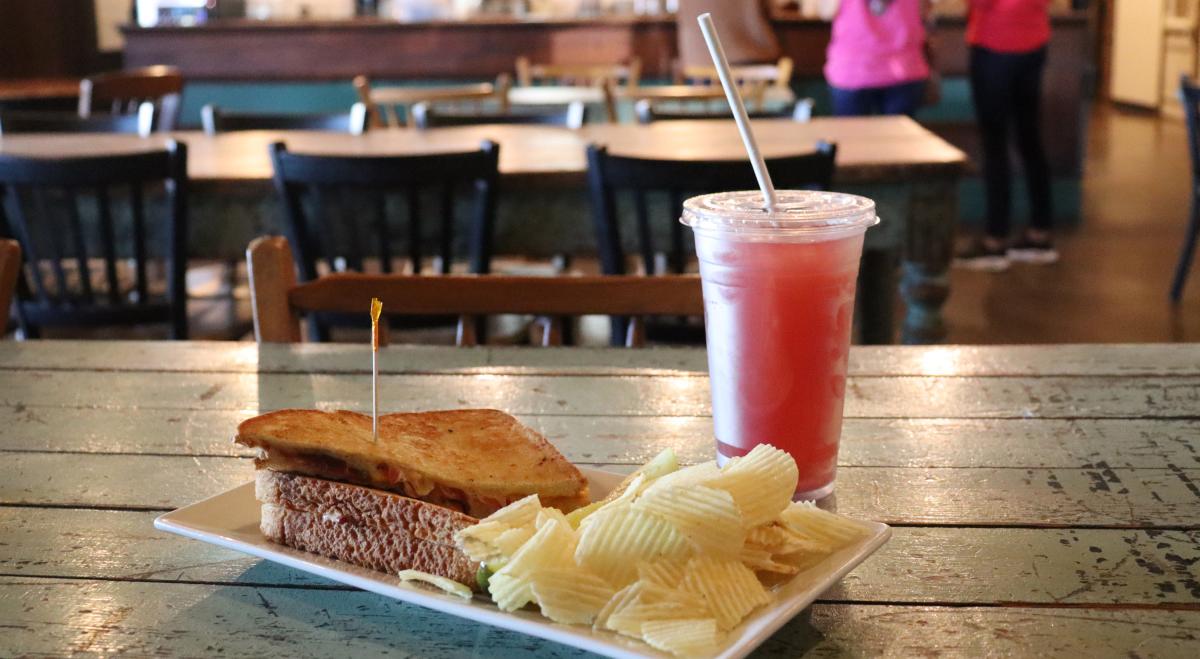 Sadie Mae's Grilled Cheese at Miss Lucille's Cafe
Side by side with the marketplace is Miss Lucille's Café and coffee shop, where you can stop by whenever you need a break from hunting down vintage treasures. The coffee shop is right outside the café doors and features brews from Nashville favorites, like Frothy Monkey. I stepped inside the café just before the lunch rush — locals love this place and showed up in droves. The menu is full of tasty bowls, sandwiches, salads, and their signature flavored lemonades. I recommend the Strawberry Basil! The Toasty Poppin' Grilled Cheese almost swayed me from my order of Uncle Red's Reuben, but it was love at first bite for the reuben and me, and if I could have eaten a whole bucket of the Couscous Caprese, I absolutely would have.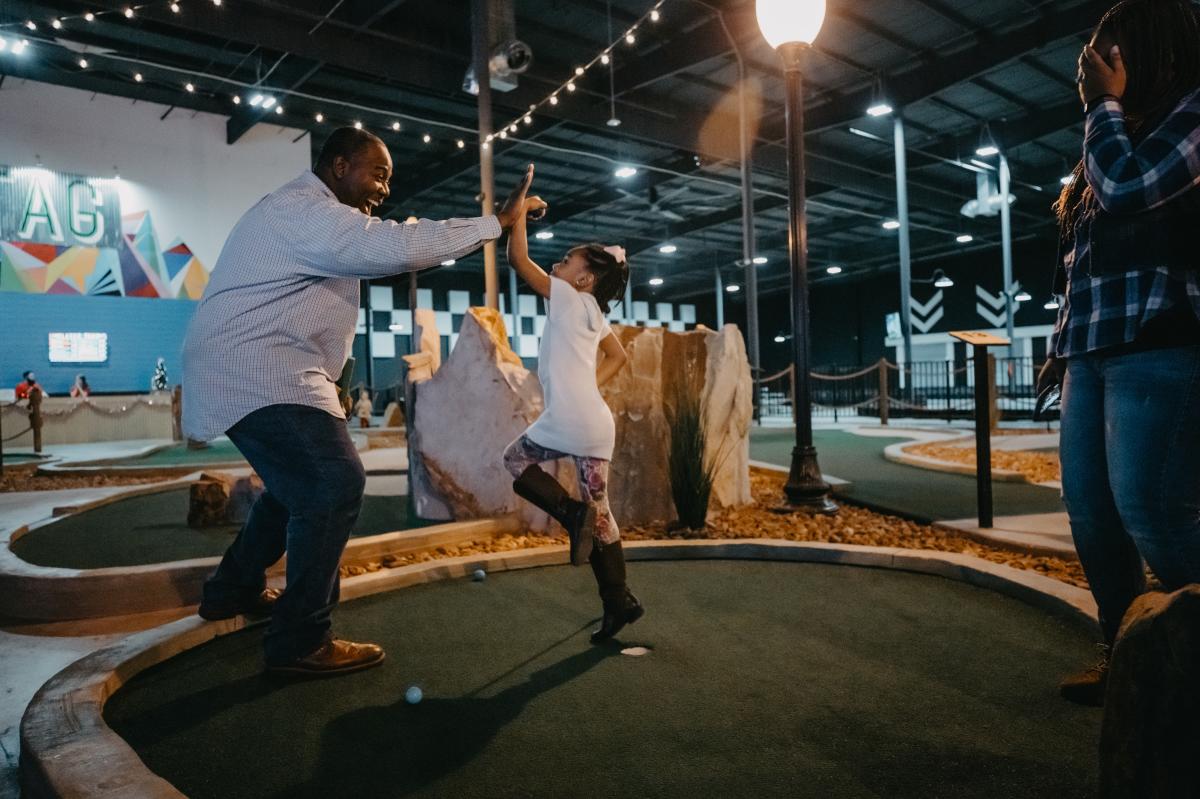 The City Forum
The entire complex of Project 2231 that surrounds Miss Lucille's lends itself to the diversity of the marketplace. It houses Acme Athletics — named in homage to the boot distribution center it used to be — a fitness and sports training facility for both youths and adults. At the back of the building, you'll find the City Forum and Dock 17 side by side. The City Forum is one of the largest family entertainment centers in the nation and features a plethora of neon arcade games, mini golf, bowling, go-karts, laser tag, and more. When you've had all the fun you can have on the Forum's floor, walk next door to Dock 17 for dinner and drinks. Trust me: nothing beats their steakburger and fries on the outdoor patio after an afternoon of shopping and gaming.
Whether you're visiting Miss Lucille's Marketplace and the surrounding businesses for an hour or an entire day, you'll find plenty to keep you occupied. Make a scavenger hunt out of your trip to the marketplace, grab a bite at the café, sip a cup of mid-afternoon coffee, and spend the rest of the day at the City Forum. Miss Lucille's uniquely unites the diverse Clarksville community under its gigantic roof, and you won't want to miss it when you come to visit.