As the summer season kicks off this Memorial Day Weekend, our minds gravitate toward outdoor activities. You know, all those things we want to see and do, plus the places we want to visit before fall rolls back around. Picnics are top-of-mind for many -- including us! Whether you're romancing a significant someone, celebrating a special occasion, making memories with the family, or simply looking for something fun to add to your Clarksville getaway, a picnic is a terrific choice. We've collected some of the most scenic local spots to enjoy your picnic experience. We'd love to see your picnic photos. Tag us with #visitclarksvilletn when you post them to social media or upload them directly here.
Billy Dunlop Park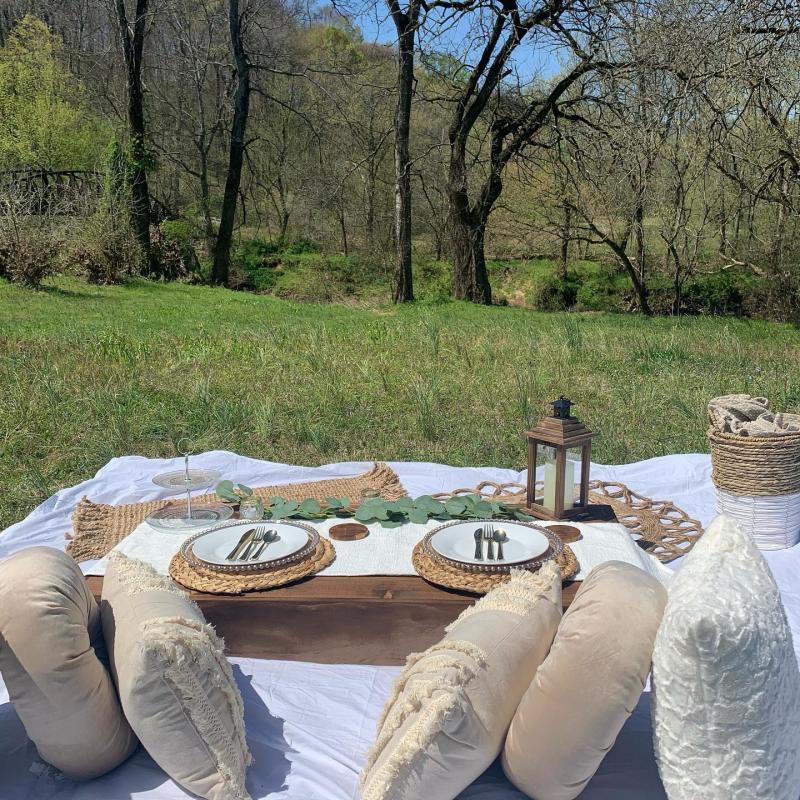 Poplar Picnics will set up and clean up your dream picnic -- all you have to do is show up! Find them on Instagram at @poplarpicnics.
Wrapped by the West Fork of the Red River, Billy Dunlop Park is a large open area with plenty of places to create a picnic spread. It's a popular spot on warm days for taking out kayaks, canoes, and rafts after a 2-mile trek from Robert Clark Park. As the river bends and heads south, the water shallows for wading and swimming. Flat trails that wind along and cross over the river are perfect for a pre or post-picnic stroll. 
Historic Collinsville Pioneer Settlement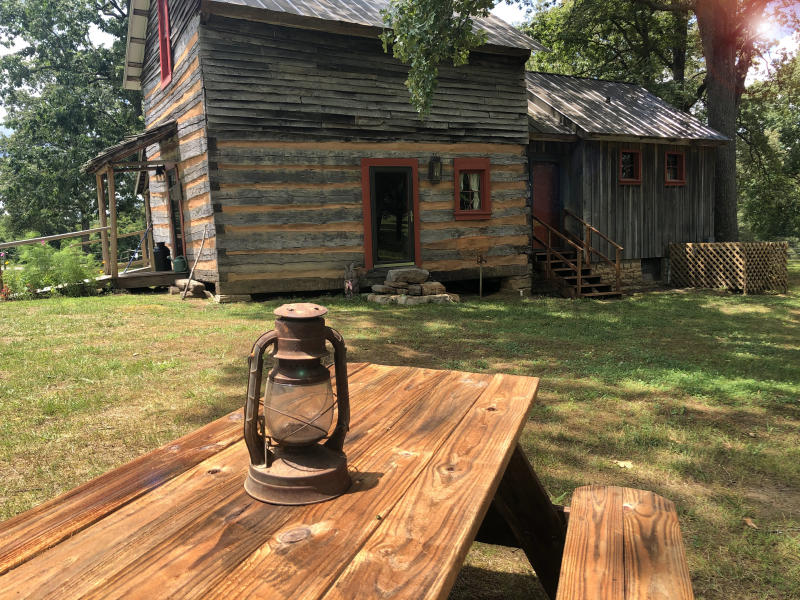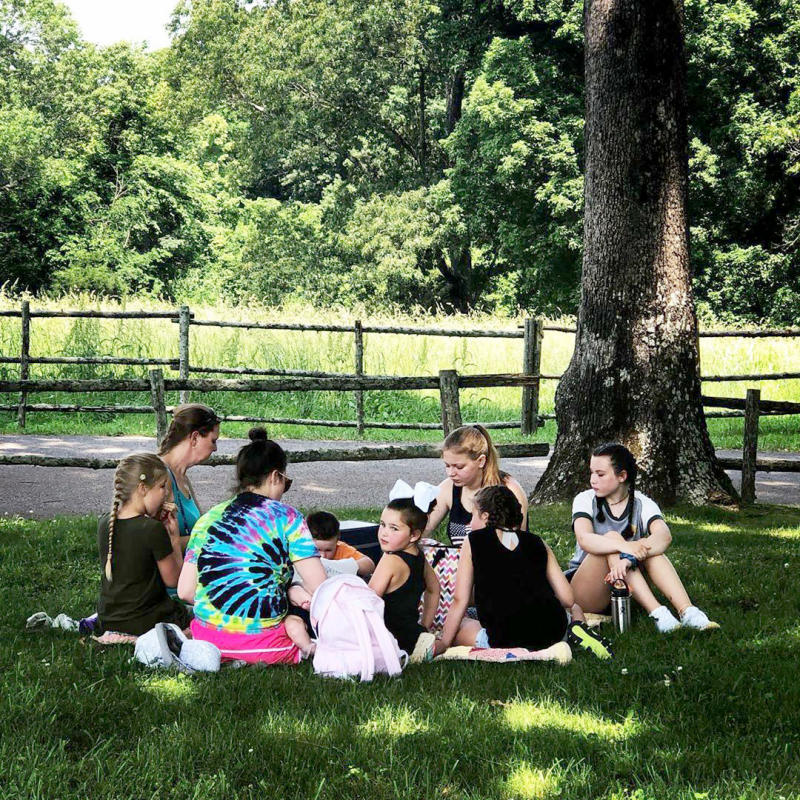 Whether at a table or on the ground, Collinsville's 40 acres are picnic-ready!
Historic Collinsville Pioneer Settlement sits on 40 acres of rolling Tennessee countryside. Scattered over the property are 16 buildings filled with authentic period tools and furnishings that show visitors what life was like from 1840-1900. Picnic tables are spread under huge shade trees around the main dogtrot home, but there's also plenty of space to spread a quilt or blanket if you prefer the ground. A covered pavilion with restrooms and tables is also available onsite. The settlement is open Saturdays and Sundays from June through October, or you can book a tour for your group of six or more, or rent the property for family or corporate events anytime. 
Liberty Park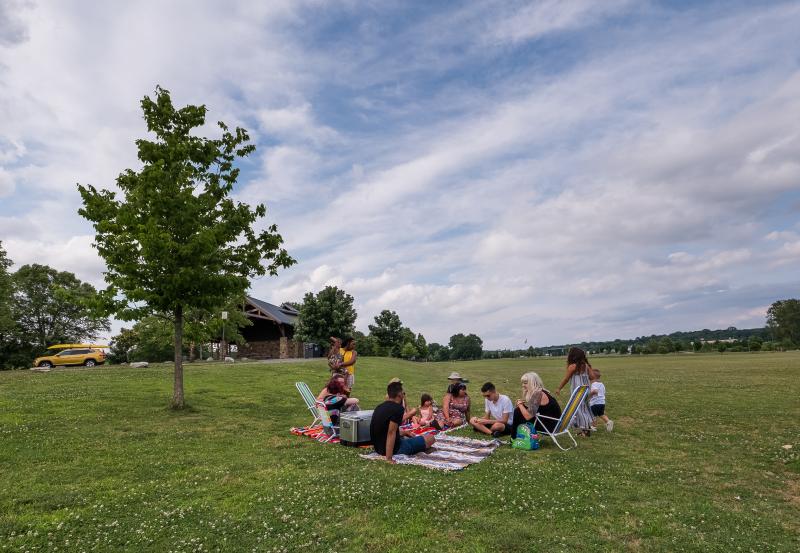 Rent one of several pavilions by the river or toss a blanket for a picnic at Liberty Park.
Liberty Park's 10 acres along the Cumberland River gives plenty of space for intimate or large gatherings. Pavilions sit near the river or an expansive open space accommodates groups of any size. Bring along the family pets, but please keep them on a leash. (Or secure playtime for them in the Bark Park at the southern end of the property.) About 2.5 miles of paved trails wind through the park and follow the river and marina. A stocked fishing pond and a massive community-built playground are also popular park features. Rent a bCycle, fly a kite or enjoy soccer or football with friends. Make sure to walk up to Freedom Point (at the north end of the park) and see the Pat Head Summitt Legacy Plaza and Statue and stop by the Wilma Rudolph Event Center at the park's entrance to learn about Wilma Rudolph's legacy.
Dunbar Cave State Park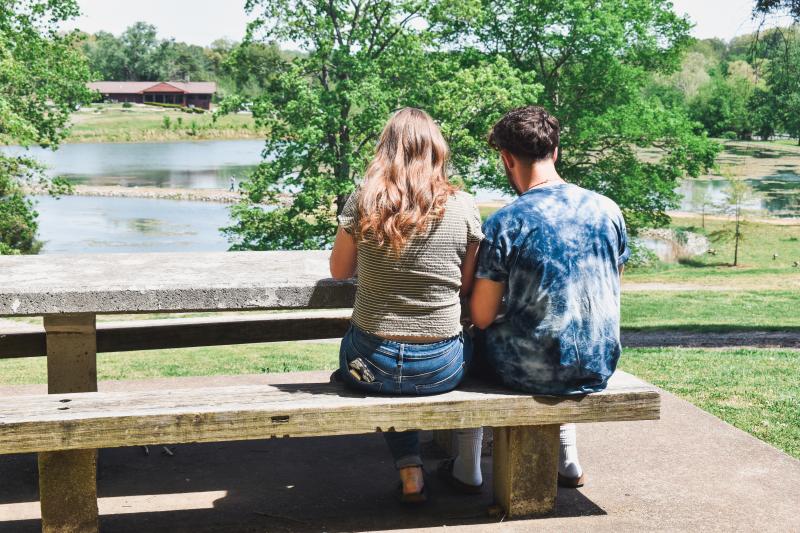 Let a picnic at Dunbar Cave State Park part kick off or wrap up a visit to this popular destination.
Dunbar Cave State Park is one of Clarksville's most scenic and popular outdoor destinations. Guided cave tours during summer months, 3+ miles of hiking trails, wildlife viewing, a fascinating history -- and of course -- picnic areas, make this a place you'll want to visit in every season.  The 144-acre park also hosts a variety of special events throughout the year. 
Downtown Commons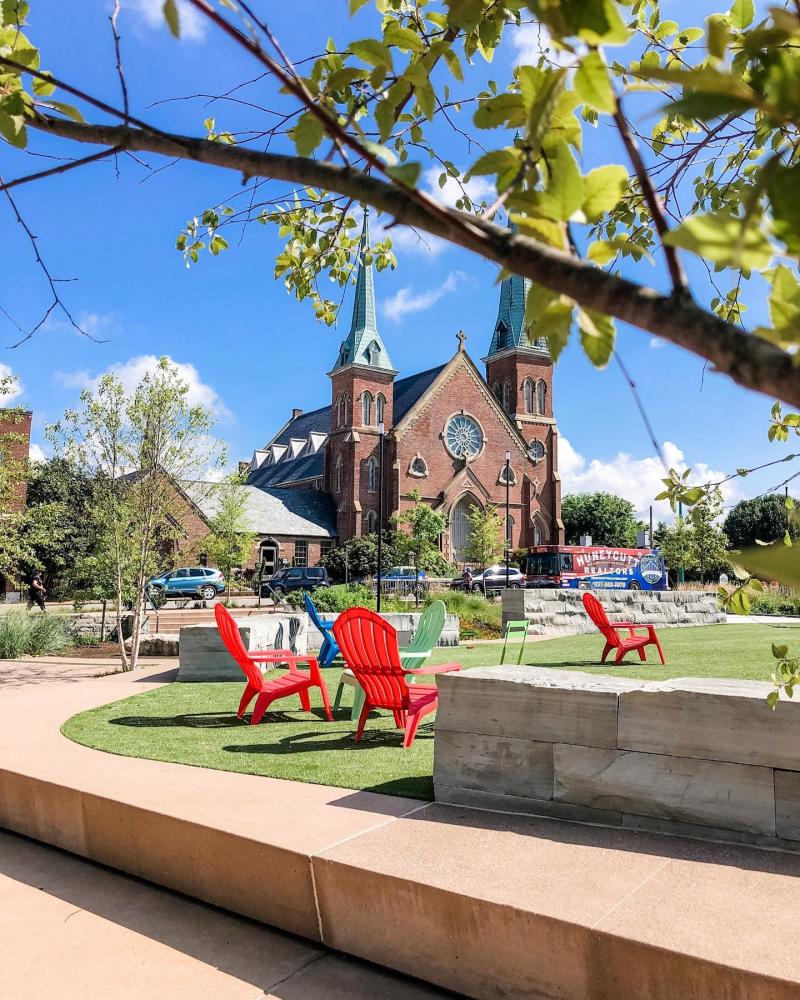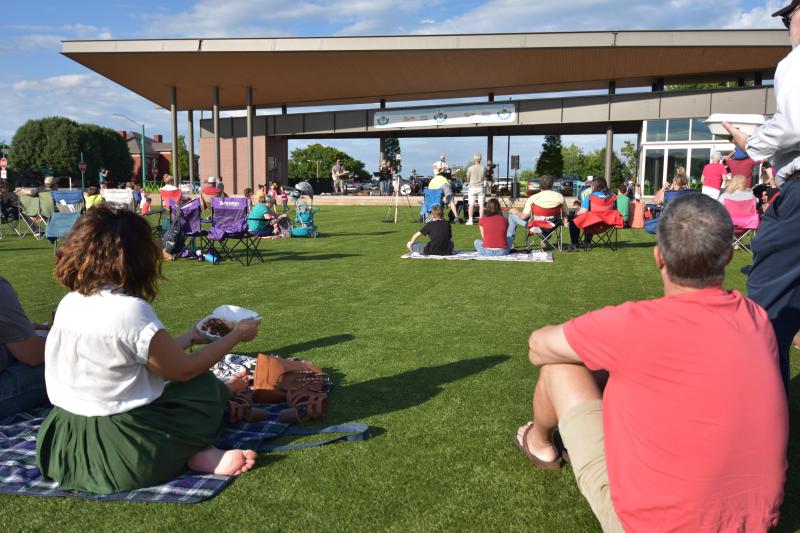 Downtown Commons is an urban greenspace surrounded by historic architecture. Concert series' throughout the summer are a fun place to bring a picnic, pick up carryout from a food truck or nearby restaurant, and spread a blanket. Top photo: Erica Trout.
Clarksville's Downtown Commons occupies a full block in the heart of downtown. The super-soft turf, water features and imagination playground make it an especially fun place for kiddos. Downtown at Sundown is a free concert series held on the first and third Fridays from May - October. Along with on-site food trucks, local restaurants along Franklin Street and Strawberry Alley are great options for meals at the park or before a concert. Of course, you'll find plenty of other organized activities happening throughout the summer at the Commons, but it's a great place to hang out and play anytime.
Beachaven Winery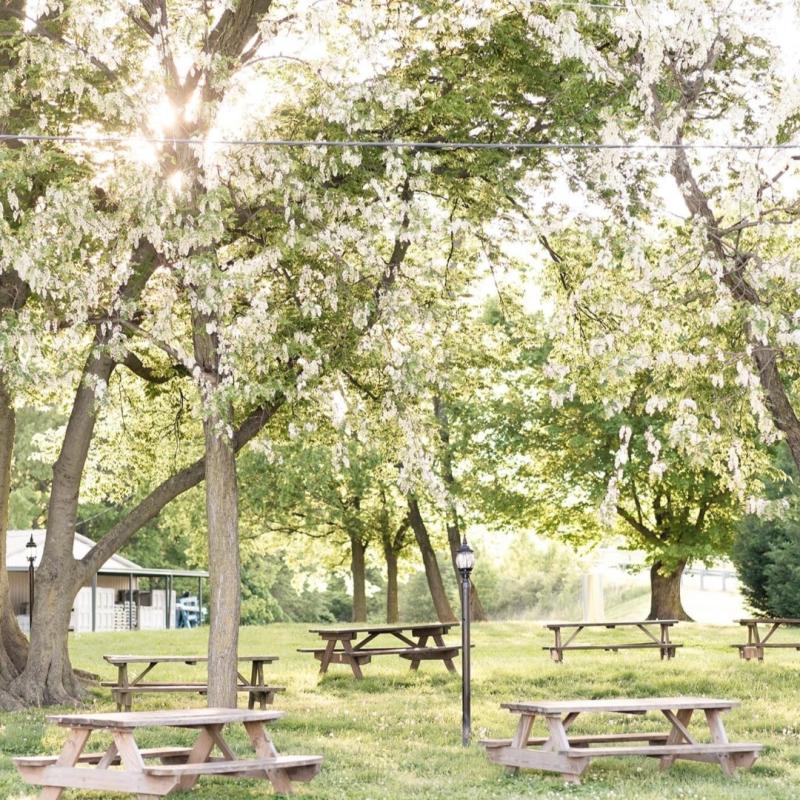 Tree-covered picnic tables are the perfect setting for enjoying live music during weekends at Beachaven Winery.  Photo: @beachavenwine
Beachaven Vineyards & Winery is all about live music...along with award-winning wines. In 2021, the winery transitioned from a large-scale monthly jazz event to smaller, weekly singer-songwriter events. Now, you enjoy live music every Saturday and Sunday from mid-May through October. There's plenty of room to bring your own chairs to toss a blanket. Plus a different food truck will be on-site each Saturday and Sunday. Check their lineup on their Facebook page.
Cumberland Riverwalk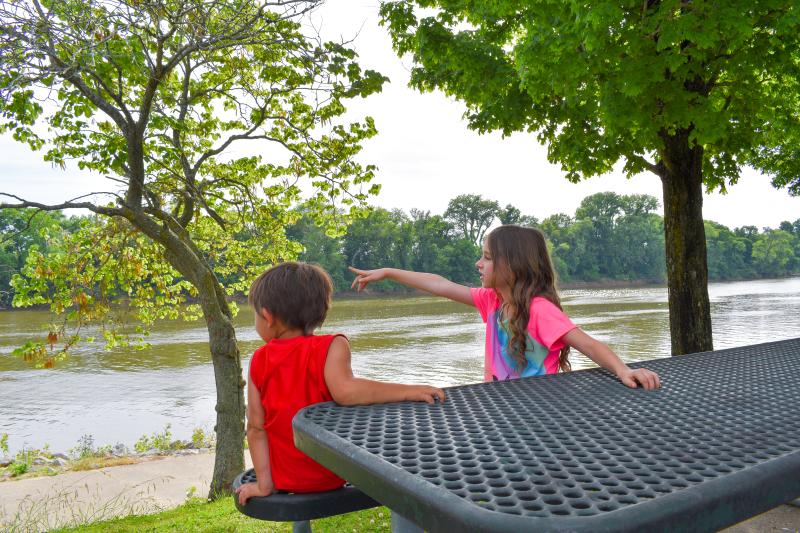 River action will keep kids entertained while you prepare the food.
Find picnic areas all along the Cumberland Riverwalk from McGregor Park to the confluence of the Cumberland and Red Rivers. As with most of Clarksville's parks, you can also enjoy large open spaces that are more than adequate for tossing a blanket. At McGregor Park, you'll find those by the newer sections of the Riverwalk where the rivers meet, and the trail hooks right to follow the Red River. Along with picnic tables, the park features benches, a playground, bCycle rentals and a covered pavilion with tables. Don't miss the As the River Flows exhibit inside the RiverCenter.  
Port Royal State Park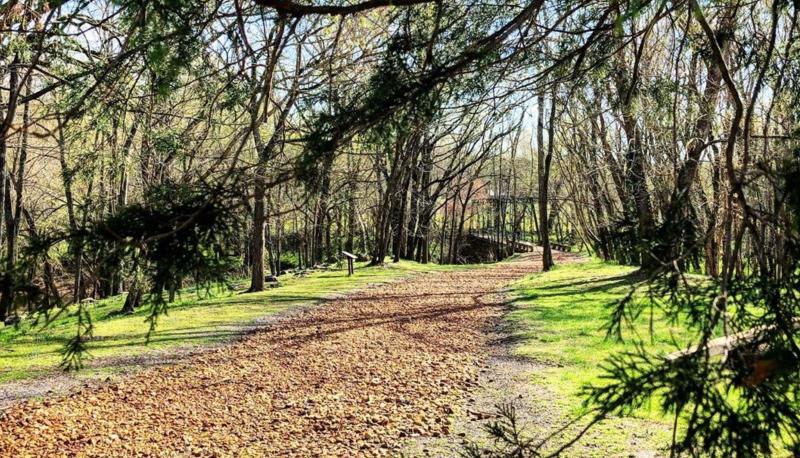 Port Royal State Historic Park is another Clarksville gem tucked away by the Red River.  Photo Erica Trout.
The Red River and Sulfer Fork Creek intersect at Port Royal State Historic Park. The small park is located in Adams and boasts much more than scenery. The town of Port Royal was established in 1797, one year after Tennessee Statehood. The town became important in the region as a tobacco inspection point and a flatboat yard. The Trail of Tears and Black Patch Tobacco War are two other significant U.S. events that involved the area that is now the park.
Rotary Park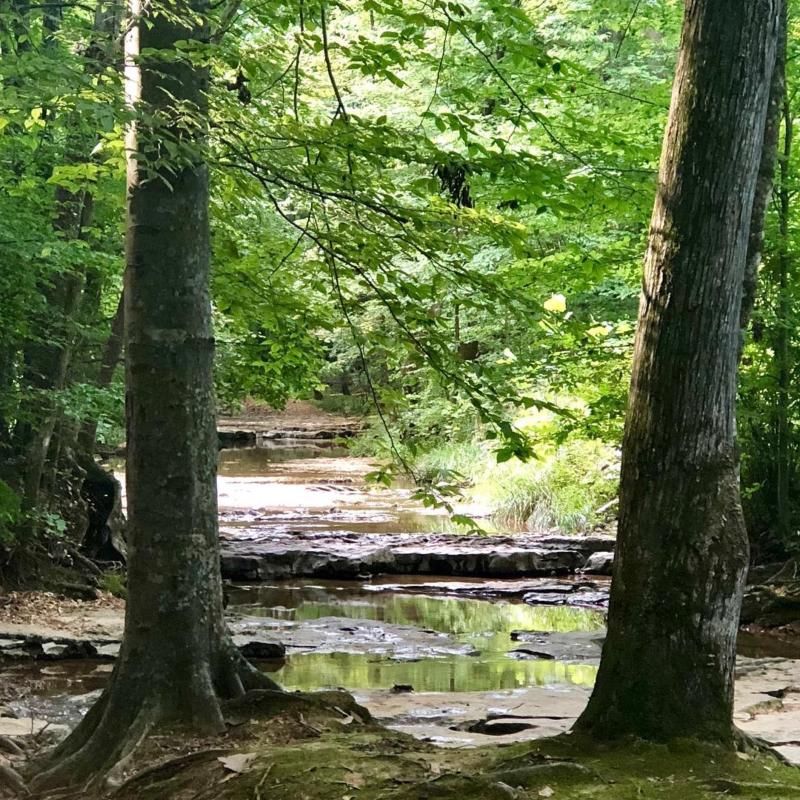 With creekside views like these, you'll want to stay and take full advantage of Rotary Park's natural beauty.
The 111-acre Rotary Park is a showpiece as far as local parks go! With more than five miles of trails that accommodate hikers and mountain bikers, an 18-hole disc golf course, pavilions, playgrounds, a large open play space, and a new nature center, you find plenty of reasons to spend time at Rotary Park. But this idyllic creek may just be the best reason of all! 
We hope you'll spend enough time in Clarksville to check out these scenic spots and more. Order a Visitor Guide or click the "Build Your Trip" icon in the bottom right of the screen to start planning! And remember, tag us in your fun Clarksville photos on social media with #visitclarksvilletn or upload them here.