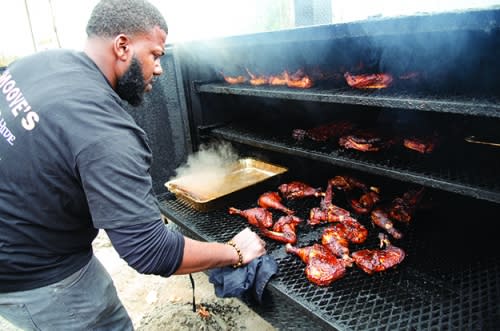 On my trek to find some of the best BBQ Clarksville has to offer, I began on the north side of town, just a few miles south of the state border at Smoove's Grill, 2167 Fort Campbell Blvd. Ian "Smoove" Scott opened up his grill about two years ago to serve the masses pulled pork, ribs, wings and his personal favorite – brisket.
With two 28-foot long smokers in front of his restaurant, it's hard for anyone to pass Smoove's Grill without noticing it. Smoove begins most of his days at 4:30 a.m., firing up the smokers and getting them ready for the day's work. Most drivers will see smoke billowing from the machines most of the day as the meats are prepared.
To stoke the smoker, Smoove uses charcoal, paper and a unique blend of four woods – White Oak, Red Oak, Cherry and Hickory. He also likes to use fruit woods when they are available.
After parking, hustle up to the window of the red-roofed building where Mrs. Valerie, Smoove's girlfriend, will take your order. From there, head on into the white building next door to take a seat at a picnic table while waiting for your order.
Since the brisket is his specialty and I love pulled pork, I ordered a two-meat combo with those two entrees. The combo platter also came with two sides, so I ordered macaroni and cheese and baked beans. Smoove's offers other sides such as potato salad and cole slaw. All sides are made in-house.
All of the food from Smoove's is served tightly packed into white Styrofoam to-go plates. The meat is lovingly swaddled by sheets of aluminum foil, which keep everything nice and warm. Each slab of brisket is crowned with a thin layer of fat that melts in your mouth.
Although Smoove's proudly boasts "Nothing to hide, so da sauce on the side," you're going to want to get in on their signature barbecue sauce. Smoove's serves two sauces – sweet and spicy. Smoove makes about four gallons of sauce every week to keep up with his customers.
As a native Floridian who was raised in Pensacola, Smoove said the sauce is special to him.
"I tried to keep home in the barbecue sauce by using oranges in it and a few different spices," he said.
His Floridian roots also influence the baked beans he prepares.
"We really put a lot into our beans. We put a few spices as well as some sugar, mustard and different kinds of meat," Smoove said.
The barbecue at Smoove's is inspired by Kansas City style, meaning it is smoked without sauce.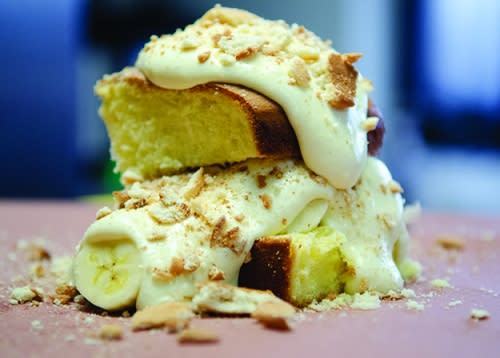 Smoove's also serves decadent desserts such as banana pudding cake made from scratch. The banana pudding cake begins with a hunk of yellow butter cake as the foundation. Then, Smoove piles on slices of fresh banana. He douses all of that with a scoop of custard. Next, a second layer of cake is stacked on top. Followed by another scoop of pudding and a delicate sprinkle of crumbled vanilla wafers.
For hours of operation and specials, visit Facebook.com/smoovesgrilltn.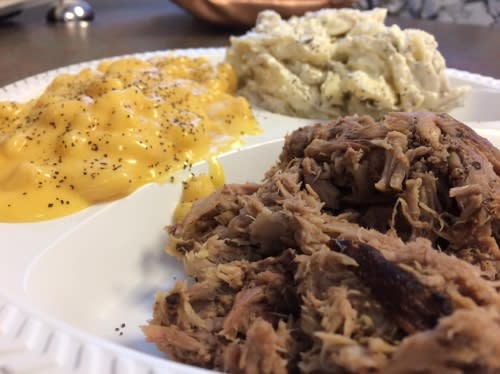 The next stop of the barbecue trail is going to take you past downtown Clarksville and Austin Peay State University, clear to the other side of town. Hopefully, you are making this trip on a clear winter's day, so you can look outside the window while you are driving (preferably at a stop light) and take in the view of the Cumberland River on your right-hand side.
Stay on Tennessee Highway 48 until you start to think you've gone too far, and then there on your right you will see a cute little storefront called "South of the River BBQ," at 2300 Hwy 48.
This family owned and operated joint has been in operation for about four years. Husband and wife team Henry and Robin Wemberly serve breakfast, lunch and dinner at South of the River. Their nephew, Gene Sloan, is the restaurant's pit master.
Every day, Gene smokes pork butts, whole and half chickens, and spare ribs on an open-pit fired with hickory wood.
Robin said barbecue has been engrained in the family's DNA. Before the restaurant was known as South of the River, the building was occupied by their ancestor's barbecue joint.
"Smoking and barbecuing has always been something that's part of our family," Robin said. "We've been a part of Clarksville so long, I think our meat really is Clarksville style."
If you want to have your pick of the menu, be sure to visit the restaurant early. I visited about an hour before closing on a Sunday, and they had already sold out of ribs and chicken. Robin said they make small batches of food to keep everything fresh.
I ordered the pulled pork with two sides – macaroni and cheese and fried okra. The plate also came with a hoecake style piece of cornbread. Robin said her signatures sides are the fried cabbage and sweet potatoes.
The desserts – cinnamon rolls, pie and cobblers – are all made in-house by Robin.
For hours and daily specials, visit facebook.com/SouthoftheRiverBBQ.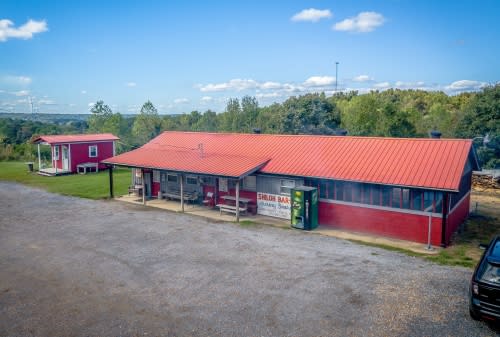 After leaving South of the River, drive a little bit further south and head toward Shiloh Bar-B-Que, 3471 U.S. Tennessee Highway 13, Cumberland Furnace. Shiloh has been serving hickory smoked, hand-pulled pork to the Clarksville community since 1999. The family restaurant is now owned by Mark Shively Sr. and his wife Sharon. Mark serves as the pit master at Shiloh. Their slogan is "Pig Cooked Right, Love at First Bite."
"It's pulled with care, believe me, [Mark] isn't going to serve just anything," Sharon said. "He makes sure he pulls every bit."
If you aren't in the mood for pulled pork, Shiloh also smokes ribs and chicken. On Saturdays, they also serve brisket.
"Everything is cooked fresh every day," she said.
While at Shiloh don't just fill up on meats, be sure and save room for sides. Their menu features homemade twice-baked potatoes, baked beans, macaroni and cheese, green beans, deviled eggs, pinto beans and white beans. Cornbread is available Thursday and Friday.
On the tables, guests will find three different sauces.
"We have a homemade sauce that's been in the family for years that is vinegar based. We also have a spicy and sweet thick sauce," she said. "We have hot, mild and sweet sauce."
To satisfy your sweet tooth, be sure to order a fried pie baked by Possum Hollow Bakery and Gifts, which is a locally-owned business up the road from Shiloh.
For hours, visit facebook.com/shilohbarbque.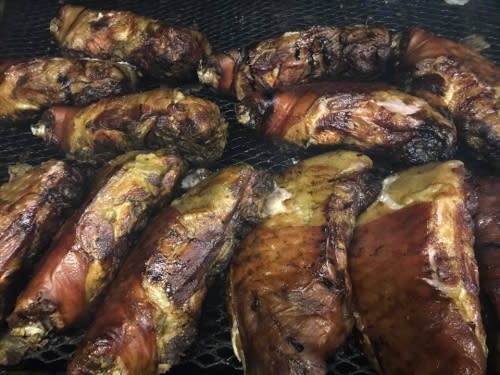 Once you are done visiting with the folks at Shiloh, hop back in the car and cut across the countryside to Excell Market Bar-B-Q, 3102 Ashland City Road. You are definitely going to put that address into your GPS, otherwise, you are going to get lost back in those hills.
This barbecue gem is disguised as a rundown gas station, and let me tell you, they really had me fooled. Surely a place like this couldn't serve something award worthy?
Believe me, I was wrong.
This year, the Leaf Chronicle staff and readers selected Excell as the best barbecue place in Clarksville. Excell also was recognized for having the best barbecued ribs in the city.
The intimate dining room holds about 16 tables.
All of the meat at Excell's is smoked over charcoal and hickory wood. The meat is hand pulled, which gives it a unique texture and flavor. Excell serves up to 7,000 pounds of meat per week during its busiest summer months.
For more information, visit facebook.com/excellbbq/.
Once you finish up at Excell's make a beeline for Interstate 24. From Exit 11, you are going to head back north about 10 miles to Exit 1. Once you get off at Exit 1, make a left to head toward Reggie's BBQ, 3863 Suite B Trenton Road.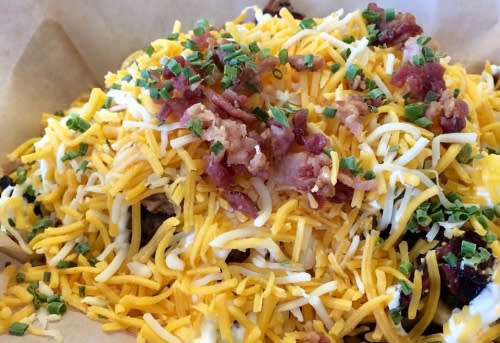 Reggie's is one of the newest BBQ joints in Clarksville. Reggie Foster, owner, opened this location at the beginning of November. When I sat down to speak with Reggie about his passion for smoking and his skills in the pit, Reggie thanked GOD for all of his abilities and praised HIM for his blessings.
"Without GOD I wouldn't be able to do any of this," Reggie said.
After transitioning out of the Army in 2003, Reggie bought a trailer and renovated it into a food truck. After four years selling food from the truck, he opened his first location just across the state border in Oak Grove, Kentucky.
Reggie serves different styles of BBQ to please everyone.
"We've got people from all over the country around here and they've all got their different quirks when it comes to BBQ. Different people like different things," Reggie said.
However, Reggie was determined the pulled pork would be North Carolina style, since that's where he was born and raised.
"North Carolina pulled pork has vinegar sauce and seasoning. The sauce is in the meat itself, it's not a sauce on the table," he said.
At Reggie's I shook things up by ordering his pulled pork loaded fries. I was served a bed of thick, crisp fries topped with shredded cheddar, pulled pork and sour cream. I drizzled a healthy dose of sauce over the top and I was in carb heaven.
Reggie also serves brisket, burnt ends, rib tips and spare ribs. He uses a specially made smoker to prepare his meats, which simultaneously uses charcoal, wood and gas. His three sauces – mild, spicy and secret burnt end sauce – are made in-house.
For more information, visit https://bit.ly/37f9saB.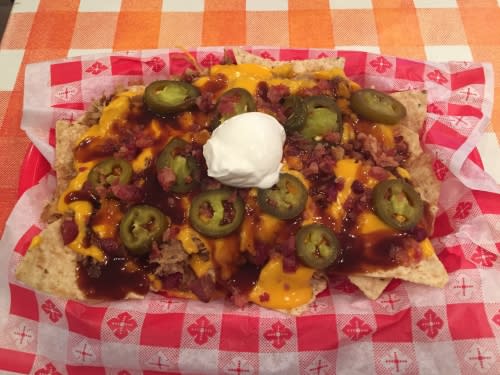 Round out your day of smoked meats by visiting Fox's BBQ, 521 Heritage Point Drive, which is just around the corner from Reggie's. Fox's was established in 2001 by Jessie Fox, owner. Jessie learned his barbecuing techniques from his grandmother. He slow smokes his meats over hardwood. The menu is inspired by St. Louis-style barbecue.
Ribs, chicken, pulled pork, stuffed baked potatoes and hot water cornbread are served at Fox's. For a complete menu and more information, visit foxsbbq.com/Menu.
All of the restaurants included on the trail are locally owned. However, Clarksville also is home to the following franchise barbecue haunts: Whitt's Barbecue, 2030 Wilma Rudolph Blvd., Mission BBQ, 2644 Wilma Rudolph Blvd. and Dickey's Barbecue Pit, 2345 Madison St.
To follow this BBQ trail or customize your own, click the Build Your Trip icon at the right of the screen.