What if we told you that "the most gifted instrumentalist of all time… an influence on guitarists everywhere," (not our words, the Rock & Roll Hall of Fame's) honed his craft right here in Clarksville, Tennessee?
It's true. Jimi Hendrix, the left-handed, legendary guitarist known for "Hey Joe" and one of the most iconic renditions of the National Anthem ever played, began in our town nestled on the banks of the Cumberland River. Here is the story on this icon and his Clarksville connection.
A Natural Interest
James Marshall "Jimi" Hendrix was born in Seattle, Washington, on November 27, 1942. A young Jimi, as the story goes, took an interest in music and the guitar. He enjoyed listening to the blues influences of the time, B.B. King, Muddy Waters, and Howlin' Wolf to name a few. Jimi's father, "Al," recalled asking Jimi to sweep the floor in his bedroom, only to later find that the broom straws were on the ground and that Jimi had been pretending to play guitar with a cleaning instrument. To support Jimi's enthusiastic interest, or perhaps to prevent future broom replacements, Al bought Jimi his own five-dollar guitar in the summer of 1958. That guitar led to Jimi's first band, further exploration of his musical interests, and another guitar – this time electric, while living in Seattle as a teenager.
Parachute or Guitar Strings?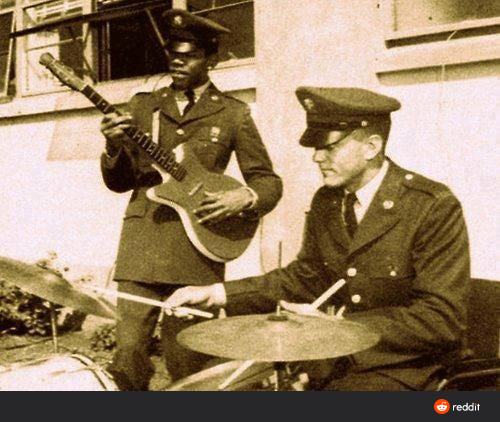 So, how did a teenager from Seattle wind up across the country in Clarksville, Tennessee? The same way so many others from across the country did and still do today.
On May 31, 1961, Jimi Hendrix enlisted in the Army, joining the 101st Airborne Division in Fort Campbell, Kentucky, just across the Cumberland River from Clarksville. While on base Hendrix continued to hone his guitar craft while also training as a parachutist. He even befriended a bassist, Billy Cox, to play with. Not everyone on base at Fort Campbell was as entertained by Jimi's passion for the guitar, however.
On May 24, 1962, Jimi's platoon sergeant filed a report, stating "[Private Hendrix] has no interest whatsoever in the Army … It is my opinion that [he] will never come up to the standards required of a soldier. I feel that the military service will benefit if he is discharged as soon as possible."
Hendrix was granted an honorable discharge on June 29 that cited an ankle injury, and he formally left the Army after a brief parachutist career.
Chords in Clarksville
Hendrix originally intended to move home to Seattle after his discharge from the Army. A few circumstances prevented that return. The first? A lack of traveling money to return home. The second? A local girlfriend.
Hendrix remained in Clarksville, continuing to play with his Army buddy, Billy Cox, as well as adding a saxophonist, Charles Washington, to his group, now called the King Kasuals. The band would play rhythm & blues in clubs around Clarksville, at times traveling to play in nearby Nashville and Murfreesboro to the south.
Hendrix and Cox eventually moved in together after Cox's discharge from the Army in the fall of 1962. The pair rented a house in Clarksville where they continued to practice their music. It should be noted at this juncture that Hendrix was entirely self-taught on the guitar. He never learned to read or write music, instead relying on his keen ear.
A Bright Star
Hendrix and Cox eventually moved to Nashville in October of 1962, gaining a more consistent job playing shows as the house band at the Del Morocco Club on Jefferson Street. Hendrix's last known trip to Clarksville is said to have been in 1963, when he exchanged an old electric guitar at Collin's Music Store. Hendrix reportedly used to play impromptu concerts at Collin's Music Store. The owner, Sam Collins, said: "he was full of life and full of fire."
Hendrix would go on to travel with touring bands during his time in Nashville, before leaving for New York City in late 1963. He toured and worked with acts like The Isley Brothers and Little Richard, never the star of the show but always impressing with his prowess.
Ultimately, Hendrix would move to England in 1966 at the behest of Chas Chandler of The Animals. Hendrix would go on to release his first solo single, "Hey Joe," which led to breakthrough success in the U.K. before following success in the United States. Hendrix's stardom continued to climb as he made now-iconic festival appearances at Woodstock and Monterey, thrilling crowds across the world with his psychedelic style. He formed acts like the Band of Gypsys and The Jimi Hendrix Experience along the way.
Hendrix played with an unmatched passion and influence until his untimely and tragic death on Sept. 18, 1970, in London. Over the course of Hendrix's short career and long after his passing, he stamped his place in the music world with a collection of music that "continues to make Hendrix one of the most popular figures in the history of rock music."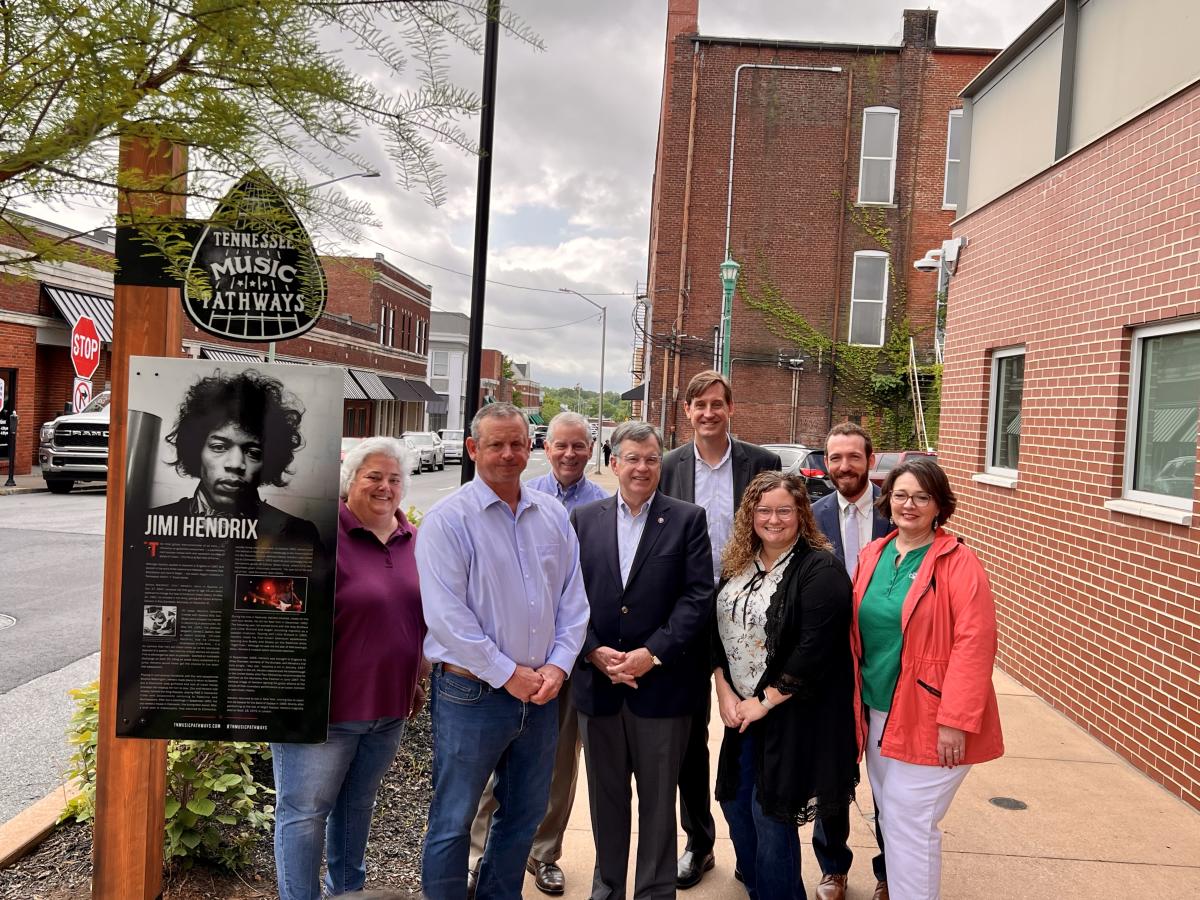 A City Remembers
Clarksville will forever appreciate the time that Jimi Hendrix spent in our city and the influence that he left not just on the world, but on our home. We encourage music lovers and visitors alike to continue to learn more about Hendrix's time in Clarksville by visiting our Tennessee Music Pathways site dedicated to the legendary musician in Downtown Commons at 215 Legion St. The Hendrix marker is located near the intersection at Third and Legion Streets.