Rock climbing is more popular than ever. Climbing gyms are popping up in most cities. The Nashville metropolitan area has four alone - with two more coming soon! These gyms typically feature artificial climbing walls, weight lifting/cardio machines, retail space, and even yoga studios. Climbing also makes its debut in the Olympic Games this year in Tokyo, Japan.
Outdoor rock climbing has surged in popularity as well. The local crags (rock climbing areas) are bursting with new and experienced climbers chasing adventures and developing their skills. With the help of climbing gym training, climbers are stronger than ever and accomplishing unbelievable feats. In 2018, the documentary Free Solo, the story of Alex Honnold climbing the iconic El Capitan (3,000-foot granite monolith) in Yosemite Valley with no safety rope, won the Academy Award for Best Documentary. Again, rock climbing is more popular than ever. And growing fast!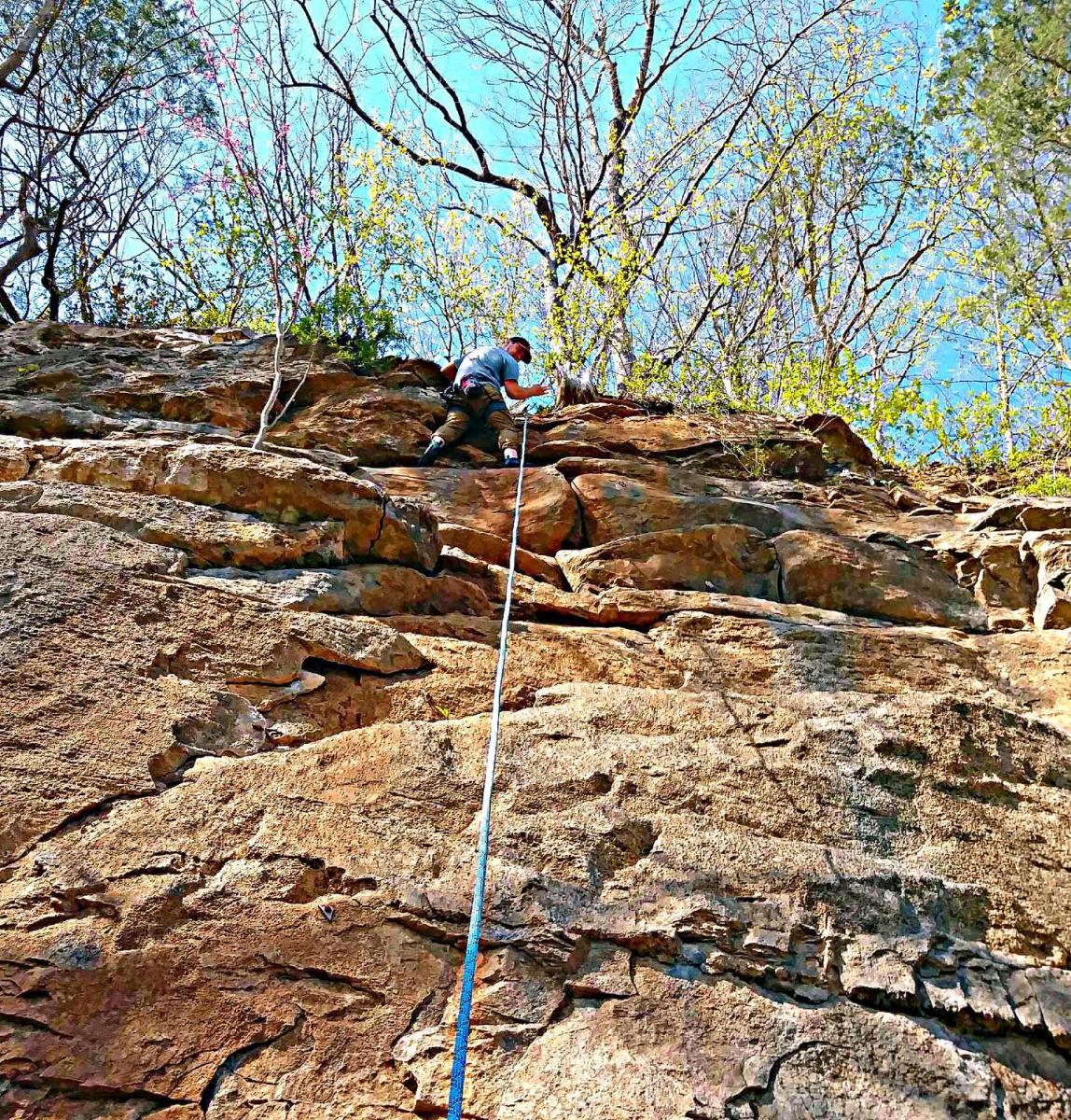 The limestone bluffs at King's Bluff are scenic year around. Photo: IG @chefcrabcake
A few miles southeast of downtown Clarksville lies a limestone bluff line along the Cumberland River called Kings Bluff. Kings Bluff is the closest outdoor climbing to Nashville and some of the only limestone climbing in Tennessee. With over 150 climbs ranging from 35 to 70 feet tall, every climber in the central Tennessee area knows about Kings Bluff.
Kings Bluff is a great place to learn how to climb or improve your skills. Short approach (the hike from the parking area to the climbing), direct sunlight in the winter, and the Cumberland River to dip into for reprieve in the summer. I first climbed at Kings Bluff over 5 years ago. I was a fairly new climber and was looking for a place close to Nashville where I could get more outdoor climbing experience. I've since become a climbing guide and have climbed all over the world, but credit many of my initial lessons to Kings Bluff.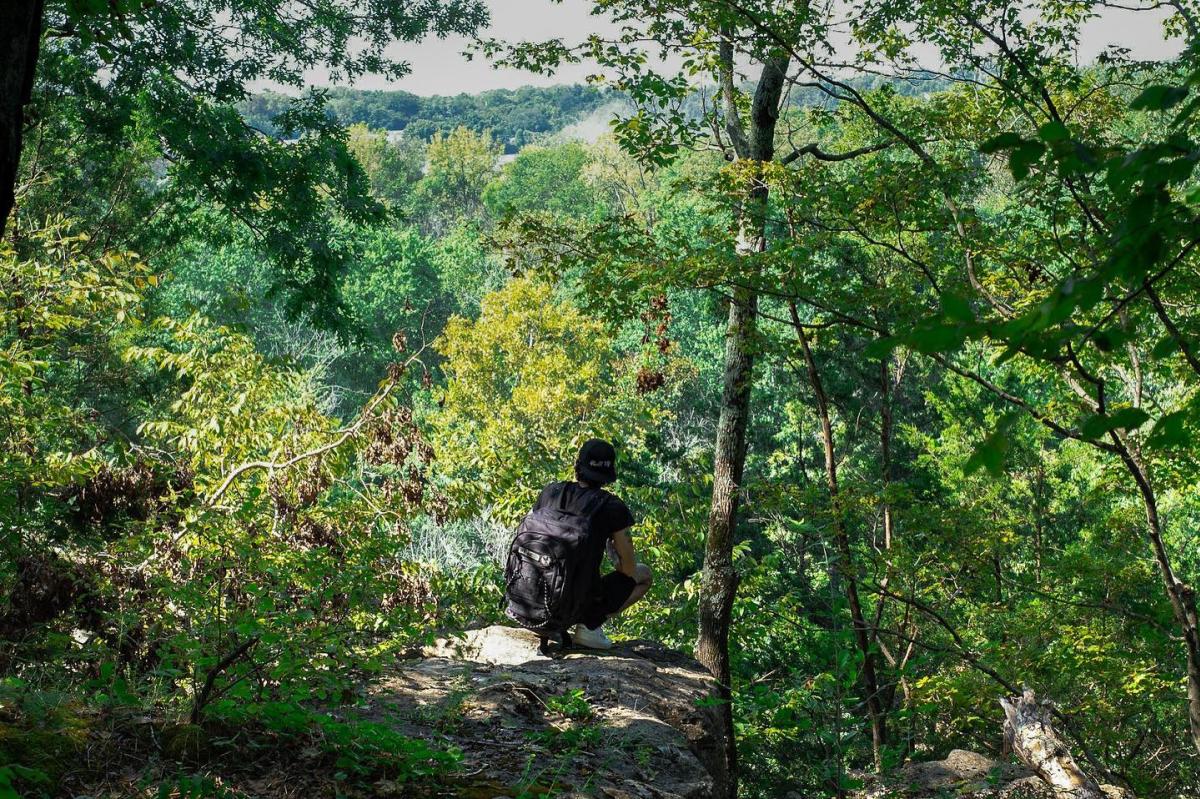 The views at King's Bluff overlooking the Cumberland are spectacular. Photo: Ashley Elrod
Kings Bluff is owned and managed by the Southeastern Climbers Coalition (SCC). To climb in the area, you must first obtain the gate code from the Kings Bluff page on the SCC website (seclimbers.org). Please consider donating to the SCC, they do more work than anyone to protect and preserve climbing in Tennessee.
If you've never rock climbed but have an interest in doing so, hire a guide and go to Kings Bluff! Guide services offer rental gear and will manage all safety measures to ensure a good, safe
outing.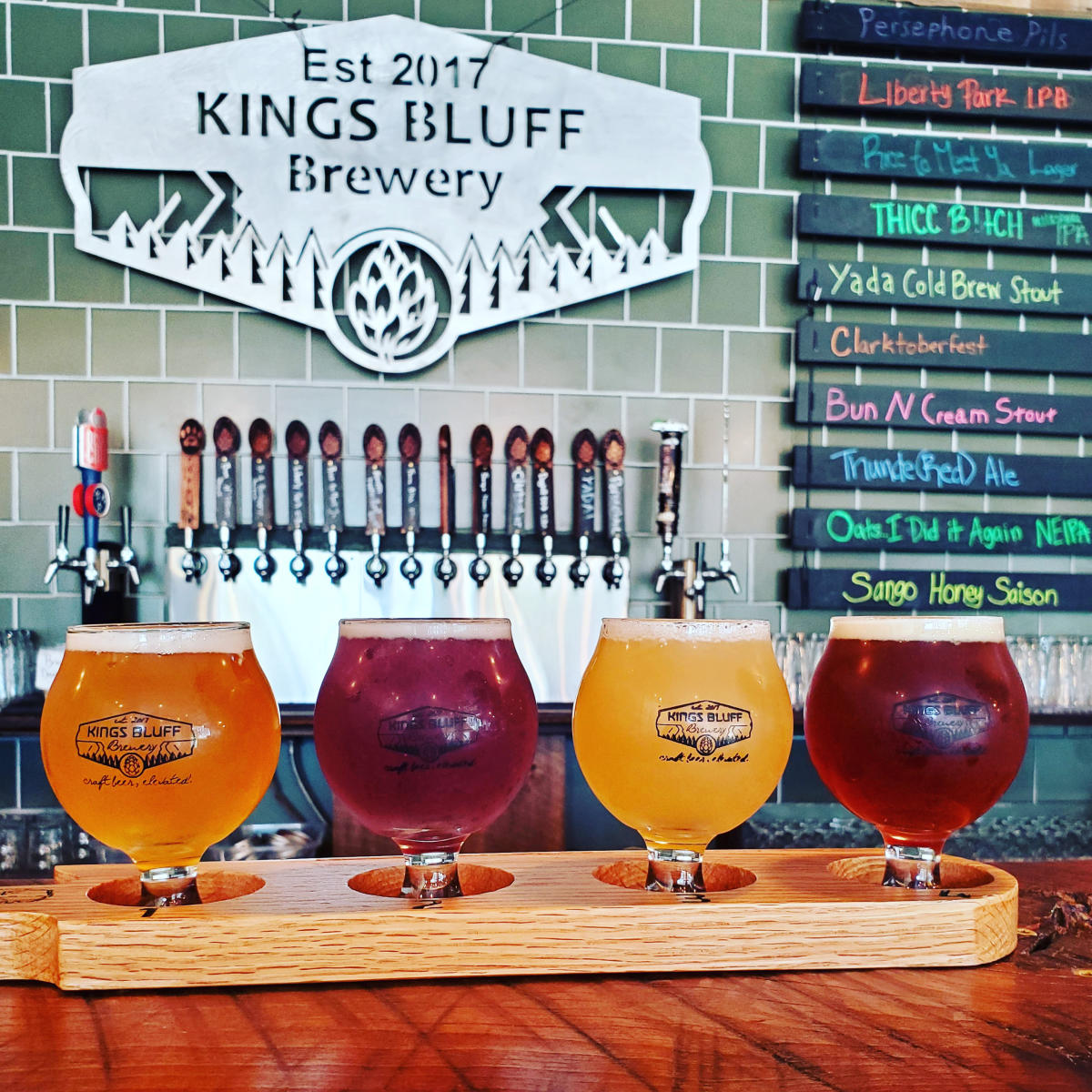 Kings Bluff Brewery in downtown Clarksville pays homage to the Kings Bluff rock climbing park with its logo, artwork and beers.
A brief shoutout to Kings Bluff Brewery. The brewery opened in 2017 and has been a regular stop for myself, friends, and clients after each trip to Kings Bluff. They brew great beer, and have a couple maps and pictures of the climbing area on their walls. A favorite of the climbing and local community.
Editor's Note: When you visit King's Bluff, or any park or nature area, please remember to take out what you bring in and help keep the area clean for everyone to enjoy. #leavenotrace
Header Photo @benny.little