Clarksville History Hunt: An interactive walking tour of downtown Clarksville, Tennessee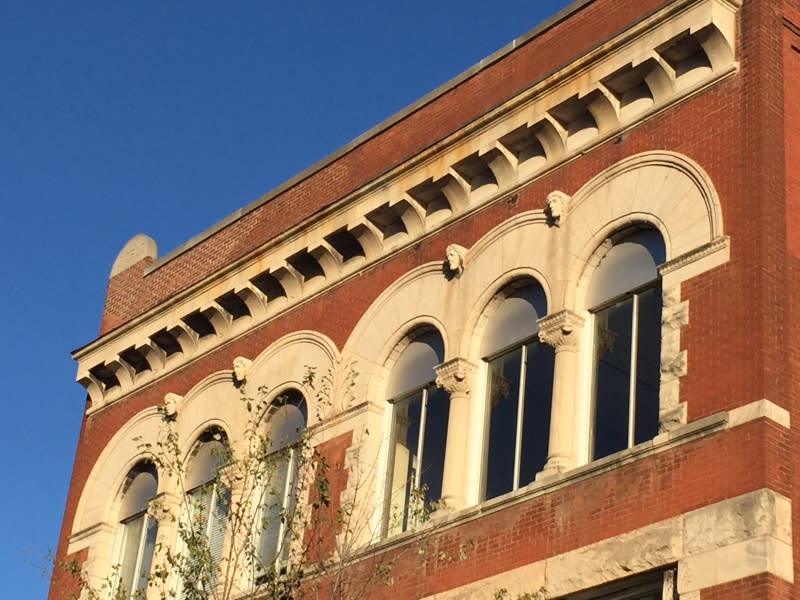 Thanks to its early establishment in 1784, Clarksville boasts a rich history that can be brought to life by exploring its downtown buildings and their architecture. As a progressive city in the South in the 19th and 20th century, urban planners and architects weren't afraid to push the envelope when it came to the design and conception of Queen City. Clarksville – and its residents over time – have also been resilient, rebuilding after several natural disasters including the 1878 fire that destroyed many of the original buildings downtown, the 1999 tornado that ravaged the community (and became the largest loss of personal assets in state history) and the 2010 flood, from which some areas of downtown are still recovering.
Visit Clarksville invites guests to embark on a "Clarksville History Hunt" and see these historic buildings for the first time or for residents to experience them through a new perspective. Simply follow the trail in no particular order, post your photos of the buildings on Instagram, tag @visitclarksvilletn and use the hashtag #clarksvillehistoryhunt. The first five people to post pictures of all 11 sites below will win a prize from Visit Clarksville! Happy hunting.
*Note: please do not take photos inside the historic buildings unless you plan to be a patron of the restaurant or business. Thanks for your cooperation and support of our local shops!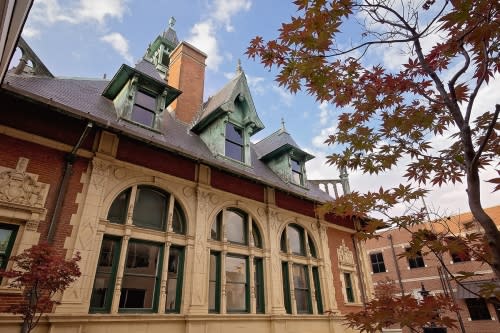 Customs House and Federal Post Office
Begin your journey at Customs House Museum and Cultural Center at 200 S. Second St. Built in 1898 to accommodate the booming tobacco export industry and the large volume of foreign mail, the Customs House and Federal Post Office is one of Tennessee's most photographed buildings. Federal Treasury Supervising Architect William Martin Aiken was commissioned to design the project, and there was great pushback from the community over his eclectic plan. With a highly pitched roof and four 5-foot eagles overlooking downtown, the fire-resistant terra cotta structure combines several Victorian-era styles such as Stick, Queen Anne, Gothic, Italianate and Romanesque. The Leaf Chronicle predicted the architecture would be a "laughing stock," and construction was halted while the debate ensued. Photo by Lisa Kemmer.
Once completed, the Customs House and Post Office served Clarksville until 1935 when it was replaced by a new post office. The building was later used by the city for its electrical department until the mid-1980s when the Montgomery County Historical Society purchased it for $1 and converted the property into the state's second-largest general history museum.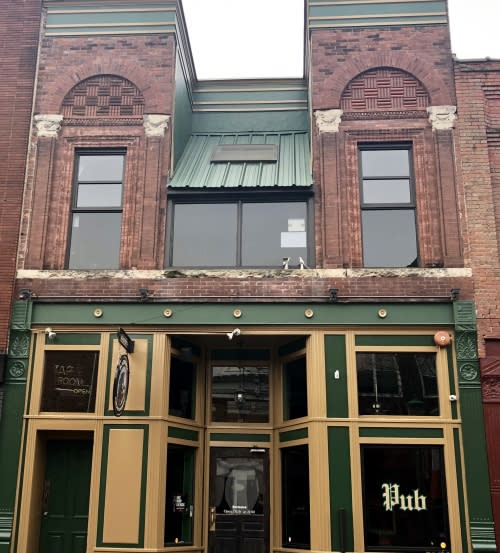 MacCormac's Portrait Studio
Walk north on N. Second Street to Franklin Street and turn left until you arrive at the current-day Blackhorse Pub & Brewery, which has occupied the historic space since 1992. Constructed in the late 1800s sometime after the 1878 fire, 132 Franklin Street once housed the operation and works of photographer William J. MacCormac. He was best known for his portraits of soldiers from nearby Fort Campbell, but also took plenty of photographs of Clarksville and its civilian community, including the city's public figures and architecture. MacCormac installed skylights on the second story roof of the building for ideal portrait lighting, which are still intact today.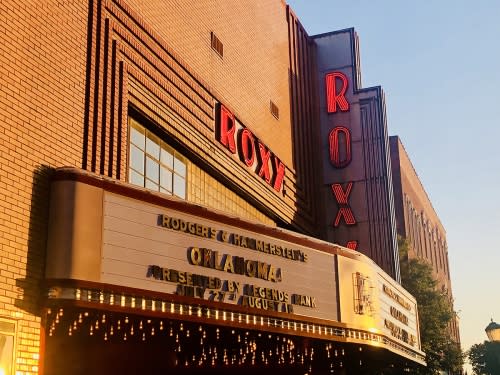 Roxy Theatre
Continue west on Franklin to Clarksville's first theater, known at the time as The Lillian, was established in 1913. It was almost immediately damaged fire in 1914 and rebuilt in 1915, featuring silent pictures. The theater was renamed The Roxy in 1941 and became a popular entertainment venue for newly established Fort Campbell's soldiers. It suffered yet another fire in 1945 and was completely rebuilt to its current design in 1947, finally becoming the Roxy Theatre.
The theater ran movies until 1980, when it went vacant for three years and was reopened and refurbished with a vision by Tom Thayer and John McDonald as "the cornerstone of downtown redevelopment." Its stunning neon sign and art deco retro glam style made the perfect backdrop for Sheryl Crow's breakthrough hit, "All I Want to Do" music video in 1993. A professional theatrical company was created in 1995 at the Roxy that continues to host performing arts live shows today. The Roxy Regional School for the Arts was also launched in 1995, which hosts a drama summer camp with teens through a partnership with Clarksville Parks & Recreation.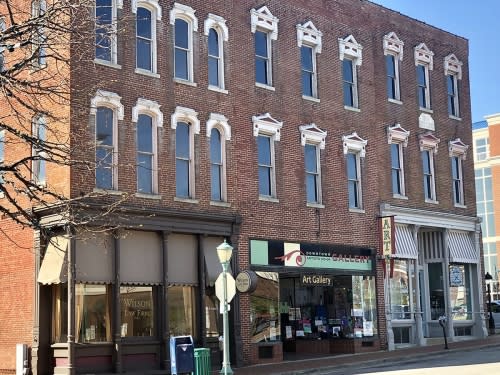 Elder Conroy Hardware Building
The last stop on Franklin is the historic Elder Conroy Hardware Building at the corner of N. First Street with striking cast iron Italianate Victorian doors. While the sign still exists for the hardware store on the outside of this structure, this advertisement is only part of its history.
The building originally served as a drug firm and was completed in 1887 by Charles Lacey Lockert and John B. Reynolds to replace their first structure that was destroyed in the 1878 fire. In 1911, the building became home to the Lyric Theater. A record player with a large horn was placed outside the theater to attract a crowd.
Elder Conroy Hardware later opened and became a staple in Queen City. What was once a particularly multiethnic/mixed racial block downtown (according to Clarksville history expert Ray Rosado), the Elder Conroy building has returned to its artistic roots and now houses Horsefeathers Pottery and Art Studio and the Downtown Artists Co-Op, among other businesses.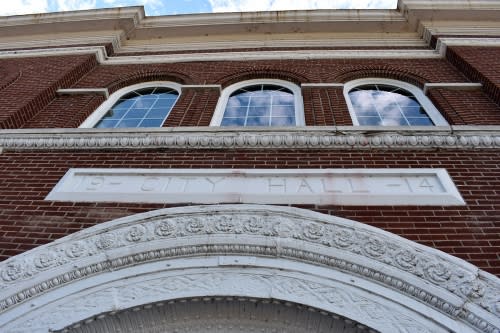 Clarksville's Original City Hall
Continue west on Franklin, turn right onto Public Square, and you'll soon see the arches of Clarksville's original town hall that was built as a bank in the late 1870's (the arched façade was added in 1914). It then served as the city jail and court prior to becoming the center of Clarksville's municipal government from 1914 to 2001. The median in front of the building showcases several war monuments honoring Fort Campbell troops and their families.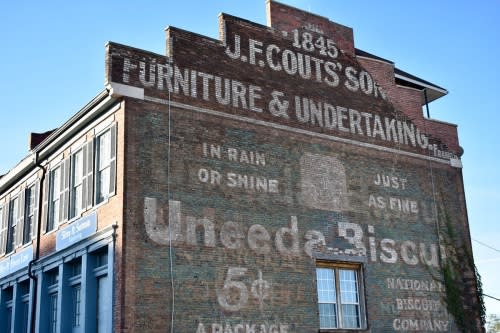 The Poston Building
Continue on to the northwest corner of Public Square to the Poston Building, famous for its Uneeda Biscuit existing advertisement on its brick wall. John Poston acquired the lot and built three consecutive buildings on this block in 1842 (possibly 1843), which have become the oldest remaining structures in Clarksville erected for commercial use. There have been recent debates on whether or not to restore the sign to its former glory or leave the original, which Poston had painted strategically to be visible by riverboats passing along the Cumberland. During his lifetime, Poston was a successful merchant in Clarksville and was extremely involved in the community, even serving as mayor after he was elected in 1830. Poston's building is now occupied by a bonds business, a law firm and a marketing agency.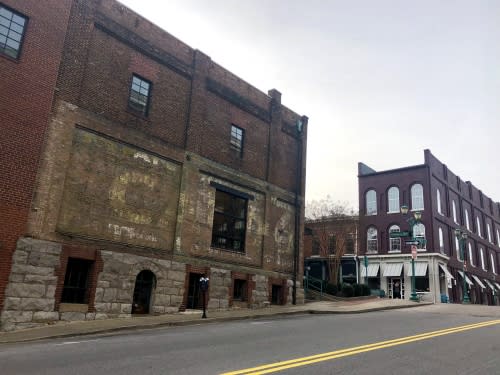 Sullivan Building
Around the corner from the Poston building is the Sullivan Building on the corner of N. First Street and Strawberry Alley, is known for its ghost advertisement on the side of the structure and its articulate stonework. Built by Irish Immigrant Patrick Sullivan, the original building housed a pub. After several tenants in various businesses, the space returned to its roots in housing pubs and has been home to several in recent years including The Alley, Brunie's, Joe B's, Hops Road, and the current occupant, Strawberry Alley Ale Works.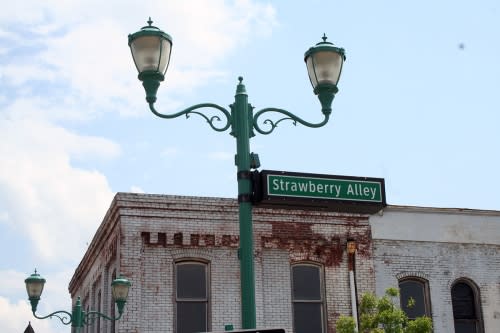 Clarksville Marble Works
Continue east on Strawberry Alley until it meets N. Second Street, and look to your right. This lot was once the home of Clarksville Marble Works, which stretched from Strawberry Alley to Franklin Street. The marble shop was run by English immigrant Samuel Hodgson, one of the finest marble men in the South. A true artisan who imported his materials from Italy and Scotland, Hodgson carved the majority of the tombstones and monuments at historic Greenwood Cemetery and several at Riverview Cemetery as well.
Marble chips are rumored to be found in the alleyways behind the present stores but proceed with caution to explore, as it is private property. Clarksville Marble Works, like so many Clarksville shops, perished in the 1878 fire. The current block of buildings was built soon after, which now features Hey Noli Boutique, a few vacant storefronts and AndVinyl Print & Music Services.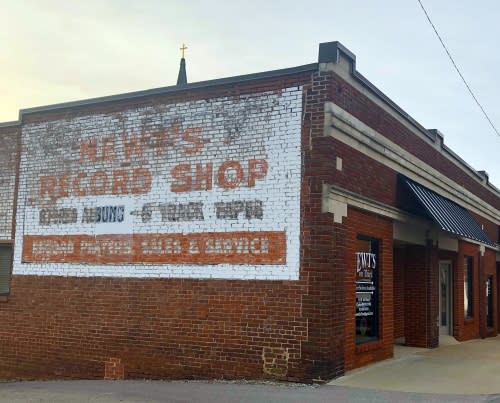 Newt's Record Shop
Head directly east past the Downtown Commons and arrive at 119 N. Third Street, which still boasts the mid-20th century record shop's sign painted on its brick wall. Once owned by Newt Wilson and his son Larry, Newt's Record Shop is fondly remembered by Clarksvillians as a friendly local store that sold records, 8-tracks, and cassette tapes. It now houses Newt's on Third, a co-working space that caters to all types of professionals from start-ups to growing businesses.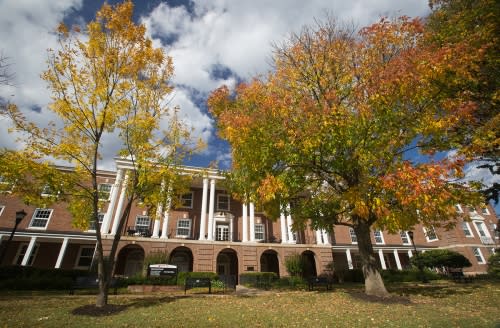 Austin Peay State University – Harned Hall
From Newt's, traverse east on Legion street, head north on N. Fourth Street, turn right, and head east on Main Street until you reach University Ave. Walk north until you reach Austin Peay State University, and Harned Hall is in the heart of the campus with beautiful columns adorning its façade. Initially built in 1931 as a women's dormitory, Harned Hall is the oldest existing structure at APSU. Harned was the first building in the school's Normal School era from 1931 – 1943. It was badly damaged in the 1999 Clarksville tornado but reopened in less than one year along with the rest of campus. Standing strong with the rest of the community, APSU resumed classes (in halls with less damage) within three days after a promise to recommence in one week. Photo contributed by Austin Peay State University.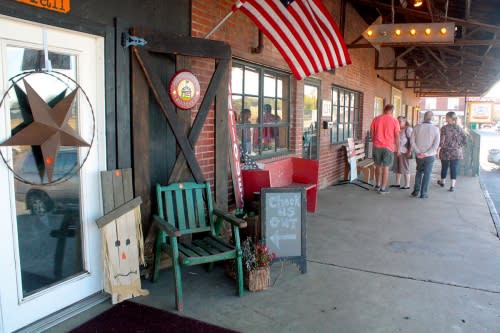 Riley's Hardware Warehouse   
Our last stop is about a 20-minute walk east or a six-minute car ride (1.3 miles) from APSU on College Street, which becomes Wilma Rudolph Blvd. You'll see Silke's Old World Breads Bakery on your right and the former Riley's Hardware Store to the left. The sign of the structure is still visible on the brick wall above the doors. The building is currently leased by Jon and Stephanie Sprague, who purchased an antique and furniture store and continued the business as Warehouse 41  Antiques and More. From conversations with Clarksvillians who have come to see the refurbished warehouse, Stephanie estimates that the building was constructed in the mid-1800s. Riley, who also worked on Clarksville's railroad, allegedly purchased the structure's steel beams from an old train in an airplane hanger in Texas. The warehouse was additionally used in Clarksville's tobacco trade industry, and Riley ultimately went out of business in December 2000. 
For more information, check these resources: