Kids love Clarksville. And Clarksville loves kids! As one of the youngest cities in Tennessee, Clarksville is filled with children and young families. You might expect to find plenty of kid-friendly, kid-approved things to do, and you would be right. In fact, we have a web page devoted to Things to Do with Kids. Discover for yourself some of the places and activities that parents, and kids themselves, tell us are their favorites. 
Customs House Museum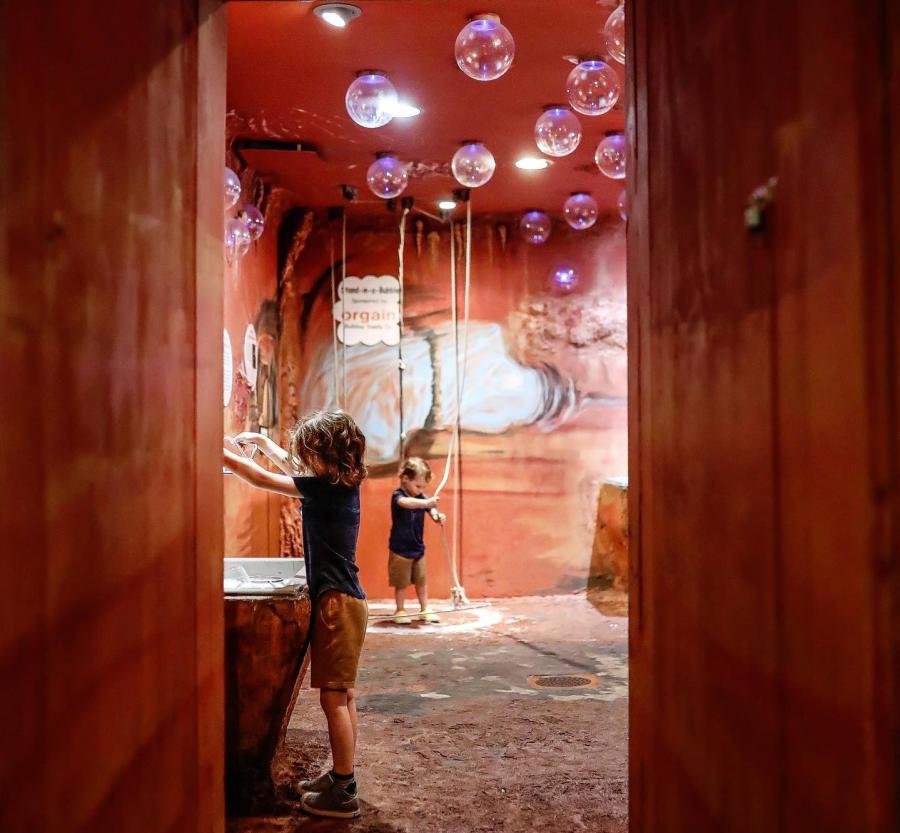 The Bubble Cave at the Customs House Museum is a fun and unique place to play and learn. Photo: Britney Taylor.
The Bubble Cave and Train Exhibit might be the most popular corners of the expansive Customs House Museum & Cultural Center. Keeping life-size bubbles intact is quite a challenge! The temperature also goes down a few notches inside the cave space so, like an actual cave, it's a nice place to cool off on a warm summer day. The massive train exhibit is adored by the young and young at heart. Lined with interactive buttons, it's fun for all to find the activity that happens when the buttons are pushed. Lesser-known favorites are the McGregor's Grocery replica where toddlers can "shop" and the Family Art Room where imaginations soar.
Downtown Commons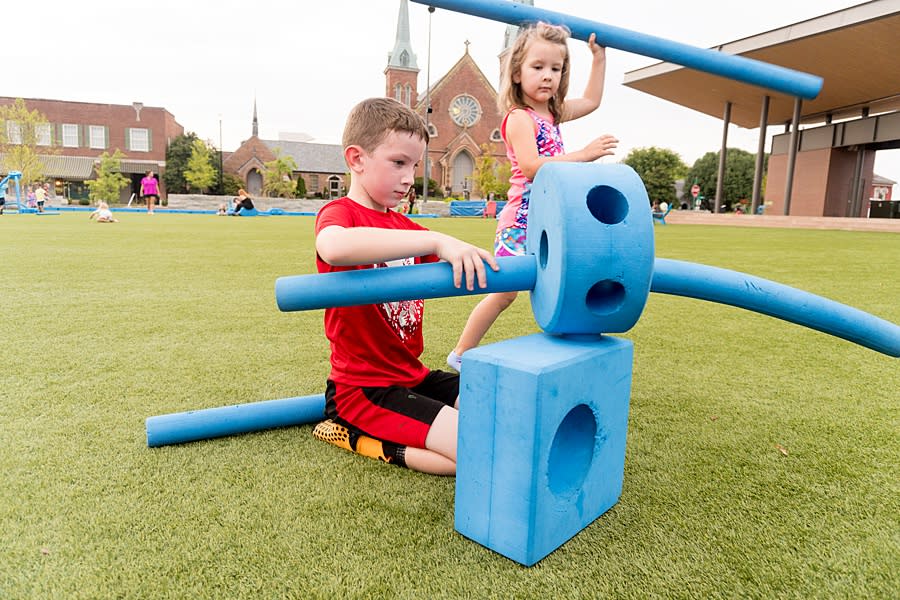 Building requires concentration, but it's fun! Photo: Stacy Anderson
A large open space with super-soft turf and giant portable foam shapes makes up the Imagination Playground at Downtown Commons. The creative space is bordered by an oasis of trees and water features like a little river and fountain area, giving shaded seats for parents while kids have a blast splashing.
Rotary Park Creek & Playground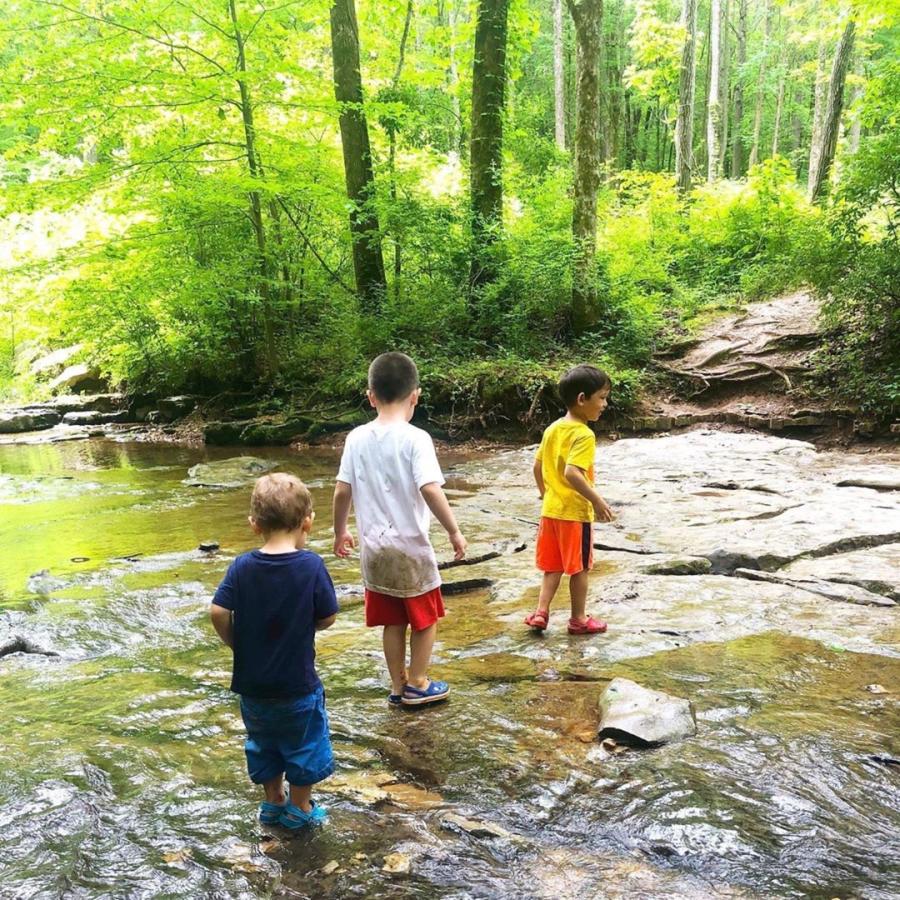 Water, rocks, and sticks...what more can a boy want?! Photo: Amor Moran
The creek that meanders along the trails of Rotary Park has been a natural playground for generations! Most of the year the water is a mere few inches deep, just enough for a good splash and soak. Dry patches can happen in the summer and a few deeper spots near rock falls accumulate in the early spring.  A newer section of the park near the Wade Bourne Nature Center features a large rubber-mulch playground where the "equipment" looks like large wooden trunks. The replicated natural space sits beautifully just inside the woodlands.
Liberty Park Community Built Playground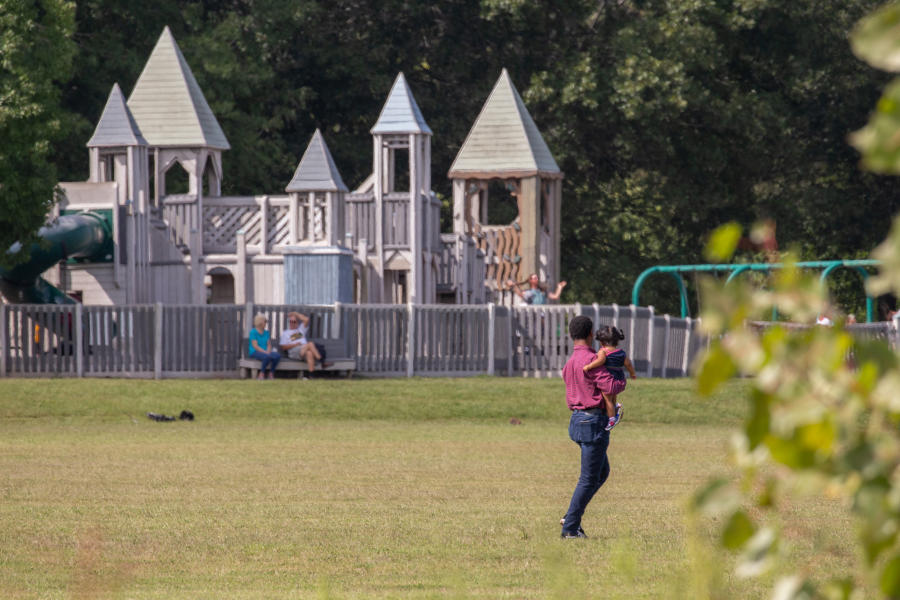 Play then picnic at Liberty Park's Community Playground. Photo: Odinn Media.
Alongside the Cumberland River at Liberty Park sits a sizeable playground and jungle gym. This community-built playground is a favorite for running, playing, building, and exploring in the confines of a secure environment. Bring your bikes, balls, and bats, or Frisbees and enjoy the trails and open spaces too. Plus, there's a space designed exclusively for toddlers and plenty of options for picnicking afterward. 
City Forum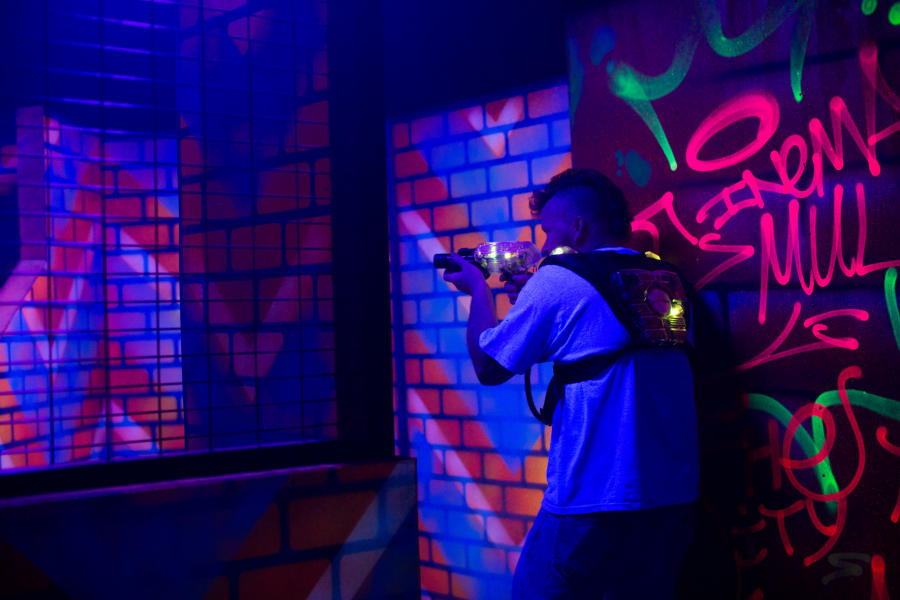 Indoor laser tag is one of many options at The City Forum. Photo: The City Forum.
Classic arcade games, bowling, laser tag, putt-putt, plus high-speed and family-speed go-karting are likely to bring out the competitive spirits of the entire family. Fortunately, all these activities and more are indoors under one roof at the City Forum. Older children and teens especially enjoy time here among the dazzling lights and sounds, but there's also a playscape area to accommodate younger children.
Heritage Park All Inclusive Playground & Splash Pad
Everyone can enjoy the playground and splash pad at Heritage Park regardless of their ability. Both the playground and splash pad meet Americans with Disabilities Act guidelines. All areas are wheelchair accessible and play structures including ramps.
Sky Zone Clarksville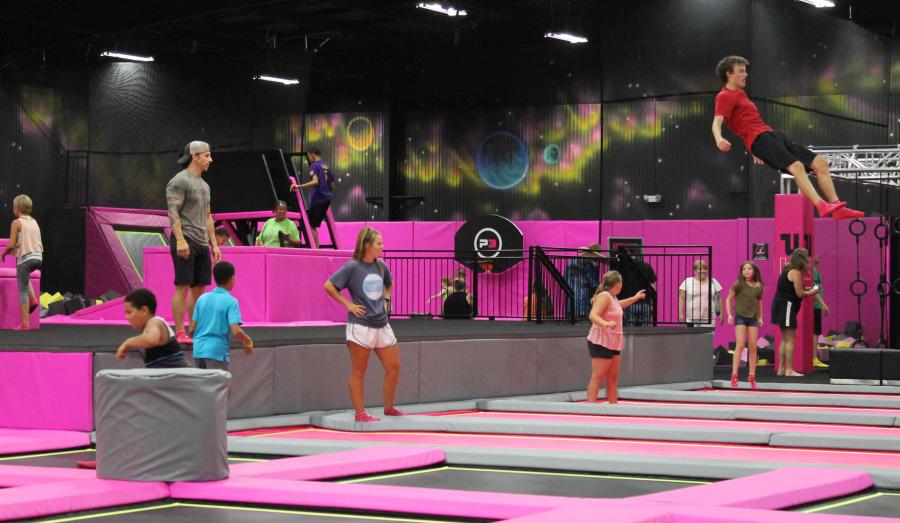 Kids aren't the only ones who'll enjoy this giant trampoline park.
Push the boundaries and catch some extreme air at Sky Zone Clarksville. Kids and adults can funnel all their energy into the rock-climbing wall, a Ninja course, basketball, dodgeball, or open play floor. Private rooms also make this an ideal spot for parties.
Children's Fountain at Strawberry Alley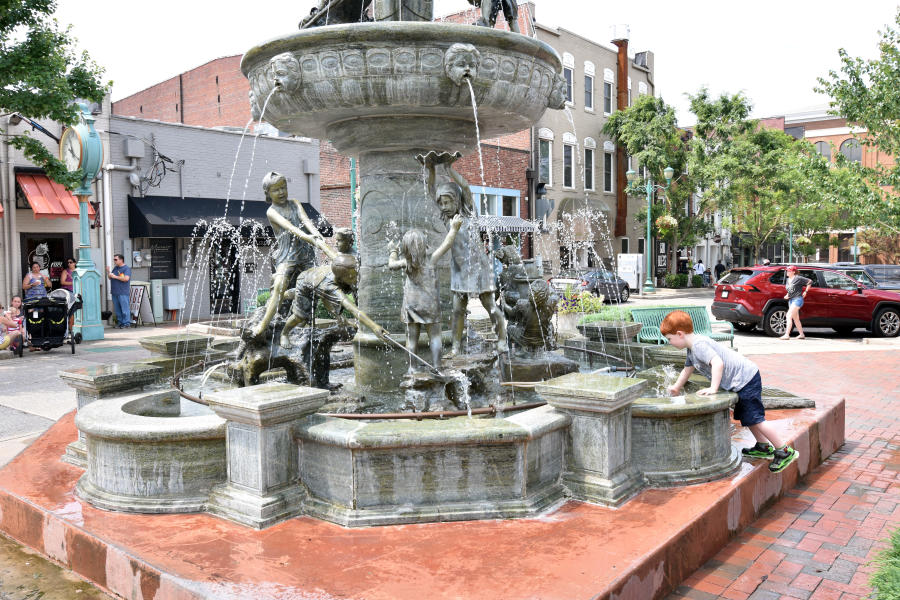 Oh, the simple joy of splashing!
Sometimes, the amazement of simple things can entertain kids the most. The Children's Fountain on Strawberry Alley is a fun place that toddlers are sure to enjoy. Putting a hand in streaming water or splashing in a puddle is a pure delight for young ones.
Historic Collinsville Pioneer Settlement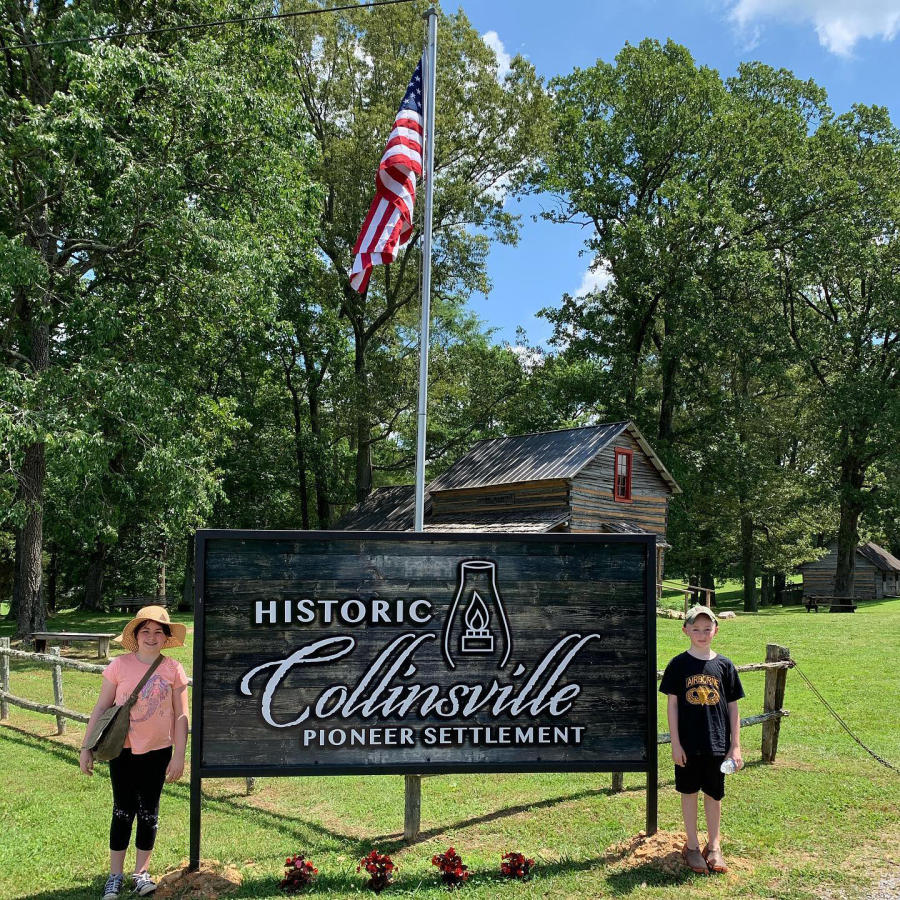 Kids are as fascinated by what they don't see as what they do see at Historic Collinsville. Photo: Steve Litteral
If your family is interested in history and learning about different times and cultures, take a step back into the days of Tennessee's earliest settlers at Historic Collinsville. With six or more people, reserve a guided group tour to learn fascinating ways that our ancestors were resourceful and inventive with very little. The 40-acre attraction features 16 authentically furnished homes and outbuildings with picnic tables, a covered pavilion, and benches throughout. Kids are usually more fascinated with what they don't see than what they do! At the very least, they'll leave with a better appreciation of today's many conveniences.
Ice Cream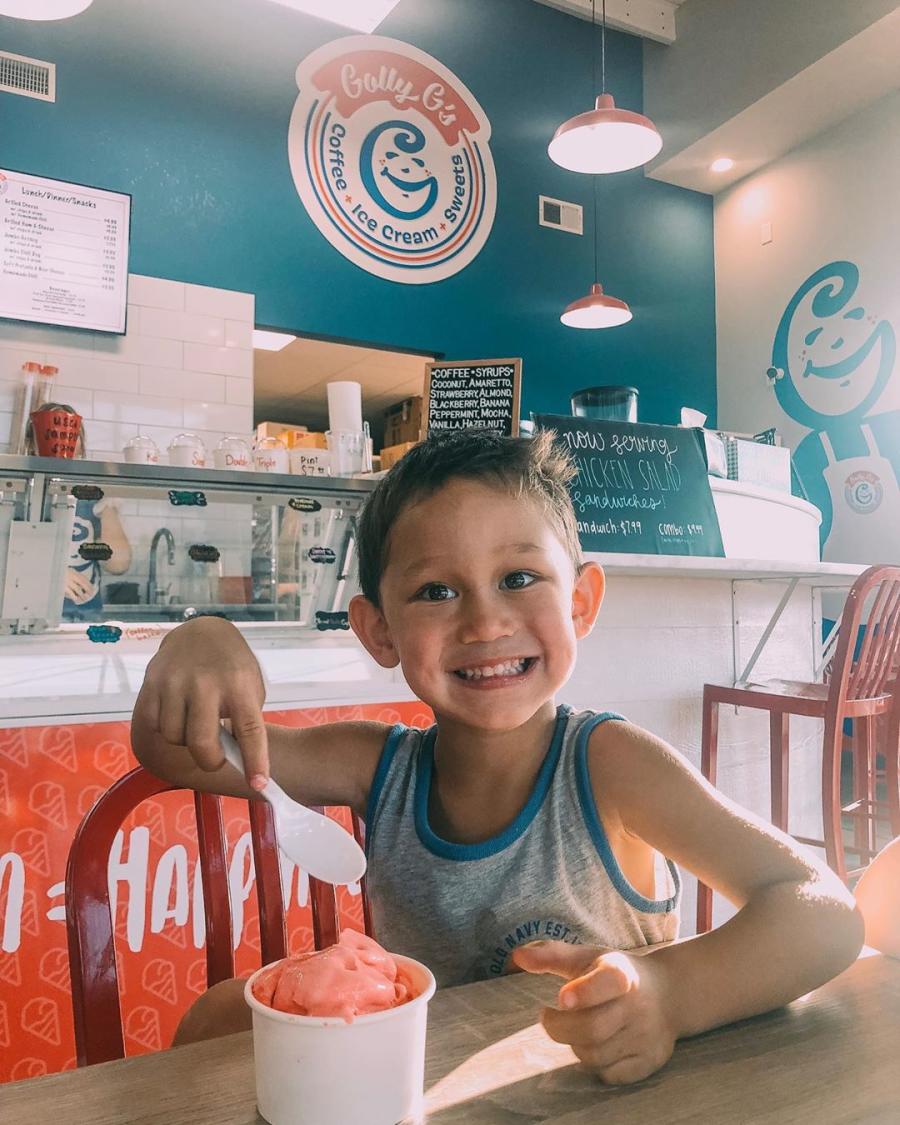 It's not a REAL vacation without ice cream! Photo: Amor Moran
A vacation with kids isn't truly a vacation unless it involves ice cream! Please don't neglect this all-important stop! Favorite spots in Clarksville are Golly G's with super-creamy hand-scooped flavors, Frozen Fuel where ice cream and sorbets are made in-house, and La Michoacána Delicias where you'll find dozens of fresh Mexican popsicle flavors.
Order our free Visitors Guide for more travel inspiration.
Explore even more ideas for a memorable vacation for the entire family!
Read More