Clarksville unveiled its 21st public art piece this month. Twelve of the pieces – at least – are in a proximity that's easily walkable within the city's downtown core.
Murals, sculptures, fountains, and flames are among the art pieces you'll see showcased along city streets, urban trails, buildings and throughout the campus of Austin Peay State University, which is adjacent to downtown. Many of the works were designed or created by Clarksville artists.
For the sake of space, here are six, but click here to read about and see all 21.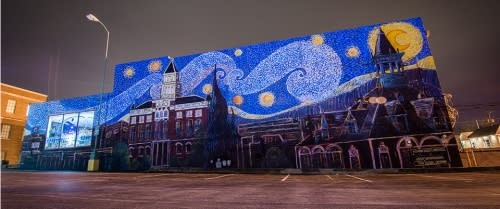 Clarksville Starry Night – A 60x40-foot mural of the Clarksville skyline rendered in the style of Vincent van Gogh's "The Starry Night."
420 Madison St., Artist Olasubomi Aka-Bashorun
The Day After -- Bronze statue of a seated man reading a January 23, 1999 edition of The Leaf-Chronicle, the day after an F-4 tornado destroyed much of downtown, including the courthouse and Leaf Chronicle buildings.
Commerce & S. Second, Artist Scott Wise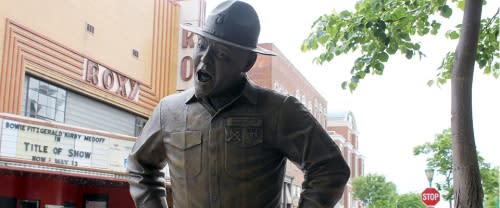 Frank Sutton – Life-size bronze sculpture of the Clarksville native who portrayed "Sgt. Carter" on the CBS sitcom, "Gomer Pyle, U.S.M.C." Unveiled in 2017. 
107 Franklin Street, Artist Scott Wise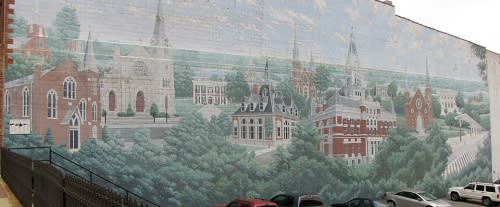 Bursting with Pride -- 10,000 square-foot mural featuring 15 Clarksville buildings         
110 Franklin, Artist Ricky Deel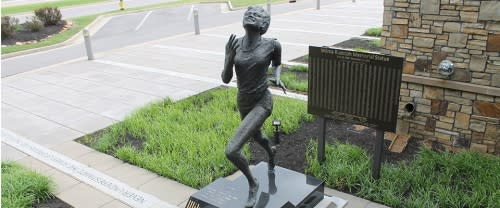 Wilma Rudolph – Life-size bronze statue of three-time Olympic Gold Medalist Wilma Rudolph
Wilma Rudolph Event Center, 1190 TN Hwy 48, Artist Rev. Howard Brown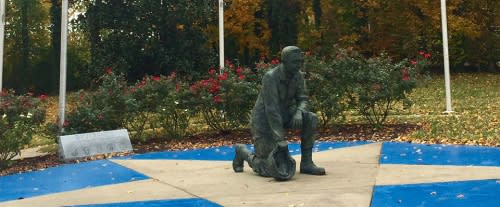 Reverence -- One and a half-life size sculpture dedicated to all veterans who served in the U.S. armed forces.
330 Pageant Lane (facing Madison Street), Artist Scott Wise