Architecture is art and Clarksville, Tenn. is well-known for stunning mid-19th Century buildings. Franklin Street's commercial district consistently receives a "Wow!" from first-time visitors. The spires of at least three historic churches impress the city's skyline. It's been said that the 1898 Customs House Museum & Cultural Center is among the most photographed buildings in the southeast. (Who are we to argue?) Along with obvious architectural gems like the church spires, Customs House and Montgomery County Courthouse, the city showcases dozens of other privately owned, not-so-obvious structures that are worth seeing and appreciating. Here are some favorites.
(Editor's Note: Most of these are now either private residences or private businesses and are noted as such in our descriptions. Please be mindful of that if choosing to visit or photograph.)
Bellefield O. Keesee House (Cumberland Bank), 502 Madison Street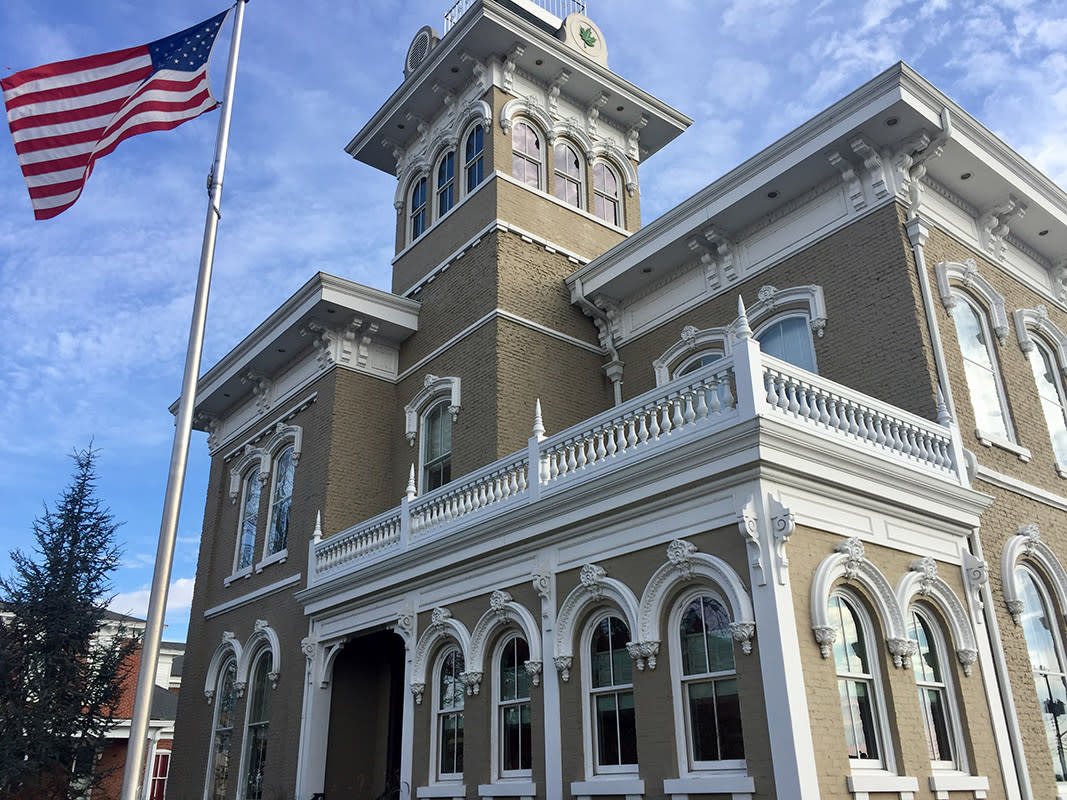 Is it the three-story tower, the decorative railing along the flared roof, or the double-arched windows around this 1874 home that are most impressive? Most of the year it's hard to say, but at Christmas, the arched windows adorned with wreaths hung by long red velvet ribbons wins the prize. Today, the home is owned by Cumberland Bank, but you may be surprised to learn that it was first the Clarksville Hospital and served as a nurse training school from 1916-1925.
The Northington House, 512 Madison Street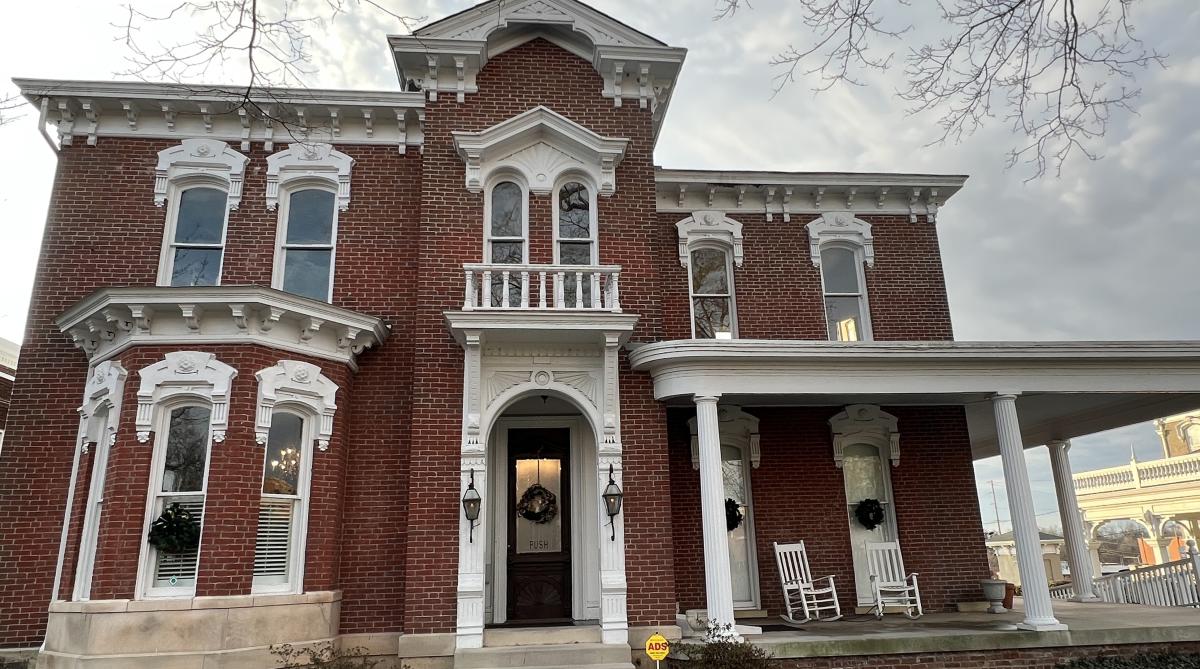 This 1886 building holds a special place in our hearts not only because of its Italianate detail and inviting curb appeal, but also because of our wonderful memories during its time as The Rose Garden. This tearoom and nursery/landscaping business operated from the property during the late 90s through early 2000s. (The Chicken Divan was divine!) In the years before that, the home had fallen into disrepair and was up for auction. Mary Beach acquired the home at that time. Her bidding competition was a nearby church that planned to buy it and raze it for parking. Having been in her husband's family, she was determined to save the house and restore its former glory. Thankfully, she succeeded.
Bowling-Hughes House, 503 Madison Street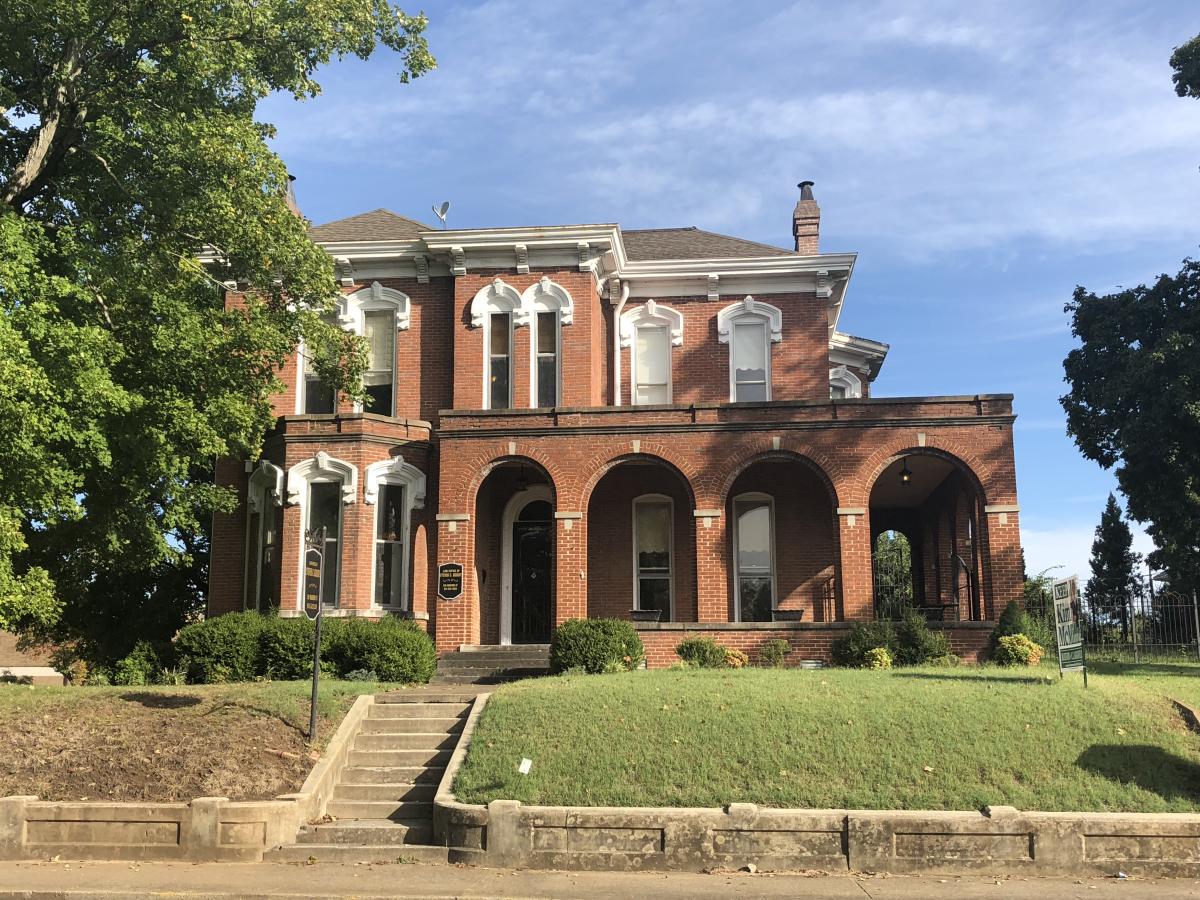 Across the street at 503 Madison is a beautiful Italianate home built in 1880 by Dr. George Bowling. He established Clarksville's first ice plant in 1881. In 1920, the home's owner, Dr. Maurice Hughes, added its most beautiful feature, a wrapping arched veranda. Today, the home serves as the Law Office of Steven Girsky. Can't you picture the lovely, if sweltering, summer afternoons of the Roaring 20's having sweet tea on the veranda?
Joseph Dunlop House, 517 Madison Street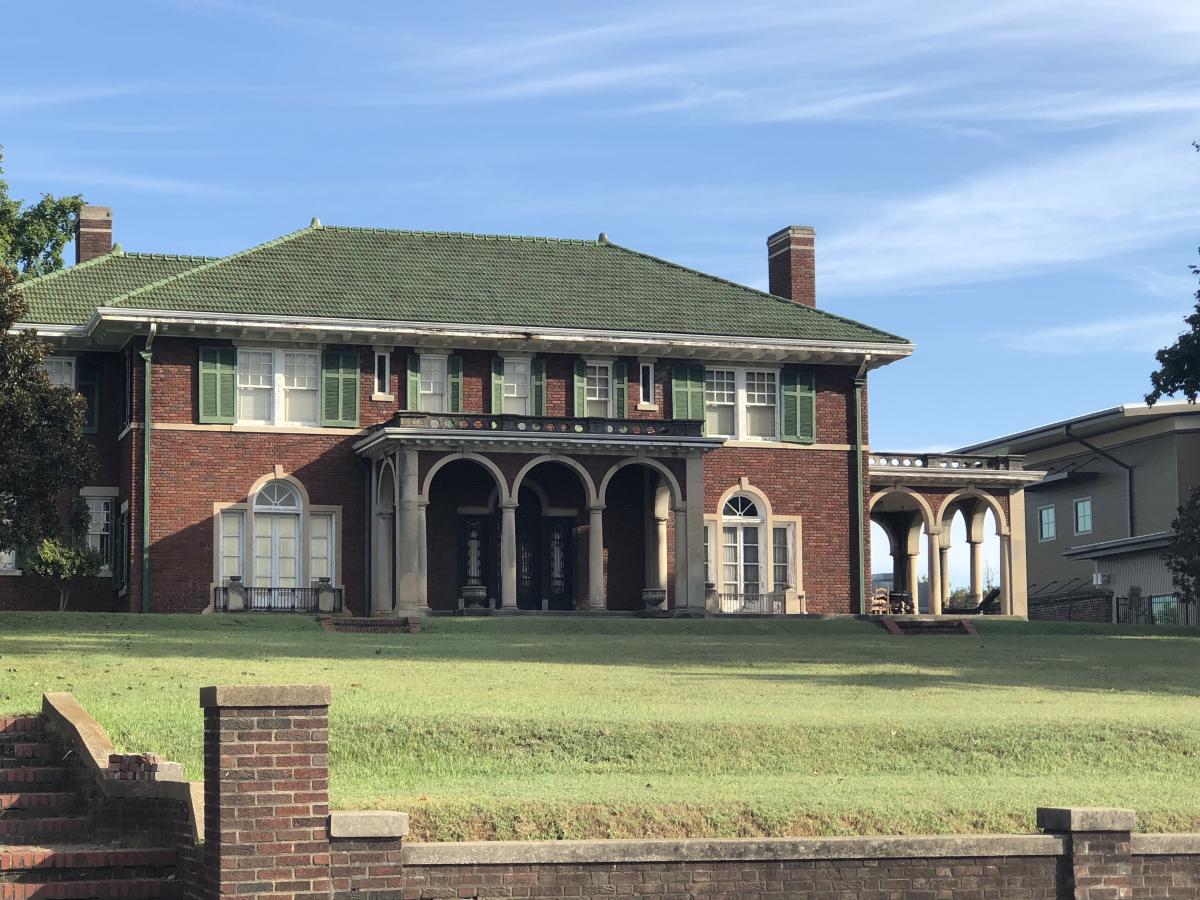 Beside the Bowling House and further off the road is a two-story Mediterranean Renaissance-style home built in 1914. The arched entry and side portico are prominent and inviting features. In 1996, the American Red Cross began leasing the building from owner Jack Miller, where it operated until 2012. 
John Hurst House, 625 Madison Street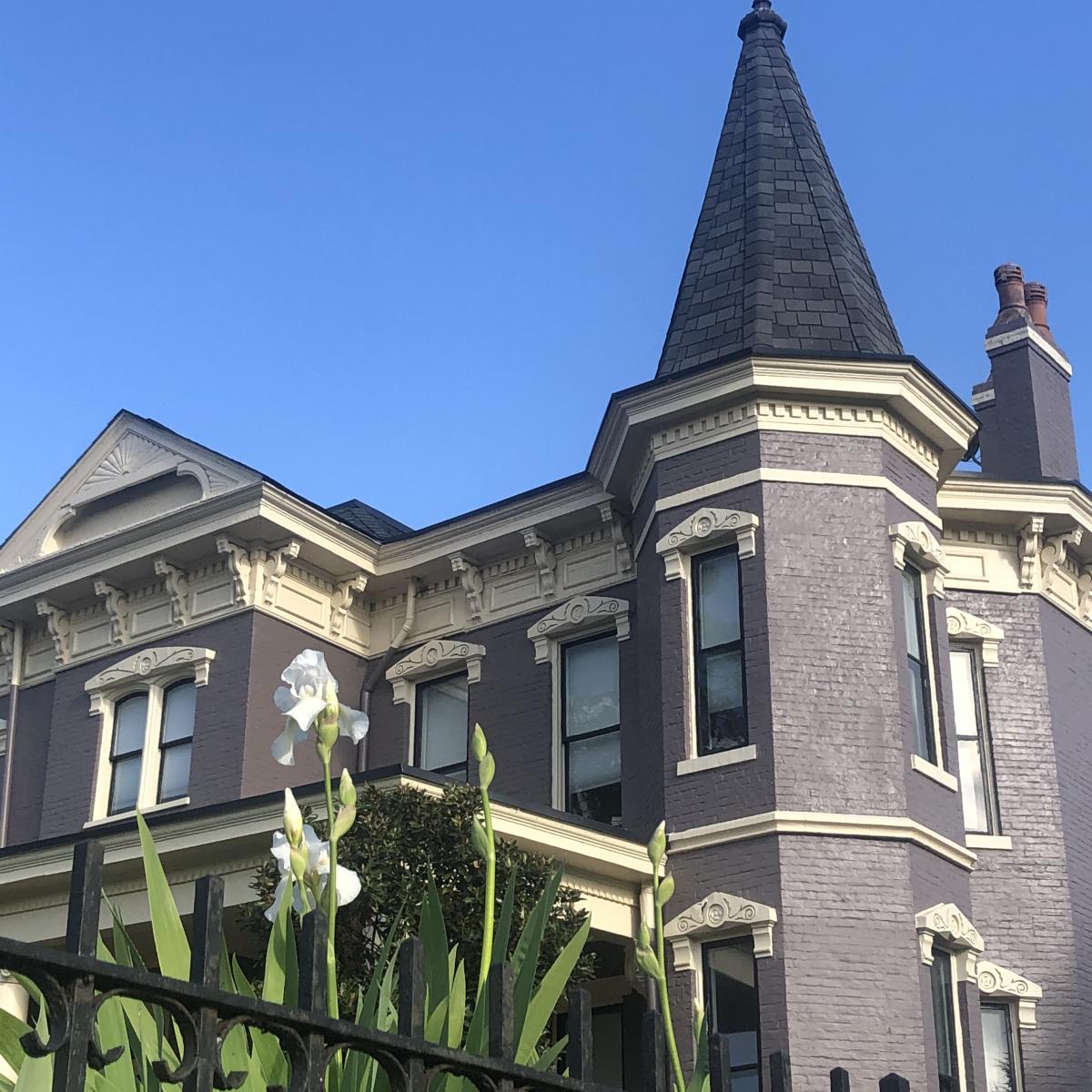 What has affectionately become known as "The Purple House" on Madison Street is an excellent Queen Anne-styled showpiece. Built in 1885, the home remained a private residence until quite recently. John Hurst was also the father-in-law of Governor Austin Peay. Both men passed away in the same year, 1927. An interesting article about Mr. Hurst and his Civil War adventures was shared by his great-grandson in The Leaf-Chronicle, on October 11, 2015, that you may enjoy, especially if you are a history buff.
https://www.theleafchronicle.com/story/news/2015/10/11/remember-grandpa-travels-home-civil-war/73795532/
We particularly enjoy seeing this home in springtime when a bed of white iris' are blooming.
Brigadier General William A. Quarles Home, 102 Union Street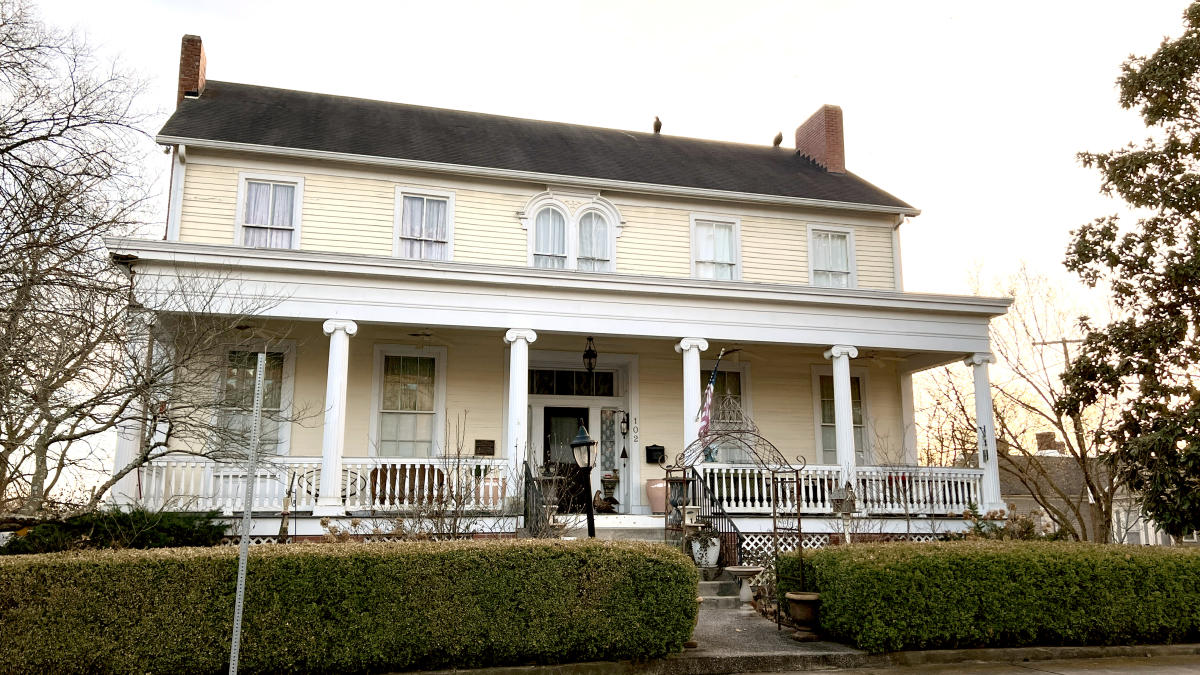 Admittedly, I'm a yellow house girl, so as far as private residences go, this is one of my two favorites in the city. This corner-lot home is in the historic Dog Hill area and remains a private residence. Built in the 1890s, the home and many of its Dog Hill neighbors was significantly damaged during a 1999 F-4 tornado. Thankfully, owners preserved and restored its former beauty. This home was owned by prominent defense lawyer and former Confederate Brigadier General William Quarles. He served as a state representative and helped institute Stewart College in Clarksville, the predecessor of Rhodes College in Memphis.
First Trust & Savings Bank, 215/217 Franklin Street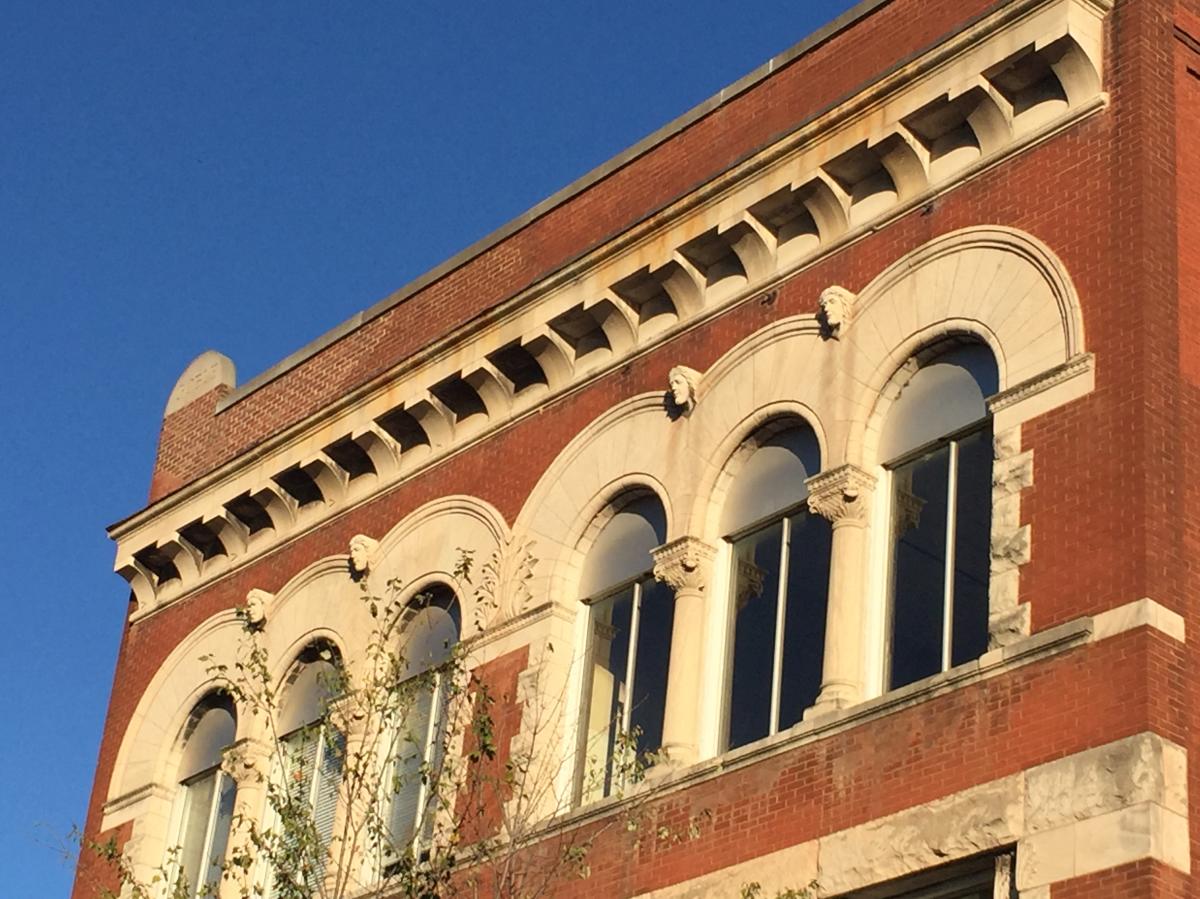 As you may have noticed by now, beautiful arched windows and doors are a feature you'll see frequently throughout downtown Clarksville, including on more prominent public buildings not on our list, like the Customs House Museum and Montgomery County Courthouse. This example of arched windows is among our favorites because of the cherub faces or "caryatids" that span the full front of the building.
Now home to Ufford Law & Mediation Office at the 217 address and Goble Law Firm at the 215 side, the building was designed to be Clarksville's first civic auditorium and uncommonly constructed in 1890-91 as a duplex by the Knights of Pythias Temple. The Knights occupied the third floor and leased the first and second floors. First Trust & Savings, whose name is engraved in the 217 stone front, moved into the property in 1921 where it remained for over 50 years. First Trust & Savings later became Commerce Union and is now Bank of America.  The 215 portion of the building housed a department store owned by B.A. Cushman. Quite the showman, Mr. Cushman once hired an escape artist to attract crowds for a sale. His bent towards entertainment traveled through the generations. The TN Department of Tourist Development and Visit Clarksville honored his great-grandson, Charlie Cushman, a Grammy-winning banjo player, with a marker on the TN Music Pathways in November 2020. Read more about Charlie Cushman.
Many thanks to Historian Brenda Harper for her research on this one.
Poston Block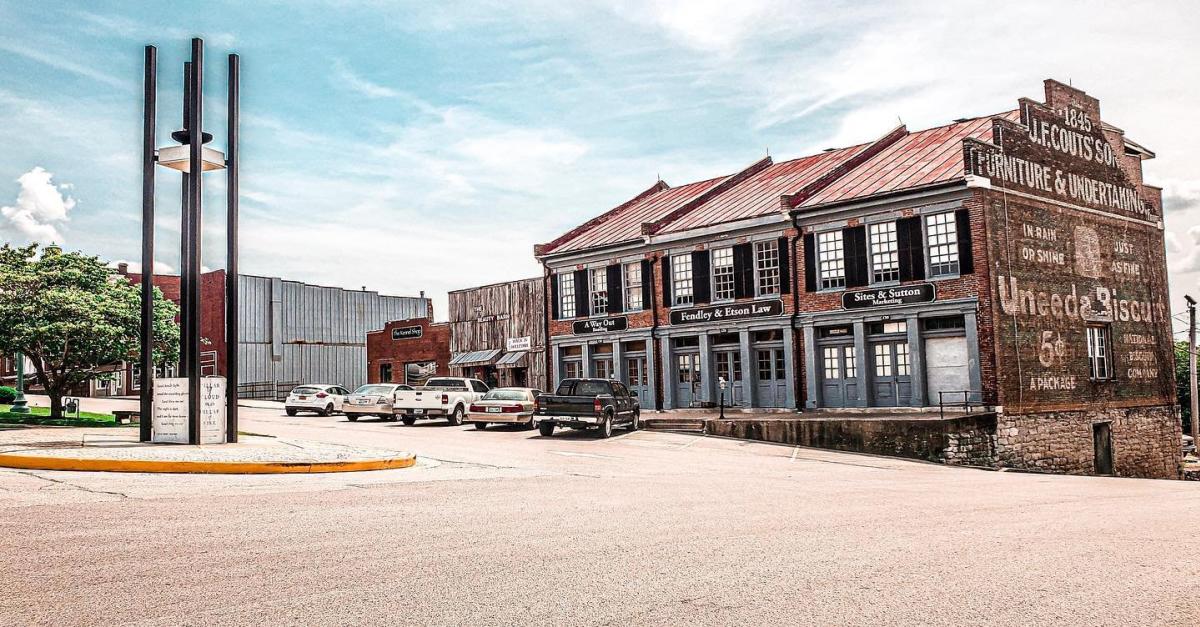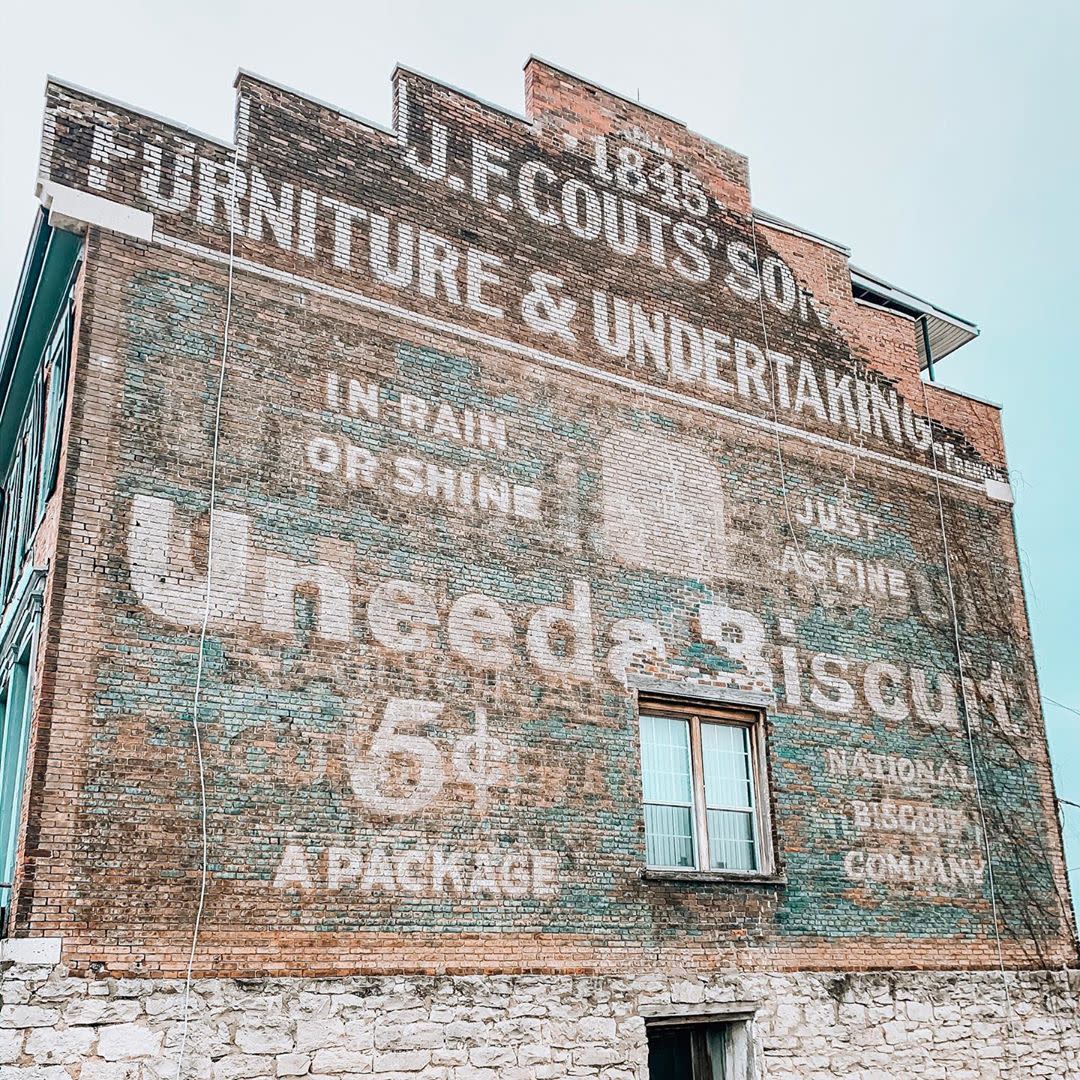 This unique-for-Clarksville group of buildings under one roof was built by wealthy merchant John Poston in 1841. The four units replicate Philadelphia architecture at the time, which Poston frequently visited. The block of buildings now houses some city government offices, as well as private businesses. What many will recognize is the U-Needa Biscuit full-wall vintage advertisement on the Main Street side of the building. Dating to 1845, the "ghost advertisement" was painted to be visible to riverboat traffic along the Cumberland River. The painting, though in remarkably good condition for its age, was recently restored with a historic preservation grant. (Top photo by IG: @elaintennessee; Bottom photo by IG: @standbyforthemillers.)
Elder-Conroy Building, 98 Franklin St.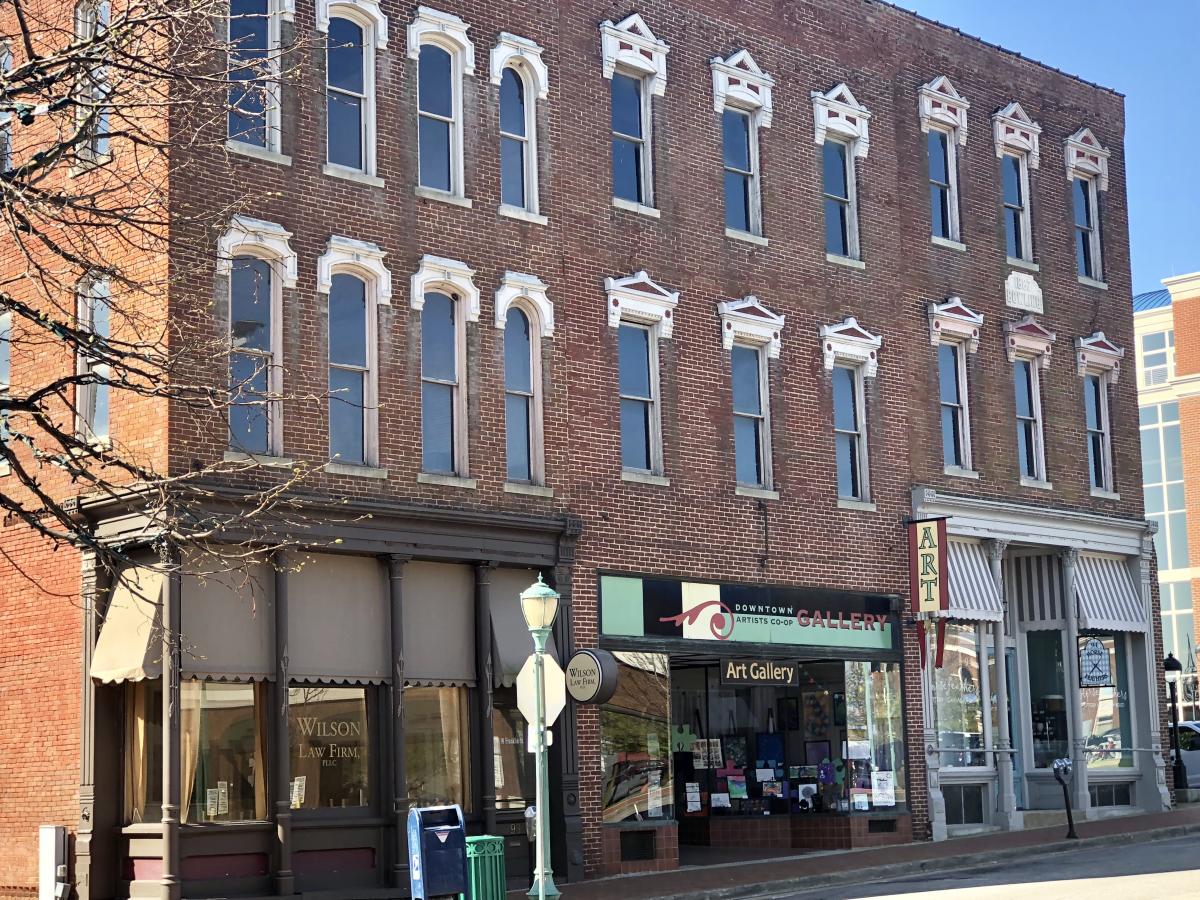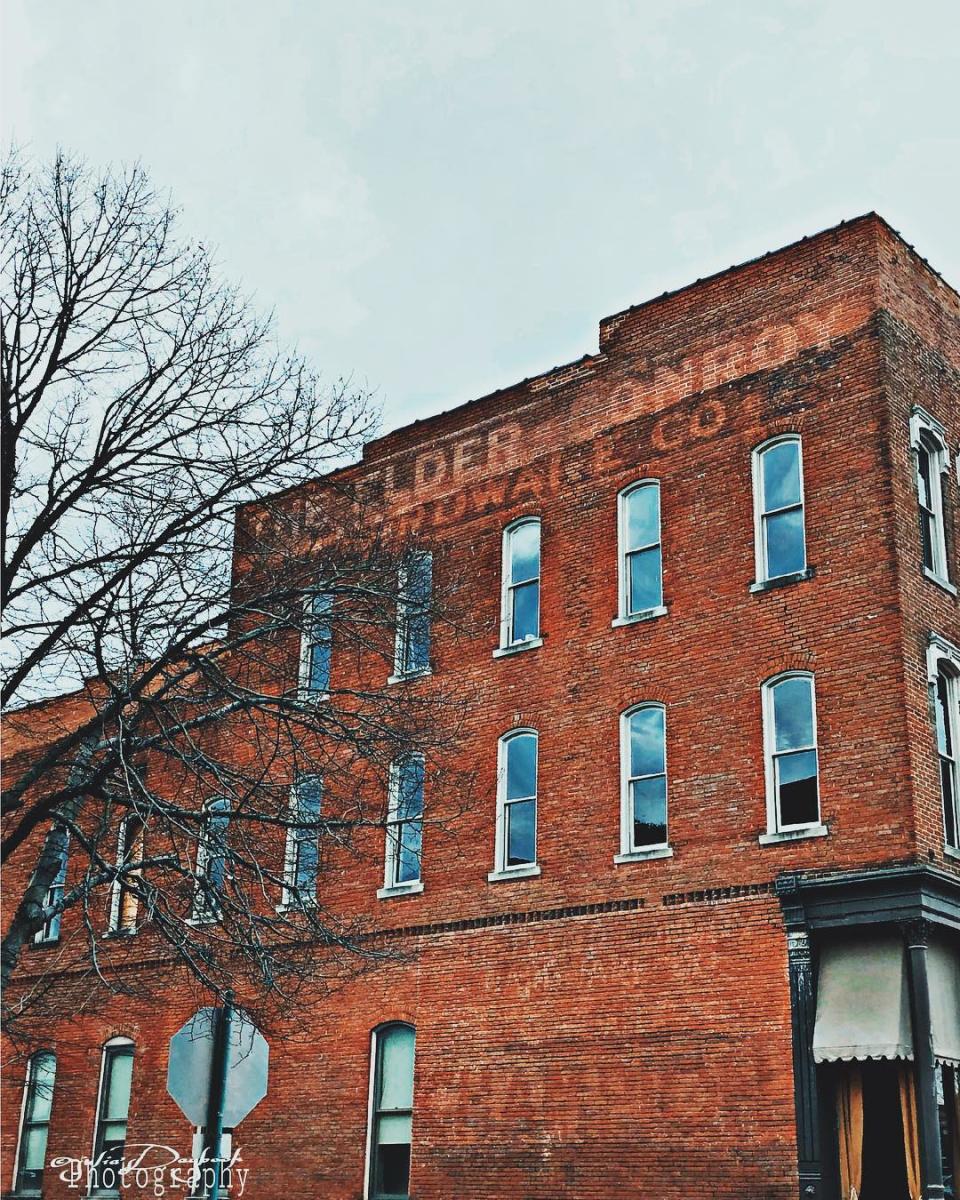 Like the Poston buildings, this building is also originally a collection of businesses and still boasts the remnants of a bygone era with ghost advertising on its east side. What became the Elder-Conroy Hardware Company in 1912 was built in 1887 and previously housed a variety store, a boot and shoe store, an armory and rifle range, a furniture manufacturer, a hardware store, a drug store, a dry goods and clothing store, and a warehouse. Lockert & Askew, a large retail drugstore occupied part of the building for 96 years. In 1911, the building housed the Lyric Theatre before being sold to the Elder-Conroy Hardware Company in 1912. The store closed in 1980. Currently, street-level shops include an antique store, the Downtown Artists Co-Op, and a creative studio space. (Bottom photo: Julia Phillips)
Archwood, 703 E. College St.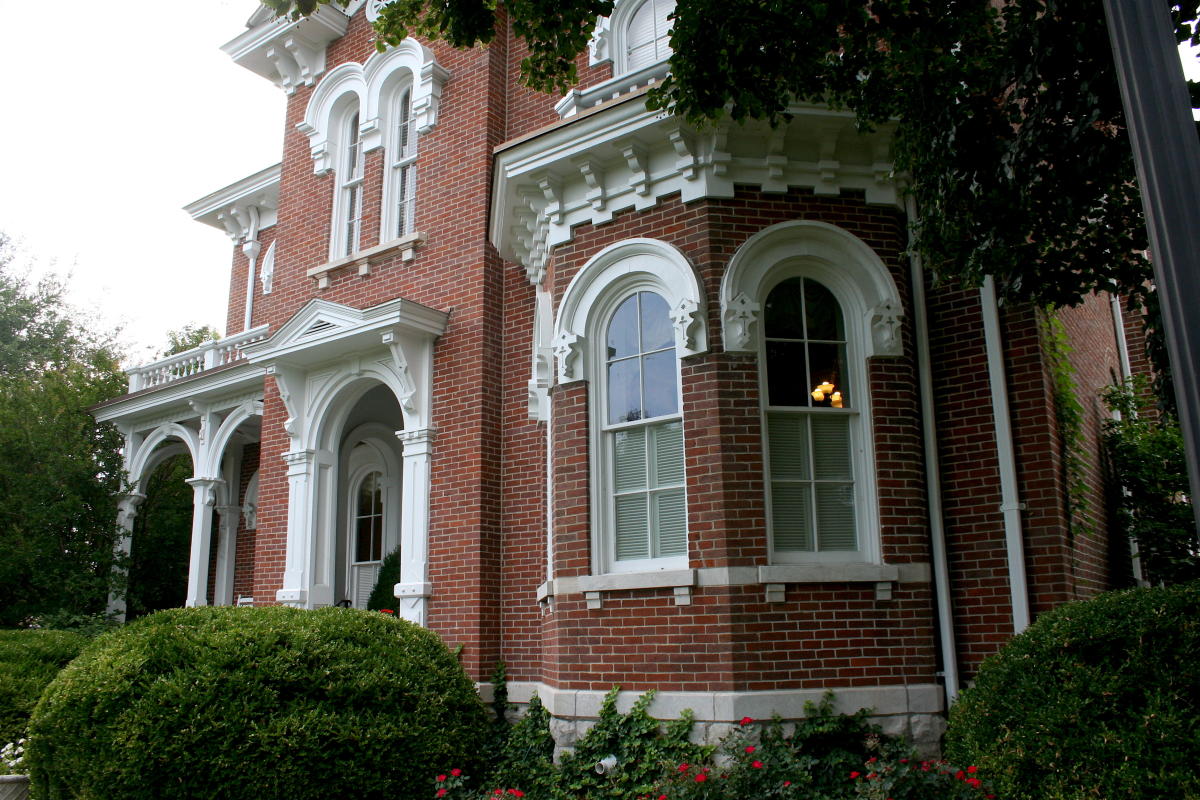 Originally known as the Rexinger House, Archwood was built in 1878 by Samuel Rexinger, a former postmaster of Clarksville. In 1965, the private residence was sold to the State of Tennessee and became the property of Austin Peay State University. It served as the home of the university president of the university until 1980. For a little more 20 years, the building housed faculty offices -- political science during my time there. Under APSU President Dr. Sherry Hoppe's leadership, the home was renovated and restored to living quarters where it has housed the university president since that time.
The Italianate Revival structure was renamed Archwood in 1977 and listed on the National Register of Historical Places.
Johnson-Hach Home, 403 Greenwood Avenue
The Johnson-Hach House on Greenwood Avenue is one block off the Madison Street thoroughfare. It was built in 1877 for Polk Johnson, the son of Congressman and U.S. Postmaster Cave Johnson and his wife. The elder Johnson, whose home fronts Madison Street and includes a streetside historical marker, was a close friend and advisor to Tennessean James K. Polk. Johnson managed his successful presidential campaign and was rewarded with the office of postmaster general, a role he kept all four years of Polk's administration. He implemented many reforms like the introduction of hte adhesive postage stamp. Homeowner Polk Johnson fought in the Civil War then practiced law in Clarksville. The home was purchased in 1917 by Adolph Hach, a German-born businessman who invested in tobacco production. The house remained in the Hach family until 1992. (He built what is now Tanglewood at 1602 Madison Street for his wife Phila after they married in 1955.) The home has a secret room whose purpose is still a mystery today. This beautiful Italianate home with Colonial Revival features remains a private residence and is listed on the National Register of Historic Places.
Tip Top, 15 Trahern Terrace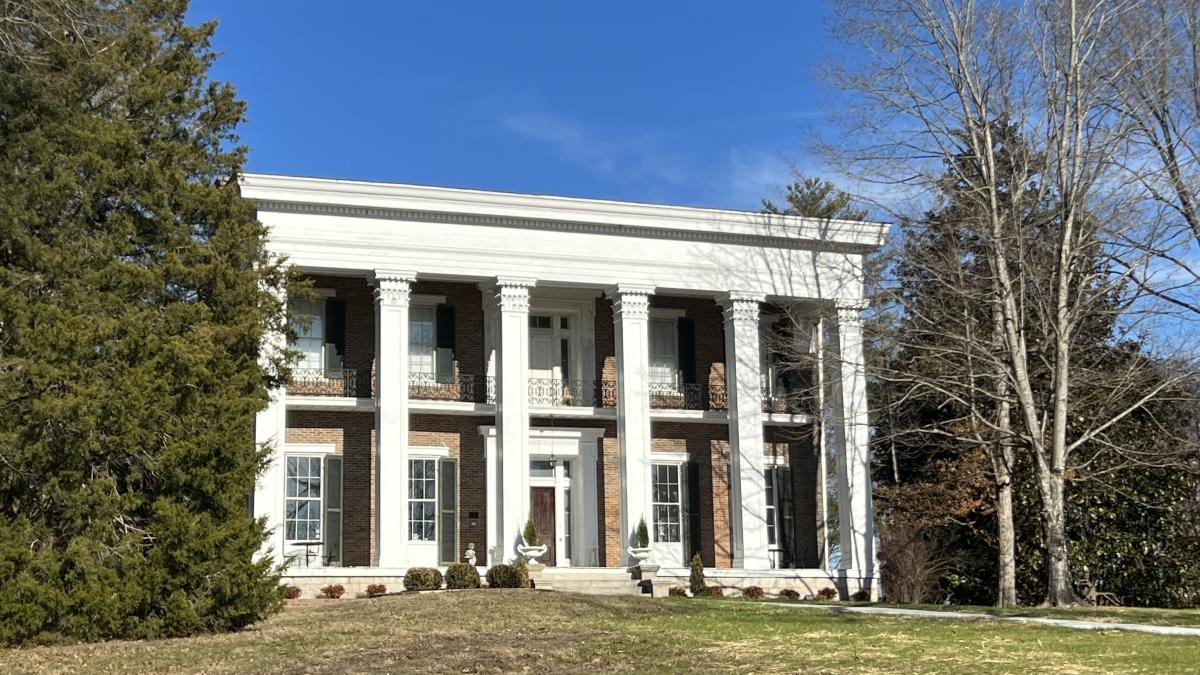 The aptly named Tip Top stately sits atop a city hill. Designed by Adolphus Heiman, this private residence was built in 1859 for tobacconist J. P. Williams. It was owned by Gov. Malcolm Patterson from 1909 to 1912 until it was purchased by the Trahern family. The two-story house was designed in the Greek Revival architectural style, with some Italianate influences. Its interior was later modified for Colonial Revival stylings. It has been listed on the National Register of Historic Places since 1998. 
Elwyn Patch grew up in the home and a young Miss Rubye Menees would eye it while walking by. She told herself she was going to marry that boy and live there one day, and sure enough, that's exactly what happened. In 2019, Mrs. Rubye Patch passed away at age 81 at her beloved Tip Top, leaving her husband of 56 years. During her lifetime, she showcased her home to the community for the treasure it was. She not only entertained but also welcomed. She embodied the dying art of genuine Southern hospitality. She shared many, many stories over the years with travel writers and group tour bus passengers -- often dressed in historic character. My personal favorite was when she shared that Union Troops occupied the front of the home while the family at the time lived in the back without issue during the Civil War. 
Tip Top, neighboring Oak Top, and The Wallace Home were mid-19th Century crowning jewels of a once-rural area. Today as part of the Glenwood Historic District off of Madison Street, they are beautiful reminders of a bygone era.
305 Main Street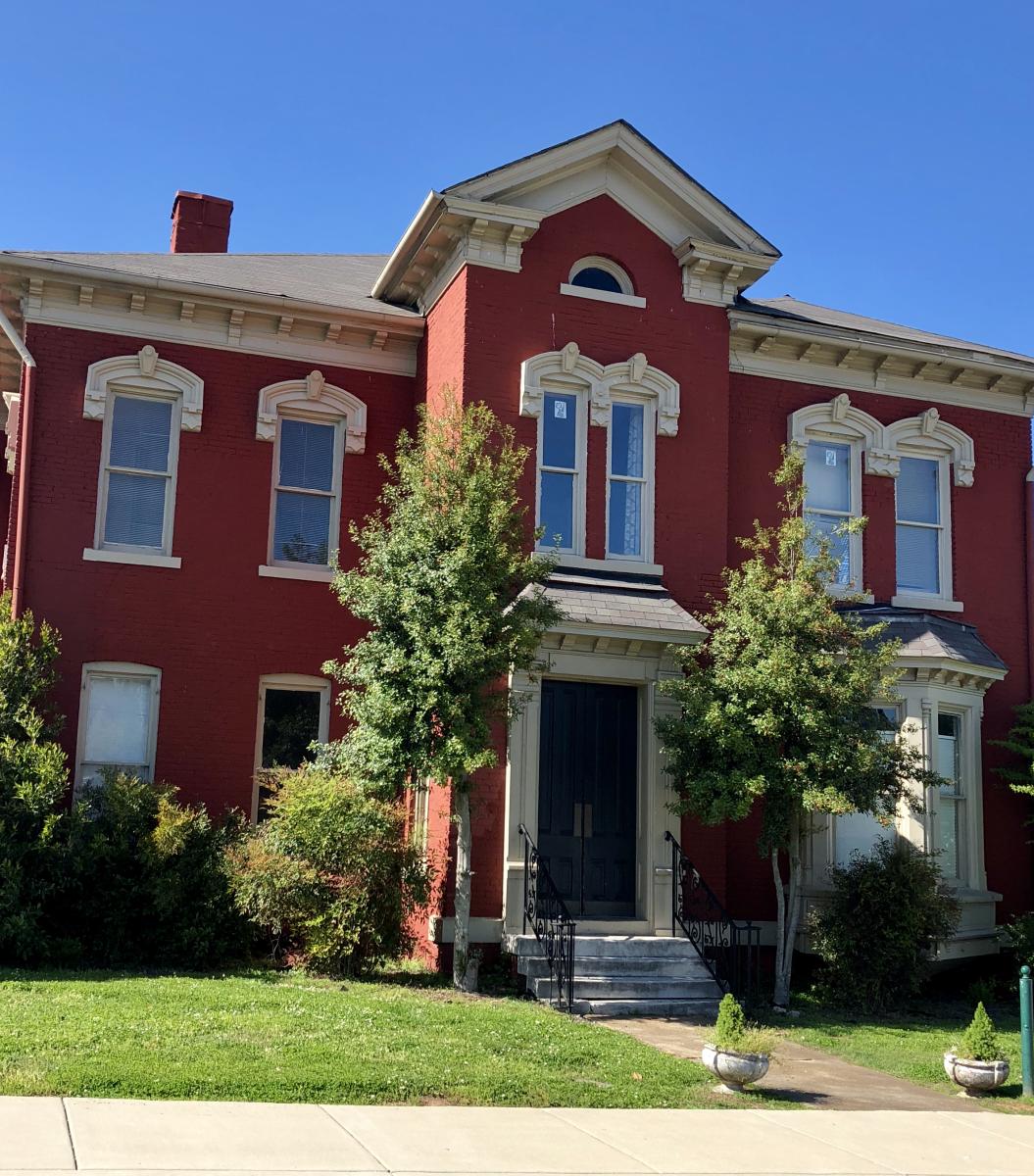 This beautiful home was built as the manse for the neighboring First Presbyterian Church in 1890. It was added to the National Register of Historic Places in 2001 and it currently apartments.
Foundry Building, 136 Commerce St.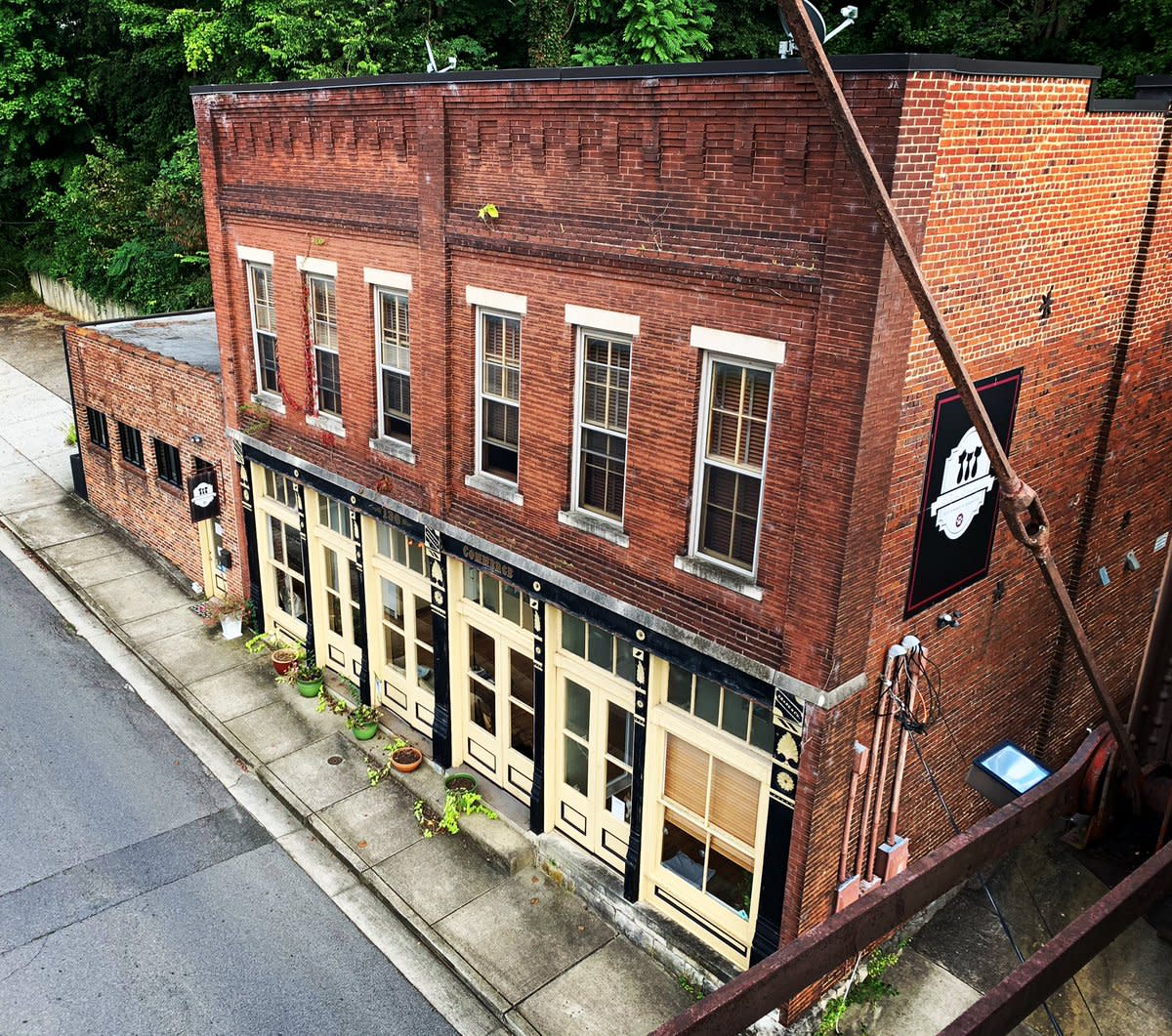 After seeing the prominent Italianate and Victorian architectural features of the other 13 properties, this last one might surprise you. I can't explain exactly what appeals to me about this historic foundry building except its high ceilings and front street-level windows. An occupant in recent years showed soft-colored and inviting lighting inside that drew me right in. I envisioned an ideal space for creative use like a design firm or marketing agency. Plus, I love that while walking the Upland Trail you find yourself eye level with the second floor. Built in 1854, this building was part of an industrial complex with a brick foundry, two machine shops, a blacksmith shop and storage sheds. The office building is the only remaining portion and was placed on the National Historic Register in 1987. Photo: Dr. Kat Bailey.
Watch for our Architectural Gems Challenge Trail coming in spring 2023. Follow the trail, check in at the places and earn a custom-designed pin!