Clarksville, Tennessee might still be an undiscovered destination for most Americans, but with its recent explosion of new businesses and community development, it won't stay that way for long. There's already a lot to see in this Southern river city, so you may have a hard time fitting in everything you like. Here is our guide of not-to-be-missed experiences you'll find this spring and summer only in Clarksville.  Whether you're a foodie, shopper, history buff, arts lover or adventurer, Clarksville is a worthwhile and affordable destination. Use this guide to start planning your getaway.
1. Dunbar Cave Tour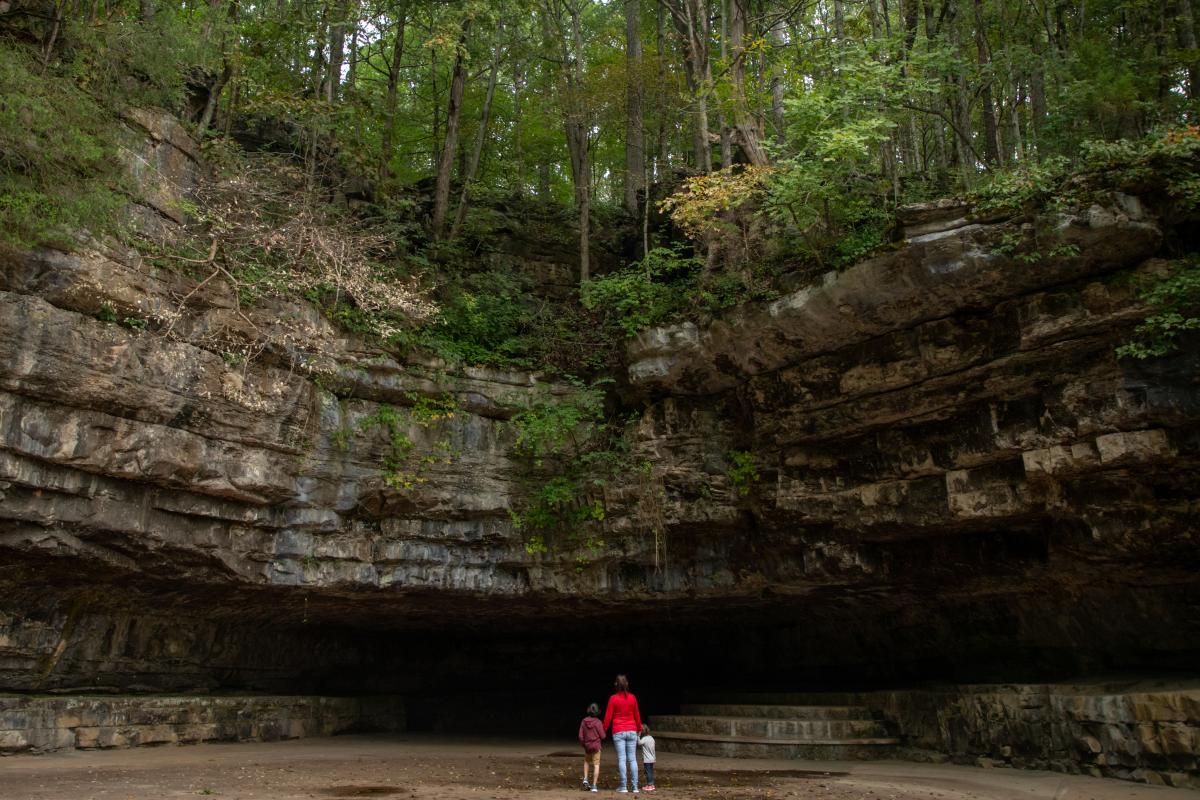 Dunbar Cave's scale is awe-inspiring. Photo by Odinn Media.
Take a guided cave tour and see 14th Century Native American Mississippian art. Dunbar Cave is the only public cave in the world where visitors can see historic drawings from this era. Tours are available four times daily, seven days a week, from May through September. In 2023, the 100-acre state park celebrates its 50th anniversary, so be sure to check out all the activities related to the cave's musical and Civil War history, wildlife and ecology. Aside from festivities and cave tours, the park offers trail-side picnic tables, 3+ miles of easy-to-moderate wooded trails, a display about Affricanna Town and the cave's history as a musical venue, along with a variety of wildlife species. Also, make sure to stop in the Visitor Center & Gift Shop for impressive displays about the cave's history.
2. Shoot Clays in Style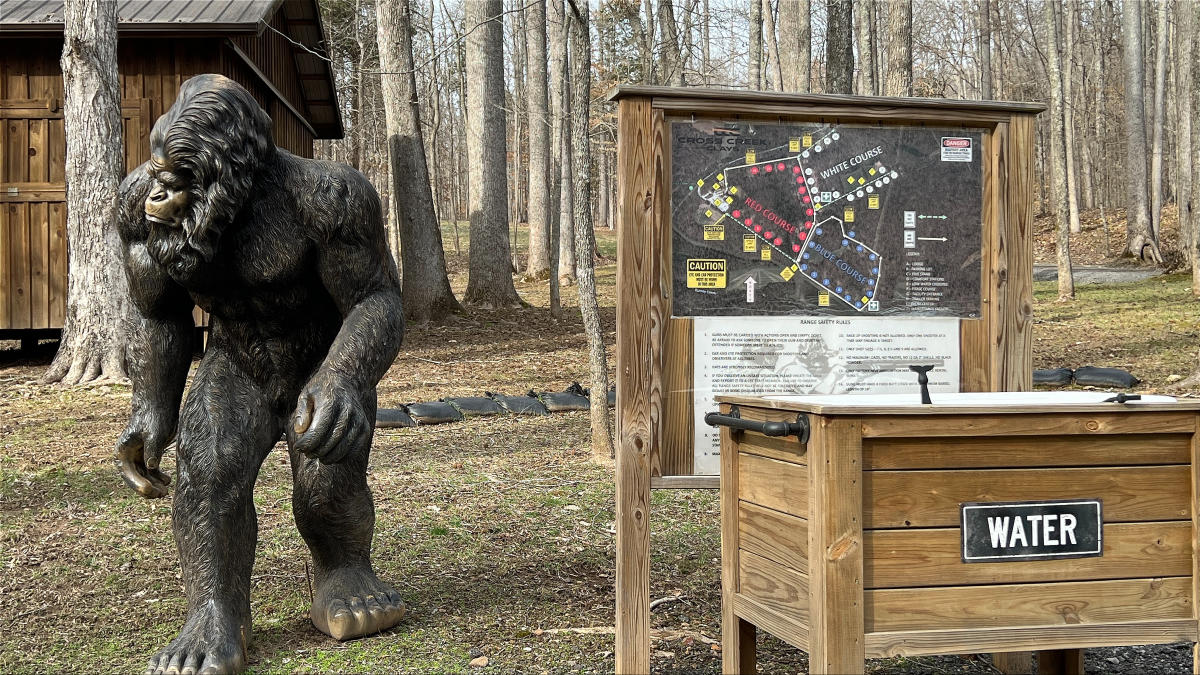 Bigfoot roams free at Cross Creek Clay's three courses.
You might frequent gun clubs and shotgun ranges, but we can guarantee you that you've never shot a course like Cross Creek Clays. After a drive to what feels like the center of nowhere, but is only 20 minutes from downtown Clarksville, you'll pull up to the massive lodge and know you're somewhere special. Granted, you're likely to see dozens if not hundreds of sasquatches throughout the complex, but even that's not the most impressive part of your experience. Three 16-station courses for shooters from novice to advanced are clearly marked and easily navigable. If the going gets too rough, the path and pull-offs are concrete so no one gets stuck. Attention to detail makes this beautiful place a truly unique shooting experience.
3.  Let the Hometown Heroes Inspire You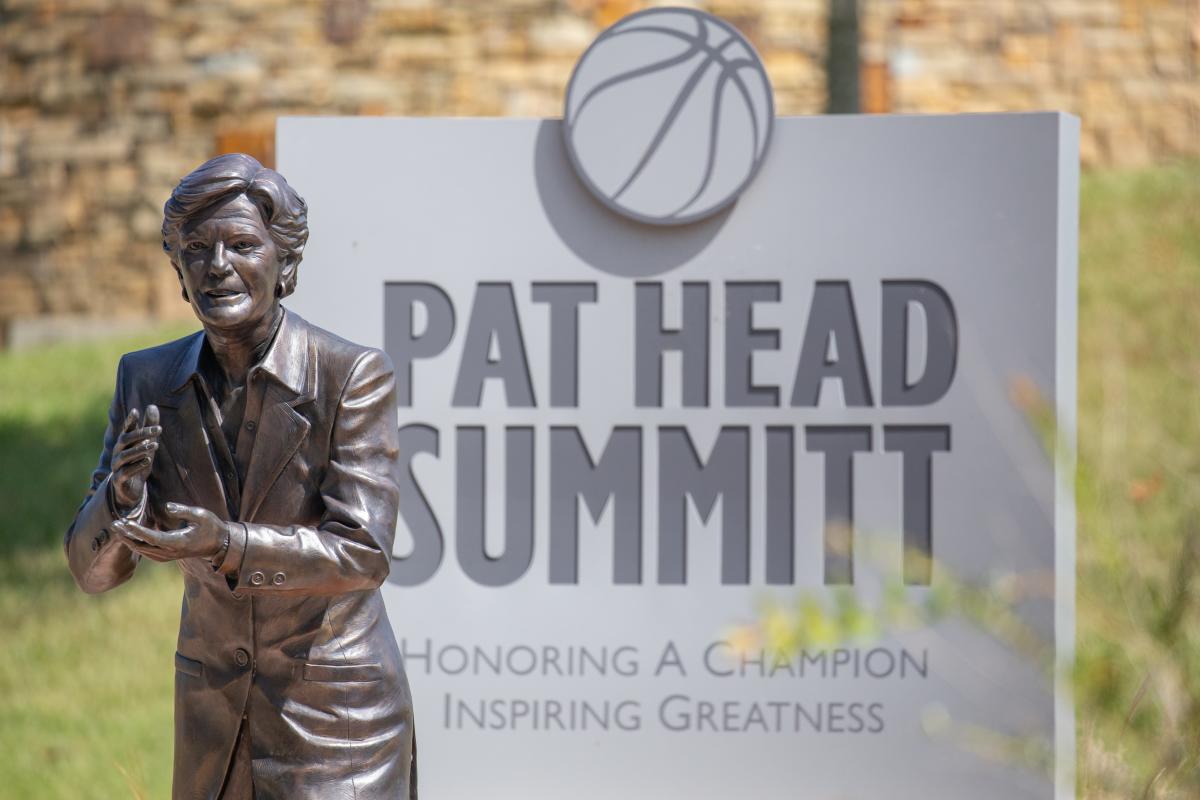 Pat Head Summitt Statue and Legacy Plaza at Liberty Park. Photo by Odinn Media.
Every city has its heroes. Every city thinks theirs are special. We are no exception. Pat Head Summitt and Wilma Rudolph are champions. They are Olympic Gold Medalists. They both overcame challenges and difficult circumstances to rise to the pinnacle of success in their fields. They both blazed trails, achieving greatness at a level yet unmatched by any other female. At Pat Head Summitt's retirement from the UT Lady Vols Basketball program, she was the winningest NCAA coach in history -- men or women. At Wilma Rudolph's homecoming parade in 1960, she kindly told the Mayor that unless "her people" could attend, she wouldn't be there. Her homecoming parade that October was the first public desegregated event in Clarksville. We never tire of being in awe of their legacies and the inspiration they create still. Learn their stories at the Pat Head Summitt Legacy Plaza, Wilma Rudolph Event Center and Customs House Museum & Cultural Center and let them inspire you to greatness.  
4. Historic Collinsville Pioneer Settlement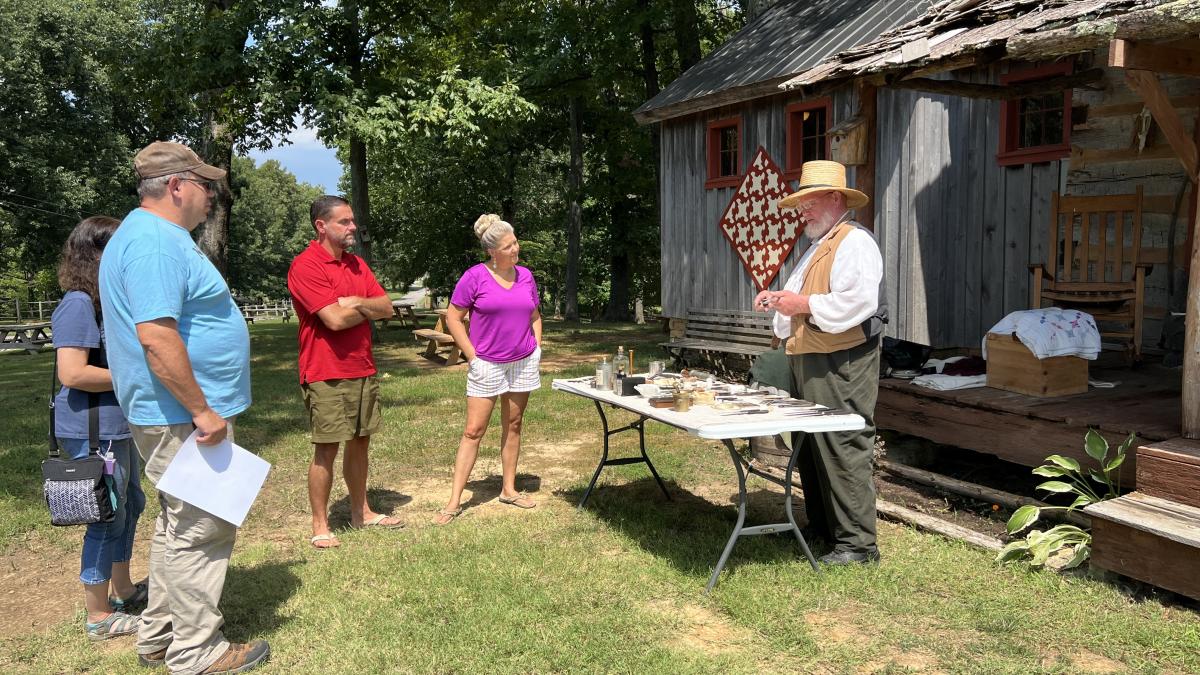 Learn about 19th Century medical instruments and herbal remedies at Historic Collinsville's Heritage Days.
Step back into the 1800s at Historic Collinsville Pioneer Settlement. The 16 restored and authentically furnished homes and buildings show visitors a glimpse of daily life in rural Tennessee. Visitors can take a self-guided audio tour or reserve a guided tour presented once daily. Try your hand (your arm to be precise!) at making butter. Discover all the clever and ingenious ways our ancestors "made do" with what they had, grew or made by hand to endure when neighbors may be miles away and stores, even further. Events take place throughout the year, so check their website or Facebook page for themed activities, day camps, and special events around the holidays.  
5. Free Outdoor Concerts All Summer Long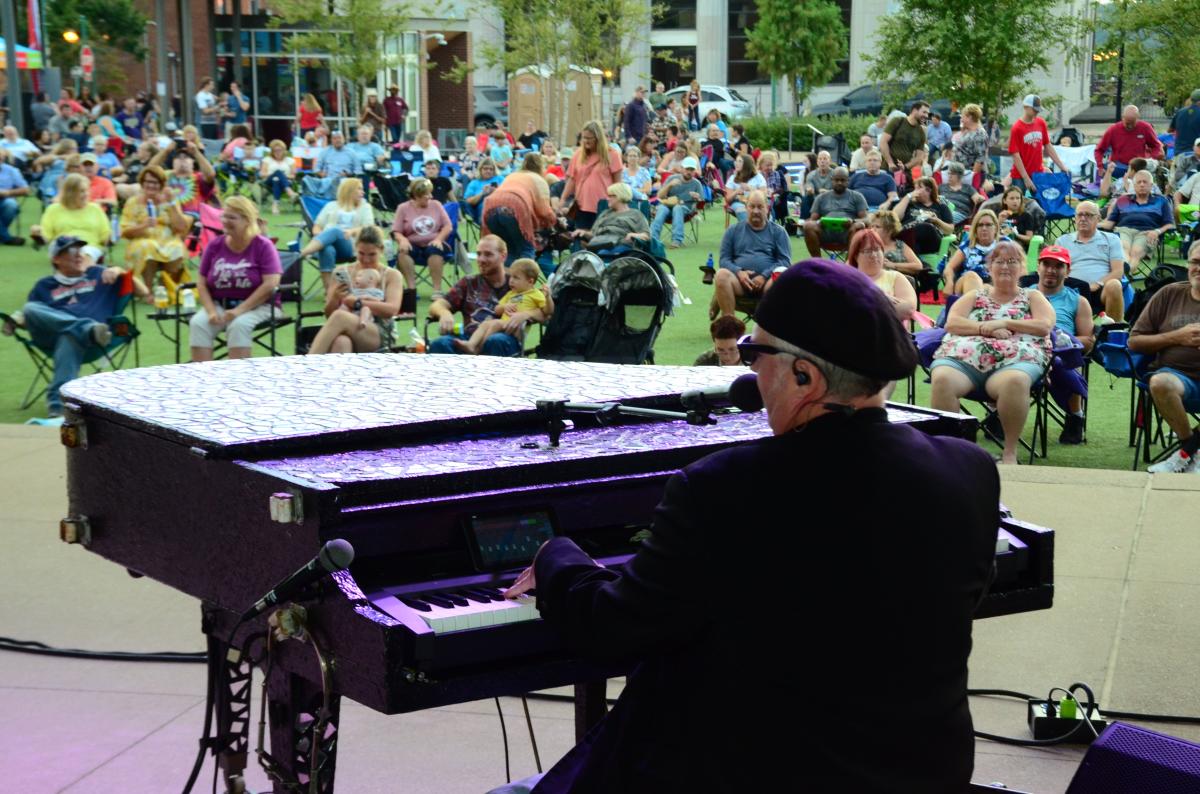 Jazz on Lawn is held monthly at Beachaven Winery. Photo by Lucas Ryan Chambers.
Enjoy free outdoor concerts all summer long at Downtown Commons. The always-free Downtown @ Sundown series takes place on the first and third Fridays from May through October. Hear local favorites as well as regional and well-known performers from all genres. Bring a blanket or lawn chairs to spread out on the super-soft turf. Food trucks are on-site but you may also want to come early and enjoy dinner at one of the many restaurants within walking distance. The Mailroom is across from the park and Blackhorse Pub, Strawberry Alley Ale Works, and others are within two blocks. For only $5 you can also jam to regional bands on the lawns at Old Glory Distilling or Beachaven Winery during the summer months. 
6. Soft Adventure Galore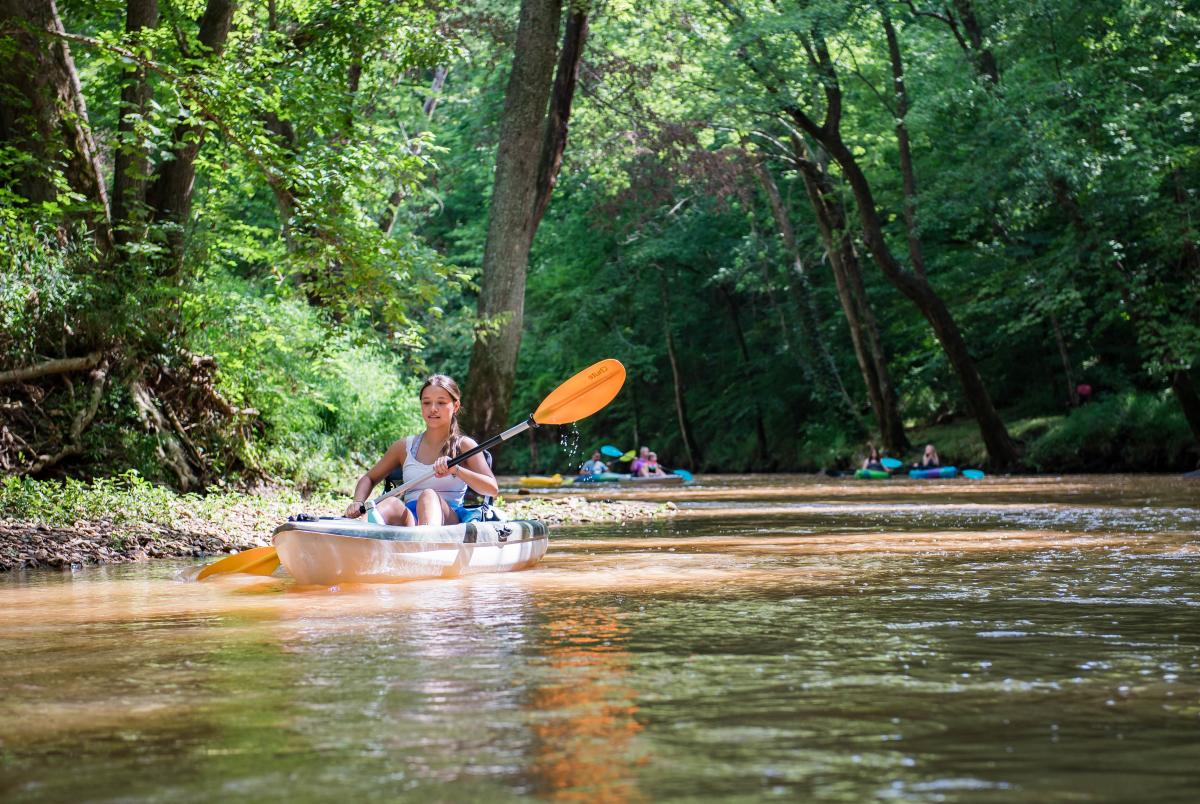 Kayaking on the Red River. Photo by Jon Duncan.
If you enjoy the outdoors, Clarksville offers all of the "soft adventure" opportunities that are fun for families with young children to senior adults. The level of adventure is up to you. Discover miles of hiking and walking trails at the Clarksville Greenway, Riverwalk, Liberty Park, Rotary Park, Upland Trail and more. Bike along the paved Greenway with both flat and hilly scenic sections, or bring along your trail bike and try out North Ford St. Mountain Bike Park and Rotary Park. Both parks offer areas suitable for young/novice riders, as well as more advanced cyclers with strong technical skills. Rock climbing is also a good option for young and old. King's Bluff Park is a great place to learn over 160 routes featuring a diverse degree of difficulty. The limestone crag is 9.78 acres with routes ranging in height from 30 to 80 feet. Once you've scaled the bluff, you'll soak up the panoramic river views. Kayak, tube, canoe, and fish the Cumberland and Red Rivers the 650 miles of navigable waterways. Golf and disc golf courses round out a hefty dose of an active getaway -- all right here in Clarksville! 
7. Savor the World's Flavors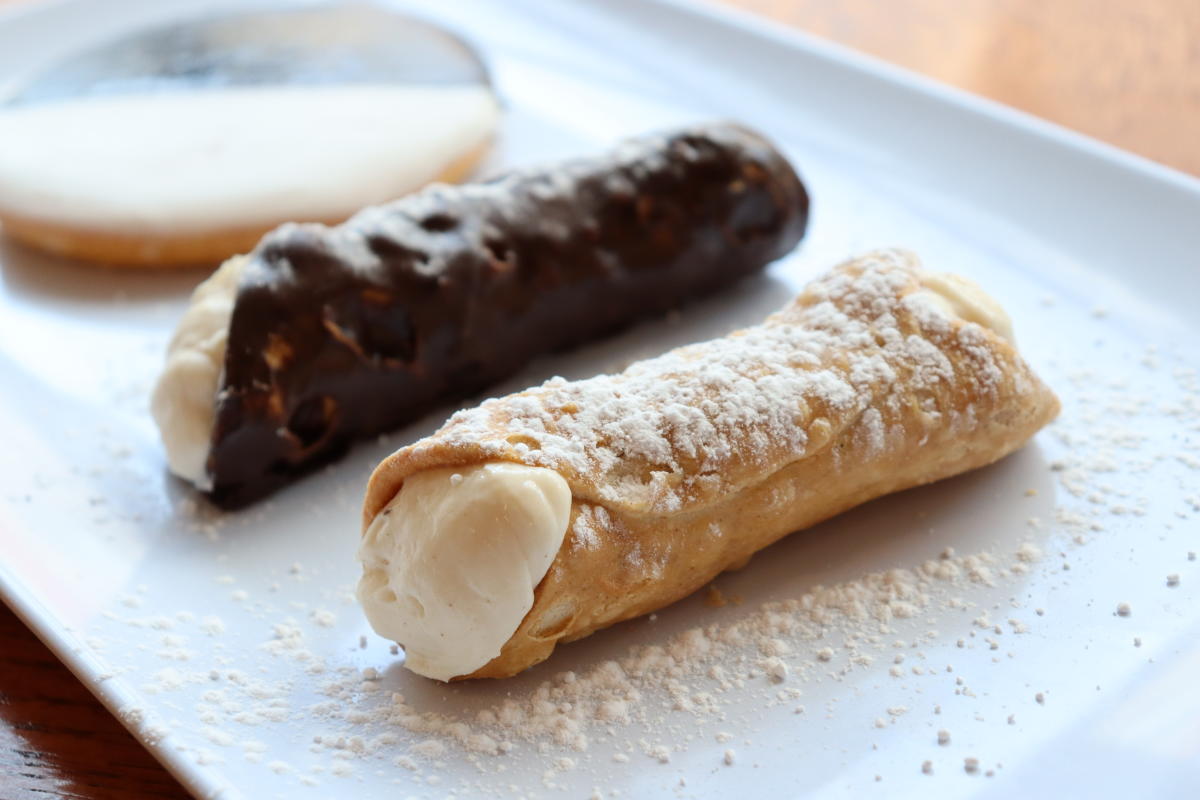 Fanelli's Deli & Market is among the many diverse food options throughout the city.
Clarksville's diverse population is evident in its craft food and beverage scene. Residents come to Clarksville from all over the world, thanks to the Fort Campbell Army Installation, Austin Peay State University and international industries. Often, people bring the flavors of the world back with them and open restaurants, delis, breweries, wine bars, or food trucks. The city is an unexpectedly solid place to expand your palate by trying new and different things. If you can stay awhile, you could eat from a different country every meal. Relish the authentic flavors of India, Thailand, Korea, Greece, France, Germany, Italy, Latin America, South America, the South Pacific and more. If you're visiting the South and want to stick to a purely Southern dining experience, that's easy too. Hand-breaded catfish, biscuits and gravy, chicken and waffles, BBQ and sides, and classic burgers are thoroughly satisfying. Either way, don't miss the Honeybun & Cream at Johnny's Big Burger. 
8. Evill Nash Brewing Co.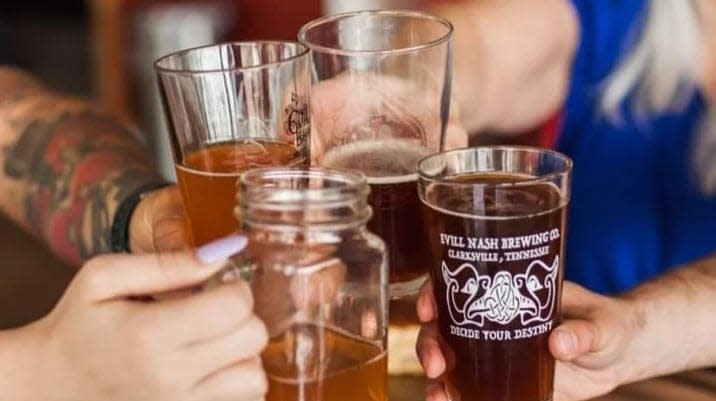 At Evill Nash, they like all kinds of beer so they make all kinds of beer!
Savor Evill Nash Brewing's distinct flavors. This brewer specializes in small-batch, barrel-aged beers, and limited-release experimental beers. With mostly local ingredients like Szechuan peppercorn, toffee, and red sumac berries, you are sure to taste something you will not find anywhere else. With names like Smartie Pants Gose To College, Toffee Coffee Brown Ale, Pick Your Poison Pilsner and Chocolate Covered Strawberry Stout, these crafted brews are anything but traditional. While you're tasting, give all of Clarksville's breweries a try. Filled with passion and pride in their crafts, these brewers possess a patriotism that runs deep and flavors that are as unique as each of their personalities.
9. Shop Like Never Before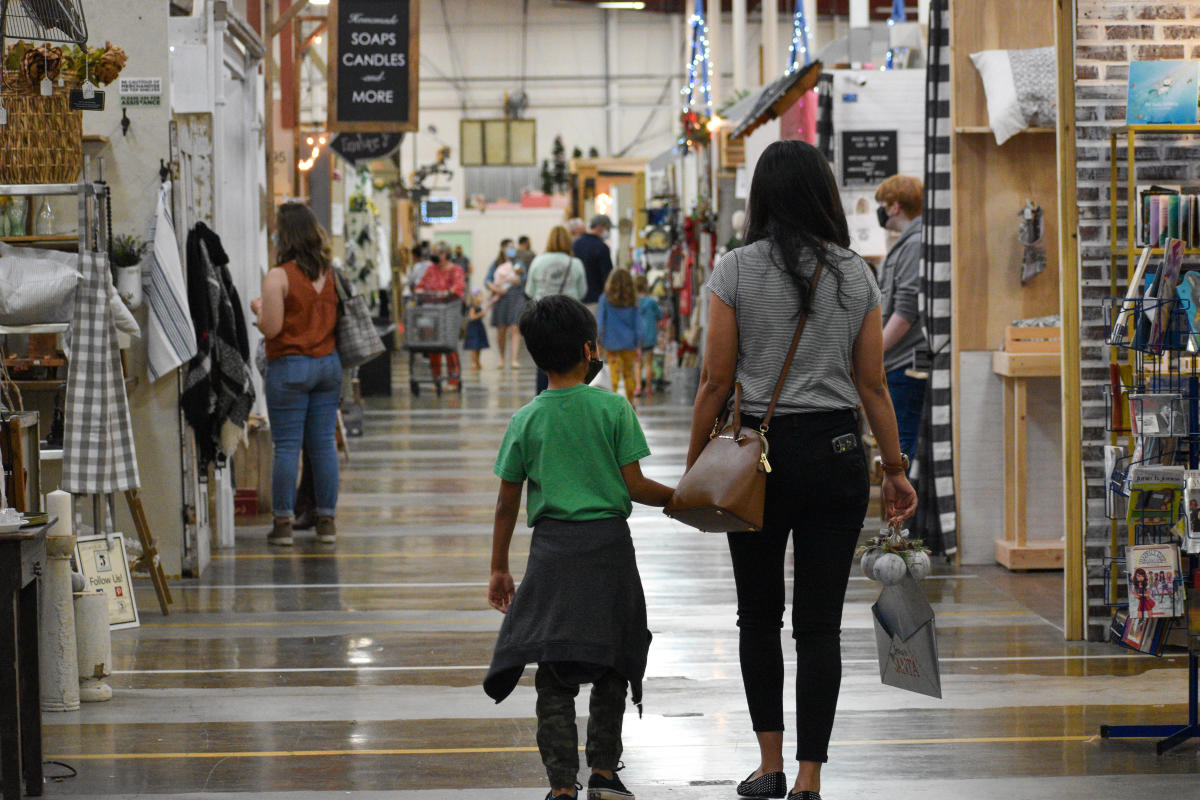 This 52,000-square-foot space contains a little bit of everything.
Shoppers can, and likely will, spend hours at Miss Lucille's Marketplace. This 52,000-square-foot converted warehouse contains a little bit of everything: new, upcycled, repurposed, boutique, antique, collectible and handmade items. Men and women alike enjoy the experience of perusing the old and new, treasure hunting, or idea collecting. It's one of those places you simply must see and experience for yourself. For a needed refresher, the on-site cafe offers a fresh, from-scratch seasonal menu with family-themed entrees like Uncle Red's Reuben, Fannie's Chicken Salad and Born on the Bayou Bowl. The on-site coffee shop is no less creative, serving up creative cups and smoothies like The Three Leaf Clover, The Twilight Princess, and La Vie En La Rose.
10. Unbelievable Fun All Under One Roof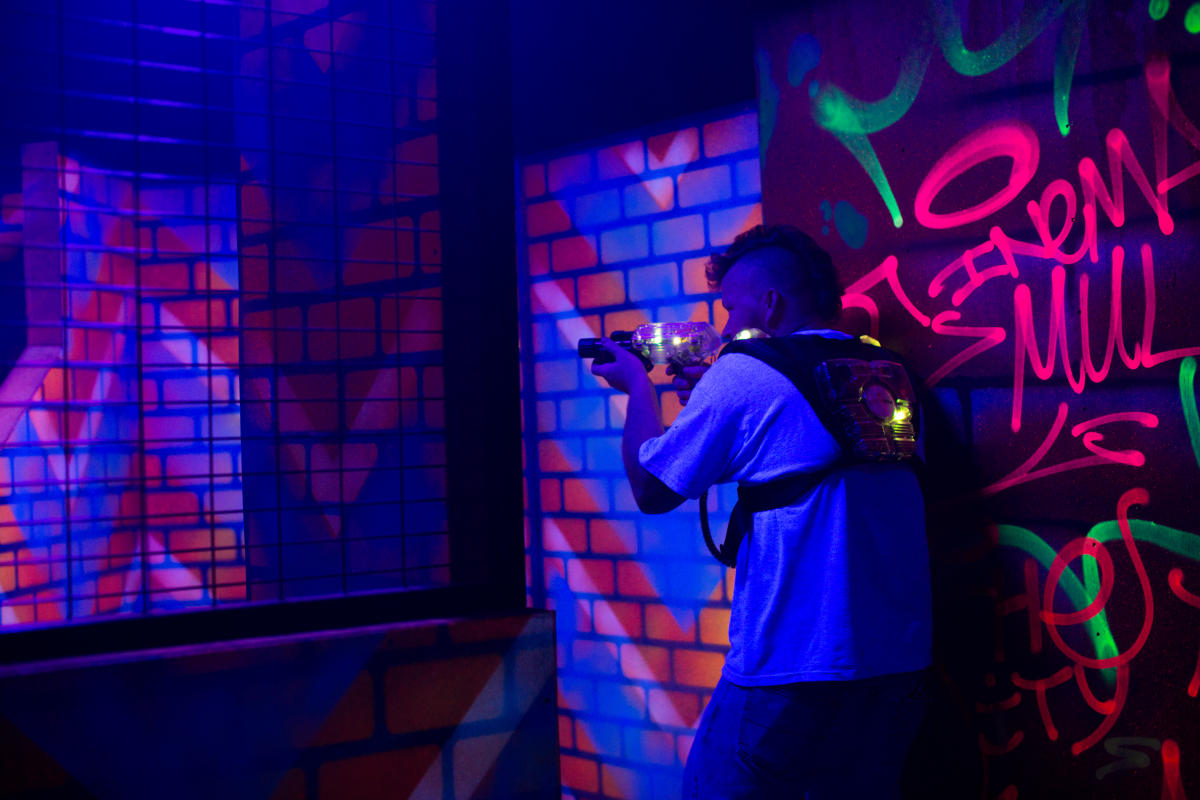 Two-story laser tag at The City Forum
Play Putt-Putt, arcade games, two-story laser tag, high-speed go-carts and bowl all under one roof. At The City Forum, you can easily spend an afternoon being a kid again with games both new and classic. Or, purchase a loaded gift card and let your kiddos do their own thing. Even those hard-to-please teenagers will don smiles after time here. If that's not enough entertainment, some of the best burgers in town are right next door (still under the same roof) at Dock 17.