The Visit Clarksville board of directors announces that Tom Kane has been named the chairman for the 2018-19 year, which began July 1, 2018.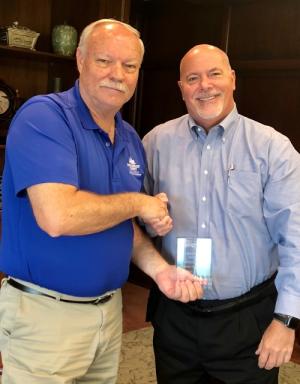 Kane is president and CEO or Fortera Credit Union, a position he has held for six years. Kane is originally from Wisconsin but has worked in financial services in numerous locations across the country for 25 years. He also served as chairman of the Aspire Clarksville Foundation in 2016-17.
Kyle Luther, newly appointed to the board for a three-year term, was named vice-chairman. Luther is a native Clarksvillian who works as a senior vice president at First Advantage Bank.
Matt Cunningham, manager of Old Glory Distilling, was also appointed to a three-year term on the board of directors. Cunningham is also a native Clarksvillian. 
Completing three-year terms on the board were Carol Daniels with the Tennessee Press Association and Geoff  Livingston with Cumberland Bank & Trust.
During the 2017-18 fiscal year which ended June 30, 2018, Visit Clarksville recruited or hosted 56 events to Clarksville-Montgomery County, including group tour buses, conferences, and sports events. These events brought 64,500 visitors who spent just under $18 million on lodging, food, transportation and miscellaneous shopping.
During the fiscal year, the collected hotel/motel tax revenue exceeded projections by 14.3%, at $2.1 million Visit Clarksville is funded by a portion of the hotel/motel tax.
Overall tourism spending in Montgomery County in 2016, according to the Tennessee Department of Tourism Development, totaled $211 million, up 3.0 percent, or $6 million, over the prior year. Data for 2017 will be released in September.
About the Convention & Visitors Bureau
 The Clarksville-Montgomery County Tourism Commission was established by the State of Tennessee in 1979 to positively influences tourism in the Clarksville-Montgomery County area by promoting tourist attractions, hosting conventions, group tours and engaging in large-scale marketing efforts. In 2015, the organization adopted the Visit Clarksville brand.
###