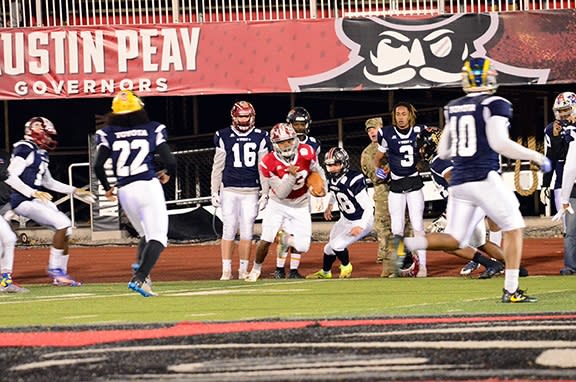 Officials with the Tennessee Athletic Coaches Association (T.A.C.A) and Visit Clarksville have signed a new four-year contract to stage the annual Tennessee East-West All-Star Classic at Fortera Stadium on the campus of Austin Peay State University in Clarksville. The game has been played at the home of the Governors for the past two years, and the new contract solidifies the presence of the contest in Clarksville through the 2023 season.
"The cooperation and hospitality shown to us these last two years have been above and beyond anything we could have expected," said Bill Marbet, executive director of T.A.C.A. "We're extremely happy about returning to Clarksville on a regular basis," he added.
The event brings 88 of the state's top senior football players and 16 coaches to Montgomery County for nearly a week of activities that lead up to the game, which is scheduled this year for Friday evening, December 13.
Marbet went on to compliment officials with Visit Clarksville, Austin Peay and the U.S. Army at Ft. Campbell for their work the last two years in making the experience one that will have a lasting impact on everyone associated with the game.
"Everyone in Clarksville and at Ft. Campbell who has had anything at all to do with the game has bent over backwards to ensure that the Clarksville experience is second to none," continued Marbet. "The venue at Austin Peay is perfect for an event like this. I can't say enough about how we've been welcomed to Clarksville these past two years. I think we've found a great home for the game," he stated.
Visit Clarksville officials couldn't agree more. "This event is a fantastic opportunity to showcase Clarksville to families across the state of Tennessee, many of whom have never visited before," said Visit Clarksville Chairman Kyle Luther. "While athletes are involved in daily practices, parents enjoy exploring the city and trying different restaurants. It's just enough time to whet their appetite for a longer visit later."
Mayor Joe Pitts believes December is a perfect time to host this event. "We are proud that Clarksville will host the Tennessee East-West All-Star Classic for at least four more years, proving that when our fellow Tennesseans visit and see all we have to offer, they have a great experience and decide to keep their events right here in Clarksville,"  Mayor Joe Pitts said.  "With venues such as APSU's expanded Fortera Stadium, and all our holiday amenities like Christmas on the Cumberland, Clarksville is a great choice for this December All-Star game. We will welcome Tennessee's football families back to town this fall, and we appreciate the hard work by Visit Clarksville and APSU to keep this event in Clarksville." 
"We're excited to serve as host of the East-West All-Star Classic for the next four years," said Gerald Harrison, APSU Director of Athletics. "To be sure, this is a great event that highlights the best high school football players across the state of Tennessee. We are thrilled we can share Fortera Stadium with these players, their parents and fans again and look forward to welcoming the state's top players at 'The Fort.'"
"This is a huge opportunity for us to have these top players see our campus and see the commitment our leadership has made to our football program," said APSU Football Head Coach Mark Hudspeth. "We know these athletes had great experiences the last two years and we hope to continue the tradition of hosting this premier event in Clarksville and at APSU for the next four years. We are privileged to share this great city, university and football program with them."
East and West team rosters and coaches will be announced in early November.