Visit Clarksville is pleased to announce that the city will again host the Miss Tennessee USA and Miss Tennessee Teen USA Pageants in March 2022.
"We are so excited for the Miss Tennessee USA and Miss Tennessee Teen USA pageants to return to their royal home in Tennessee's Queen City of Clarksville," said Kimberly Payne Greenwood, executive director of the pageants and Greenwood Productions. "Due to covid restrictions on the campus of Austin Peay State University last year the event was moved elsewhere for the first time in 20 years.  Our titleholders, contestants and supporters are excited to be returning home to Clarksville this year. Every Miss Tennessee USA contestant dreams of being crowned in Clarksville and we are excited that dream will come true for a special Tennessee young lady next spring!"
Current titleholders Elizabeth Graham Pistole, Miss Tennessee USA 2021, and Annie Zhao, Miss Tennessee Teen USA 2021 will relinquish their crowns following a year of representing the state at various events and functions. The titleholders will represent Tennessee in their respective roles at the Miss USA and Miss Teen USA pageants scheduled for November 27, 2021, in Tulsa, Oklahoma.
"We appreciate our long-standing relationship with Mrs. Greenwood and the Miss Tennessee USA program," said Visit Clarksville Chairman Matt Cunningham. "These young ladies and their families travel from all across the state to spend time in Clarksville and for many of them, it's their first time here. It's exciting for us to showcase our city at a time when the contestants are making life decisions about college and career."
Along factor that impacts Clarksville's brand as a travel destination in a big way is the significance of social media in the lives of this age group, said Cunningham.  
"This generation tends to live their life through social media," Cunningham said. "Because these ladies are leaders in their schools and communities, they are influencers. They visit Clarksville and post about where they eat, what they see and do in the city, and there's an exponential ripple effect. They become great brand ambassadors for Clarksville and our destination."
The events will take place at the Austin Peay State University George and Sharon Mabry Concert Hall March 11-12, 2022. Applications for the pageant and qualifications can be found on www.misstennesseeusa.com under the "Apply Now" section.
For more information, call 615-891-0557 or email info@greenwoodproductions.com.
---
REIGNING MISS TENNESSEE AND MISS TENNESSEE TEEN BIOS
MISS TENNESSEE USA 2021 ELIZABETH GRAHAM PISTOLE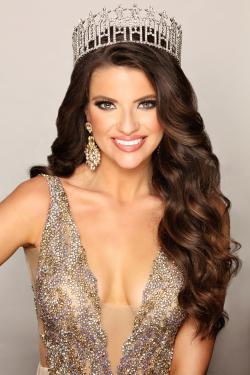 Elizabeth Graham Pistole was born and raised in Nashville, Tennessee. She still lives in Nashville where she is a fitness instructor at 2 local barre studios. She is also continuing her education by pursuing a master's degree in marketing with a concentration of social media strategies online at the University of Alabama.
Elizabeth Graham was driven to pursue a master's degree so that she could have the knowledge to grow and develop her nonprofit, The Dancing Divas and Dudes. The Dancing Divas and Dudes is a dance team for individuals with special needs and was inspired by her sister, Natalie, who has Down Syndrome. Elizabeth Graham wanted to offer her sister and her peers a team environment and teach them how to express themselves through movement. Elizabeth Graham started the Divas and Dudes at 14 years old and has grown it by over 600% over the past 7 years. The Divas and Dudes organization has had the opportunity to serve 45 families in the Southeast. Elizabeth Graham's goal is to develop a way for chapters of the Dancing Divas and Dudes to be started all over the country. Elizabeth Graham knows the difficulties and obstacles that accompany enacting the change that one believes is needed. This has driven her to want to utilize her year as Miss Tennessee USA to be a resource and inspiration to young adults who want to make a difference.
Elizabeth Graham is honored to get to represent her home state. Her goal is to make the most of every opportunity, empower those that she meets, and be a source of light across the entire state.
MISS TENNESSEE TEEN USA 2021 ANNIE ZHAO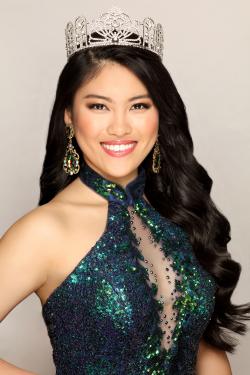 Annie Zhao is a high school senior and the first Asian titleholder in Tennessee USA system history. Annie wants to become a leader in medicine as an OBGYN and advance healthcare for women and children through a more mature lens of womanhood. Incredibly fascinated by science, she has interviewed, shadowed, and assisted doctors and scientists since middle school! On her voyage to becoming a healthcare professional, she has won several science competitions, conducted environmental health research with the University of Memphis, and edited genes through CRISPR-CAS9 with the University of Tennessee.
Annie is also extremely passionate in community service, music, and journalism! She enjoys helping her community and spreading joy in any way she can. Whether that is through direct volunteering or creating music on her violin, she has devoted over 400 hours to the people around her. You can catch her playing in symphonies, leading music groups, or practicing a variety of repertoire in her free time! Annie loves interviewing and has founded two journalists' associations (in Tennessee and Florida) that have interviewed over 40 professionals! She is dedicated to gathering life advice from a diverse range of careers to share with students across Tennessee.
As a strong advocate for childhood literacy and racial injustice, Annie has committed to impacting as many people around her as possible. Having struggled with literacy as a child, she is determined to mitigate the obstacles she had experienced for others. Annie has instructed English to students in and outside of the US since she was 14. Advancing from learning basic English out of TV shows and books as a child to making the highest possible scores on testing or winning at every Model United Nations conference she has attended; Annie has grown to become an English and public speaking enthusiast. One of her most important events was the deliverance of the Stop Asian Hate speech regarding racism to hundreds of Tennesseans. She hopes her message representing AAPI youth made a difference in changing hearts and minds.
Finally, Annie's optimism and balance in life keep her living to her fullest! She firmly believes in the motto "it is never too late to start any journey."
 ###