What do Jimi Hendrix, Dunbar Cave, Charlie Cushman, the Roxy Regional Theatre and Clarence Cameron White have in common? All five are designated on the Tennessee Music Pathways with markers in Clarksville, Tenn.
In celebration of National Travel and Tourism Week, Clarksville and the Tennessee Department of Tourist Development honored Jimi Hendrix and Dunbar Cave with the installation of Pathway markers to complete all five of the city's designated stops.
"Most everyone knows the name and talent of Jimi Hendrix, but maybe only his most avid fans are aware of his connection to Clarksville," said Visit Clarksville Board Chairman Matt Cunningham and founder of Old Glory Distilling Co. "Those fans call us occasionally to ask where they can see something about Hendrix's time here and we've not had anywhere to direct them…until now. We hope this marker causes many people to appreciate his Clarksville connection."
About Clarksville's Five Markers:
Jimi Hendrix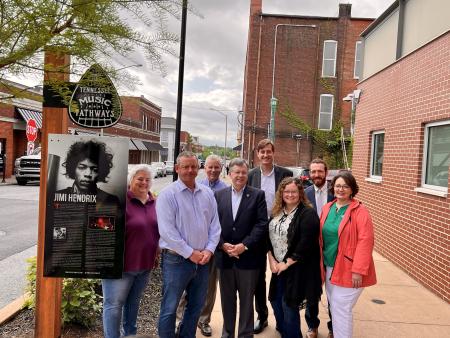 Jimi Hendrix was born in Seattle on Nov. 27, 1942 and received his first guitar at age 15. On May 31, 1961, he enlisted in the Army, joining the 101st Airborne Division in Fort Campbell, Kentucky, on November 8. On base, Hendrix became friends with basis Billy Cox. Music soon eclipsed his interest in becoming a parachutist.
Playing in and around Clarksville with Cox and saxophonist Charles Washington, Hendrix made plans to return to Seattle, but a Clarksville area girlfriend and lack of travel money provided the impetus for him to stay. Cox and Hendrix had already formed the King Kasuals, playing R&B in Clarksville clubs and occasionally venturing to Nashville and Murfreesboro. In October 1962, Hendrix and Cox settled in Nashville with a steady gig as the house band at the Del Morocco Club on Jefferson Street. Hendrix's last known trip to Clarksville was in 1963 when he part-exchanged his old Danelectro guitar at Collins' Music Store.
Hendrix's marker is in Clarksville's Downtown Commons near the Third and Legion St. intersection.
Dunbar Cave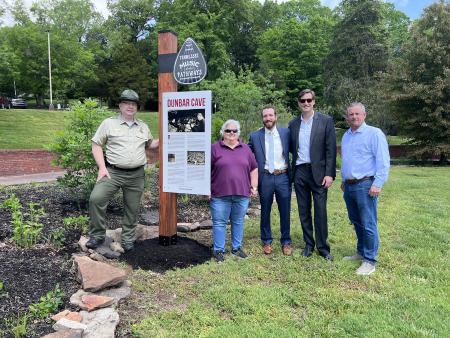 Dunbar Cave was a popular resort for many years prior to becoming a state park. Beginning in 1875, investors created opportunities to stay at Dunbar Cave and the nearby Idaho Springs. Over the following 60 years, cabins were built, a wooden dance floor at the mouth was built, and an artificial lake was built.
In 1931, the Dunbar Cave and the Idaho Springs Corporation bought the cave and surrounding land. They added electric lights in the cave, a swimming pool and bathhouse, and a concrete dance floor and bandstand at the cave mouth. They also enlarged the artificial lake. Big bands played there, including Benny Goodman, Glenn Miller, Lena Horne, and Tommy Dorsey. Country musician Roy Acuff purchased the site in 1948. Over the July Fourth weekend in 1948, Acuff publicized is new ownership by booking Owen Bradley and his orchestra on July 3. Acuff himself headlined a show on the Fourth, followed by fireworks.
Acuff made Dunbar his home base when he wasn't touring and made several additions to the resort, such as a large amphitheater on the east side of the lake to accommodate the attendance to the new country shows and a golf course. Acuff sold the resort in 1966 and the state bought the property in 1973. Today, it operates through the Department of Environment and Conservation as a state park to preserve and protect the cultural, natural and historical resources of Dunbar Cave.
The Dunbar Cave marker is near the Visitor Center at the state park, 401 Old Dunbar Cave Rd.
Roxy Regional Theatre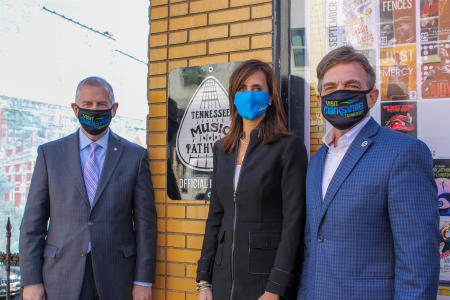 Since the early 1900s, the corner of Franklin and First has been the cornerstone of Clarksville entertainment. The Lillian, built in 1913, was the first movie theatre in Clarksville. Following a fire in 1914, the Lillian was rebuilt in 1915 and saw thousands of patrons enjoying silent pictures. The theatre went "dark" during the Great Depression, but with the advent of Fort Campbell, the Lillian was renamed the Roxy. Following a second fire in 1945, the Roxy was completely rebuilt and became the new Roxy Theatre. A sleek exterior, featuring a new lighting called neon, beaconed movie-goers from miles around. Opening in 1947, The Roxy entertained Clarksvillians with first-run movies until 1980. The Roxy sat vacant for three years, opening for live theatre in 1983 as the Roxy Regional Theatre. In 1995, a professional company was created to supply the great demand for Shakespeare, other classics, school curriculum-based productions and holiday shows, and to enlarge the Roxy's outreach services to the community. The Roxy Regional School of the Arts was also born in 1995, offering some 850 teens extensive training in modern theatre and the opportunity to work alongside professionals. Over the decades, more than 500 productions and more than 2,000 actors and musicians have graced the Roxy's stage. The building has also served as a backdrop for music videos for artists like Sheryl Crow and Craig Morgan.
The Roxy's marker is mounted on the theatre's exterior at 100 Franklin St.
Charlie Cushman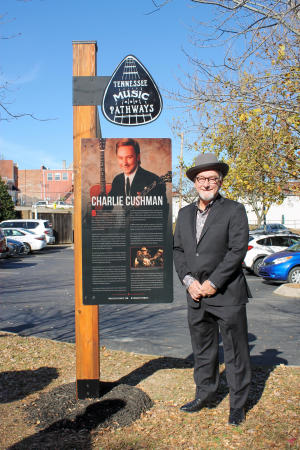 Around age 4, Charlie became interested in the music he saw on local television, foremost of which was The Flatt and Scruggs Show.
The banjo picking of Earl Scruggs caught Charlie's ear, amidst all the electric guitars, fiddles, and vocals of these incredible talents. Charlie had to have a banjo! After months of persistent talk, his grandfather bought a used one with a repaired neck from Collins Music Store. After a few lessons, Charlie was showing his teacher things he had learned at home from his Earl Scruggs records. His "formal" lessons were over.
Charlie began playing the banjo in talent contests and at parties around Clarksville, then at age 10 began playing each Saturday night on the "Tennessee Valley Jamboree" in Waverly, Tenn. By age 14, Charlie began playing the banjo six days each week on the Carl Tipton Show on WLAC-TV in Nashville. He played with James Monroe and the Midnight Ramblers, Jimmy Martin and the Sunny Mountain Boys, Mel Tillis and the Statesiders, along with sessions in Nashville and at Opryland, USA.
He later played with Mike Snider on the road and at the Grand Ole Opry until 2004. Throughout his 40-plus years in the business, Charlie has performed and recorded with numerous country and bluegrass artists. His artistry graces more than 20 Grammy-nominated projects and 15 winning projects. He was awarded a Grammy in 2014 for Best Bluegrass Album.
Cushman's marker is at 325 Commerce Street, site of the former Collins Music Store.
Clarence Cameron White
Clarence Cameron White was born in Clarksville on August 10, 1880, to James, W. White, a doctor and school principal, and Jennie Scott White, a violinist. His father died when White was only two years old, and White's mother relocated her two sons to Oberlin, Ohio, where she had studied music. His grandfather gave him his first violin when he was six years old.
In 1890, White's mother remarried and they moved as a family to Washington D.C., where the music scene was rich and active among black communities. There, White met Will Marion Cook, who offered to give him violin lessons. White studied with Joseph Douglass, another notable black violinist and the grandson of abolitionist Frederick Douglass, before attending Oberlin Conservatory of Music. White won a violin scholarship to the Hartford School of Music then also studied in London and Paris.
In the professional world, White was as dedicated and active as in the academic. He wrote articles on violin pedagogy and history for The Negro Music Journal. From 1903-1907 he served as the head of the string department of the Washington Conservatory of Music. White composed many wonderful works, played the violin with dedication and passion, met many notable musicians and moved all over the United States in pursuit of music. His work throughout his life undoubtedly contributed to shaping a new black cultural identity and has impacted the classical repertoire to this day. White actively performed, taught, and composed throughout his life.
White's legacy is noted with a Tennessee Historical Marker, which also serves as his Tennessee Pathways marker. This is located in Clarksville at 325 Main St.
"Clarksville is an arts-rich community," said Cunningham. "We see evidence of that with murals and sculptures and performances and galleries all throughout the community. We're delighted to add these five markers to those visual recognitions. They are important elements that help tell the story of Clarksville's historic and present contributions to music in Tennessee and the nation."
About Tennessee Music Pathways
Launched by the Tennessee Department of Tourist Development in 2018, Tennessee Music Pathways is an online planning guide that connects visitors to the state's rich musical heritage at tnmusicpathways.com. From the largest cities to the smallest communities, Tennessee Music Pathways stretches across all 95 counties and features hundreds of landmarks from the seven genres of music that call Tennessee home.
###