Outdoor adventures and pubs are a natural pairing. What's better after a long day on the trails, at the crag, or on the water than some good eats and a cold craft beer? Luckily, Clarksville has an abundance of both natural beauty and great places to grab a bite and a brew making it easy to combine the two.
This small northern Tennessee city is located on the Highland Rim above the Central Basin of Tennessee and has both the Red and Cumberland rivers flowing within city limits, nurturing oak and maple forests. Opportunities for outdoor adventure abound and day hiking, rock climbing, mountain biking, and paddling are all popular here.
On the nourishment side, Clarksville's seven area breweries make perfect pairings for any adventure and great spots to enjoy a few cold drinks and a good meal with friends after a day outdoors. Here are some of our favorite combos for enjoying the wilderness and then grabbing a bite and a beer.
1. Dunbar Cave State Park - Hiking / Blackhorse Pub and Brewery
Dunbar Cave State Park has excellent hiking above and below ground. Photo: Benny Little
A great way to tap into the best hiking at Dunbar Cave State Park is to combine the three miles of hiking trails around Swan Lake with a tour into the namesake cave. The above-ground hiking path offers a fine tour through rich forests along boardwalks and moderately difficult dirt trails (but not too tough for kids or dogs). Autumn is an especially enticing time to visit as brightly colored leaves adorn the trees in brilliant hues of red, yellow, and orange.
Touring the ancient caverns of Dunbar Cave takes the adventure underground, where the cave's walkways and passages sample a portion of the 8-mile long matrix of tunnels. Extremely rare petroglyphs carved into the limestone walls over 10,000 years ago by early Native American tribes are a highlight of the tour. Tours are available May - October. Tickets are required ($14 for adults, $8 for children) and reservations are recommended.
Follow up your adventure with a locally-brewed beer at Blackhorse Pub & Brewery. Known for their popular Blackhorse Lager, the brewery also puts out a solid collection of fruity ales and IPAs. Refuel with classic post-adventure options like pizza or burgers, or kick it up a notch with a steak filet or bourbon-glazed salmon—Blackhorse runs the gamut from classic pub grub to chef-inspired dishes.
2. Billy Dunlop Park - Paddling / Strawberry Alley Ale Works
After paddling all day what could be better than fish tacos and the aptly named Two River IIPA? 
After a day of paddling or tubing along the Red River, Billy Dunlop Park is the ideal spot to take out. Kayakers, in particular, enjoy the Blueway from Robert Clark Park to Billy Dunlop for a few hours of cruising the river as it meanders through wooded glades. Tubers take a more relaxed approach to the tour, drifting along at a leisurely pace. Billy Dunlop is also a great place to throw a frisbee, kick the soccer ball around or enjoy a picnic.
Once back on dry land, Strawberry Alley Ale Works offers a robust collection of draft beer, including its most popular selection, the dry Belgian Golden. The Two Rivers IIPA is a flavorful double IPA that's aptly named after having spent time on the water. There's also a full menu—in keeping with the watery theme, fish tacos are highly suggested. An open upstairs space hosts musicians and events and is a great place to relax without bumping elbows in a crowded room. The balcony provides a straight-on panoramic view of the Cumberland River sunset.
3. Clarksville Greenway - Trail Running / Evill Nash Brewing
The Clarksville Greenway helps build up an appetite as you run along its scenic 9-mile paved path. Photo: Lucas Ryan Chambers
There's something of a railroad theme in this trail-to-tavern adventure. The Clarksville Greenway is a scenic tour along a converted rails-to-trails path, while Evill Nash Brewing Co. is located near the old Clarksville train depot, made famous by a reference to the 1960s pop-hit "Last Train to Clarksville" by The Monkees. The band was coy about which Clarksville in America it actually was, though the music video in the TV show was shot in Tennessee's. Good enough for us!
The Clarksville Greenway is a 9-mile span that follows along curving paths and hills through beautiful forests, bluffs and open vistas. Trail runners can set their pace for whatever distance suits them, up to 18-miles as an out-and-back. Most prefer a shorter run—or walk—to take in the views, the fresh air, and the wildflowers that regularly decorate the trail border.
After the run, it's time to cool down with a quality craft beer. Despite the sinister name, Evill Nash Brewing is surprisingly friendly. The spacious brewery is home to a chill vibe in a clean setting. Flights of their distinct craft beer can help you pick your favorite. Will it be the Creme de Coconut? Or a more traditional ale or lager? All of 'em are good, especially paired with the kitchen's grilled cheese and specialty french fries.
4. King's Bluff - Climbing / King's Bluff Brewery
Climbing at King's Bluff is the perfect excuse to indulge in your favorite beverage at King's Bluff Brewery. Photo: Benny Little
This natural pairing of climbing at King's Bluff and eating at King's Bluff Brewery is a logical way to combine an excellent day of rock climbing with the brewery's outstanding craft stouts, ales, and ciders. First the crag: King's Bluff has more than 170 routes on feature-rich limestone, the majority being moderate, 1-pitch sport lines in the 5.8 - 5.10 range. The sunny location along the Cumberland River makes this the perfect place for year-round climbing. The area is maintained by the Southeastern Climbers Coalition (SCC) and climbers must obtain a free gate entry code from their website to enjoy the area.
The King's Bluff Brewery is run by Dustyn and Kristen Brewer (their real last name). Their craft brews include a choice variety craft IPAs, pilsners, ciders, and stouts—and the famous Puppy Pilsner for your dog (a non-alcoholic canine-friendly chicken broth). The site is a wonderful setting to unwind after a long day of climbing, thanks to its spacious, inviting interior and laid-back attitude.
5. North Ford Street Mountain Bike Park / Tennessee Valley Brewing Company
Hidden in the humble confines of a strip mall, Tennessee Valley Brewing Company may be understated but its creative flavors are second to none. Photo: Katie Soltas
This trail to tavern pairing combines two hidden gems: a dedicated mountain bike park in the middle of a city and an exquisite craft brewery tucked in the humble confines of a strip mall. Both destinations are worth a visit.
The North Ford Street Mountain Bike Park was developed by the Clarksville Area Mountain Bike Alliance and continues to grow. There really is something for all levels of bikers, from kiddos fresh off of training wheels to experts who are ready to challenge the technical features of the trail deceptively named 3 Beanies. There are more than five miles of cross-country trails that combine natural features like roots, drops, and rocks with man-made elements such as ramps and bridges. It's the perfect place to build skills and get your fat-tire fix.
The Tennessee Valley Brewing Company is the bike park's perfect understated counterpart. Known for its rich browns (notably the Mockingbird Brown) and unique fruity brews (such as the PB&J 2020 which combines peanut butter and blackberry), the creative flavors of these craft brews are second to none. The selection is always changing, providing the perfect excuse for return visits. 
6. Rotary Park - Disc Golf / Star Spangled Brewing Company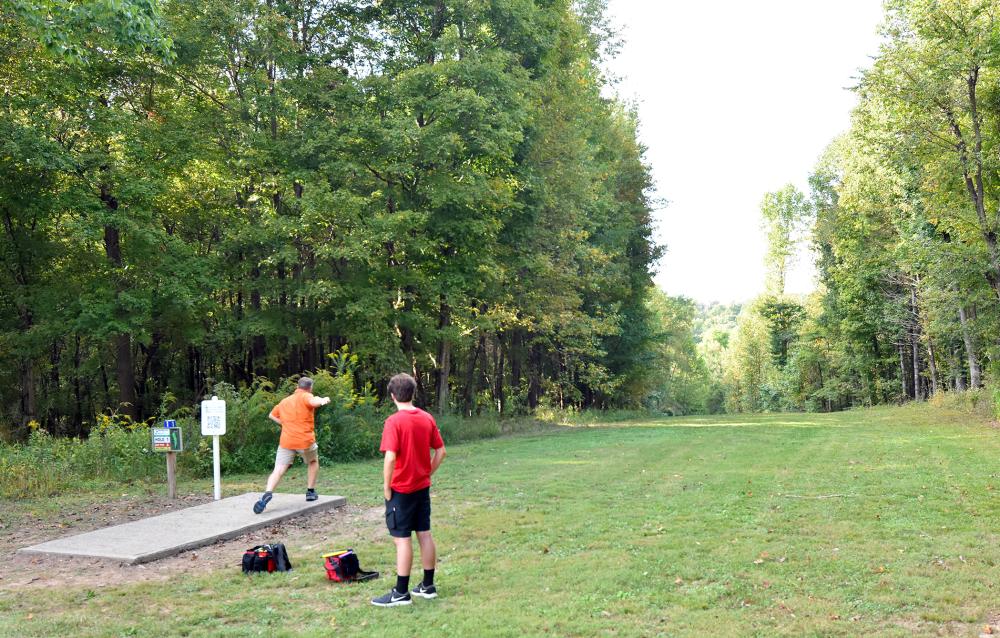 Disc golf at Rotary Park is an activity the whole family can enjoy. 
This pairing takes you from tee-time to happy hour. Start your day at Rotary Park, a 111-acre natural area, and tee off with a rousing round of disc golf on the park's 18-hole course. Each "green" has two levels you can play through: Red baskets are closer and good for younger family members and those just starting out, while the yellow baskets offer a nice challenge for the experienced disc golfers in your crew.
Once your done throwing discs, head over to the Star Spangled Brewing Co., a veteran-owned, family-friendly establishment, and relax with some cold ones—a rotating selection of craft beers for the 21-plussers and home-brewed rootbeer for the younger ones. Try the Winchester, a bourbon-aged ale with the reputation of being "the beer that made the brewery." IPA lovers will enjoy Chasing Virginia and anyone looking for a flavorful punch will like knocking back the 8.7% Oatmeal Cream Stout. Added bonus? The outdoor patio's a great place to relax and the yard games are sure to keep you and your group entertained.
7. Cumberland RiverWalk - Strolling / Gladiator Brewing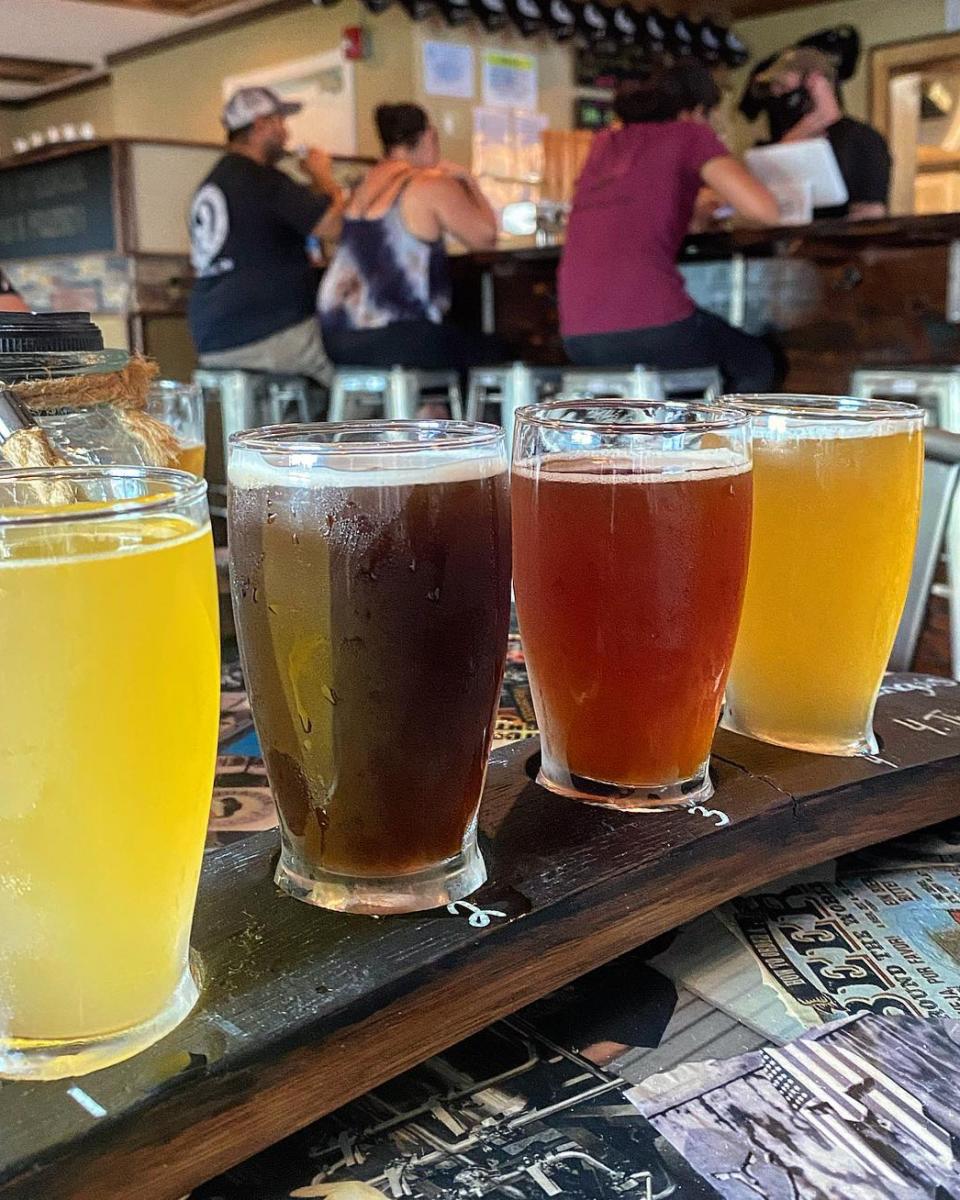 The brewers at Gladiator consider themselves artists at work doing what they do best.  Photo: IG @lifewithfood__
If you are interested in taking a more mellow, yet extremely scenic approach to outdoor adventure, then try a stroll along the Cumberland RiverWalk in McGregor Park. This 1.5-mile paved trail is a great place for a walk or a run. You can add on mileage by connecting to the Upland Trail into downtown Clarksville. Views of the river are stunning and it's fun to watch the boats and people as you take in the fresh air.
Finish off the afternoon with a pint and some BBQ at Gladiator Brewing. This veteran-owned brewery is full of good vibes. Stop by and enjoy one of the many craft beers they have on tap alongside a filling meal made by Legends Smokehouse and Grill. Their kids room will keep the little ones busy so you can relax, chat with friends and enjoy some live music after a day outdoors.
Whether your adventure includes riding, running, or climbing be sure it includes a brewery stop at day's end. From creative beer flavors to classic pub fare, Clarksville's breweries have plenty of options to fuel you up.