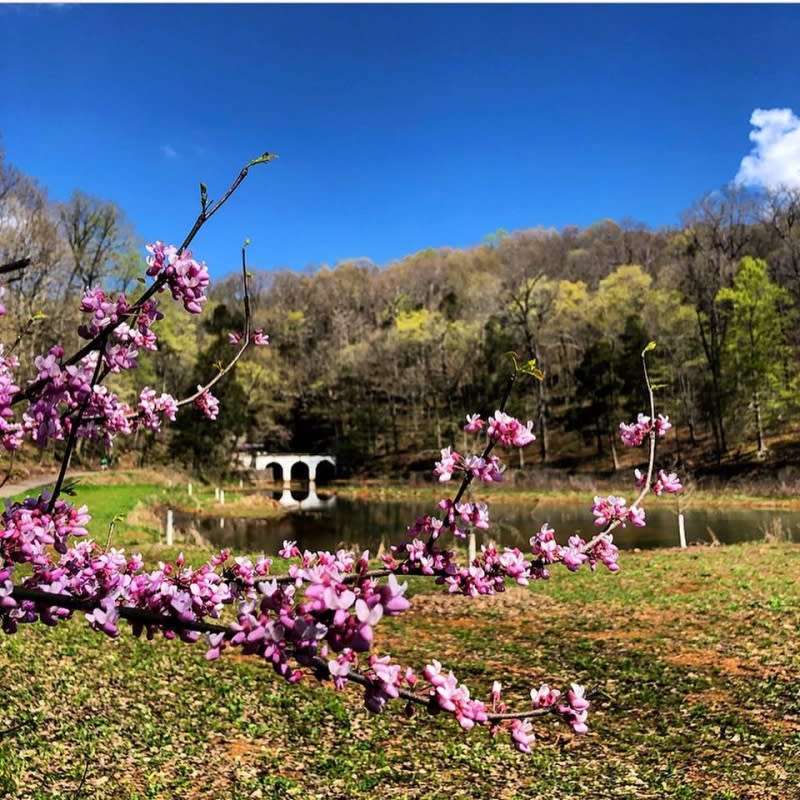 Think you can only find beautiful hiking in East Tennessee? Granted, you won't find those gorgeous mountaintop views in Clarksville, but Middle Tennessee has plenty of hills, creeks and woods where you can enjoy a shorter challenging trail or a scenic family stroll. Check out these options in Clarksville, 40 minutes northwest of Nashville.
Dunbar Cave State Park

Dunbar Cave is one of Clarksville's most popular outdoor spots for both visitors and residents. This 144-acre natural playground in the center of the city includes almost four miles of hiking trails, picnic areas, wildlife, and a newly updated Visitor Center. With the addition of a bridge across the lake, you can now loop around the cave entrance, over the water, and up and down hills to your heart's content. Guided cave tours begin May 1, but fun programs and special events happen all throughout the year. (Dunbar Cave photos by Shana Thornton.)
Best Bet for Lunch: With a 5-minute drive, enjoy Capprigio's Pizza for fresh-made pizzas, calzones, salads and more.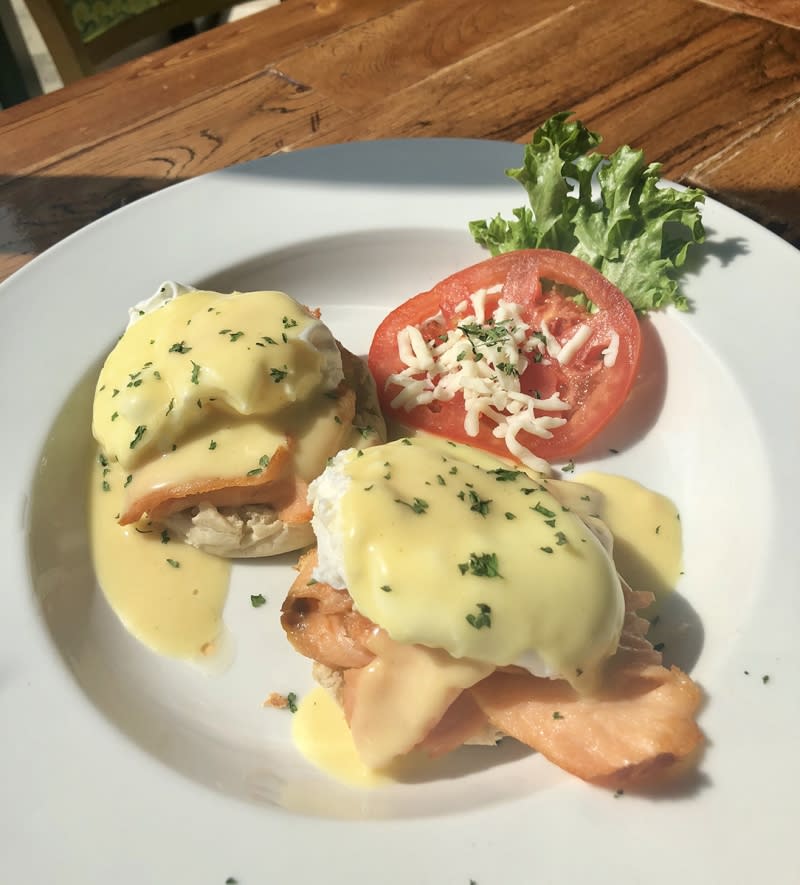 The Clarksville Greenway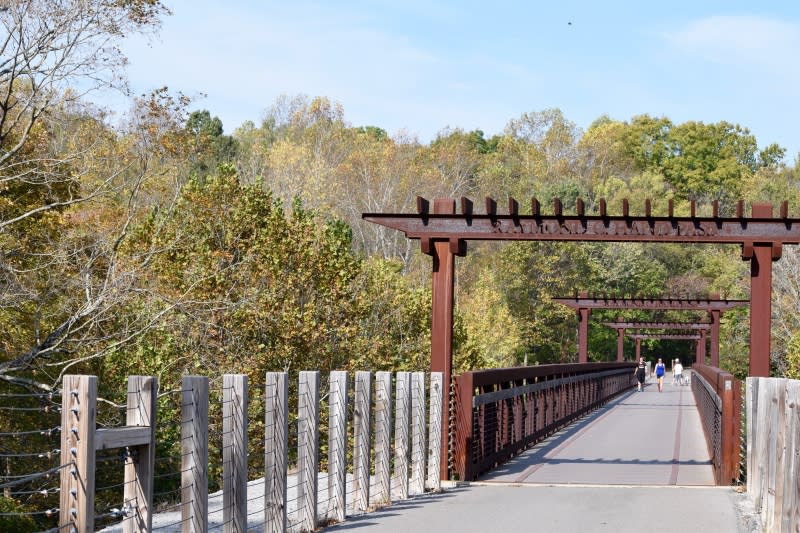 You'll abandon the hurries of the city at the Clarksville Greenway. This 9-mile (but ever expanding) paved walking and biking trail along the Red River and West Fork Creek is a scenic spot with multiple entrance points that includes a variety of hills and flat sections. You'll find it hard to believe you're in the middle of town as you take in all the native species of plants and animals, bluff walls, tree canopies, overlooks, and a 600-foot pedestrian bridge. You can rent a B-Cycle, use the outdoor exercise equipment, or connect to the North Ford Mountain Bike Trail. And, the flat paved sections are great for little ones still using training wheels or learning to ride without them. (Photo by Lucas Ryan Chambers.)
 Rotary Park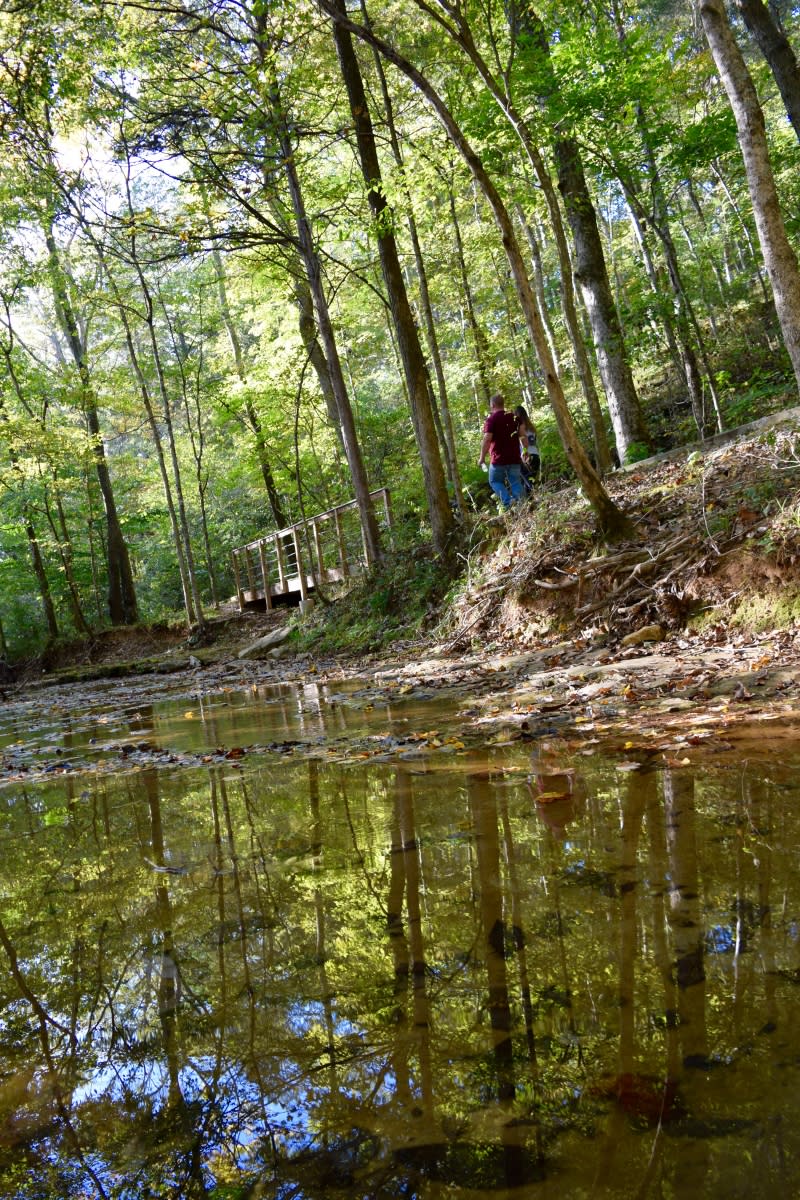 Find six miles of mostly hilly hiking at Rotary Park, a 111-acre natural area with, a creek, picnic areas, disc golf course and an ADA accessible playground. Trails are heavily wooded with plenty of wildflowers, and the winding wide creek makes the area especially scenic (plus it's a fun way to cool down!) Be aware that trails are shared with mountain bikers. (Photo by Lucas Ryan Chambers)
Best Bet for Lunch: The Choppin' Block is a butcher, deli, and restaurant less than one mile away. It's hard to top a traditional Southern breakfast, there are plenty of lunch options for eating in or picking up.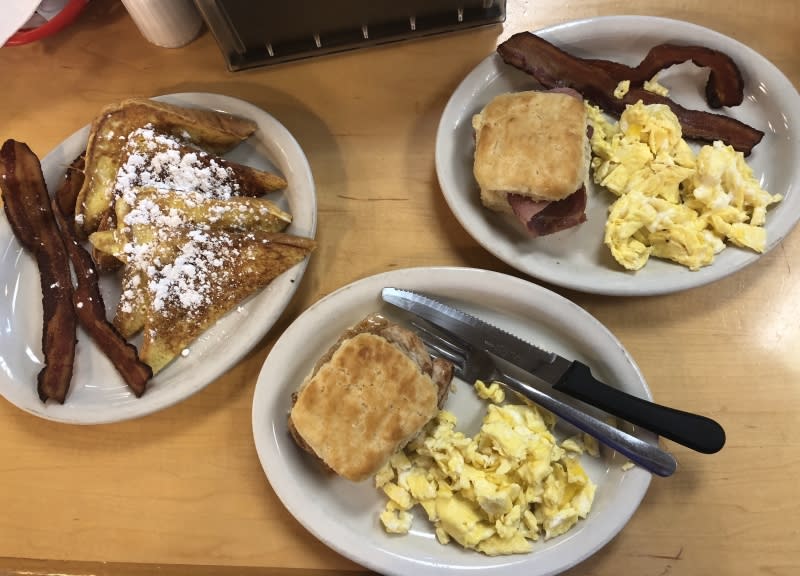 Billy Dunlop Park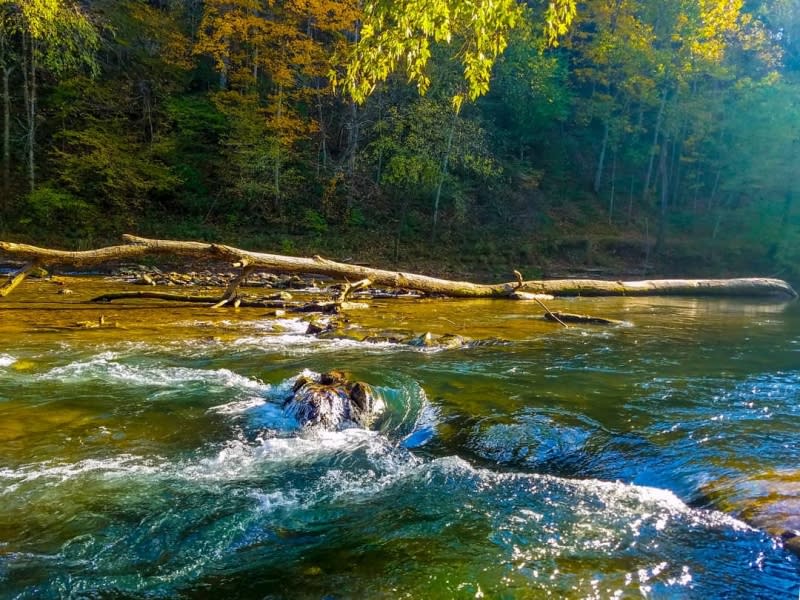 The Red River wraps around the 30-acre Billy Dunlop Park. You can fish, swim, launch a kayak, picnic or enjoy a 2.2-mile walking trail in the tranquil setting. A picturesque bridge over the river is a highlight. (Photo by Houston Menser.)
Best Bet for Lunch: About 4-miles away you'll be near Exit 1 off I-24 and our pick there is Smokin Chikin. In-house roasted chicken with marinade options using spices from around the globe, plus a variety of homemade sides…what's not to love?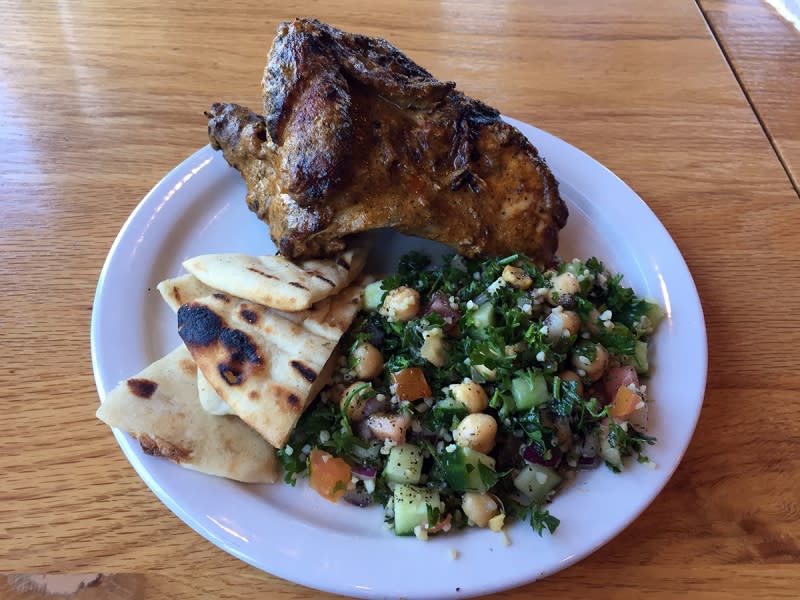 Cumberland RiverWalk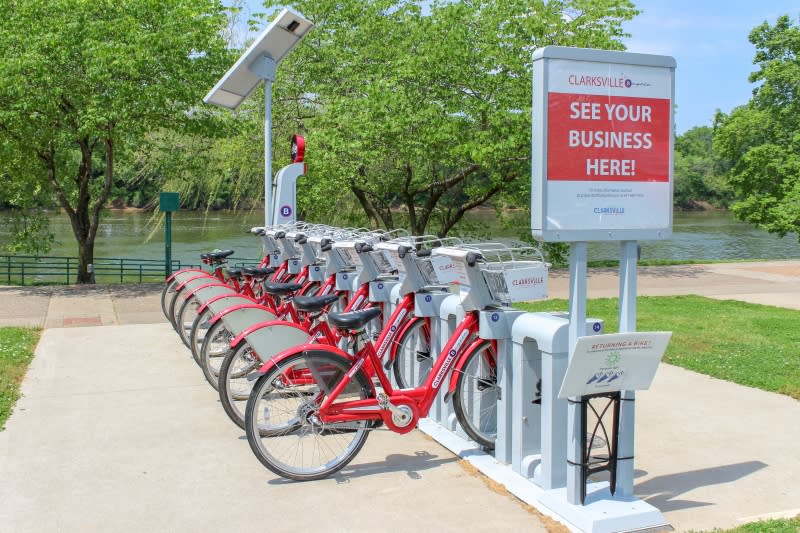 Walking or hiking by water is the best! Clarksville's RiverWalk is scenic, interesting and popular along the spectacular Cumberland River. The Cumberland RiverWalk is a one-mile promenade with an extension that opened in 2018 connecting it all the way to the Red River Bridge. Make time for the family to enjoy the playground at McGregor Park and the As the River Flows interpretive center. You can also rent a B-Cycle. (RiverWalk photo by Donald Groves; B-Cycle photo by Jessica Tejera.)
Best Bets for Lunch: Head uptown to Strawberry Alley Ale Works for Potato Chip Nachos or Blackhorse Pub & Brewery for a Flatbread Pizza.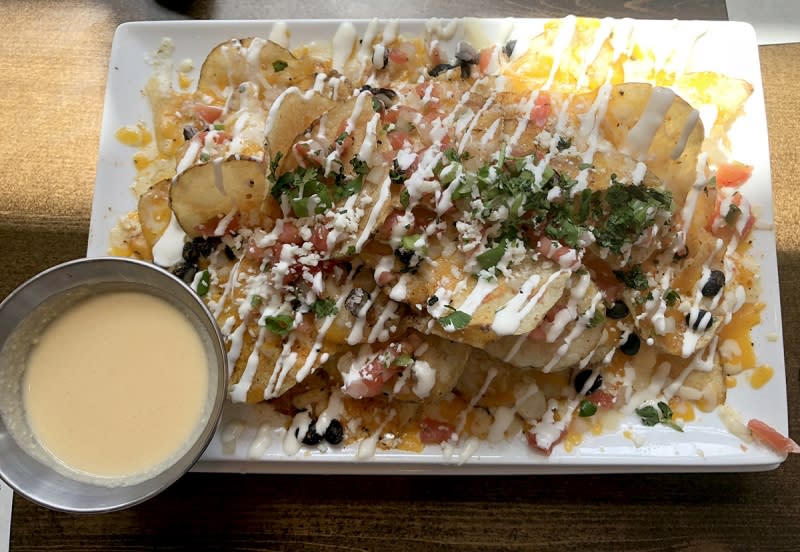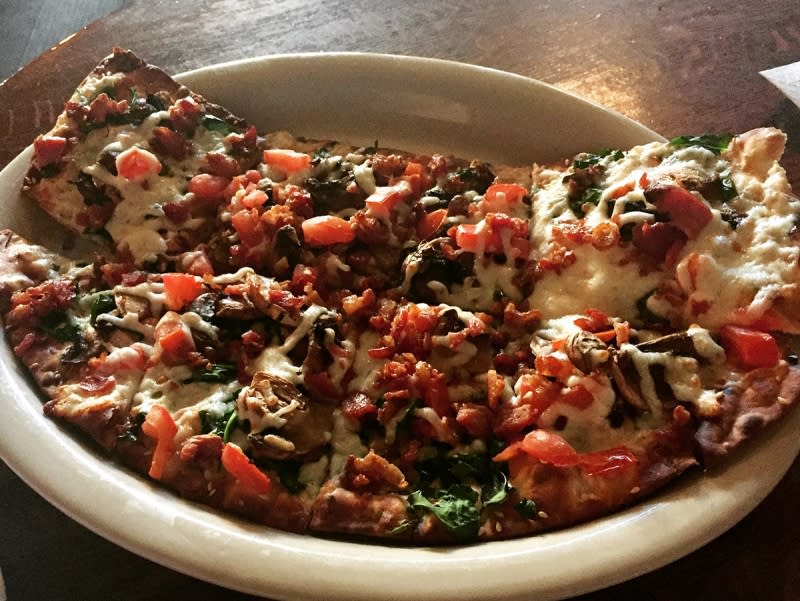 Upland Trail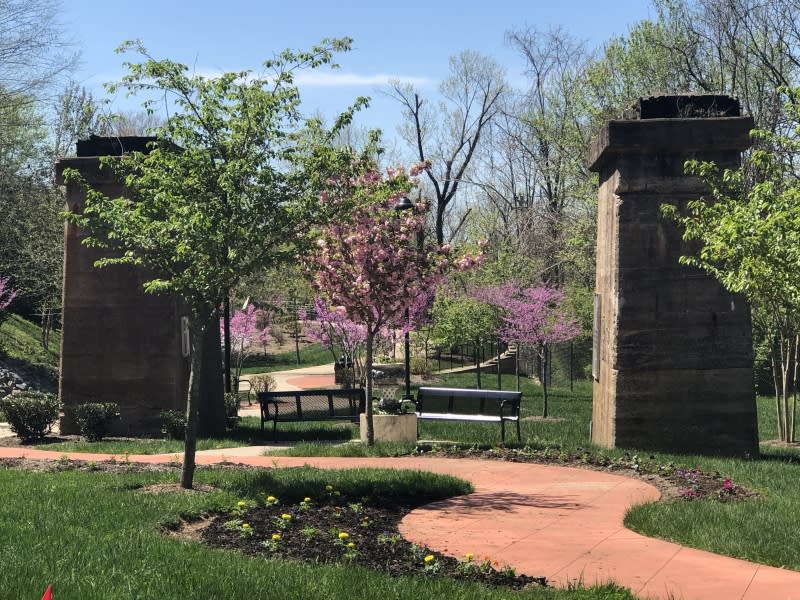 Hiking in nature with woods and creeks is loads of fun, but urban hiking can be just as adventurous. The Upland Trail is still a well-kept secret that connects the Cumberland RiverWalk to downtown and Valley Brook Park via a Pedestrian Overpass. The Upland Trail is a system of extensions and spurs so you can start and stop at any number of places.  You'll see public art, historic buildings, cross a railroad trestle and explore for about 5 miles if you adjoin the RiverWalk to its end.
Best Bet for Lunch: Hot Pita serves fresh breakfast, lunch and dinner with a make-it-your-way mindset. Try the Philly Steak Pita or a rice bowl.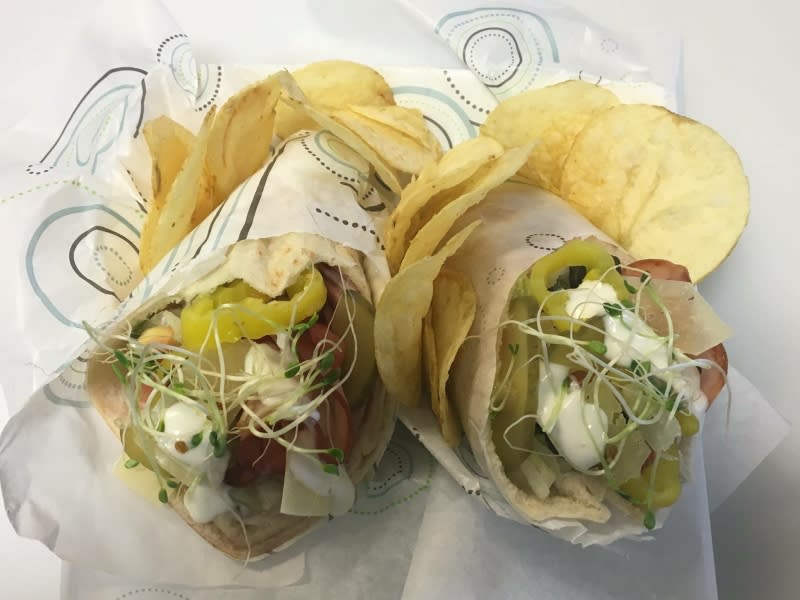 Have another favorite Clarksville trail? Share a picture on Instagram and tag us at #visitclarksvilletn.