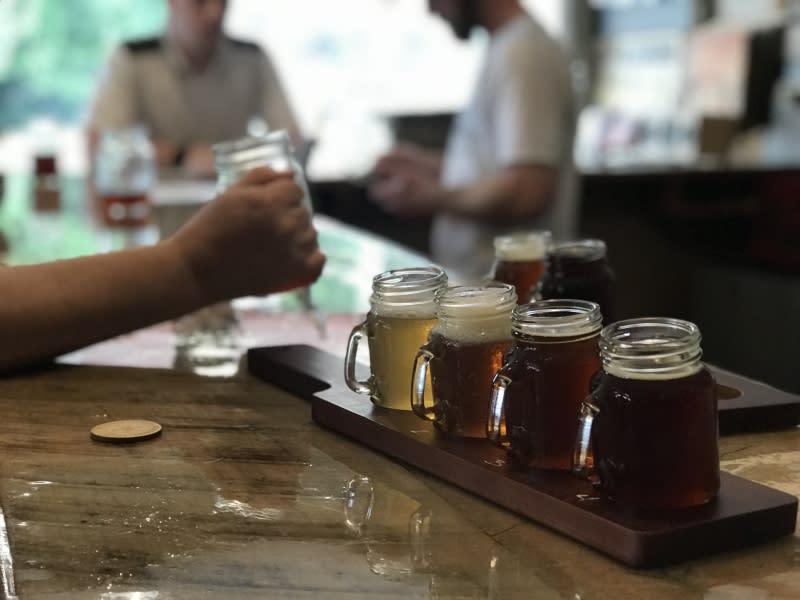 America's craft beer scene didn't start to brew until the 1970s, well over a decade from when Wilma Rudolph won Olympic Gold, or when Jimi Hendrix trained as a paratrooper in the 101st Airborne. It would take another couple of decades before Blackhorse Pub and Brewery held the gate door open to Clarksville's current flood of craft beer. With seven breweries presently pouring and a couple more to open before the close of 2019, this is one flood welcomed with open arms of its citizens. The three breweries to pull the latest pints in town are Evill Nash Brewing Company, Kings Bluff Brewery and Gladiator Brewery. Walk into any of the three destinations and you're likely to enjoy a taste or two, but hopefully also understand this unique sense of place Clarksville's newest trailblazers are creating. Here are their stories–– a testament of how Clarksville's heartbeat resonates with community.  
Evill Nash Brewing Company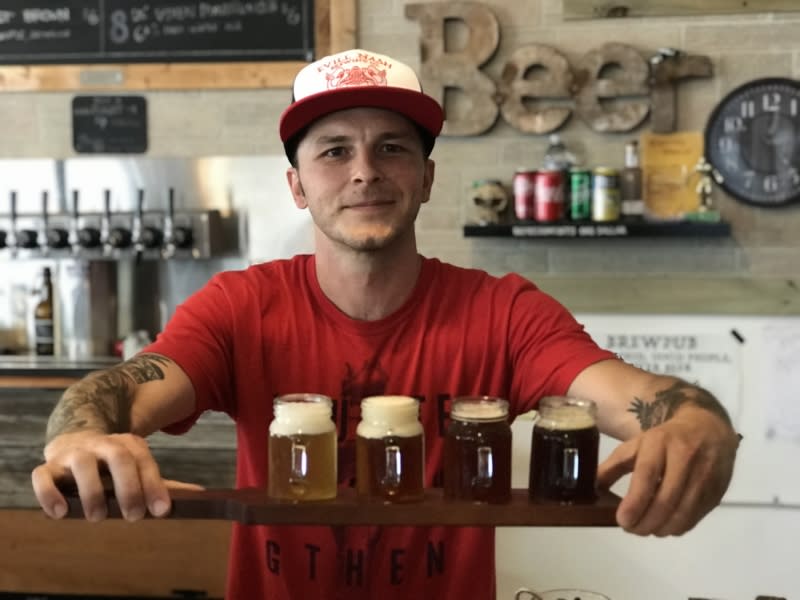 James Miller opened Evill Nash in the former Pic-A-Rib 10th Street location on May 1st, and it had been a long time coming. It took him almost three years just on the build out. Everything you'll see from the bar and booths to even his brewhaus, Miller designed and made. Mostly self-taught, he developed a larger scaled home brew system. "Understanding the equipment and fittings and all that kind of stuff from my experiences helped. I also learned a great deal from my grandfather who is one of that last living Master Silversmiths in America," Miller says. 
Hailing from San Diego, he learned the brew process in reverse order of most of his brewing colleagues by working at Stumble Foot on a 15 barrel system and then scaled back to home brewing. "Really at that time I had come off a seven year career of software development. I didn't quite have direction, per se. But, I've always known I wanted a business," he says. He volunteered at the San Diego brewery to have a crash course experience for nearly two years.  Brewing is one of these industries that if you weren't born with the proverbial keg under your arm, you learn as you go. And, Miller certainly did that.
"I don't have an IPA. I know a lot of people like them, but I personally don't like them. I like dark beers and that's what I brew," says the thirty-something-year-old craftsman. What brought him out to Clarksville was that he was looking to get out of California all together. In 2013, he helped a friend move to Tennessee. "It was kind of what I was looking for. I loved it," he says of the lush rolling hills of Middle Tennessee. He originally planned on brewing in Nashville, but his love for his best friend, Lola (the sweetest old girl pit bull you ever did meet), was not as well received in the "it city"  as he had hoped. Now buried out back, Miller says he'll never leave. Lola is now well-represented on Evill Nash's logo.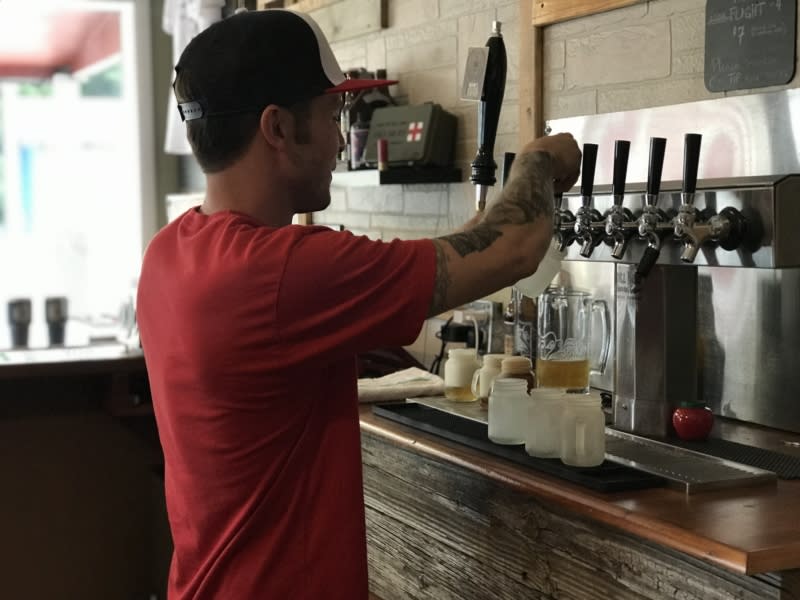 "There was a lot of work under the surface. The walls were literally leaking grease," Miller remembers. Yet, the 3600 square feet space, walk-in and floor drainage sealed the deal. He made his small system in a MacGyver sort of way. And even though he outsourced some of the welding work, Miller built the system from scratch. He points to these giant 75-gallon kegs that he's still fabricating sitting in the back lounge amongst an array of seating you'd find in someone's den. His beer will eventually be served out of them. His system consists of two 2 ½ gallon barrels and 6 2 ½ barrel fermenters– a nano operation for sure. Connected straight from his bright tanks, he serves ten rotating brews at a time. But because these are produced 2 1⁄2 gallons at a time, you'll always have a new experience tasting from the eight taps.  
Miller offers a couple of specials on this particular day–– a barrel aged stout and a cherry sour which are about to be tapped just after three days of being served. The barrel aged one served from an oak barrel sourced from Leatherwood over in Pleasant View and Barton up in Kentucky, sings of whiskey notes. While Miller is still working on his process, things like hand bottling and growlers are offered for those who want to take a taste or two home. "I'll always hand bottle some things to keep that home brew feel to Evill Nash. It's my style of doing things." Miller says.    
You can also grab bites such as charcuterie and tots, select from a selection of vinyl to spin on the turntable, or check out his event calendar for live music and other special events.  
Evill Nash Brewing Co. 
232 10th Street
(931) 216-1207
Evillnashbrew.com
Kings Bluff Brewery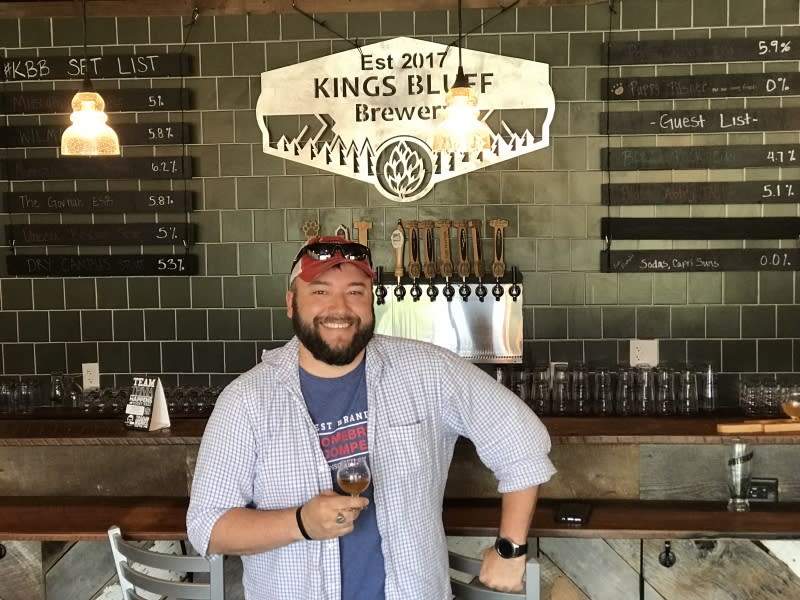 Ordering a lineup of Monticello, Golden, Dry Campus to taste, Dustyn Brewer smiles, "We've got fruit stuff, light stuff and dark stuff." He offers the flight of King's Bluff Brewery's finest brews just steps from Austin Peay's clock tower. There's also tap names like Uneeda Biscuit, Wilma and Mid-South paying homage to some of Clarksville's iconic figures. Even the name "King's Bluff" is a nod to one of the area's favorite climbing spots. Established in 2017, Brewer and his wife Kristen eventually created a space for all who enter to drink good beer. Walking into the former Loving Spoonful location on University, you'll notice right off the bat a black and white mural of Clarksville's skyline to the left, painted by Austin Peay alumni, Michael Mason. You'll probably also get a good gander of the brewery's pup, Scout.  Bring your own pooch in for the Puppy Pilsner, a blend of chicken and beef broth boiled with pig ear that's been kegged and on tap (portion of proceeds go to the Montgomery Angel Fund.) 
Moving from Fort Smith, Arkansas in 2004 to school, Brewer met his wife at Austin Peay. Currently a content developer and analytics specialist for MidSouth Shooter Supplies, it may be too soon to tell if this serial entrepreneur will indeed embrace the destiny of his name, but his future seems bright. "I've wanted to do all kinds of stupid stuff," he laughs. His Myers Briggs is EMTP and as a self-described inventor and debater, "I'm really passionate about stuff and love to get away from the monotony. And brewing beer allows me to do that. To be creative and have finesse with something yet have guidelines to take to an extreme." Kristen is getting her doctorate in Public Health while teaching adjunct at Austin Peay and Southern Illinois University. "She makes sure our taxes and human resource stuff is done. She's very analytical and very much a part of the brewery," says Brewer. A 2 ½ barrel brewing system with a 5 barrel fermenters, Brewer converted the former kitchen into one giant cold room. You'll notice there seems to be less emphasis on food, or even just one demographic, and more about a place where you can just come in and drink beer.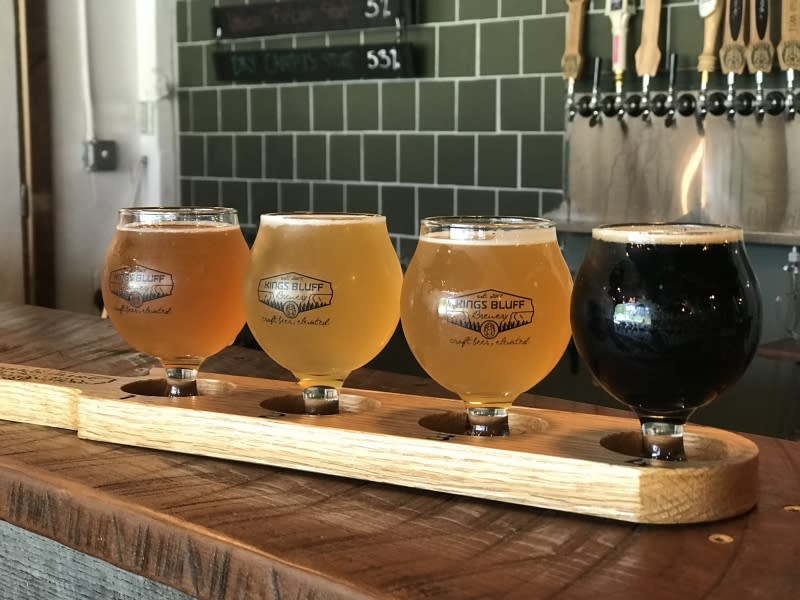 As a burgeoning cornerstone of the community, Brewer hopes to be at the tip of the spear regarding the new face of Clarksville. He believes certain things must change. "In Clarksville there's very much a plant your flag and stand by it mentality, and we're trying to get people away from that. We're a brewing community. If one of us succeeds, we all succeed and to form a chain we make ourselves stronger," says Brewer. He believes it's difficult to put a pin in what Clarksville is, yet enjoys seeing new blood and ideas forge this trending creative culture. "We see an amazing potential right here. There's an inclusive mentality now that's making our community at large better. You do you and if you want to come here and do that? That's awesome. You start in your own backyard and no matter what your process is, it's not only accepted, it's welcomed. For King's Bluff, we are Switzerland. We are patriots, we do believe in America and that the constitution is a perfect document, but we also believe that applies to every single person, in every single way no matter who and what they are. That's where we stand," he emphasizes.  
Kings Bluff Brewery
128 University Ave
(931)237-7406
Kingsbluffbeer.com
Gladiator Brewing Company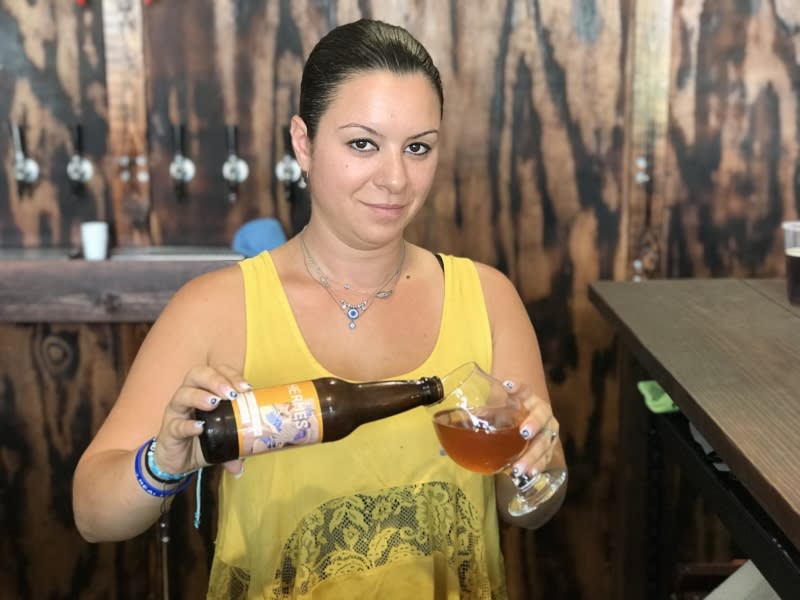 James and Funda Pradke, owners of Gladiator Brewing Company on International Drive, along with their young son were involved in a life-altering head-on collision caused by a driver under the influence during the fall of 2015. The three were severely injured, but tirelessly worked for months, even years, to become the Gladiators they are today. 
Stationed at Ft. Campbell, James remembers, "In 2016, the Army told me that I needed a Plan B, because I would most likely be medically discharged." Combating PTSD symptoms once stifled by active duty, including four deployments, the disorder infiltrated his life once discharged. "Everything stopped and things surfaced," James remembers. Drawing from more than a decade home brew hobby, he eventually honed his craft becoming keen on antiquity craft brews and found his new direction.
Opening Gladiator's doors last November, the Pradkes went from an empty warehouse to 15 beers ranging in historical recipes from Europe, Tukey, The Netherlands and everywhere in between. Because these recipes have been around for centuries, they are all small batch, unfiltered and predominantly high gravity.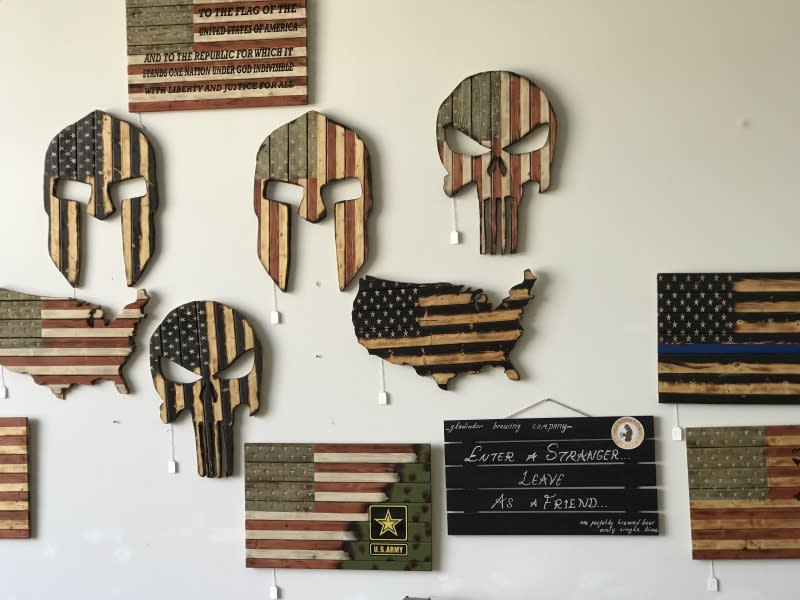 The process presented a realization – to live in the present. 
Upon walking into the warehouse taproom, you'll notice a total of 18 fermenters that resemble R2D2. But, rest assured that no robots were harmed in the making of these beers. The Pradke's mission is to brew one perfect beer every single time. "I stole that from my shooting days," he smiles. As James attempts to build a new life for himself he clings to the craft part of craft beers, "You're focusing on the here and now. You're able to eliminate the unnecessary. The small batch helps to forget everything." 
On a warm summer's day, the garage doors flung open to offer a breezy taproom where patriotic artwork on consignment adorns the walls. "Not the one that says 'Enter a Stranger, Leave As a Friend' that's our motto and is not for sale," Funda exclaims as she pours a glass of Hermes, a Belgian Golden Strong Ale that reads much like a champagne because of the extra bubbles. "We're not here for just business. It's all about influencing people. I'm from Turkey and came all the way to create a new life," Funda says. The collision halted her career as a professional salsa dancer. She learned that you can lead with both feet during two step at Electric Cowboy where you'll likely find her boot scootin' on her off time. She's the only one that pours in the taproom and says, "Four is the limit as we don't want them to be over served. But, I can't force them to not drive," she explains. The Pradkes and friends of the taproom rally to drive that occasional overserved person safely home, as they call all their customers friends and want everyone to connect. 
Gladiator Brewing Company
1050 International Blvd. STE B
(913) 749-7035
gladiatorbrewing.com
The Pradke, Brewer and Miller families exemplify resilience and determination. And as James puts it, "People need to embrace a sense of responsibility with their humankind." Each of these three breweries is quite different, yet serves as a reminder of why community is so important. If the city's growing craft beer scene shows any indication of Clarksville's future as a diverse culture, humankind might just make it after all.  
Blog and photos by Melissa Corbin.