It's November which means it is practically Christmas. This month is packed with local shopping, history, and events to kick off the holiday season. Whether you are on the hunt for the perfect present, need to unwind with some outdoor yoga, or want to cozy up to a holiday classic, there is something for everyone in Clarksville, Tennessee this month.
3 – First Thursday Art Walk
Spend the first Thursday of November in Historic Downtown Clarksville. Meet local artists and enjoy live music along downtown streets. Be sure to stop into a local restaurant for some dinner, drinks, and dessert during the evening.
4 – Holiday Sips + Strolls at Miss Lucille's Marketplace
Spend a Friday evening getting a head start on your holiday shopping. With over 200 booths carrying everything from antique furniture to boutique clothing, you are bound to find the perfect gift for everyone on your list. Miss Lucille's Café will be open from 6-8:30 PM during the event, and guests are welcome to purchase themed cocktails at the cash bar. This festive shopping event is free to the public and will last from 6-9 PM.
5 – Veterans Day Parade
Honor our veterans at the annual Clarksville-Montgomery County Veterans Day Parade in Historic Downtown Clarksville. This year's theme is "Salute to Veterans in Law Enforcement". Pre-parade ceremonies are scheduled to begin at 9 AM with the parade starting at 10 AM next to the Sundquist Science Complex at Austin Peay State University.
5 – Q108 Vintage Fair + Holiday Marketplace at Beachaven Vineyards & Winery
Hoping to find some unique handmade pieces for your home or to gift to others this holiday season? Head over to Q108's Vintage Fair and Holiday Marketplace at Beachaven Vineyards and Winery between 9 AM and 4 PM to shop from local artisans and vendors. Enjoy a wine tasting before or after your shopping. Admission to the event is $5.
12 & 13 – Handmade Holidays
Browse over 60 booths throughout the Wilma Rudolph Event Center showcasing one-of-a-kind, handcrafted goods from local independent artists, designers, and crafters from the area. Handmade Holidays is free to the public and will be open on Saturday from 9 AM until 4 PM and Sunday from 10 AM until 2 PM.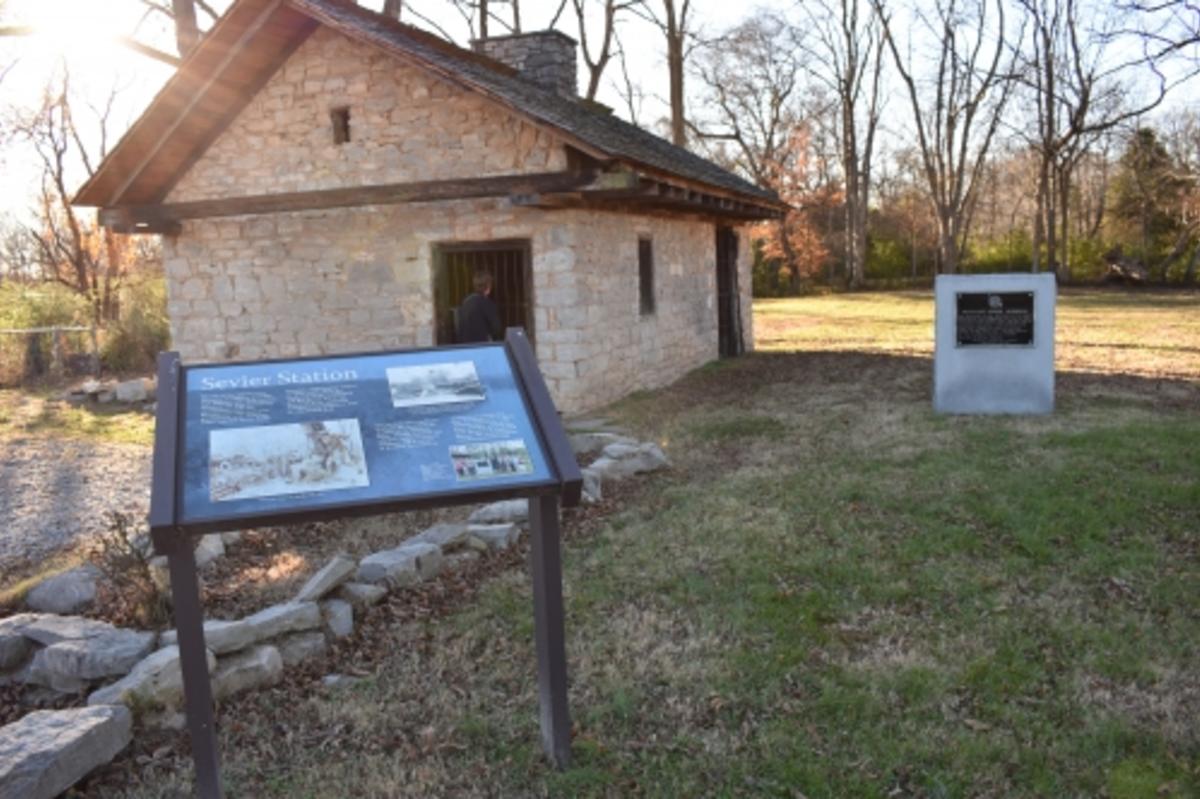 Sevier Station
12 – Sevier Station Tour
Have you ever wanted to explore the oldest building in Montgomery County? Now is your chance. Join Historian Roxanne Jenkins for a guided tour of Sevier Station for the 228th anniversary of the Sevier Massacre. Hear the story and see where it all happened before heading to a nearby historic cemetery where the Sevier Family may have been buried. The Sevier Station Tour has free admission and will run from 11 AM until 1 PM.
13 – Hops & Pop-Up Shops at Thirsty Goat
There is certainly no shortage of local shopping this holiday season. Visit The Thirsty Goat to shop from over 20 local vendors, enjoy live music, nosh on great food, and meet others in the community. Hops and Pop-Up Shops is free and last from 12-4 PM.
20 – Gateway Chamber Orchestra Presents Winter Baroque
Join Clarksville's Gateway Chamber Orchestra at Madison Street United Methodist Church as they perform two masterpieces composed by J.S. Bach during their 10th Anniversary of Winter Baroque. The program last from 4-6 PM and tickets start at $10.
22 – Christmas on the Cumberland Opens
It's back! Bundle up the family and head to the Cumberland RiverWalk at McGregor Park for the opening of Christmas on the Cumberland. The lights will be on between 5-10 PM (Sunday-Thursday) and 5-11 PM (Friday-Saturday) from November 22 until January 2.
22 – Drive-Thru Christmas Lights at the Clarksville Speedway Open
Load up the car and head to the Clarksville Speedway for its annual Drive-Thru Christmas Lights. Enjoy over three million lights from the comfort of your own car. Admission is $30 per carload but be sure to check out their website for special offers each night. The drive-thru lights will be open every day until January 1.
24 - 26 – White Christmas at Roxy Regional Theatre
Enjoy a live performance of this holiday musical running through the end of December. Tickets are $35 for adults and $15 for children ages 10 and under. Purchase your tickets here.

A family picks out their perfect Christmas Tree at Erin's Farm. Photo Credit: Stephen Schlegel
25 – Erin's Farm Opening Day
If you have ever wanted to cut your own Christmas tree, now is your time. Gather up your family, a blanket, and some straps for the vehicle before heading out to Erin's Christmas Tree Farm. Saws are available on-site and vehicle attachments can be purchased, as well. Staff members are ready to help make this experience a memorable one. Trees start at $30. The farm is open on weekends only, and guests are encouraged to bring their own refreshments.
27 – Elf Movie Showing at Roxy Regional Theatre
"I just like smiling. Smiling's my favorite!" Join Buddy the Elf as he embarks on a magical journey from Santa's Workshop to the Big Apple in search of his father. The movie showing will begin at 6 PM Sunday evening. Tickets are $5 for children ages 10 and under, and $10 for everyone ages 11 and up. 
Multiple Dates – By the Way, Meet Vera Stark at Roxy Regional Theatre
Enjoy this live comedy from Pulitzer Prize-winning playwright, Lynn Nottage. The performance draws upon the screwball films of the 1930s to take a funny and irreverent look at racial stereotypes in Hollywood. The show is running throughout November. Tickets are $30 for adults and $15 for children ages 10 and under. 
To see more events happening in Clarksville throughout November, check out our event calendar.