Planning a family getaway means finding a destination that pleases both grown-ups and children. That means kid-friendly activities and accommodations, of course. But how about a sophisticated restaurant scene for the parents? Throw in some natural beauty, a historical setting, and enough indoor activities to keep everyone entertained. Sounds a lot like Clarksville, Tennessee.
This charming town is less than an hour northwest of Nashville, just across the border from Kentucky. It sits on the Cumberland River and is surrounded by trails, lakes, and one impressive cave to explore. The newly revitalized downtown is a destination in itself, perfect for strolling, shopping, and grabbing a bite.
There's a lot you can do as a family over a long weekend in this mid-size town. Here's a three-day itinerary packed with outdoor adventure, historical stops, and a mishmash of kid-friendly fun to get you started.
Day 1: Outdoor Adventure

Dunbar Cave State Park is home to an 8-mile-long cavern offering guided cave tours during the summer months.
Clarksville has an unforgettable natural setting that includes 650 miles of navigable waterways, including the Cumberland and Red Rivers. Boating, fishing, kayaking, canoeing, and water skiing are all very popular in the region, as are hiking, biking, and camping. Of course, you know what your family likes best, but you won't want to miss these outdoor adventures on any trip to Clarksville.
Morning
Start your day off early with a trek to Dunbar Cave State Park, which is just five miles from downtown. It's home to an 8-mile-long cavern, which is not only a natural stunner but also features Native American cave art that dates back to the 14th century. Take one of the guided tours (available from May to September) to find out more about the earliest inhabitants in the region as well as the endangered species that live in the cave today. The cave is 58 degrees year-round, making it a perfect spot to escape the summer heat, but be sure to bring a jacket along because it can get chilly.
After a trip through the cave, take advantage of the park's hiking trails and abundant wildlife. The 1.1-mile Short Loop Trail is an excellent way for families to explore the surrounding area. You might also want to bring along a picnic.
Lunch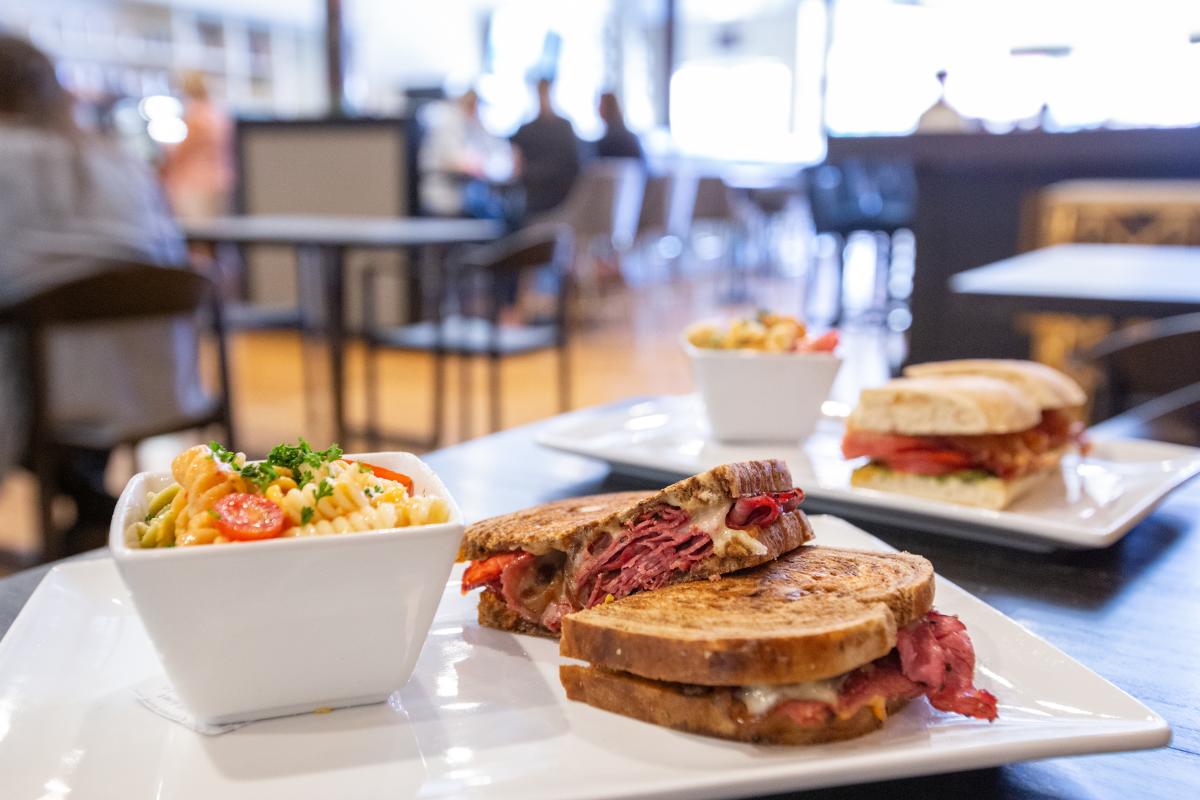 If your kids are into smoothies, Yada is the perfect place to stop for lunch.
Ready for lunch? Yada on Franklin is an excellent choice for a quick bite to eat before your next adventure. Pick up some sandwiches at the New York-style deli, pasta or pizza, and enjoy coffee and smoothies.
Afternoon
There's a lot to choose from to fill your afternoon. If you want to hit the water, go paddling on the Cumberland River at Liberty Park or the Red River at Robert Clark Park. If you need to rent equipment, Run-A-Muck Outfitters has kayaks and canoes and also provides guided tours.
If you'd rather stay on dry land, take advantage of the trails in the area. Start by exploring the Clarksville RiverWalk at McGregor Park, where you'll find a 1.5-mile walking trail along the Cumberland River. Younger kids will enjoy the playgrounds, and the older ones have plenty of room to throw a Frisbee or football along one of the newer trail extensions. From the park, you can also take a casual stroll on the Upland Trail, an urban path that links the RiverWalk to downtown, and Valleybrook Park, which features an overlook bridge. It's an easy walk for all ages.
Dinner
Clarksville is home to several breweries that can make for a great night of tastings. But you're here with the whole family, so you can save that for another trip. After your day outside, the Blackhorse Pub & Brewery is the perfect spot. Adults can sample the house-made brews while the kids chow down on pizza. Win-win.
Day 2: Historic Charm

Historic Collinsville is a perfect spot for little explorers to get a taste of what life was like in rural Tennessee more than 100 years ago. Lucas Ryan Chambers
Morning
Today is all about the history of the region, and there's no better place to start than the Customs House Museum & Cultural Center, the second-largest general-interest museum in Tennessee. Housed in a building that dates back to 1898, the museum's architecture is an attraction on its own. It's one of the most photographed structures in the region.
The museum is filled with interesting tidbits around every corner, including art, local history, and interactive kids exhibits, such as the Bubble Cave. The littlest in your crew will love the model trains and the Lego Wall. And woohoo! Kids five and under are free.
Next, learn more about the area's Civil War history at the Fort Defiance Interpretive Center and Park. It sits on a 200-foot bluff overlooking the Red and Cumberland Rivers and houses an intact earthen works fort that was used during the war—it's one of the few that remain. The interpretive center offers a great history lesson about the battles fought here as well as a look back on the earliest settlers in the region. If you want to explore the subject further, follow the Civil War Trail, which features historical markers highlighting regional events in the conflict.
Lunch
Time for a break from the museum. Stop to have some lunch at Silke's Old World Breads. Here, you'll find freshly made bread, sandwiches, soups, and pizzas...even luscious German pastries for an afternoon snack or breakfast tomorrow. Toddlers will enjoy the kid's corner while adults appreciate the local art.
Afternoon
You'll need to walk off the pastries, so head to the Downtown Historic District to see the beautiful buildings, many of which were constructed just after an 1878 fire, and public art scattered throughout the central downtown area. Or, let the kids roam around Downtown Commons, a full-block urban park with water features and an Imagination Playground. By now, the kids are ready for more fun, and they can find it at the Historic Collinsville pioneer settlement, which shows what it was like to live in rural Tennessee between 1830 and 1900. Take a self-guided tour of the 16 restored log cabins and buildings across 40 acres to get a sense of life both before and after the Civil War. Make sure to visit the wildlife center, which is home to native Tennessee plants and animals, as well as big game from other parts of North America.
Dinner
That's a lot to get done in one day — you're probably all ready for a nap. But when it's time to head out for dinner, consider something on the quieter side (you've earned it). Edwards Steakhouse will make all the adults happy with its wide selection of prime steaks, seafood, and pasta. And yes, there's even a kids' menu.
Day 3: Fun for the Kids

Take the kids out to City Forum where they can get their fill of fun go-karting, mini-golfing, gaming, and more. Britney Taylor
Morning
After a museum day, the kids are probably ready for some action before heading home. After sleeping in, head to DEFY Clarksville Extreme Air Park, a trampoline park that gives them plenty of space to burn off that energy. If that wasn't enough, next hit the City Forum, which has something for all ages to enjoy. You'll find 120,000 square feet filled with activities that kids (and most adults) love, including go-karting, bowling, laser tag, mini-golf, and an arcade. There's even a play area for the younger kids.
Lunch
No matter what you decided to do, you've burned a lot of calories, so you can make the last lunch of your trip Reggie's BBQ. The local favorite features slow-smoked brisket, ribs, pork, and burnt ends that you will long remember.
Afternoon
Wait, you've managed to go this whole time without doing any shopping? Make sure you spend a little bit of time downtown touring the boutiques, stores, and galleries, including the Downtown Artists Co-op, which features jewelry, pottery, paintings, and other artwork from more than 30 local artists.
Depending on when you're visiting, you may be lucky enough to hit the Clarksville Speedway and Fairgrounds before you leave town. The dirt-track racing is a must-see, and depending on when you are there, the facility also hosts the county fair in the summer and a massive drive-thru Christmas lights display in the winter.
Granted, that's a lot of ground to cover. But you can see how any family can adapt the schedule to meet their interests. And anything you miss just gives you a good reason to plan another trip to Clarksville.