No matter your walk of life – from the college student to the CEO – coffee has likely improved your mood, performance or even interpersonal interactions at some point. It's a meeting staple, a morning jolt for many, and thanks to the recent "third wave" coffee movement, it has become an art.
Clarksville has long embraced the mom-and-pop coffee shop trend, and several new players bring a fresh perspective to the city's coffee scene. The beans at Clarksville's five best coffee shops are sourced from popular coffee regions around the world, providing intense aromas and flavors from Latin America, sweet floral notes from African nations such as Ethiopia and a smooth, earthy palate from Indonesia's mountainous soil. Fortunately for residents and visitors of Clarksville, the atmosphere in Queen City's top cafés is as diverse as the beans they serve.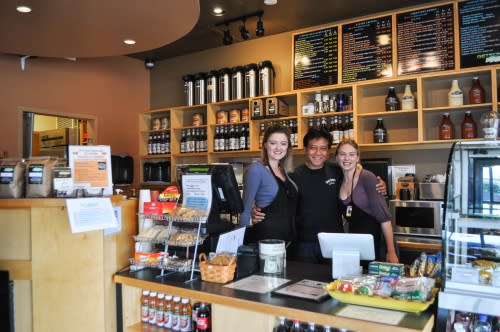 Getsome Coffee
Established in 2006, Getsome Coffee is located right off Highway 24's exit 1 on Trenton Road. The inviting space, designed from bottom-up by former U.S. Army pilot and owner Tony Vincent, evokes the ambience of a European café with a Parisian mural and custom wood floors in its lounge. Fort Campbell photos and memorabilia Tony has collected pepper the walls throughout the shop, giving it an eclectic vibe.
According to Tony, Getsome has one of the largest selections on its beverage menu, including decadent espresso confections such as the Black Tie Mocha and the Cherry Royale, non-coffee drinks like his Green Tea Latte and Thai Iced Tea (Tony is originally from Thailand!) and Arabica coffee from Guatemala, Colombia, Java, Sumatra and more. The café also offers pastries, sandwiches, burritos and fresh paninis for a quick bite to eat.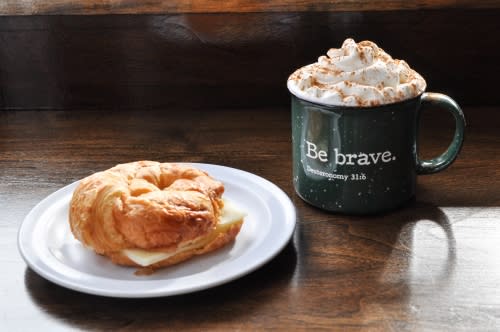 Lasaters
Founded in 2004 by Matt and Annie Lasater, Lasaters Coffee & Tea has evolved into a small franchise with eight Tennessee locations: five in Clarksville, and individual coffee shops in Cleveland, Mount Juliet and Nashville. When you walk into a Lasaters, it immediately feels as though you've stepped into a Tennessee living room – perhaps in the Great Smoky Mountains. Order a delectable beverage like a marshmallow latte, and take a seat on a cozy couch by the fireplace while admiring the Southern and faith-inspired décor.
Lasaters custom-roasts all of its own coffee at its corporate facility in Clarksville, sourced from Brazil, Colombia, Ethiopia, India, Mexico, Rwanda, Tanzania, and more, including its house blend. The local chain also offers a selection of single-origin Rishi teas, espresso and blended drinks, smoothies and eats such as soups, paninis sandwiches, wraps and pastries. Lasaters recently launched "Manna Monday," which donates the proceeds from every extra espresso shot purchased that day to the Manna Café Ministries.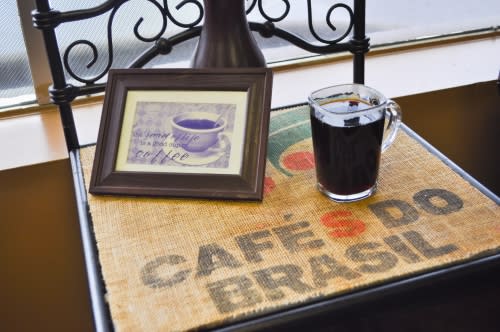 Mugsy's Coffee Company
Frequented by many service members due to its location on Fort Campbell Blvd. and its reputable in-house-roasted coffee, Mugsy's was founded by a local veteran in 2002 and sold to Ken and Tina Poindexter in 2008. Ken, an Army vet himself with 36 years of service, opened a second location near the main Tennova Healthcare center this fall. The Poindexter family considers Mugsy's their home that they welcome their guests into for a coffee break or a quiet place to hang out. The space is cozy, with leather arm chairs, coffee-themed décor and a "secret" lounge space in the back where you'll likely view and smell some of the roasting operations.
Mugsy's offers coffee from all over the world, with a focus on the African, Indonesian and Central/South American regions. For those who prefer espresso and blended drinks, sample the Sweet Potato flavored blend, the Snickerdoodle signature latte or the Sugarplum holiday beverage with toasted marshmallow and caramel sauce. Mugsys also serves tea, lattes and light fare such as sandwiches, wraps and pastries.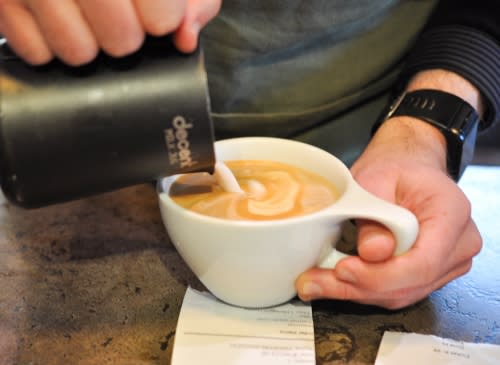 Plumb Line Coffee Company
Coffee connoisseurs Bill and Jen Parker moved to Clarksville in 2016 and fell in love with the idea of opening a café in Queen City's quaint downtown neighborhood. In a leap of faith, they settled on a storefront on University Ave. and began remodeling several weeks later. The coffee shop's namesake, Plumb Line, refers to a surveying tool that translates to "the perfect measurement," acting as a philosophy for their business. Bill hails from a lineage of engineers and personally handcrafted much of the woodwork inside the modern space with industrial accents. 
Officially open since January 2017, the Parkers were thrilled to bring their third wave coffee principles to Clarksville, offering specialty coffee and espresso from around the globe in pour-overs and meticulous latte art. Jen explains that sourcing is extremely important within the third wave concept. Their importers tell them stories about the farmers who take great care in harvesting their small-batch beans, which the Parkers now roast in-house. Jen invites guests in to experience the different tasting notes of coffee and appreciate the process. Plumb Line is concentrated on coffee, but also offers small pastries and sandwiches.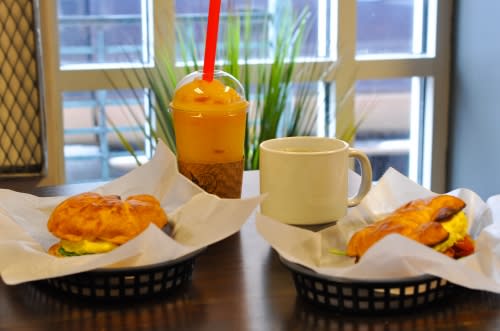 Yada Yada Yada Deli 
With a name inspired by the 90's Seinfeld sitcom, stepping into Yada Yada Yada Deli is like entering a New York-style café and deli in the heart of Historic Downtown Clarksville. Michael and Darla Knight, a U.S. Army female veteran, renovated a former coffee shop and opened Yada Yada in January 2017 – and plan to expand their space soon. Their hope was to curate a café with a sense of community and Big Apple branding that's apparent in the décor and the atmosphere. The coffee shop also displays local art on a monthly rotation. 
Yada Yada's organic (kosher, bird friendly), small-batch-roasted coffee has been carefully selected, and its signature drink is its Spanish latte. The café also serves beer and wine at its assortment of special events like the "Pints, Pinot and Pies" experience this Friday, Dec. 7.
Blog and photos by Katie Soltas for Visit Clarksville.