Over the past several years, Clarksville has experienced tremendous growth stemming from the continued development of the Fort Campbell Army community and Austin Peay State University, as well as the establishment of major advanced manufacturing operations such as LG, Google and Hankook creating thousands of new jobs.
Thanks to this economic progress, Clarksville is in the middle of a cultural renaissance evident in its art and epicurean communities. Fortunately for recreational imbibers, the craft beverage industry has also exploded as a result of this gastronomical effect. In two years, Clarksville has matured from a one-brewery town to a true libation destination with a new craft distillery, three new breweries and a fourth – the Fallen Brewery – slated for late 2019. 
The Queen City's breweries are all distinctly different but share a passion for the nationwide craft movement and the goal to foster an appreciation for micro brewing's meticulous process and countless flavors. From a traditional pub to a modern industrial vibe; from Old World conventional beers to American experimental brews, Clarksville's craft beer scene has something for everyone to enjoy.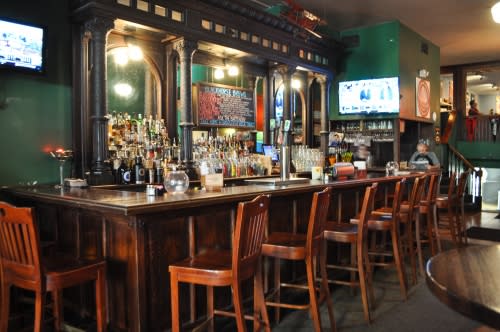 Blackhorse Pub and Brewery
Established in 1992 in historic downtown Clarksville, Blackhorse is the city's oldest existing brewery. Situated in a cozy 19th-century building with exposed brick and dim lighting, the atmosphere is likened to an old English pub. With a kid-friendly restaurant on the first floor serving lunch, dinner, and weekend brunch, the second-story adults-only taproom offers live music, pool tables, darts, and event rental space.
Veteran-owned and operated, Blackhorse is a mainstay in the Clarksville community. Head Brewmaster Steven McEndree has had two decades to perfect his technique, and with experience comes a great variety of beer. He explained that Blackhorse began with mostly Old World beers but has since branched out to include botanical beers, mead, aged ciders, cask-conditioned brews like cherry stouts, and the high gravity, barrel-aged Scottish ale, which recently won gold at the Tennessee Championship of Beers.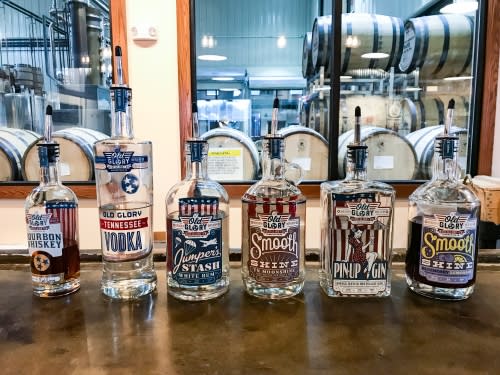 Old Glory Distilling Co.
Old Glory Distilling Co. is the city's only distillery and just celebrated its two-year anniversary in October. The small batch artisan operation, owned by Clarksville native Matt Cunningham, works with grains from local farmers to produce its Tennessee whiskey and bourbon and also distills vodka, moonshine and white rum. Old Glory's structure is newly built but resembles a vintage warehouse. Distillery tours are offered every hour, and guests can peruse the gift shop and cocktail bar that provides spirit tastings and its signature libations. A popular wedding and event venue, Old Glory hosts a plethora of local fairs and corporate gatherings. Starting Nov. 30, the distillery will launch its monthly dueling piano live entertainment with future events on Jan. 18 and Feb. 15, 2019. 
Star Spangled Brewing Co.
Exuding a unique industrial feel with patriotic décor and attitude, veteran-owned and operated Star Spangled Brewing Co. is off the beaten path. It's fair to label this brewery as the most family-friendly atmosphere, with a game room dedicated to children, plenty of outdoor space for kids to run free while their parents enjoy a pint and permission to bring the pooch. Live music and food trucks are frequently scheduled for additional entertainment, and house-brewed root beer is available for kids and non-beer drinkers.
Star Spangled is only one year old, but already has myriad types of beer in its arsenal, from its light and refreshing Queen Beer wheat brew made with organic honey to its flagship Winchester, a Kentucky bourbon ale aged with oak barrels from Buffalo Trace distillery. Owner Joshua Romaker's craftsmanship goes beyond his beer brewing; inside the brewery is a hand-built tobacco barn that houses its fermentation and cold room with 200-year-old chestnut wood from an old Sango region farm settlement.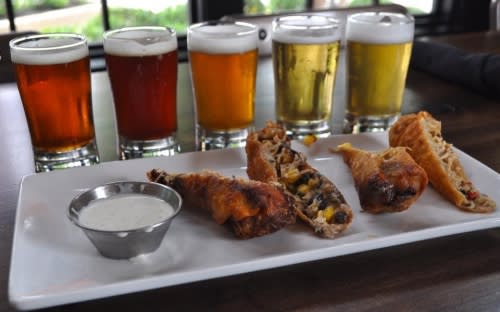 Strawberry Alley Ale Works
Clarksville's newest brewery joins Blackhorse in Clarksville's downtown region. Strawberry Alley Ale Works opened its doors in April 2018 in a bright and airy space where contemporary décor complements the stunning urban setting. The restaurant serves lunch, dinner, and weekend brunch, complete with a complimentary bonus buffet and $1 mimosas. But who needs a mimosa when you can get a flight? All of Strawberry Alley's cuisine is made from scratch with the intention of pairing its wide range of flavor profiles throughout its 10 taps. According to Head Brewer Jamie Feihel, the brewery is more traditionally focused on its year-round beer selection and branches out with its seasonal offerings such as this fall's "Your Schwarz is as Spiced as Mine," a smooth schwarzbier brewed with butternut squash, pumpkin, cinnamon, ginger, and nutmeg. Feihel looks forward to introducing sours and barrel-aged creations in 2019, and Strawberry Alley will soon have a second-floor open-air deck for guests to enjoy.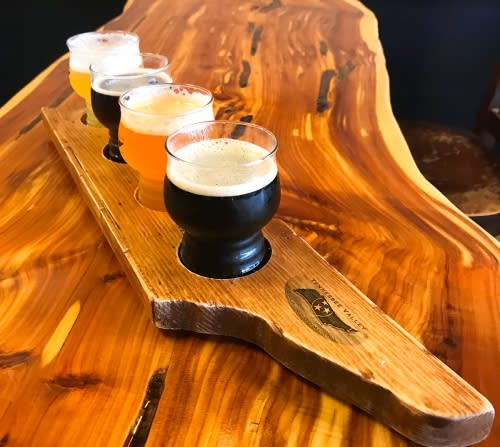 Tennessee Valley Brewing Co.
Located in an unassuming shopping center off Wilma Rudolph Boulevard, Tennessee Valley Brewing Co. is a welcoming watering hole that prides itself on its sense of community. The intimate space features reclaimed wooden furniture and pays homage to service members. Patrons can expect to have a conversation with owner Eric Brannstrom, an Army veteran with 25 years of brewing experience. In addition to its warm atmosphere, Tennessee Valley distinguishes itself through inventive events throughout the year, from a monthly comedy show to a Girl Scout cookie and beer pairing experience. Brannstrom describes his beer offering as a wide range of traditional styles such as his IPA, stout, nut brown, and American light lager. His small batch infusions include the Music City Mango Sour, a Berliner Weisse, and a bacon bourbon porter.
###
Blog and photos by Katie Soltas. Katie serves as a Visit Clarksville Photo Ambassador and recently made the decision to be a stay-at-home mom and freelance communications professional. Follow her on Instagram at @fittravelingmama.