Looking for a few slightly spooky things to do to put you in the Halloween spirit? Here are eight Clarksville traditions that will make your holiday, maybe even your entire fall, extra special.  
Wickham Statues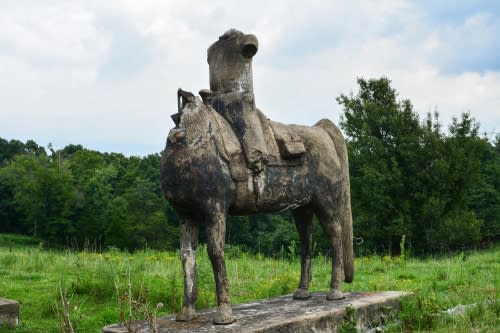 (Wickham Statue photos by Terry Minton.)
Not until his later years did area farmer E. T. "Tanner" Wickham begin to create concrete statues. His subjects were varied but leaned heavily towards historical figures and religious imagery. 
Wickham, who had no formal arts education or training, created approximately 40 sculptures during his lifetime.  He died in 1970 and the statues that remain are displayed near where Wickham resided in the Palmyra community of Montgomery County.
While I long knew of the Wickham statues, I did not visit them until I was in my 30s. This is a good thing because I doubt I would have truly understood and appreciated them at an earlier age. While Wickham's folk art – or outsider art – gained critical acclaim after his death, I admire his work mostly because it serves as a testament to following one's dreams, no matter one's age or training.  While I suspect Wickham was subject to some ridicule for his art during his lifetime, it did not stop him from the continued pursuit of his passion.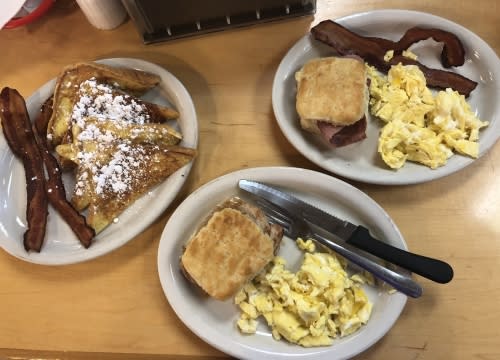 A trip to the Wickham statues is a great way to spend a morning. Grab a biscuit and a coffee – or other beverage of your choice – on your way.  My preferred biscuit vendor is the Choppin' Block on Madison Street. But there are plenty of other purveyors of fine southern breakfast foods if the Choppin' Block is too far out of your way.
The silent city of statues is seemingly in the middle of nowhere upon at least two locations in close proximity to one another on Buck Smith Road in Palmyra. I have found that the easiest way to give directions to the statues is to have the visitor use their phone's mapping program to search for Wickham Stone Park.  It is about a 25-minute drive from downtown Clarksville.  Make the trip on an October morning and you're likely to encounter the unique and wonderful scent of tobacco being cured in area barns.
A word of warning: the statues are on private property, but most all can be seen easily from the road. Many have suffered vandalism over the years, some extensive, but this adds something to the "spooky" experience. Please leave the statues in the condition you find them.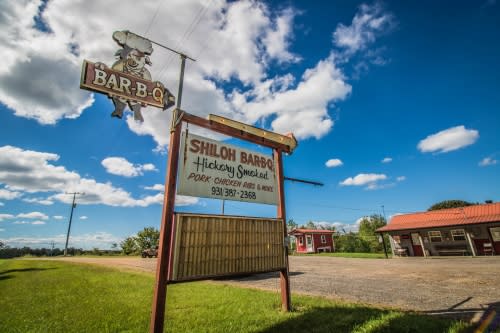 (Photo by Justin Rapp.) 
Venture even further out Hwy. 13 to discover find some of the best smoked meats around. Shiloh BBQ, 3349 Hwy. 13, offers pork, chicken, ribs, and turkey, plus all the Southern sides their fine smoked meats deserve. They're open Thursday-Sunday.
Fall Pilgrimage at Historic Collinsville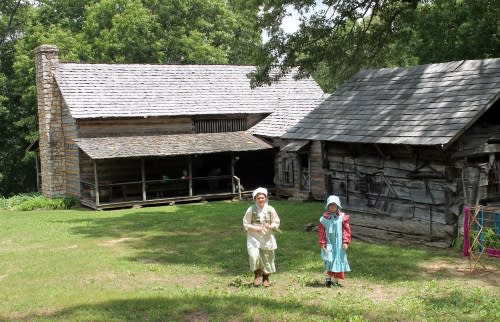 Celebrate all things Fall at the annual Historic Collinsville Fall Pilgrimage on Saturday, October 20 from 10a.m.-4p.m. Granted, there's nothing spooky here, but it's a beautiful country drive and a wonderful option for Fall family fun! Throughout the day you can see spinners and weavers, enjoy children's games and hayrides, make-and-take crafts, craft vendors, food and live bluegrass music.
The event also marks the closing of the regular season for the pioneer settlement that sits on 40 beautiful rural acres about 15 miles south of Clarksville at 4711 Weakley Road in Southside, Tenn.
A visit to the privately-owned, off-the-beaten-path farm is like stepping back into yesteryear. Some 18 historical structures, each filled with authentic period furnishings dating from 1830-1870, show a glimpse of life before and after the Civil War.
Pilgrimage admission is $10 for adults and $7 for children ages 6-12. Children five and under are admitted for free. Admission includes a small pumpkin, and larger ones will be available to purchase. Make sure to bring cash – credit card processing is not available.
A family meal sure to please can be found at the Country Dinner, 752 Hwy 13. This staple has been around for 70 years. (In the 50's and 60's their outdoor roller skating rink was THE place to be!) You'll have a hard time beating the old-fashion burgers and shakes. If you don't partake of any other Fall events, this experience alone is worth the drive!
Fright on Franklin


October 27
(Photo by Clarksville Online)
This family-friendly event is not particularly spooky for adults, but children and adults will be impressed with – and maybe a little scared of – the creatively realistic costumes. Downtown Public Square and Franklin Street transform into candy heaven from 3p.m.-6p.m. on Saturday, October 27. Business and organizations line the streets to pass out candy and other goodies, costume contests by age, hayrides and other activities make this event entertaining and safe for the entire family.
Is the Smith-Trahern Mansion haunted? This lovely 1858 mansion is a non-spooky place to visit most of the time. But, at certain times it's been known to be a bit ghostly. The mansion was built by wealthy tobacconist Christopher Smith for his bride Lucy. As a trader, Christopher spent a lot of time on the river. While on a trip in New Orleans, he died from yellow fever. His body was sent home on a steamboat, which exploded and sank on the Mississippi River near Memphis.
The "haunting" comes from reported sightings of Lucy's ghostly form walking back and forth across the widow's walk watching the river for Christopher's return, even after she knew he would never be coming home. Some who spend a lot of time in the mansion have reported being overcome with a cold eerie sensation at times for no apparent reason.  
The Mansion is open to the public Monday-Friday from 9:30a.m.-2:30p.m.
Port Royal by Lantern


October 26-27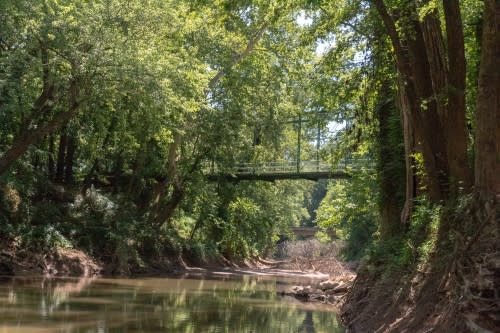 (Photo by Jessica Tejera) 
The old town of Port Royal has many stories to tell. Join guides for a lantern-guided hike and encounter the mysterious side of Port Royal. Warm yourself by the campfires as you travel and hear tales of witches, murder, the unexplained, and more. Before or after your tour, head over to the community campfire and hear 18th and 19th-century music played by the Travelling Caudells.
Tours start at 6pm and run every twenty minutes with the last tour leaving at 9pm. We recommended purchasing tickets in advance, as a very limited number will be available onsite. https://tnstateparks.com/parks/events/port-royal/#/?park=port-royal
Halloween at Fort Defiance


October 26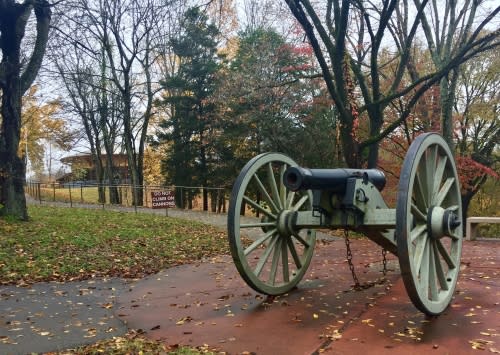 Hear haunting historical tales of woe and terror by a bonfire while treating yourself to hot dogs and hot chocolate. With a riveting history that pre-dates the earliest American settlers, unsettling stories of land disputes and war abound.  
Keep in mind, this is a spooky event, so it's recommended for adults and children aged 8 and older. Admission is free. Fort Defiance is located at 120 Duncan Street.
Rocky Horror Show at the Roxy Regional Theatre


October 19-27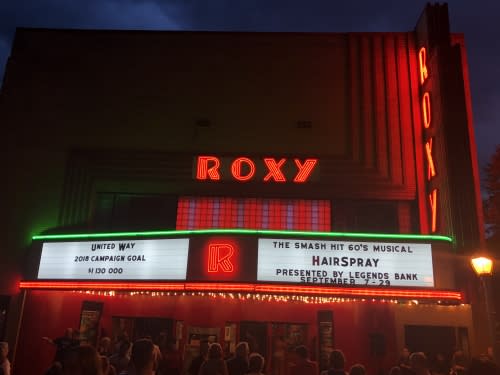 The Rocky Horror Show makes its return to the Roxy Regional Theatre for the seventh straight year. But the spookiest showing promises to be at 11:59pm on October 27.
On the way to visit an old college professor, two clean-cut young people, Brad Majors and his fiancée Janet Weiss, run into trouble and seek help at the freaky Frankenstein mansion, where Dr. Frank N. Furter is in the midst of one of his maniacal experiments. At this cult favorite, prepare to do the "Time Warp" like you have never done it before!
Audience participation is encouraged, so feel free to dress up in your favorite Rocky Horror attire. Bags of props will be available for $5 in the lobby one hour before the performances. Outside props will not be permitted. Tickets are $25.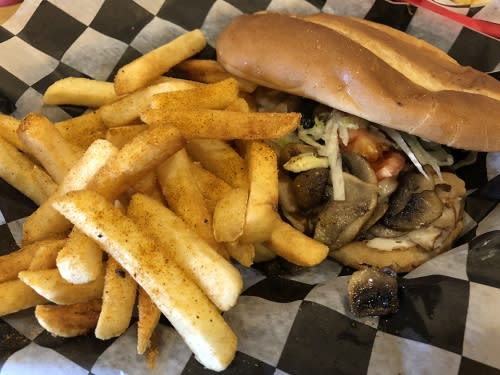 Finally, Wicked Good Sandwiches gets our vote for favorite Halloween meal (and a lot of other times too)! There is nothing wicked about the place, except that the food is indeed Wicked Good! You'll find some Austin Peay-inspired menu items like "Peay" Bread and the Governor's Club, with breakfast served all day, appetizers, sandwiches and desserts, plus live music most weekends. You might want to try The Green Monstah -- two bratwursts, provolone, pepperoncinis, & whole grain mustard – just for the heck of it. (But, this Turkey Mushroom Melt is to-die-for!)
For more information about the Wickham statues, view both "E.T. Wickham: The Intersection of Family and Preservation" by Wickham's great-granddaughter Brittany Wickham Walker and "E.T. Wickham: A Dream Unguarded" by James and Vicki Bryant. They can be easily located on YouTube. Though the production values of the Bryant's 1990s-era film are far from modern, it provides detailed insight into Wickham's family, life and work. If analog is more of your thing, Clarksville's Customs House Museum carries a beautiful Wickham catalog from a past exhibit that is available for only $15.