With more than a dozen stores specializing in vintage and collectible items in Clarksville, the city has become a tourist destination for antiquing below the Mason-Dixon Line.
From Longaberger woven baskets to handcrafted guitars; depression glass that glows neon green to rows of unique furniture, Clarksville pickers spend countless hours carefully cultivating their store's inventory to please all of their customers.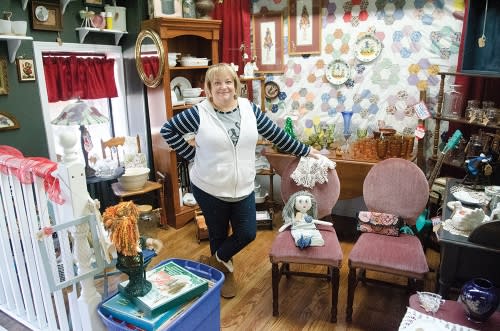 A store for mom
Trish Halstead, owner of Ester's Treasures Antiques and More, 120 Strawberry Alley, opened her quaint storefront in April. She named the store in honor of her mother who recently passed. Walking in the front door, Trish greeted me at the store counter – a black chalkboard behind her listed facts about her mother including her love for antiquing.
"[My mom] loved doing this," Trish said. "She had always wanted a store ... we had always wanted a store together. After she passed away I just knew now was the time to do it. It's something I had to do."
At first glance, Ester's looks like an average antique store, but the treasures can be found in the details. As Trish walked me through the building, she explained that vendor booths make up half of the store, while the other half is filled with her own finds.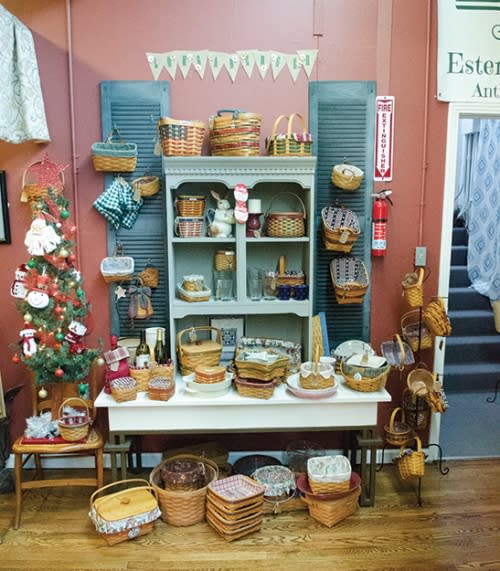 "Anybody who knows me will tell you I have a thing for chairs," Trish said, lovingly running her hands over the pink velvet of a chair she recently purchased.
During my tour of the oddities, I came across something familiar – a set of blue and white CorningWare ceramic dishes my grandma uses daily. Those couldn't possibly be an antique, could they?
According to Trish, they are. Not to mention being in high demand. I'll have to let grandma know how valuable her cereal bowl is.
Hundreds of cookware items and glasses can be found at Ester's in all colors: amber, teal, pink and Trish's personal favorite, cobalt blue.
Mixed in amongst the glassware and chairs are locally crafted dolls and prints from a Clarksville-based photographer. On the back wall of the first floor, Trish has proudly displayed her highly coveted collection of Longaberger woven baskets. Trish said the collection is unique to her store.
On the second floor, in the last booth on the right, I found my first purchase of the day. For almost a year I have been looking for a fabric holder I can use to organize the hundreds of shopping bags I refuse to throw out. Finally, after searching at many craft fairs, I found one at Ester's with a chicken print on it – perfect for my thrift store sponsored kitchen. Priced at $3, I was sold.
While upstairs, Trish took a moment to show me around her workshop filled with paintbrushes, chalk paint, sanding paper and other crafting tools. Her latest creation, a blue cabinet with a tan interior, patiently sat waiting to be finished. Trish loves giving vintage pieces new life by giving them a fresh coat of paint.
"It's pretty amazing some of the stuff you find," Trish said. "I will find a piece of furniture, especially antique and I will let it sit in the store and see if it will go as is, because I really like the antique look and the natural wood, but if it sits longer than a month I take it upstairs, sand it down, paint it and it sells."
Back downstairs, a couple of college-aged young women entered the store and scurried upstairs to look through the displays of handmade necklaces and bracelets. Trish and I continued to chat while a middle-aged married couple came in to mosey around a bit. Trish said this was a pretty good representation of her customer base. With the Riverview Inn a few streets away from her store, she also gets many customers from out of town who like to look around the booths.
Customers have traveled from St. Louis, Missouri, Franklin, Tennessee, and Bowling Green, Kentucky to purchase furniture from Ester's.
People also come in asking for old typewriters and vinyl records, she said.
"Different people collect different things, My store is really diverse. I think I have something for everybody," Trish said. "If I don't have what someone is looking for, but I know another local store has it, I will send them that way. We support each other like that."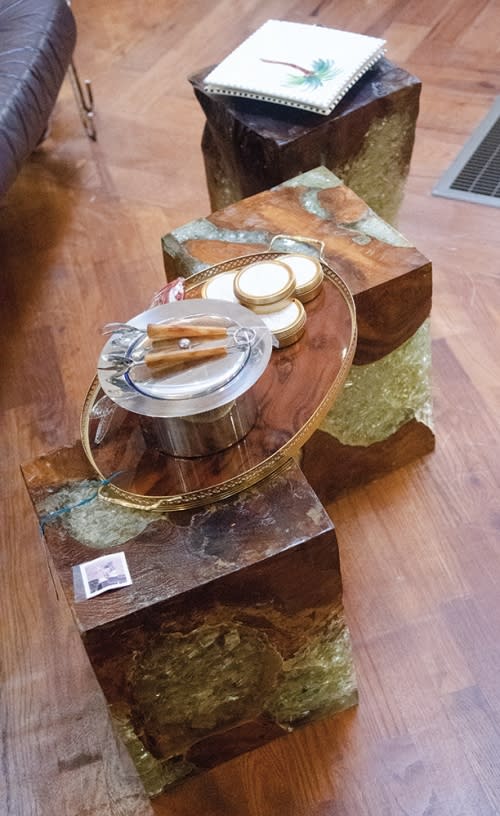 A home away from home
Around the corner from Ester's you will find A Journey's Eye Studio, 131 Franklin St. Before you walk in the door prepare yourself for a different experience, otherwise the taxidermied buck and other wildlife towering over the store's inventory may give you quite a shock. From the handcrafted industrial lighting constructed by co-store owner Steve Tyrrell at the front door to the intimate reading alcove at the back of the store, every single item for sale is an unexpected, pleasant surprise. Customers begin their shopping journey by walking underneath a metal garden arch dripping with cloth flowers.
The left wall is covered with dozens of local artist's work while couches and chairs litter the store's floor. Although co-store owner Jody Issacs was out of town, store manager Hannah Rejali was able to answer a few questions.
"Right now we have a big mix of local artists and found art. Usually once a month we have a local artist come in," Hannah said. "We just want to support anyone that we can. The more unique the better. The more true to the artist it is, the more enjoyment everyone gets out of it."
Past the check-out counter on the right, begins a wall of candles hand poured specifically for Journey's Eye.
"There's really no other store like Journey's Eye," Hannah said. "We work really hard to bring in unique things. All of the vendors we work with are really exclusive in our store. You aren't going to find any of these items anywhere else in Clarksville."
When Jody and Steve opened the store about three years ago, they sold a lot of vintage furniture and industrial pieces created by Steve out of motorcycle, vehicle and airplane parts. Over the past two years, the staff have built strong relationships with neighborly artisans to bring smaller, more giftable items to the store.
Journey's Eye also sells sweet-smelling handcrafted soaps, a quirky array of bottle openers and a shelf stocked with CDs.
In a quiet corner of the store sits a rack of handmade guitars produced in Muscle Shoals, Alabama, by James Floyd. Each guitar is carefully numbered and signed on the back, making them truly one of a kind. Wedged between Austin Peay State University and the Roxy Regional Theater, Hannah said musicians often pop into the store just to jam out on the guitars or try their hand at the keyboard.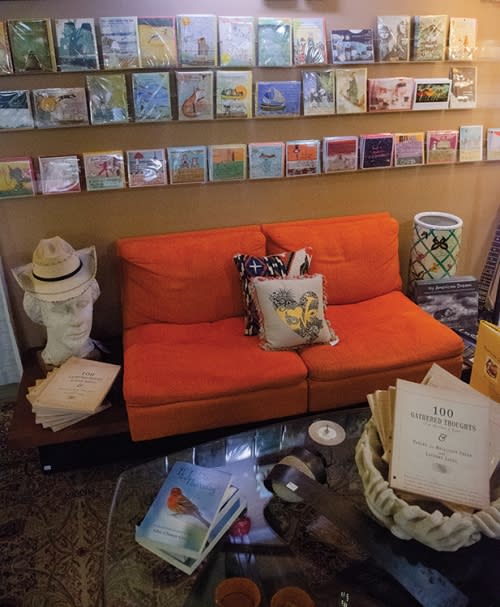 Customers also come into the store to rest in the reading alcove tucked away in the back. In addition to books written by local authors, Journey's Eye staff display a greeting card collection in that quiet space as a courtesy to their customers.
"When we decided to start carrying some cards and things like that we had them [displayed] up front, but a lot of the cards are pretty deep and soul touching so sometimes people would get a little emotional up front, so we decided to make a more intimate space where people can hang out and read a book back there if they want," Hannah said.
Jody, Hannah and Margaret, store employee, work together to select the cards they sell.
"We don't do any prepackaged bundle deals," Hannah said. "We look through every card and only pick the ones that speak to us. Everything feels really personal and I think that's what people really like. We are a home away from home for some people. Since this is such a transient community it's just a place to come in and feel welcome. When I am opening the store in the morning, I just feel like I am getting ready to have people over. It's not super commercialized or anything," she said.
With a newfound appreciation for small businesses in the area, I had convinced myself I needed a giant mermaid painting in my home. However, I don't have any free wall space, so it had to stay put at Journey's Eye, but only for the time being. When it comes to decorations, fashion or design, Hannah said Jody is passionate about each piece matching a customer's personality.
"Jody's main thing is that your home should feel like you," Hannah said. "Everything you pick out should be a reflection of you. Whether it all 'goes' together or not, it really doesn't matter because it's what you love and what's comfortable to you. Everything we sell here is all super personal, so you are going home with something no one else is going to have that you love and that helps curate your own personal home and space."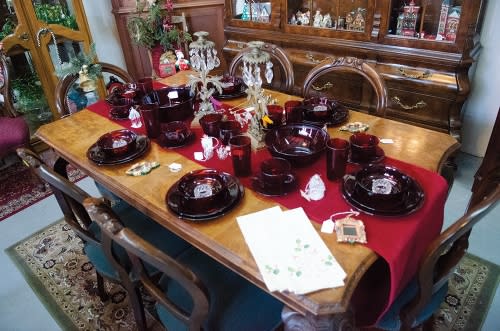 Dust and rust are a must
Once you are done wandering around Historic Downtown Clarksville, hop back in the car and head down to Riverside Drive to make your way to Second Chances Antiques and Treasures, 2448 U.S. Highway 41 Alternate. You may want to pull in somewhere and get a drink, because it's going to take about 15 minutes to get to Second Chances. It's a little bit off the beaten path, but well worth the scenic drive.
The store will be on your right, so don't go flying by it while absentmindedly listening to the radio like I did. Refreshed and ready to take on more antiquing, it's time to walk into Second Chances. Your bottom jaw will hit the floor when you see the 80 vendor booths squeezed into this 12,000 square-foot peddler mall-style store. You want to get elbow deep into everything from rusty old farm tools to hundreds of Christmas ornaments? Now's your chance to go digging. Space at Second Chances is in such high demand that about 100 people are waiting for the opportunity to sell there.
Husband and wife power team Rodney and Leeann Greer took over the management of Second Chances about two years ago. Rodney, an Army veteran, and Leeann took on the challenge because they already sponsored booths at the building and wanted to pursue their hobby as a career path.
After looking through a few rows of booths, I finally came across Leeann, who was hefting a full-size antique wooden baby crib to the register for a customer, while Rodney tagged along carrying the crib's frame. After squaring the customer away with their new crib, Leeann pulled up two upholstered Victorian chairs for us to sit down and have a chat surrounded by her livelihood – antiques.
"It's two full-time jobs, but we just love it," Leeann said. "It has progressively gotten busier and busier and busier. Every month we do more sales than the last."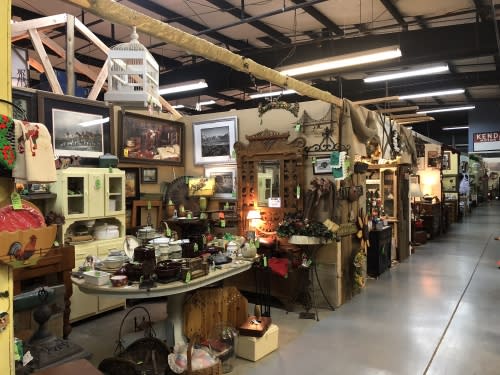 Like ying and yang, Leeann and Rodney have different strengths, which allows them to work well together. Leeann prefers to spend her time in the store, speaking with customers and helping them find discover hidden treasures.
"I love meeting people and learning from them," Leeann said. "Everyone who comes in here collects something different and because of that I get to learn about that particular thing because they are the expert about that … marbles, clocks, street signs … everyone has their thing, which is great."
Rodney enjoys traveling nationwide to bring unusual pieces to the store. When looking to buy, Leeann said they stick to the store's motto, "Rust and dust are a must."
"If it's something I've never seen before … if it's unusual or unique I'm generally going to buy it and bring it home," Rodney said.
To find some of those strange pieces, Rodney has climbed into pest-ridden attics, crawled through cobwebs underneath homes and rummaged through barely-standing barns.
Walking through the store with Leeann was like walking through church before the sermon begins. As we walked past booth after booth, she stopped to speak with everyone – vendor or customer – often times knowing them by first name. Some customers she even remembered their last purchase.
Leeann said developing a repertoire with her sellers and customers is important.
"I want people to be comfortable when they come here," she said. "I want them to feel at home. Because I am not at home, my customers have become like my family. I've just come to love my vendors and customers. It really is a community. We are all very close."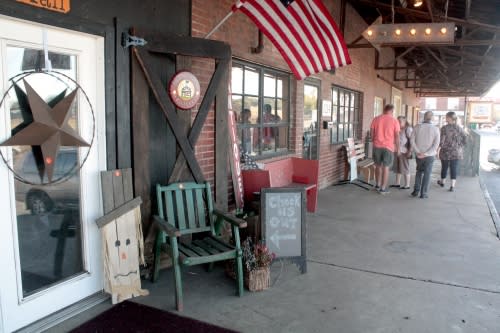 Accidental hobby turned career
Once you've finished up at Second Chances, wrap up your day of antiquing by shopping at Warehouse 41, 1214 College St. and its sister store next door, Warehouse 41 Antiques and More, 1216 College St. Whether you are looking to outfit your home in new furniture or sift through a stack of vinyl records, customers can easily satisfy their shopping cravings at these standout stores.
The Warehouse 41 stores are owned by husband and wife duo John and Stephani Sprague.
The couple got their start in the furniture world by accident when they took over a booth from their daughter and began selling items they found at auctions and estate sales. At the height of their career as vendors, John and Stephanie operated about 11 booths across Tennessee and Western Kentucky.
That was when they decided to make their dream of owning their own store a reality.
About three years ago, they opened for business at their College street location. The Spragues began with Warehouse 41, a 13,000 square feet facility that housed dressers, cabinets, hutches and other furniture pieces. In May 2017, the Spragues added 7,000 more square feet to their property, which allowed them to expand and sell new furniture and mattresses. In November 2017, they purchased the store next to theirs and opened up their latest expansion, "Warehouse 41 Antiques and More," a 2,600 square feet space with additional booth space upstairs.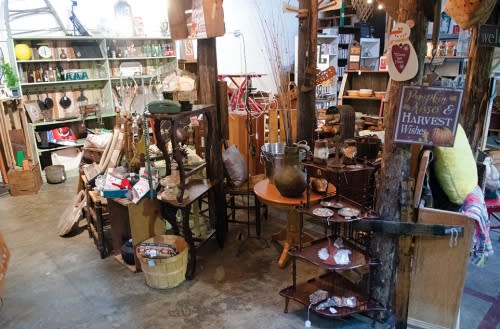 "[Warehouse 41 Antiques and More] is me," Stephani said. "The furniture is John's baby. He's all about the furniture – used and new. I'm more about the decorations, painted furniture and vintage style."
John and Stephani decided they wanted each of the stores to reflect both of their personalities – not have stores for him and her. To meet that vision, some vendors have been moved into the original Warehouse 41. Stephanie also has encouraged vendors to add more furniture pieces to their booths.
Walking through the original building, I could see furniture of all shapes and sizes lined up as far as the eye could see. The Spragues take pride in the many pieces they have for sale – all wonderfully strange and as unique as a person's fingerprint. Each orphaned piece is seeking shelter at Warehouse 41, eager to be taken home and loved by a new family.
Stephani said there is something intimate about helping families complete their homes, whether they are just starting out, remodeling or recovering from an emergency.
John and Stephanie attend estate sales, auctions and yard sales to find items that grab their attention. They also keep on top of Pinterest trends to understand what people are interested in buying.
"When John and I are shopping we just look out for things we like, or things we think our customers might like. We like unusual things, really cool odd things, so that's what we buy to throw into the mix," Stephani said.
So far some of their most interesting sales include a full-sized Santa Claus sleigh, a 20-foot canoe hand carved from a log and a few telephone booths.