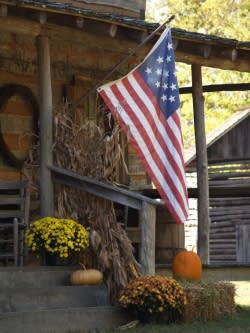 Fall is the season for festivals and enjoying the last of the outdoors before winter makes its appearance. At Historic Collinsville Pioneer Settlement, you'll find events all throughout October to celebrate the season.
Artisan Fair, October 5
As part of Tennessee Craft Week (Oct. 4-13), Collinsville is hosting an Artisan Fair on Saturday, October 5 from 10 a.m. to 2 p.m. Artists and craftspeople will show and sell their work. You may enjoy doing some early Christmas shopping among these hand-made, one-of-a-kind works of jewelry, pottery, fabric, metal, photography, paints, and wood. Arts for Hearts will staff a table with craft activities for children.
Central Civitan 5K Run/Walk, October 5
Prior to the fair, Central Civitan is hosting an inaugural 5K Run/Walk. Race start time is 08:00 a.m. and the course follows a scenic rural route past houses and farms that wind under shade trees and over a stream to the Cumberland River. From this halfway point the route returns to finish on the site of the pioneer settlement.
Arts Celebration, October 19
On Saturday, October 19, artists from Clarksville's Downtown Artist's Co-Op will be on hand with plein air painting and more. This is an opportunity for you to learn and explore your creative abilities.
HarvestFest, October 26
HarvestFest on Saturday, October 26 celebrates the end of the 2019 regular season with pumpkins, activities for kids, food trucks, docents, a ghost walk, corn maze, music storytelling, and more. Tour the property's 16 authentically furnished homes dating from 1860-80. Bring a picnic and enjoy time in the lush rural setting.
Historic Collinsville is open through October 26 on Saturdays from  10:00 a.m. – 5:00 p.m. and  Sundays 1:00 p.m. – 5:00 p.m. (Other days and times are available by appointment for groups of 6 or more.)  Special events are held throughout the year.
Special event admission for the Artisan Fair and HarvestFest is $12 for ages 12 and up. Regular admission is free for ages six and under and $7 for adults.
Purchase tickets in advance at HistoricCollinsville.com/events or onsite.
Historic Collinsville Pioneer Settlement is located at 4711 Weakley Road in Southside, Tenn., about 15 miles south of downtown Clarksville.
###
About Historic Collinsville Pioneer Settlement
Set on 40 rolling rural acres, the Historic Collinsville Pioneer Settlement opened more than 20 years ago, first to give children a "hands-on" experience, outside of the classroom, about life in the 1800s and later to the public. The settlement recreates the past with historical structures each filled with authentic period furnishings that show a glimpse of life before and after the Civil War. In 2018, Collinsville founders, Glenn and JoAnn Weakley sold the property to Montgomery County Government, and Visit Clarksville operates and manages the property.